A Weekly World Wide Word of Encouragement to those in the Ministry
PRAISE GOD IT'S MONDAY!
A WEEKLY 'WWW (world-wide word) OF ENCOURAGEMENT'
TO THOSE IN MINISTRY
A FREE service, currently connecting with Christian leaders from 3,000 denominations and ministries, in 70 countries.

Issue No: 896 Published: 24 Dec 2018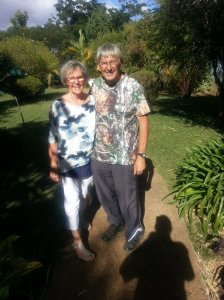 CHRISTMAS GREETINGS FROM DAVID AND KATHY
For us this will be a special family time with our family on the north coast of Scotland.
After 30c tempertures here in summer in Kenya, it will be a big change to perhaps experience snow and 0c in Britain.
On 28 December, our family in London are due to have their first child, a very welcome addition to the 3 grandchildren we already have in Scotland.
Christmas greetings from our family to yours.
Blessings
David and Kathy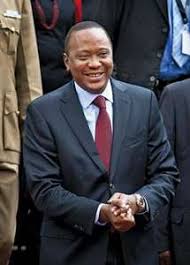 OBSERVATIONS FROM AFRICA
THE CULTURE OF GREED AMONGST LEADERSHIP
Throughout Africa and the developing world, corruption is a huge issue.
Leaders spend big money to get elected, bribing voters in many cases, in anticipation of being able to steal many times more when they are 'elected'.
Sadly, Kenya is at the forefront of this, being rated the 3rd most corrupt country in the world.
Coming from New Zealand which, along with Denmark, is consistently rated the world's least corrupt country, has been a huge culture shock for us.
Fortunately, in our hospital construction, we have managed to avoid this by treating each of our donors' dollars as more precious even than our own! And we are very careful with our own! We simply have a no corruption policy which has occasionally slowed us down in our dealings with the bureaucracy, but we have stood firm.
This really goes back to last week's observation of money being the real God of those who don't have enough, but here it is extended to pure greed, for many of the leadership have plenty anyway.
When asking people why this is the case, they say corruption was introduced and modelled by the colonials. They stole the peoples land and resources, so the locals learned that the dog eat dog approach brought success.
Of course, those not in a position currently to take graft, say it is a very bad thing, but they don't know how to get rid of it. Yet they are the ones who elect the politicians, who appoint the bureaucrats, and all steal from the people together!
It is estimated that 30% of the Kenyan GDP is stolen!
The current President, Uhuru Kenyatta, is in his final 5 year second term, and has rightfully decided to crackdown on it, arresting and imprisoning friend and foe alike. Independent auditors have been appointed to oversee Government Departments and Government related organizations. A great move! Many senior people have been arrested.
The next problem comes in the Courts. Will, as in earlier purges, the Judges accept bribes to either find no case to answer, or to find charged not guilty!
As always, it is the poor who suffer most from corruption. Will there be a change? Time will tell.
Photo: President Uhuru Kenyatta
Find out more about us here.....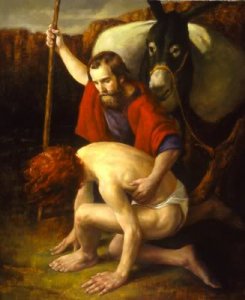 FROM THE WORD
THE WORDS OF JESUS
May we hear what the Lord is saying to us.....
Lawyer Tests Jesus About Receiving Eternal Life (Luke 10:25-37)
"What is written in the law? How do you read it?"
The lawyer replies with the 'golden rule'.
"You're right," "Do this, and you will live."
Jesus then tells the parable of the Good Samaritan
"A man was going down from Jerusalem to Jericho. He was attacked by robbers who stripped him and beat him, and left him for dead. It so happened that a priest was going the same way. He saw the man, but he passed by on the other side of the road. Then a Levite came along. But when he got to the place and saw the man, he also passed by on the other side. "Finally a Samaritan man came along. As he passed by, he saw the man and felt sorry for him. He went over and treated the man's wounds with oil and wine, and bandaged them. Then he placed the man on his own donkey and took him to an inn where he took care of him. The next day he gave two denarii to the innkeeper and told him, 'Take care of him, and if you spend more than this, I'll pay you back when I return.' Which one of these three do you think was a neighbor to the man who was attacked by robbers?"
"Go and do the same,"
Martha Works While Mary Listens (Luke 10:38:42)
Jesus comments when Martha complains.
"Martha, Martha," "you're worried and upset about all this. But only one thing is really necessary. Mary has chosen the right thing, and it shall not be taken away from her."
Jesus teaches the Disciples How to Pray (Luke 11:1-13)
Lord's Prayer and explanation.
"When you pray, say, 'Father, let your name be honored as holy. May your kingdom come. Give us every day the food we need. Forgive us our sins, just as we forgive everyone who sins against us. Keep us from temptation.'"
"Say you have a friend and you go to him in the middle of the night and ask, 'My friend, lend me three loaves of bread 6because a friend of mine has come to visit me, and I don't have any food to give him.' Your friend in the house might reply, 'Don't bother me—I've already locked the door, and I and my children have gone to bed. I can't get up to give you anything now.' I tell you, even though he refuses to get up and give you anything, despite you being his friend, if you are persistent, your friend will get up and give you everything you need.
"I tell you: ask, and you shall receive; seek, and you shall find; knock, and the door shall be opened to you.
For everyone who asks, receives; and everyone who seeks, finds; and to everyone who knocks the door will be opened. Which of you fathers, if your son asks for a fish, won't give him a fish but a snake instead? Or if he asks for an egg, will you give him a scorpion? So if you, even though you are evil, still know to give good gifts to your children, how much more will the heavenly Father give the Holy Spirit to those who ask him?"
(Continued next week)
You can download the complete 'Words of Jesus' here.

OUR AFRICAN EXPERIENCE
On holiday with the half of our family that is in Britain! My first in 18 months.
Expecting the arrival of our 4th grandchild while we are there. An exciring time!
FOR MORE DETAILED AND REGULAR UPDATES, VISIT OUR FACEBOOK PAGE
AN EYE 4 Africa - https://www.facebook.com/aneye4africa/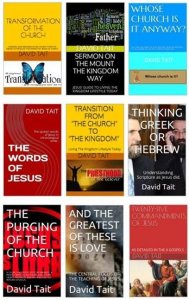 ***NOW***NINE BOOKS ARE AVAILABLE ON AMAZON!!!
9 BOOKS are now available on Amazon (Kindle)!

All are available worldwide for electronic download on Amazon (Kindle) for $US0.99c . Unfortunately there has to be a charge in order to list.

Your support would be appreciated and they could well change your life!

They are all found at this link.....
http://www.amazon.com/s/ref=nb_sb_noss?url=search-alias%3Daps&field-keywords=david+tait+books/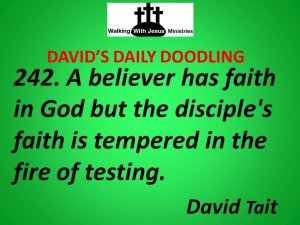 ***DAILY EZINE!*** 'DAVID'S DAILY DOODLINGS' Subscribe Today
Receive one of David's sayings in your mailbox each day to inspire, challenge or maybe, amuse. To register today, go down to the bottom of the page link below, click on the subscribe link dd-on@wwj.org.nz (or paste the address in an email yourself and send) Then it's done! If you have an Irish heritage, you will love the background coloring!
Subscription and back issue link is.....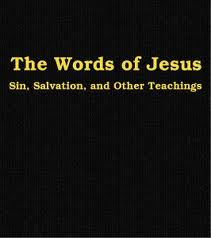 'THE WORDS OF JESUS' REMAIN AVAILABLE FOR PDF DOWNLOAD
Join the many who have downloaded the 'The Words of Jesus'. I am sure you will be blessed by it, as I have been.

One key element here is the setting out in chronological order (as far as it is possible to do so) our Lord's words drawn from all the Gospels, and the elimination of repetition between Gospels.

You may be surprised by the different perspective this presentation gives you both in understanding of His life and ministry, and in achieving a closer relationship with Him.

Download the free PDF here.....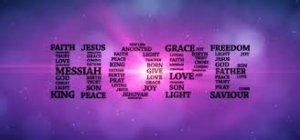 DAVID'S DOODLINGS
HOPE
496. Out of God's hope springs eternal youth - eventually!

497. I am so glad that my hope is in you Lord. For I so often let myself down.

498. Hope in self is not at all comforting on ones deathbed.

499. Our hope in Jesus is retained in the mind, even when our body tells us that there is none other left.

500. Hope for the best? Be assured of it in Jesus!

501. Hope enables us to wake up in the morning, confidently prepared to share the uncertainty of the day ahead with a friend.

502. Hope builds faith, which is to be reflected in love. Without hope, there is no love.

503. Hope overcomes hopelessness.

504. 'Hoping for the best' is at best a gamble, hope in the salvation of Jesus, a certainty.

505. Hope expands horizons.

506. God's hope gives life, but human hopelessness brings death. The choice is ours.

507. The hope of tomorrow helps us deal with the realities of today.
Please feel free to quote these quotes. Acknowledgement of David Tait as the author would be appreciated. There are now over 1300 David sayings for you to view at ...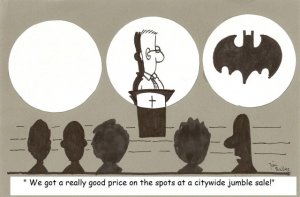 CARTOONS FROM TOON FEVER
Visit the Toon Fever website for more cartoon fun..... http://www.toonfever.com

Check it out at...

TUESDAY TEACHINGS
NEXT WEEK: A REVELATION OF... THE TABERNACLE OF DAVID - Part 13 - FROM THE HOLY PLACE TO THE ARK
Today, after the summary of the last 12 weeks teaching, we are going to see how the pentecostal experience and church is not the final church but rather, a step on the way to the end time bride, overcomers, or whatever you wish to call the fully committed church of the final days.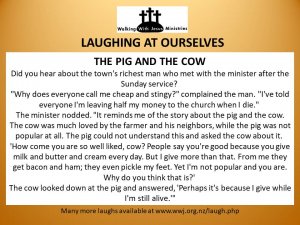 *** ANOTHER DAILY EZINE FROM WWJ!*** 'LAUGHING AT OURSELVES' Subscribe Today
As Christians, if we can't laugh at ourselves, others will! A fun way to start your day. To register today, go down to the bottom of the page link below, click on the subscribe link lao--on@wwj.org.nz (or paste the address in an email yourself and send) Then it's done!
LAUGHING AT OURSELVES
***Blessed are those who can laugh at themselves for they shall never cease to be amused***
*** Those who can't laugh at themselves leave the job to others. ***
211. Modern Translation
A six year old was overheard reciting the Lord's Prayer at a church service: "And forgive us our trash passes as we forgive those who passed trash against us."
212. Once Upon a Time
After the fall in Garden of Eden, Adam was walking with his sons Cain and Abel. They passed by the ruins of the Garden of Eden. One of the boys asked, "What's that?" Adam replied, "Boys, that's where your mother ate us out of house and home."
213. Little, But Smart
A little boy wanted $100 badly and prayed for two weeks, but nothing happened. Then he decided to write a letter to the Lord requesting the $100.
When the postal authorities received the letter addressed to The Lord, USA, they decided to send it to President Bush.
The President was so impressed, touched and amused that he instructed his secretary to send the little boy a $5 bill. President Bush thought this would appear to be a lot of money to a little boy. The little boy was delighted with the $5 and sat down to write a thank you note to the Lord, which read:
"Dear Lord, Thank you very much for sending me the money. However, I noticed that for some reason you had to send it through Washington, D.C., and as usual, they deducted 95 percent."
214. Joyful Reponse
A Sunday School teacher wanted to elicit the word HALLELUJAH from her class so asked, "What is it people shout out with joy in our church?"
A bright young thing yelled out "BINGO!!!!!"
QWIK QWIP: "God is more interested in making us what He wants us to be than in giving us what we think we ought to have."
FREE DOWNLOAD: You can now download the book 'Laughing At Ourselves' in PDF format at LAUGHING AT OURSELVES One of the most comprehensive sources of Christian Humour on the Net with 800 sermon fillers for your entertainment and use at ..... https://www.wwj.org.nz/content/wwj18p47.pdf
Or read them all online at.....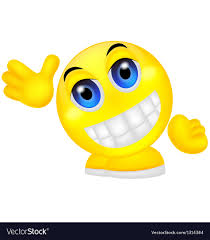 A DAVID MUSING
O-N H-O-L-I-D-A-Y!!!
MAY GOD BLESS YOU AND YOU BLESS GOD
His servant and yours
David Tait

Visit us here.....
REPRODUCTION OF NEWSLETTER CONTENT
Most weeks we get enquiries about reproducing, in electronic or print form, articles contained in 'PGIM!' We welcome and encourage you to utilize this material. Freely received, freely given. We would ask though, that the source be acknowledged as an encouragement to others to subscribe to this newsletter also.
CHANGING YOUR EMAIL ADDRESS? NEWSLETTER STOPS COMING?
Each week we can lose up to 2% of our readers when they change email addresses without letting us know. Or sometimes, by your server acting strangely and just cutting us off! If you are about to change your address, please advise us of both your old and new addresses here at
enquiries@wwj.org.nz
and we will happily change our records to ensure ongoing delivery. Thanks.
Please also keep our address in your address book, as sometimes servers will automatically delete your address if there is even a one off problem in delivery. If your newsletter doesn't arrive, please let us know and we will reinstate you.
LINKS
If you would like to link your web site to ours, and ours to yours, please advise us on
links@wwj.org.nz
ABOUT US
WALKING WITH JESUS MINISTRIES is a non-profit, non-denominational, Bible based ministry located in Hastings, New Zealand. A ministry dedicated to developing discipleship, fostering unity amongst God's people to achieve the Great Commission, and in doing so, preparing for Christ's return. It is securely based upon the foundational principles of the Apostles Creed while recognising the wide and rich diversity of beliefs amongst Christians in other areas. In accordance with the Lord's direction, materials produced by the ministry are available, free of charge, to genuine enquirers upon request. The ministry is solely funded by donations, as the Lord provides. A list of materials available (plus some fun!) is obtainable and freely downloadable from our website
wwj.org.nz
or by contacting us as follows.
Walking With Jesus Ministries
7 Bull Street
Ahuriri
Napier
New Zealand
Phone: (06) 835 0567 International (+64) 6 835 0567
Email:
enquiries@wwj.org.nz
Web:
wwj.org.nz
Our role is to bless and encourage those in ministry while promoting co-operation and unity of direction amongst the body of Christ, as emphasised 3 times by Jesus in His longest prayer, immediately prior to His arrest and crucifixion. "... so that they may be one as we are one." (John 17:12, 21, 23-4) Our website is currently being developed to encourage your participation one with another, to share resources, and to enable you to promote events and items of interest to the body as a whole - and have a smile while doing it!
For comments upon and contributions to this service, please contact
david@wwj.org.nz
SUBSCRIPTION MANAGEMENT
We would encourage you to share this free service with your friends in ministry. To subscribe yourself please email pgim-on@wwj.org.nz.
If your name has been referred to us by a friend or supporting Ministry or has been obtained from a public Christian Directory or Website, it isn't our wish to burden you with information in which you aren't interested. To remove yourself from this list, please email pgim-off@wwj.org.nz.