A Weekly World Wide Word of Encouragement to those in the Ministry
PRAISE GOD IT'S MONDAY!
A WEEKLY 'WWW (world-wide word) OF ENCOURAGEMENT'
TO THOSE IN MINISTRY
A FREE service, currently connecting with Christian leaders from 3,000 denominations and ministries, in 70 countries.

Issue No: 1081 Published: 04 Jul 2022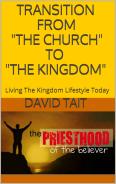 TRANSITION FROM 'THE CHURCH' TO 'THE KINGOM'
FROM "ORGANIZED" TO "ORGANIC" Part 6
d. THE KINGDOM 'CHURCH' IS PEOPLE BUILDING PEOPLE'S RELATIONSHIPS WITH JESUS AND OTHERS.
We have seen that the church is people. Unfortunately, our human religious natures have made it an institution. When we think of church, we automatically think of 'structure', be it of buildings, of theology, of ministerial hierarchy or of programmes. Sadly, man has organised God out of the church!
The kingdom of God is a marriage relationship between individual believers and Jesus.
31 "For this reason a man will leave his father and mother and be united to his wife, and the two will become one flesh." 32 This is a profound mystery—but I am talking about Christ and the church. (Ephesians 5:31-2)
As we have seen earlier, in the Greek, the church does not mean church as we know it. Charles Spurgeon explains the true meaning of the verse very well.....
Unity, mark you, for that is the essence of the marriage-bond. We are one with Christ, who made himself one with his people.
The spiritual marriage will be fulfilled in the natural, at the time of the return of Jesus.....
6 Then I heard what sounded like a great multitude, like the roar of rushing waters and like loud peals of thunder, shouting: "Hallelujah! For our Lord God Almighty reigns.
7 Let us rejoice and be glad and give him glory! For the wedding of the Lamb has come, and his bride has made herself ready. 8 Fine linen, bright and clean, was given her to wear." (Fine linen stands for the righteous acts of the saints.) (Revelation 19:6-8)
A truly successful marriage is based upon relationship, of love between one another. God showed His love for us.....
16 "For God so loved the world that he gave his one and only Son, that whoever believes in him shall not perish but have eternal life. (John 3:16)
..... and we are required to return this love, both to Him and to others.....
Be imitators of God, therefore, as dearly loved children 2 and live a life of love, just as Christ loved us and gave himself up for us as a fragrant offering and sacrifice to God. (Ephesians 5:1-2)
Love is not found in religion with its rules, regulations, (both formal and informal), and its demands upon its followers.....
13 "Woe to you, teachers of the law and Pharisees, you hypocrites! You shut the kingdom of heaven in men's faces. You yourselves do not enter, nor will you let those enter who are trying to. 15 "Woe to you, teachers of the law and Pharisees, you hypocrites! You travel over land and sea to win a single convert, and when he becomes one, you make him twice as much a son of hell as you are. (Matthew 23:13-15)
Kingdom growth then, comes not through manmade church systems, but through personal servanthood.....
25 Jesus called them together and said, "You know that the rulers of the Gentiles lord it over them, and their high officials exercise authority over them. 26 Not so with you. Instead, whoever wants to become great among you must be your servant, 27 and whoever wants to be first must be your slave— 28 just as the Son of Man did not come to be served, but to serve, and to give his life as a ransom for many." (Matthew 20:25-8)
Leaders too, are charged to equip and serve others, not to bring them into a church or denomination, but rather, into unity of the faith and Christ-likeness.....
11 It was he who gave some to be apostles, some to be prophets, some to be evangelists, and some to be pastors and teachers, 12 to prepare God's people for works of service, so that the body of Christ may be built up 13 until we all reach unity in the faith and in the knowledge of the Son of God and become mature, attaining to the whole measure of the fullness of Christ. (Ephesians 4:11-13)
As we conclude this section on IMPLICATIONS FOR THE CHURCH I ask you to review these 4 principles to see how your church (as leaders or followers) matches up to the principles laid out by Jesus and other New Testament writers.
There needs to be a revolution within the current way we 'do church', for the kingdom of God to grow and truly become the perfect bride for whom Jesus is to return.

(Continued next week.)
Find out more about us at.....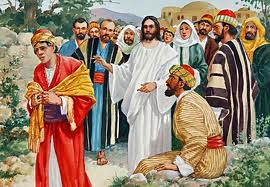 FROM THE WORD
THE WORDS OF JESUS
May we hear what the Lord is saying to us.....
Jesus Blesses the Children (Matthew 19:10-12, Mark 10:3-16, Luke 18:15-17)
When the disciples rebuked them for approaching Jesus.
"Let the children come to me! Don't stop them, for the kingdom of God belongs to those who are like these children. I tell you the truth, anyone who doesn't welcome the kingdom of God like a child won't enter it."
The Rich Young Ruler (Matthew 19:16-30, Mark 10:17-31, Luke 18:18-30)
Asked Jesus what is good to obtain eternal life.
"Why do you ask me what is good?" "There's only one who is good. But if you want to have eternal life, then keep the commandments."
"Don't murder, don't commit adultery, don't steal, don't give false testimony, honor you father and mother, and love your neighbor as yourself,"
These he had done.
"If you want to be perfect, then go and sell your possessions, give the money to the poor, and you'll have treasure in heaven. Then come and follow me."
This was too hard to accept.
"I tell you the truth," "rich people find it hard to enter the kingdom of heaven. I also tell you this: It's easier for a camel to pass through the eye of a needle than for a rich person to enter the kingdom of God."
The astonished disciples asked, "Who then, can be saved?"
"From a human point of view it's impossible, but all things are possible with God."
The disciples asked about their reward.
"I tell you the truth: when everything is remade and the Son of man sits on his glorious throne you who've followed me will also sit on twelve thrones, judging the twelve tribes of Israel. All those who because of me have left their homes, brothers, sisters, father, mother, children, and fields, will receive back a hundred times more, and will receive eternal life. For many who are first will be last, and many who are last will be first.
Download the complete 'Words of Jesus' here.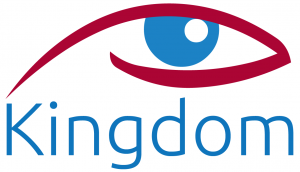 OUR AFRICAN EXPERIENCE
FOR MORE DETAILED AND REGULAR UPDATES, VISIT OUR FACEBOOK PAGE
AN EYE 4 Africa - https://www.facebook.com/aneye4africa/
Your prayers would still be appreciated.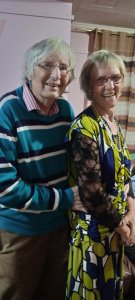 FAREWELL TO KATHY!
On Tuesday evening, our host Selina, put on a farewell party for Kathy, whom I farewelled in Eldoret the next day.
A smiling Kathy! Happy to be having a break, I presume!
A shaggy haired David dog.
TIME FOR A MOP CHOP!
When taking Kathy to the plane, I took the opportunity to become a shaved poodle!
Which look is best? I know!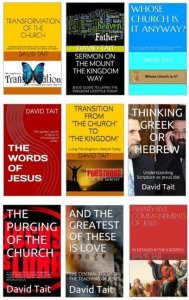 ***NOW***NINE BOOKS ARE AVAILABLE ON AMAZON!!!
9 BOOKS are now available on Amazon (Kindle)!

All are available worldwide for electronic download on Amazon (Kindle) for $US0.99c . Unfortunately there has to be a charge in order to list.

Your support would be appreciated and they could well change your life!
Many more online at https://www.wwj.org.nz/more-free-downloads

They are all found at this link.....
http://www.amazon.com/s/ref=nb_sb_noss?url=search-alias%3Daps&field-keywords=david+tait+books/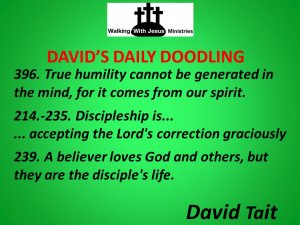 ***DAILY EZINE!*** 'DAVID'S DAILY DOODLINGS' Subscribe Today
Receive one or more of David's sayings in your mailbox each day to inspire, challenge or maybe, amuse. To register today, go down to the bottom of the page link below, click on the subscribe link dd-on@wwj.org.nz (or paste the address in an email yourself and send) Then it's done! If you have an Irish heritage, you will love the background coloring!
Subscription and back issue link is.....

'THE WORDS OF JESUS' REMAIN AVAILABLE FOR PDF DOWNLOAD
Join the many who have downloaded the 'The Words of Jesus'. I am sure you will be blessed by it, as I have been.

One key element here is the setting out in chronological order (as far as it is possible to do so) our Lord's words drawn from all the Gospels, and the elimination of repetition between Gospels.

You may be surprised by the different perspective this presentation gives you both in understanding of His life and ministry, and in achieving a closer relationship with Him.

Download the free PDF here.....
PHOTO: Possible look of Jesus in society of the time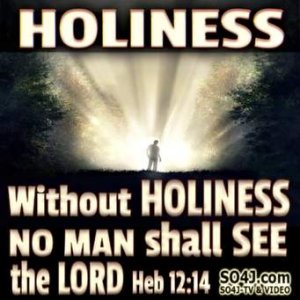 DAVID'S DOODLINGS
HOLINESS
1001. Holiness is not found in living to the letter of the Law, but reflected through the living law of our life.
1002. Holiness is an attitude reflected in behaviour.
1003. Holiness comes, as we let the hold on our lives, go.
1004. The 'Law of Holiness' needs to be written in our hearts and applied through our will.
1005. Holiness grows as we walk hand in hand with Jesus.
1006. Every day is to be a 'holy-day'
1007. Holiness is a way of life, not a doctrine.
1008. Holiness grows as my will goes.
1009. To walk on the path of holiness I need Jesus at my side.
1010. Holiness is tough, but hell, deadly!
1011. Life is a game, living holiness the aim.
Please feel free to quote these quotes. Acknowledgment of David Tait as the author would be appreciated. There are now over 1300 David sayings for you to view at ...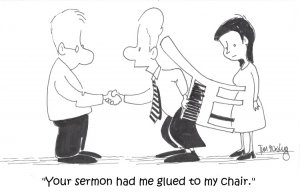 CARTOONS FROM TOON FEVER
Visit the Toon Fever website for more cartoon fun..... http://www.toonfever.com
Check it out at...

TUESDAY TEACHINGS
THIS WEEK: A REVELATION OF... THE POWER OF THREE IN GOD AND THE CHURCH
In walking further with Jesus, I increasingly appreciate that this particular revelation of 'threes in God' has been hugely important in developing my understanding of God and how He works both in the church and in our lives.
It matters not whether you are a 'oneness', 'twoness', or 'trinitarian' believer. The concept still applies.
If you can grasp this simple, yet profound concept, I'm sure it will open up new realms of understanding for you too about God and His plans for His people in these end days.
Next week's teaching is an introduction. It will be followed in coming weeks by examples of this principle's application to the church and us as individuals.
Let's start, shall we.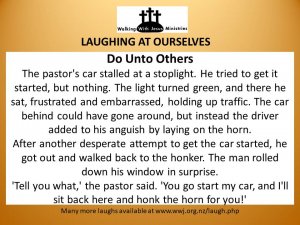 *** ANOTHER DAILY EZINE FROM WWJ!*** 'LAUGHING AT OURSELVES' Subscribe Today
As Christians, if we can't laugh at ourselves, others will! A fun way to start your day. To register today, go down to the bottom of the page link below, click on the subscribe link lao--on@wwj.org.nz (or paste the address in an email yourself and send) Then it's done!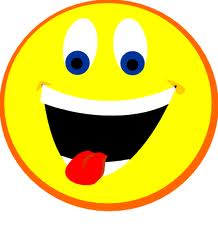 LAUGHING AT OURSELVES
***Blessed are those who can laugh at themselves for they shall never cease to be amused***
*** Those who can't laugh at themselves leave the job to others. ***
QWIK QWIP: "God can heal a broken heart, but he has to have all the pieces."
210. Terrorist Cell Groups
Subject: TERRORIST CELL GROUPS DISCOVERED IN THE CHURCH
By Rev. Dennis Smart, alias Bin Readin
Edited by Carlton Earp, alias Bin Thinkin
Latest news reports are that five terrorist cell groups have been operating in Baptist churches. (Maybe other churches also?)Church security identifies these as: Bin Sleepin, Bin Arguin, Bin Fightin, Bin Complainin, and Bin Missin. Their leader, Osama Bin Lucifer, trained these groups to destroy the Body of Christ. The plan is to come into the church disguised as Christians and to work within the church to discourage, disrupt, and destroy the pastors and the churches.
Earlier reports of a sixth group proved false. A tiny cell known by the name Bin Workin is actually the only effective counter terrorism force in the church. This group appears to be very weak. It is easy to detect because it is the only group that is active in services to Christ. Unlike the true terrorist cells, the Bin Workin team does not blend in with whoever and whatever comes along.
Bin Workin visibly does whatever is needed to uplift and encourage the Body of Christ. We have noticed that the Bin Workin cell group has different characteristics than the others. They have Bin Watchin, Bin Waitin, Bin Prayin, and Bin Longin for their Master, Jesus Christ to return.
Which cell group do you belong to?
These same groups have been detected in other denominations since Smart first filed his report. The Office of Home Church Security is co-ordinating its efforts with the Bin Workin group to interdict the activities of the five terrorist cells now known to be active throughout many churches worldwide.
211. Modern Translation
A six year old was overheard reciting the Lord's Prayer at a church service: "And forgive us our trash passes as we forgive those who passed trash against us."
212. Ouch!
After the christening of his baby brother in church, little Johnny sobbed all the way home in the back seat of the car. His father asked him three times what was wrong.
Finally, the boy replied, "That preacher said he wanted us brought up in a Christian home, but I want to stay with you guys!"
Download the book 'Laughing At Ourselves' in PDF format at LAUGHING AT OURSELVES One of the most comprehensive sources of Christian Humour on the Net with 800 sermon fillers for your entertainment and use at ..... https://www.wwj.org.nz/content/wwj18p47.pdf
Or read even more online at.....

A DAVID MUSING
My big event this week was my wife Kathy, of 52 years, leaving me to go back to New Zealand for a holiday. (Tears, sob)
She deserves it! For she has worked tirelessly here, under difficult circumstance, particularly over the last year, for 3+ years since last going home to see the family and friends.
The longer time has been caused by firstly Covid, which effectively stopped travel to New Zealand, plus a lack of funds! However a bequest at the same time as New Zealand opened its doors again has enabled her to make the trip.
Families and friends are important, particularly to ladies. So she will really enjoy herself.
It is hard for us today to conceive a world where the old time missionaries coming to Africa packed their worldly goods in a coffin, for they knew they would never be going home again!
They battled terrible diseases without having anything in the way of medicines other than what they could carry. Hacking through jungle was a frequent occurrence.
Today we do not know we are made! You fly into Nairobi, a big city much like numerous others throughout the world. We came to Webuye where we now live in a Matatu, a van into which people squeeze, over sealed roads.
When we arrived we were met in a car by our hosts, David and Selina. How times have changed.
Okay the roads aren't all sealed here. Most are unsealed and full of potholes. And many people, perhaps most, still live in mud houses, a family in 2 rooms, and are poor subsistence farmers. It is these we came to help with our hospital built by generous donors and a lot of hard work.
Of course we now have Whatsapp, which means that the world is as close as the phone. All for free!
Yes the world is now a different place. Unfortunately the new prosperity tends to make us self-reliant and takes our focus away from our God. It is remarkable here to see the simple faith of many, for they have nothing else.
Worth thinking about?
Until next time.
His servant and yours
David Tait

Visit us here.....
CHANGING YOUR EMAIL ADDRESS? NEWSLETTER STOPS COMING?
Each week we can lose up to 2% of our readers when they change email addresses without letting us know. Or sometimes, by your server acting strangely and just cutting us off! If you are about to change your address, please advise us of both your old and new addresses here at
enquiries@wwj.org.nz
and we will happily change our records to ensure ongoing delivery. Thanks.
Please also keep our address in your address book, as sometimes servers will automatically delete your address if there is even a one off problem in delivery. If your newsletter doesn't arrive, please let us know and we will reinstate you.
REPRODUCTION OF NEWSLETTER CONTENT
Most weeks we get enquiries about reproducing, in electronic or print form, articles contained in 'PGIM!' We welcome and encourage you to utilize this material. Freely received, freely given. We would ask though, that the source be acknowledged as an encouragement to others to subscribe to this newsletter also.
LINKS
If you would like to link your web site to ours, and ours to yours, please advise us on
links@wwj.org.nz
ABOUT US
WALKING WITH JESUS MINISTRIES is a non-profit, non-denominational, Bible based ministry located in Hastings, New Zealand. A ministry dedicated to developing discipleship, fostering unity amongst God's people to achieve the Great Commission, and in doing so, preparing for Christ's return. It is securely based upon the foundational principles of the Apostles Creed while recognising the wide and rich diversity of beliefs amongst Christians in other areas. In accordance with the Lord's direction, materials produced by the ministry are available, free of charge, to genuine enquirers upon request. The ministry is solely funded by donations, as the Lord provides. A list of materials available (plus some fun!) is obtainable and freely downloadable from our website
wwj.org.nz or by contacting us as follows.

Walking With Jesus Ministries
P O Box 2
Webuye 50205
Kenya

Email: enquiries@wwj.org.nz
Web: wwj.org.nz

Our role is to bless and encourage those in ministry while promoting co-operation and unity of direction amongst the body of Christ, as emphasised 3 times by Jesus in His longest prayer, immediately prior to His arrest and crucifixion. "... so that they may be one as we are one." (John 17:12, 21, 23-4) Our website is currently being developed to encourage your participation one with another, to share resources, and to enable you to promote events and items of interest to the body as a whole - and have a smile while doing it!

For comments upon and contributions to this service, please contact
david@wwj.org.nz
SUBSCRIPTION MANAGEMENT
We would encourage you to share this free service with your friends in ministry. To subscribe yourself please email pgim-on@wwj.org.nz.
If your name has been referred to us by a friend or supporting Ministry or has been obtained from a public Christian Directory or Website, it isn't our wish to burden you with information in which you aren't interested. To remove yourself from this list, please email pgim-off@wwj.org.nz.