A Weekly World Wide Word of Encouragement to those in the Ministry
PRAISE GOD IT'S MONDAY!
A WEEKLY 'WWW (world-wide word) OF ENCOURAGEMENT'
TO THOSE IN MINISTRY
A FREE service, currently connecting with Christian leaders from 3,000 denominations and ministries, in 70 countries.

Issue No: 927 Published: 29 Jul 2019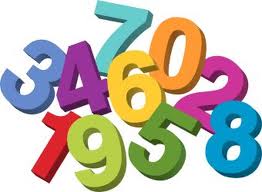 THINKING GREEK OR HEBREW?
NUMBERS

Greek (Western)
We view numbers very simply, as a quantity. So 1 means a single measure of what it is referring to. The number 2 is a double measure and 3, a triple measure. Combined together, there would be 6 items or units of measure. It is so straightforward, that it is difficult for us to conceive that numbers could be looked at in any different way.

Eastern (Hebrew)
While Hebrew thinkers also use numbers to count, their primary understanding and application of numbers is as a quality or symbol. To Westerners it is as if it is a 'secret code' but for the Jews it comes naturally.
Having knowledge of the Eastern, or spiritual, meaning of the various numbers, will help deepen our understanding of Scripture.

1-----God 4 There is one body and one Spirit— just as you were called to one hope when you were called— 5 one Lord, one faith, one baptism; 6 one God and Father of all, who is over all and through all and in all. (Ephesians 4:4)

2-----Witness 7 Calling the Twelve to him, he sent them out two by two and gave them authority over evil spirits. (Mark 6:7)

3-----The Godhead 40 For as Jonah was three days and three nights in the belly of a huge fish, so the Son of Man will be three days and three nights in the heart of the earth. (Matthew 12:40)

4-----Earth/Man 7 When the thousand years are over, Satan will be released from his prison 8 and will go out to deceive the nations in the four corners of the earth—Gog and Magog—to gather them for battle. (Revelation 20:7-8)

5-----Atonement or Grace 4 They were told not to harm the grass of the earth or any plant or tree, but only those people who did not have the seal of God on their foreheads. 5 They were not given power to kill them, but only to torture them for five months. And the agony they suffered was like that of the sting of a scorpion when it strikes a man. (Revelation 9:4-5)

6-----Fallen man 14 Indignant because Jesus had healed on the Sabbath, the synagogue ruler said to the people, "There are six days for work. So come and be healed on those days, not on the Sabbath." (Luke 13:14)

7-----Completion, Perfection, MaturityI saw in heaven another great and marvelous sign: seven angels with the seven last plagues—last, because with them God's wrath is completed. (Revelation 15:1)

8-----New Beginnings, Resurrection 28 About eight days after Jesus said this, he took Peter, John and James with him and went up onto a mountain to pray. 29 As he was praying, the appearance of his face changed, and his clothes became as bright as a flash of lightning. (Luke 8:28-9)

9-----Eternal perfection 26 "'On the fifth day prepare nine bulls, two rams and fourteen male lambs a year old, all without defect. (Numbers 29:26)

10----Trial and testing 8 "Or suppose a woman has ten silver coins and loses one. Does she not light a lamp, sweep the house and search carefully until she finds it? 9 And when she finds it, she calls her friends and neighbors together and says, 'Rejoice with me; I have found my lost coin.' (Luke 15:8-9)

12----Divine government A great and wondrous sign appeared in heaven: a woman clothed with the sun, with the moon under her feet and a crown of twelve stars on her head. (Revelation 12:1)

40----Trial and testing 2 After fasting forty days and forty nights, he was hungry. 3 The tempter came to him and said, "If you are the Son of God, tell these stones to become bread." (Matthew 4:2)

50----Anointing 57 "You are not yet fifty years old," the Jews said to him, "and you have seen Abraham!" 58 "I tell you the truth," Jesus answered, "before Abraham was born, I am!" (John 8:57-8)

144---(12x12) New man in Christ, Ultimate government of God Then I looked, and there before me was the Lamb, standing on Mount Zion, and with him 144,000 who had his name and his Father's name written on their foreheads. (Revelation 14:1)

200---Insufficiency20 Achan replied, "It is true! I have sinned against the LORD, the God of Israel. This is what I have done: 21 When I saw in the plunder a beautiful robe from Babylonia, two hundred shekels of silver and a wedge of gold weighing fifty shekels, I coveted them and took them. They are hidden in the ground inside my tent, with the silver underneath." (Joshua 7:20-21)

300---Full deliverance 14 So the king commanded that this be done. An edict was issued in Susa, and they hanged the ten sons of Haman. 15 The Jews in Susa came together on the fourteenth day of the month of Adar, and they put to death in Susa three hundred men, but they did not lay their hands on the plunder. (Esther 9:14-15)

50x6=300-Anointed man 7 The LORD said to Gideon, "With the three hundred men that lapped I will save you and give the Midianites into your hands. Let all the other men go, each to his own place." 8 So Gideon sent the rest of the Israelites to their tents but kept the three hundred, who took over the provisions and trumpets of the others. (Judges 7:7-8)

666---Man setting himself up as God 18 This calls for wisdom. If anyone has insight, let him calculate the number of the beast, for it is man's number. His number is 666. (Revelation 13:18)

SOME SPIRITUAL IMPLICATIONS FOR TODAY

1. The understanding of the meanings placed on numbers helps increase our depth of understanding what God is saying to us in the Scriptures. These verses are but a few examples of this.

2. Witnessing in pairs is the recommended way.

3. Knowing numerical meanings adds understanding to the Book of Revelation, particularly.

(To be continued next week.)

Acknowledgement: http://www.followtherabbi.com

Find out more about us at.....
FROM THE WORD
THE WORDS OF JESUS
May we hear what the Lord is saying to us.....
Jesus Prays (John: 26)
For Himself.
"Father, the time has come. Glorify your Son so that the Son may glorify you. For you gave him authority over all people so that he might give eternal life to all those you have given to him. Eternal life is this: to know you, the only true God, and Jesus Christ whom you sent. I have brought glory to you here on earth by completing the work you gave me to do. Now Father, glorify me in your presence with the glory I had with you before the beginning of the world.
For His disciples.
"I have revealed your character to those you gave me out of the world. They belonged to you; you gave them to me; and they have done what you said. 7Now they know that everything you have given me comes from you. I have given them the message that you gave me. They accepted it, completely convinced that I came from you, and they believed that you sent me. I'm praying for them—not for the world, but for those you gave me, for they belong to you. All who belong to me are yours, and those who belong to you are mine, and I have been glorified through them.
"I am leaving the world, but they will remain in the world; I am coming to you. Holy Father, protect them in your name, the name that you gave to me, so that they may be one, just as we are one. While I was with them, I protected them in your name that you gave to me. I watched over them so that no one was lost except the 'son of the lost,' so Scripture was fulfilled.
"Now I'm coming to you, and I say these things while I am still here in the world so they may share completely in my joy. I gave them your message, and the world hated them because they are not of the world, just as I'm not of the world. I'm not asking you to take them out of the world, but for you to protect them from the evil one. They are not of the world, just as I'm not of the world. 17Make them holy by the truth; your word is truth. Just as you sent me into the world, I have sent them into the world. 19I dedicated myself for them so that they may also be truly holy.
For all believers.
"I'm not only praying for them, I'm also praying for those who trust in me because of their message. I pray that they all may be one, just as you, Father, live in me, and I live in you, so that they too may live in us so that the world will believe you did send me. I have given them the glory that you gave me, so that they may be one, just as we are one. I live in them, and you live in me. May they be completely one, so the whole world will know that you did send me, and that you love them, just as you love me.
"Father, I want those you have given me to be with me where I am, so they can see the glory which you gave to me—for you loved me before the world was created. Good Father, the world does not know you, but I know you, and these here with me know that you sent me. I have revealed your character to them and will continue to make it known, so that the love you have for me will be in them, and I will live in them."
At Gethsemane (Matthew 26:36-46, Mark 14:32-42, Luke 22:30-46, John 18:1)
Jesus prays while the disciples sleep.
"Sit down here while I go over there and pray."
"I am so overwhelmed with sadness that it's killing me. Wait here and keep watch with me."
"My Father, please, if it's possible, let this cup of suffering be taken from me," Jesus asked. "Even so, may it not be what I want but what you want."
"What, you couldn't stay awake with me for just one hour? Stay awake and pray, so that you don't fall into temptation. Yes, the spirit is willing, but the body is weak."
"My Father, if this cup cannot be taken from me without me drinking from it, then your will be done,"
"How can you still be sleeping and resting? Look, the time has come. The Son of man is about to be betrayed into the hands of sinners! Get up, let's go! See, the one who's betraying me has arrived."
(Continued next week)
Download the complete 'Words of Jesus' here.

***NEW*** A MUZUNGU'S (White Man's) THOUGHT
The difference between the teachings of churches and the Word of God in the Bible is growing greater exponentially.
This is happening worldwide, not just in Africa, if that is what you are thinking. But it is expressed in different ways in different places.
In the West it is more an embracing of the post-modern, actually new age ideas that are meant to keep the church 'relevant' in current society. In fact new age, is not new at all, but has been round from since time began. In the early New Testament church it appeared in the guise of Gnosticism. All these teachings place man above God, effectively denying His existence.
Here in Africa it is appearing more in the form of pastoral control over his people, going back to the former tribal chieftain days where the chief's word was law. Interestingly, here in Kenya, the position of area chief is a government appointment designed to assist in the smooth running of the community.
Last Sunday I spoke in our local church and mentioned the baptism of Jesus and his message to the people. After His 40 days of fasting and testing by satan He started His ministry saying…..
From that time Jesus began to preach and say, "REPENT (change your inner self – your old way of thinking, regret past sins, live your life in a way that proves repentance, seek Gods purpose for your life) FOR THE KINGDOM OF HEAVEN IS AT HAND. (Matthew 4:17 AMP)
Surely, if that was the first, and primary, ministry of Jesus, surely it should remain our primary message to society today. Yet when was the last time REPENTANCE, SIN, RIGHTEOUS LIVING, OBEDIENCE TO GOD'S (not the churches) WILL FOR YOUR LIFE been spoken of in your church? Yet these are at the heart of the KINGDOM OF HEAVEN (GOD) WHICH (with the death and resurrection of Jesus and the coming of the Holy Spirit at Pentecost) HAS NOW COME to individuals who are OBEDIENT TO GOD'S WILL FOR THEIR LIFE.
The kingdom of God, built on the foundation of repentance and obedience to the Father is available now for those who are willing to seek it…..
But seek first his kingdom and his righteousness, and all these things will be given to you as well. (Matthew 6:33)
Yes, the kingdom is love, but love must be based on the foundation of repentance and obedience to God, otherwise it is mere human effort.
True Christianity always has been and always will be a radical, revolutionary movement whose aim is to reform society to godly principles, not adapt to the world in the name, in reality to get more 'bums on seats'. Conforming to society's mores may have short term benefits but is a recipe for long term disaster!
Reading the history of all the 'heroes' of the church throughout the millennia, they have one thing in common. They were reviled by society and by most in the church of the day.
Come to think of it, that was the same for Jesus too!
Whose example are we going to follow?
Shukrani
(Thank You)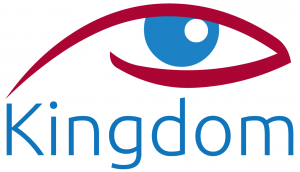 OUR AFRICAN EXPERIENCE
FOR MORE DETAILED AND REGULAR UPDATES, VISIT OUR FACEBOOK PAGE
AN EYE 4 Africa - https://www.facebook.com/aneye4africa/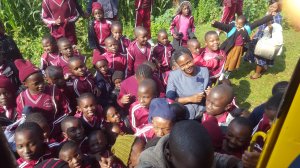 SHARING OUR ADVENTURE!
Our Dutch abnd Kiwi visitors decided we need needed a day off - not unreasonable, I guess, after 2 years of hard slog and continuing!
So Vincent and Jan took us to the Mount Elgon National Park for the day. A real adventure, I can assure you!
We got stuck on the road there and continued with a bus load of schoolchildren whose bus had slipped off the road and had to be dragged back on with a tractor!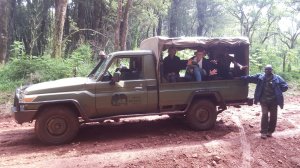 Our safari vehicle.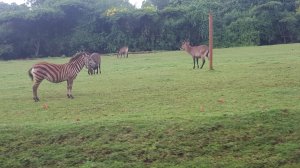 Grassland animals. Dirty zebra in the foreground.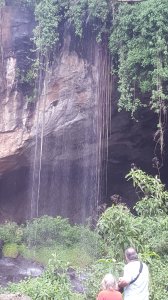 Vincent and Kathy approaching the cave and waterfall. A steep little climb to get there.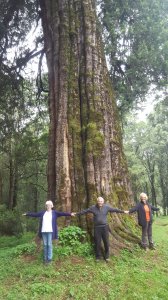 The largest tree in the park. Jan, David and Kathy showing the size. Not sure what it was. They called it a Podocarp, which it could be, but what type of Podocarp is a mystery.
A great, if strenuous time (see A David Musing below), had by all.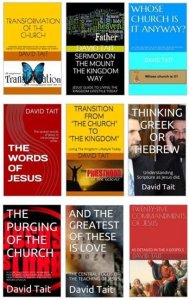 ***NOW***NINE BOOKS ARE AVAILABLE ON AMAZON!!!
9 BOOKS are now available on Amazon (Kindle)!

All are available worldwide for electronic download on Amazon (Kindle) for $US0.99c . Unfortunately there has to be a charge in order to list.

Your support would be appreciated and they could well change your life!

They are all found at this link.....
http://www.amazon.com/s/ref=nb_sb_noss?url=search-alias%3Daps&field-keywords=david+tait+books/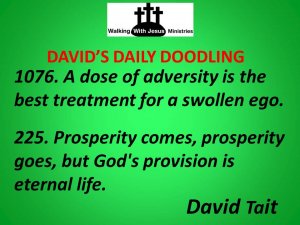 ***DAILY EZINE!*** 'DAVID'S DAILY DOODLINGS' Subscribe Today
Receive one of David's sayings in your mailbox each day to inspire, challenge or maybe, amuse. To register today, go down to the bottom of the page link below, click on the subscribe link dd-on@wwj.org.nz (or paste the address in an email yourself and send) Then it's done! If you have an Irish heritage, you will love the background coloring!
Subscription and back issue link is.....
'THE WORDS OF JESUS' REMAIN AVAILABLE FOR PDF DOWNLOAD
Join the many who have downloaded the 'The Words of Jesus'. I am sure you will be blessed by it, as I have been.

One key element here is the setting out in chronological order (as far as it is possible to do so) our Lord's words drawn from all the Gospels, and the elimination of repetition between Gospels.

You may be surprised by the different perspective this presentation gives you both in understanding of His life and ministry, and in achieving a closer relationship with Him.

Download the free PDF here.....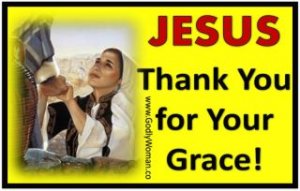 DAVID'S DOODLINGS
GRACE
827. We can't outgive God's grace to us - but we could try!

828. Love and grace are brother and sister together.

829. When grace abounds, love thrives.

830. Grace is God's power overcoming our weakness.

831. Without grace, love will soon fail.

832. Love and grace are like bread and butter. The one complements the other.

833. When grace abounds, love resounds.

835. Grace builds, unforgiveness destroys.

836. The rain of grace waters the garden of love.
Please feel free to quote these quotes. Acknowledgement of David Tait as the author would be appreciated. There are now over 1300 David sayings for you to view at ...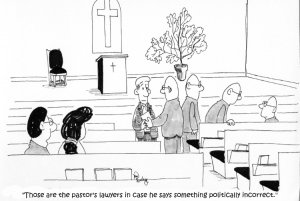 CARTOONS FROM TOON FEVER
Visit the Toon Fever website for more cartoon fun..... http://www.toonfever.com

Check it out at...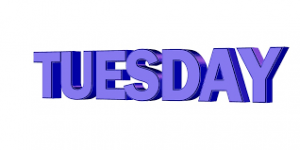 TUESDAY TEACHINGS
THIS WEEK: A CHURCH OF VICTORY
Reflecting God's Glory upon the Earth.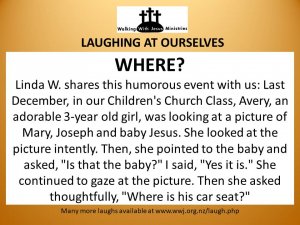 *** ANOTHER DAILY EZINE FROM WWJ!*** 'LAUGHING AT OURSELVES' Subscribe Today
As Christians, if we can't laugh at ourselves, others will! A fun way to start your day. To register today, go down to the bottom of the page link below, click on the subscribe link lao--on@wwj.org.nz (or paste the address in an email yourself and send) Then it's done!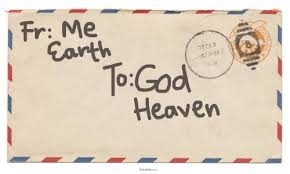 LAUGHING AT OURSELVES
***Blessed are those who can laugh at themselves for they shall never cease to be amused***
*** Those who can't laugh at themselves leave the job to others. ***
292. Church Pew Position
A couple who usually sat in the back whenever they attended the church service.
One particular Sunday they decided to move up to the front in order to be sure to hear the sermon.
Even though they had been attending the church for several years, the long time church member they sat next to did not recognise them, but cheerfully said, "Good to have ya with us! Where y'all from?"
Taken by surprise, the husband mumbled, "The back."
QWIK QWIP: "A coincidence is when God performs a miracle, and decides to remain anonymous."
293. You May Be A Preacher If . . .
* You've ever lied to the choir director about how good the cantata sounded.
* Your wife has amassed a huge collection of unsolicited casserole recipes.
* You think Exegesis should be an Olympic Event.
* You love to eat lunch alone so you don't have to say grace out loud.
* You sort of enjoy inviting the Mormons in to "talk."
* People apologise to you after they use profanity.
* While shaving, you've pointed at yourself in the mirror and shouted, "REPENT!" just to see what you look like doing it.
* You ever talked to a person who was sitting on a bedpan.
* You find yourself counting people at a sports event.
* You've spoken for free, and are worth every penny of it!
* You received an anonymous U-Haul gift certificate.
294. Real Letters That Children Sent To God
Dear GOD,
Maybe Cain and Abel would not kill each other so much if they had their own rooms. It works with my brother.
-Larry
Dear GOD,
bet it is very hard for You to love all of everybody in the whole world. There are only 4 people in our family and I can never do it.
-Nan
Dear GOD,
Is it true my father won't get in Heaven if he uses his bowling words in the house?
-Anita
Dear GOD,
Did You mean for the giraffe to look like that or was it an accident?
-Norma
Dear GOD,
I went to this wedding and they kissed right in church. Is that okay?
-Neil
Dear GOD,
What does it mean You are a Jealous God? I thought You had everything.
-Jane
Dear GOD,
Did You really mean "do unto others as they do unto you"? Because if You did, then I'm going to fix my brother.
-Darla
Dear GOD,
Thank you for the baby brother, but what I prayed for was a puppy.
-Joyce
Dear GOD
It rained for our whole vacation and is my father mad! He said some things about You that people are not supposed to say, but I hope You will not hurt him anyway.
-Your friend, (But I am not going to tell You who I am)
Dear GOD,
Please send me a pony. I never asked for anything before. You can look it up
-Bruce
Dear GOD,
If we come back as something - Please don't let me be Jennifer Horton because I hate her.
-Denise
Dear GOD,
I want to be just like my Daddy when I get big but not with so much hair all over.
-Sam
Dear GOD,
I didn't think orange went with purple until I saw the sunset You made on Tuesday. That was cool.
-Anon
Download the book 'Laughing At Ourselves' in PDF format at LAUGHING AT OURSELVES One of the most comprehensive sources of Christian Humour on the Net with 800 sermon fillers for your entertainment and use at ..... https://www.wwj.org.nz/content/wwj18p47.pdf
Or read them all online at.....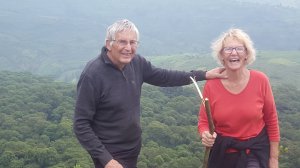 A DAVID MUSING
This week God forgot to bring His black shoe polish, for we had a number of whitge faces around, which is most unusual here in the village in Kenya.
Firstly, we had 3 Dutch visitors at the Bible School next door, who had come for the stdents' graduation ceremony and to run a 2 day conference.
Also we have a 'KIWI' (New Zealand) friend of Kathy's staying with us for 2 weeks.
It has been a fun time for us. We awer taken on our frist 'big day out' on Friday since we have been here, when we travelled to the Mount Elgon Nature Park. It sure ley was an adventure! Firstly getting there through the rough and wet roads! Then we were taken on a tour of the park where we saw a good number of wild animals in their natural habitat, and visited a beautiful cave with a waterfall at the entrance.
However the 'highlight' of the day was climbing on a steep and slippery path the last 500' or so up an 8,000' high mountain. Used some muscles more than they have been used for some time! A beautiful view and some lovely alpine flowers on the summit.
We were 'rewarded' with lactic acid in our leg muscles for the next day or so!
It is always refreshing to meet friends from round the world and also to have adventures into unknown territory. The 'oldies' still have the stamina to climb both the Mountain of God and Mount Elgon too! Here we are 'on top of the world'!
PS: If you can't see snow, that is because we are near the equator, not because we are faking it!
Until next week.....
MAY GOD BLESS YOU AND YOU BLESS GOD
His servant and yours
David Tait

Visit us here.....
REPRODUCTION OF NEWSLETTER CONTENT
Most weeks we get enquiries about reproducing, in electronic or print form, articles contained in 'PGIM!' We welcome and encourage you to utilize this material. Freely received, freely given. We would ask though, that the source be acknowledged as an encouragement to others to subscribe to this newsletter also.
CHANGING YOUR EMAIL ADDRESS? NEWSLETTER STOPS COMING?
Each week we can lose up to 2% of our readers when they change email addresses without letting us know. Or sometimes, by your server acting strangely and just cutting us off! If you are about to change your address, please advise us of both your old and new addresses here at
enquiries@wwj.org.nz
and we will happily change our records to ensure ongoing delivery. Thanks.
Please also keep our address in your address book, as sometimes servers will automatically delete your address if there is even a one off problem in delivery. If your newsletter doesn't arrive, please let us know and we will reinstate you.
LINKS
If you would like to link your web site to ours, and ours to yours, please advise us on
links@wwj.org.nz
ABOUT US
WALKING WITH JESUS MINISTRIES is a non-profit, non-denominational, Bible based ministry located in Hastings, New Zealand. A ministry dedicated to developing discipleship, fostering unity amongst God's people to achieve the Great Commission, and in doing so, preparing for Christ's return. It is securely based upon the foundational principles of the Apostles Creed while recognising the wide and rich diversity of beliefs amongst Christians in other areas. In accordance with the Lord's direction, materials produced by the ministry are available, free of charge, to genuine enquirers upon request. The ministry is solely funded by donations, as the Lord provides. A list of materials available (plus some fun!) is obtainable and freely downloadable from our website
wwj.org.nz
or by contacting us as follows.
Walking With Jesus Ministries
7 Bull Street
Ahuriri
Napier
New Zealand
Phone: (06) 835 0567 International (+64) 6 835 0567
Email:
enquiries@wwj.org.nz
Web:
wwj.org.nz
Our role is to bless and encourage those in ministry while promoting co-operation and unity of direction amongst the body of Christ, as emphasised 3 times by Jesus in His longest prayer, immediately prior to His arrest and crucifixion. "... so that they may be one as we are one." (John 17:12, 21, 23-4) Our website is currently being developed to encourage your participation one with another, to share resources, and to enable you to promote events and items of interest to the body as a whole - and have a smile while doing it!
For comments upon and contributions to this service, please contact
david@wwj.org.nz
SUBSCRIPTION MANAGEMENT
We would encourage you to share this free service with your friends in ministry. To subscribe yourself please email pgim-on@wwj.org.nz.
If your name has been referred to us by a friend or supporting Ministry or has been obtained from a public Christian Directory or Website, it isn't our wish to burden you with information in which you aren't interested. To remove yourself from this list, please email pgim-off@wwj.org.nz.