A Weekly World Wide Word of Encouragement to those in the Ministry
PRAISE GOD IT'S MONDAY!
A WEEKLY 'WWW (world-wide word) OF ENCOURAGEMENT'
TO THOSE IN MINISTRY
A FREE service, currently connecting with Christian leaders from 3,000 denominations and ministries, in 70 countries.

Issue No: 872 Published: 09 Jul 2018

WHOSE CHURCH IS IT ANYWAY? Part 50
THE CHALLENGE OF..... LIVING THE KINGDOM LIFESTYLE
PARABLES OF THE HIDDEN TREASURE & THE PEARL

44 "The kingdom of heaven is like treasure hidden in a field. When a man found it, he hid it again, and then in his joy went and sold all he had and bought that field. 45 "Again, the kingdom of heaven is like a merchant looking for fine pearls. 46 When he found one of great value, he went away and sold everything he had and bought it. (Matthew 13:44-6)

The kingdom of God really is available now!

It is hidden to non-believers, and sadly, to most believers also. Many believers are not even looking for it, for they are (incorrectly) taught that it is a future kingdom only. If it were not available now, then why would Jesus have told these parables? Jesus, in fact, is talking in the past tense here, about two people who have actually already found the kingdom. So logically, it has to be there to be found!

The kingdom of God is priceless!

It is a treasure in the field; it is also the finest pearl the trader has ever seen. It is easy for us to build a fantasy picture of what 'heaven' is like - fluffy angels and golden paving. Suspect it will be different when we do get there! But it is even more difficult to envisage that this beautiful, precious kingdom could ever exist on earth, amongst all the troubles and challenges we are facing in the world, let alone imagine what it looks like! In reality though, the kingdom already exists in those who seek it. We may not be able to see it, but it is there, within us.

20 Once, having been asked by the Pharisees when the kingdom of God would come, Jesus replied, "The kingdom of God does not come with your careful observation, 21 nor will people say, 'Here it is,' or 'There it is,' because the kingdom of God is within you." (Luke 17:20-1)

However, in the end times this inner existence will be reflected outwardly also, in kingdom believers, in what is often called the 'double blessing'. Imagine being filled with 'the fullness of God'!

I had an aunty, Aunty Ina, who suffered badly from arthritis in her later years. However she would still cook (which won my affection!), but my greatest memory is of her sitting by the fire with her Bible by her side. In spite of her pain, the glow of the Holy Spirit shone from her. The kingdom within, was seen without!

The kingdom costs us everything!

The first man sold all he had, the second, all his precious pearls, in order to buy, (to inherit) the kingdom. To participate in the glory of the kingdom costs us our all. We cannot live in two kingdoms at the same time. Either we live in the world (follow the ways of the world while maybe acknowledging Jesus as Saviour) or commit our lives 100% to Him (making Jesus Lord of our lives). Jesus spoke in this way as He prayed for His disciples at Gethsemane;

14 I have given them your word and the world has hated them, for they are not of the world any more than I am of the world. (John 17:14)

The kingdom costs everything, for as black is the opposite of white, so true kingdom believers will reflect the light of Jesus to the world, who will either accept or reject the light.

8 For you were once darkness, but now you are light in the Lord. Live as children of light 9 (for the fruit of the light consists in all goodness, righteousness and truth) 10 and find out what pleases the Lord. 11 Have nothing to do with the fruitless deeds of darkness, but rather expose them. 12 For it is shameful even to mention what the disobedient do in secret. 13 But everything exposed by the light becomes visible, 14 for it is light that makes everything visible. This is why it is said: "Wake up, O sleeper, rise from the dead, and Christ will shine on you." (Ephesians 5:8-13)

Are you, am I, prepared to pay the price of the kingdom?
(Continued next week)
Find out more about us here.....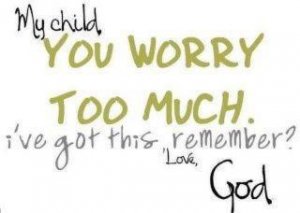 FROM THE WORD
THE WORDS OF JESUS
May we hear what the Lord is saying to us.....
Not to Worry (Matthew 6:25-34)
"That's why I'm telling you not to worry about your life. Don't worry about what to eat, or what to drink, or what clothes to put on. Isn't life more than food, and the body more than clothes? Look at the birds - they don't sow or reap or store food in barns, for your heavenly Father feeds them. Aren't you worth more than they are? Who of you by worrying can add a minute to your life? And why are you worried about clothes? Look at the beautiful flowers in the field. See how they grow: they don't work hard, they don't spin thread. But I tell you, not even Solomon in all his glory was dressed like one of these flowers. So if God decorates the fields like this, grass which is here today and tomorrow is thrown into the fire, won't he do much more for you, you people who trust so little? So don't worry, saying, 'What shall we eat?' or 'What shall we drink?' or 'What shall we wear?' These are all the things that the heathen chase after, but your heavenly Father knows everything you need. Seek his kingdom first, and his way of doing right, and everything will be given to you. So don't worry about tomorrow, because tomorrow can worry about itself. There's already enough evil in every day.
Do Not Judge Others (Matthew 7:1-6, Luke 6:37-42)
"Don't judge others, so that you won't be judged. For whatever standard you use to judge others will be used to judge you, and whatever measurement you use to measure others will be used to measure you. Why do you see the speck that's in your brother's eye? Don't you notice the plank that's in your own eye? How can you say to your brother, 'Let me take out that speck from your eye' when you have a plank in your own eye? You're being hypocritical! First get rid of the plank that's in your own eye. Then you'll be able to see clearly to take out the speck from your brother's eye.
"Don't give dogs what's holy. Don't throw your pearls to pigs. That way the pigs won't trample them underfoot, and the dogs won't turn and attack you.
Ask, Seek, Knock (Matthew 7:7-12)
"Ask, and it will be given to you; seek, and you will find; knock, and the door will be opened for you.
Everyone who asks, receives; everyone who seeks, finds; and everyone who knocks has the door opened for them. Would any of you give your son a stone if he asked for bread? Or if he asked for fish, would you give him a snake? So if even you who are evil know to give good things to your children, how much more will your heavenly Father give good things to those who ask him. "Treat others the way you want them to treat you. This sums up the law and the prophets.
(Continued next week)
You can download the complete 'Words of Jesus' here.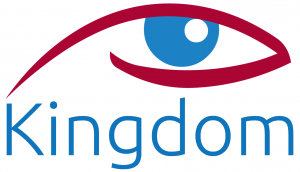 OUR AFRICAN EXPERIENCE
FOR MORE DETALED AND REGULAR UPDATES, VISIT OUR FACEBOOK PAGE
AN EYE 4 Africa - https://www.facebook.com/aneye4africa/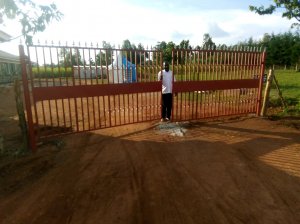 GATES WITHOUT A FENCE!
So much here is based on appearances.
NHIF, the Government health insurance company, with about 25% of the population registered, required us to have big gates, but only a small, barbed wire fence.
The very nice, and expensive, gates are only in a temporary location, as the fence is only around half of the property.
Once we expand, we will fence the entire property and erect the gates in their permanent position.
Meanwhile, enjoy the gates! As does our Security Man, Geoffrey.
PS: We hope to have the final registration for our facility completed this week, so we can treat their, better paying, customers.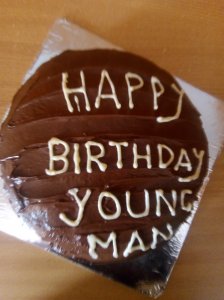 HAPPY BIRTHDAY TO ME!
I loved the inscription on the cake Kathy cooked to share with the staff.
After all I am only 17! Well.......... Better make that 71!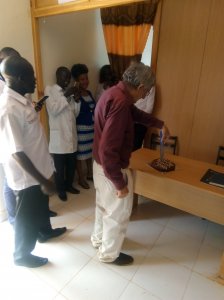 Cutting the cake with the staff.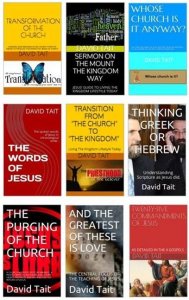 ***NOW***NINE BOOKS ARE AVAILABLE ON AMAZON!!!
9 BOOKS are now available on Amazon (Kindle)!

All are available worldwide for electronic download on Amazon (Kindle) for $US0.99c . Unfortunately there has to be a charge in order to list.

Your support would be appreciated and they could well change your life!

They are all found at this link.....
http://www.amazon.com/s/ref=nb_sb_noss?url=search-alias%3Daps&field-keywords=david+tait+books/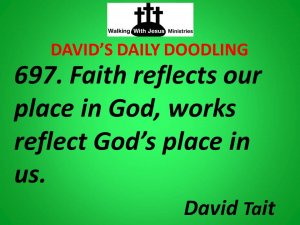 ***DAILY EZINE!*** 'DAVID'S DAILY DOODLINGS' Subscribe Today
Receive one of David's sayings in your mailbox each day to inspire, challenge or maybe, amuse. To register today, go down to the bottom of the page link below, click on the subscribe link dd-on@wwj.org.nz (or paste the address in an email yourself and send) Then it's done! If you have an Irish heritage, you will love the background coloring!
Subscription and back issue link is.....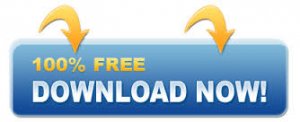 'THE WORDS OF JESUS' REMAIN AVAILABLE FOR PDF DOWNLOAD
Join the many who have downloaded the 'The Words of Jesus'. I am sure you will be blessed by it, as I have been.

One key element here is the setting out in chronological order (as far as it is possible to do so) our Lord's words drawn from all the Gospels, and the elimination of repetition between Gospels.

You may be surprised by the different perspective this presentation gives you both in understanding of His life and ministry, and in achieving a closer relationship with Him.

Download the free PDF here.....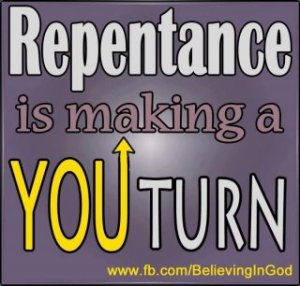 DAVID'S DOODLINGS
ON REPENTANCE AND FORGIVENESS
190. Forgiveness flies away, a leaf borne by the wind, soon to be returned upon the wings of an angel.

378. Medicine heals the body, while forgiveness heals the soul.

379. Forgiveness is a mind soothing balm.

380. Repentance brings peace with God - forgiveness, peace with ones self.

381. The simplest way to avoid repentance is not to sin. All too often I forget to follow my own advice!

1305. True revival is built upon the foundation of tears.
Please feel free to quote these quotes. Acknowledgement of David Tait as the author would be appreciated. There are now over 1300 David sayings for you to view at ...
CARTOONS FROM TOON FEVER
Visit the Toon Fever website for more cartoon fun..... http://www.toonfever.com

Check it out at...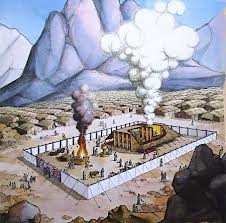 TUESDAY TEACHINGS
NEXT WEEK: A REVELATION OF.......THE TABERNACLE OF MOSES - PART 1 (1)

The first modern revelation of the importance of Moses Tabernacle as the pattern of a godly walk, and of church development and life, came out of the Latter Rain Movement, after World War 2.

In recent times the teaching has been neglected but it is still applicable today and the Lord is giving new revelation about it as we move even closer to the end of the age.

An understanding of Moses Tabernacle is vital for every Christian who has a heart to know God and His plans more deeply.

Today's teaching is a simple, short introduction to the Tabernacle, before moving on to a unique experience of what it could have been like living in the Israelites' desert days.

So let's get going!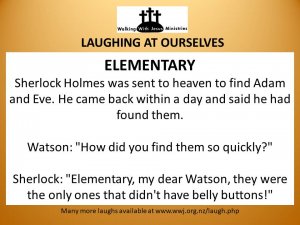 *** ANOTHER DAILY EZINE FROM WWJ!*** 'LAUGHING AT OURSELVES' Subscribe Today
As Christians, if we can't laugh at ourselves, others will! A fun way to start your day. To register today, go down to the bottom of the page link below, click on the subscribe link lao--on@wwj.org.nz (or paste the address in an email yourself and send) Then it's done!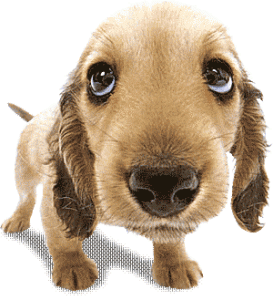 LAUGHING AT OURSELVES
***Blessed are those who can laugh at themselves for they shall never cease to be amused***
*** Those who can't laugh at themselves leave the job to others. ***
158. Many a True Word.....
A minister, having served the same church for many years with little fruit, decided to leave and take a similar position in another church. Without telling anyone he had made this decision, or writing a letter to the congregation, he waited until Sunday morning to announce his resignation in church.
When he spoke to the congregation he said, "The same Jesus that called me to this church many years ago has now called upon me to leave and serve another church."
The assistant pastor immediately led the congregation in singing, "What a Friend We Have in Jesus."
QWIK QWIP: "A best friend is like a four leaf clover... hard to find, and lucky to have."
159. The Pentecostal Pet
A Christian couple felt it important to own an equally spiritual pet. So, they went shopping. At a kennel owned by a believer that only watched Christian TV, they found a dog they liked quite a lot. When they asked the dog to fetch the Bible, he did it in a flash. When they instructed him to look up Psalm 23, he complied equally fast, using his paws with great dexterity to turn the pages to the correct passage. Amazed and impressed, they purchased the uncanny canine, and went home... not ever thinking to ask about the dog's denominational upbringing.
That night they had some friends over from their Baptist church. They were so proud of their new dog and his spiritual skills, that they called the dog to show him off. The friends were impressed, and asked whether the dog was able to do any of the usual dog tricks, as well. This stopped the couple cold, as they hadn't thought about "normal" tricks.
"Well," they said, "let's try this out." Once more they called the dog, and the man clearly pronounced the command, "Heel!" Quick as a wink, the dog jumped up, slapped him soundly on the forehead with a paw, then began to run around the room knocking over chairs and barking at the top of his lungs!
FREE DOWNLOAD: You can now download the book 'Laughing At Ourselves' in PDF format at LAUGHING AT OURSELVES One of the most comprehensive sources of Christian Humour on the Net with 800 sermon fillers for your entertainment and use at ..... https://www.wwj.org.nz/content/wwj18p47.pdf
Or read them all online at.....

A DAVID MUSING
Sometimes our problems seem overwhelming. Move from one to another, seemingly without any progress anywhere.
I know, because I have had a week like that. Several weeks actually.
But then, as I came to write this, I stood back and looked at the overall picture. Yes, we have had a multitude of challenges. Yes, they are ongoing.
But then, being objective, I could see that within the ongoing challenges, we had actually made some progress, here in Webuye, Kenya, with our hospital.
So it gave me a different perspective on things - and the strength to face another round of battles still to come.
Indeed, sometimes, we do not see the forest for the trees!
Until next week.......

MAY GOD BLESS YOU AND YOU BLESS GOD.


His servant and yours
David Tait

Visit us here.....
REPRODUCTION OF NEWSLETTER CONTENT
Most weeks we get enquiries about reproducing, in electronic or print form, articles contained in 'PGIM!' We welcome and encourage you to utilize this material. Freely received, freely given. We would ask though, that the source be acknowledged as an encouragement to others to subscribe to this newsletter also.
CHANGING YOUR EMAIL ADDRESS? NEWSLETTER STOPS COMING?
Each week we can lose up to 2% of our readers when they change email addresses without letting us know. Or sometimes, by your server acting strangely and just cutting us off! If you are about to change your address, please advise us of both your old and new addresses here at
enquiries@wwj.org.nz
and we will happily change our records to ensure ongoing delivery. Thanks.
Please also keep our address in your address book, as sometimes servers will automatically delete your address if there is even a one off problem in delivery. If your newsletter doesn't arrive, please let us know and we will reinstate you.
LINKS
If you would like to link your web site to ours, and ours to yours, please advise us on
links@wwj.org.nz
ABOUT US
WALKING WITH JESUS MINISTRIES is a non-profit, non-denominational, Bible based ministry located in Hastings, New Zealand. A ministry dedicated to developing discipleship, fostering unity amongst God's people to achieve the Great Commission, and in doing so, preparing for Christ's return. It is securely based upon the foundational principles of the Apostles Creed while recognising the wide and rich diversity of beliefs amongst Christians in other areas. In accordance with the Lord's direction, materials produced by the ministry are available, free of charge, to genuine enquirers upon request. The ministry is solely funded by donations, as the Lord provides. A list of materials available (plus some fun!) is obtainable and freely downloadable from our website
wwj.org.nz
or by contacting us as follows.
Walking With Jesus Ministries
7 Bull Street
Ahuriri
Napier
New Zealand
Phone: (06) 835 0567 International (+64) 6 835 0567
Email:
enquiries@wwj.org.nz
Web:
wwj.org.nz
Our role is to bless and encourage those in ministry while promoting co-operation and unity of direction amongst the body of Christ, as emphasised 3 times by Jesus in His longest prayer, immediately prior to His arrest and crucifixion. "... so that they may be one as we are one." (John 17:12, 21, 23-4) Our website is currently being developed to encourage your participation one with another, to share resources, and to enable you to promote events and items of interest to the body as a whole - and have a smile while doing it!
For comments upon and contributions to this service, please contact
david@wwj.org.nz
SUBSCRIPTION MANAGEMENT
We would encourage you to share this free service with your friends in ministry. To subscribe yourself please email pgim-on@wwj.org.nz.
If your name has been referred to us by a friend or supporting Ministry or has been obtained from a public Christian Directory or Website, it isn't our wish to burden you with information in which you aren't interested. To remove yourself from this list, please email pgim-off@wwj.org.nz.