A Weekly World Wide Word of Encouragement to those in the Ministry
PRAISE GOD IT'S MONDAY!
A WEEKLY 'WWW (world-wide word) OF ENCOURAGEMENT'
TO THOSE IN MINISTRY
A FREE service, currently connecting with Christian leaders from 3,000 denominations and ministries, in 70 countries.

Issue No: 951 Published: 13 Jan 2020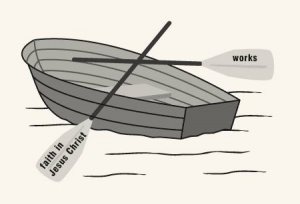 THINKING GREEK OR HEBREW?
FAITH AND WORKS

Greek (Western)
Greek thinkers centre on faith. We give pre-eminence to verses such as....
17 For in the gospel a righteousness from God is revealed, a righteousness that is by faith from first to last, just as it is written: "The righteous will live by faith." (Romans 1:17)
and.....
8 For it is by grace you have been saved, through faith—and this not from yourselves, it is the gift of God— 9 not by works, so that no one can boast. (Ephesians 2:8-9)
As we have mentioned before, our faith is primarily intellectual. If we 'believe' in our minds we are 'saved', that is all that is required of us to inherit eternal life.

Eastern (Hebrew)
Jewish thinking, down through the millennia, has been focused on faith, shown to be real through works, by living a lifestyle that reflects what they believe intellectually. We tend to skip verse 10 of the passage quoted above from Ephesians, but it is integral to the whole.....
10 For we are God's workmanship, created in Christ Jesus to do good works, which God prepared in advance for us to do. (Ephesians 2:10)
James, ever the practical person, was even more definite when he said.....
14 What good is it, my brothers, if a man claims to have faith but has no deeds? Can such faith save him? 15 Suppose a brother or sister is without clothes and daily food. 16 If one of you says to him, "Go, I wish you well; keep warm and well fed," but does nothing about his physical needs, what good is it? 17 In the same way, faith by itself, if it is not accompanied by action, is dead. (James 2:14-17)
He understood the Greek based thinking, arguing.....
18 But someone will say, "You have faith; I have deeds." Show me your faith without deeds, and I will show you my faith by what I do. 19 You believe that there is one God. Good! Even the demons believe that—and shudder. (James 2:18-19)
and countered with the examples of Abraham.....
20 You foolish man, do you want evidence that faith without deeds is useless? 21 Was not our ancestor Abraham considered righteous for what he did when he offered his son Isaac on the altar? 22 You see that his faith and his actions were working together, and his faith was made complete by what he did. 23 And the scripture was fulfilled that says, "Abraham believed God, and it was credited to him as righteousness," and he was called God's friend. 24 You see that a person is justified by what he does and not by faith alone. (James 2:20-24)
and Rahab.....
25 In the same way, was not even Rahab the prostitute considered righteous for what she did when she gave lodging to the spies and sent them off in a different direction? 26 As the body without the spirit is dead, so faith without deeds is dead. (James 2:25-6)
Most of the parables of Jesus illustrate both faith and action. Of course, the most famous is the Parable of the Good Samaritan. It concludes.....
36 "Which of these three do you think was a neighbor to the man who fell into the hands of robbers?" 37 The expert in the law replied, "The one who had mercy on him." Jesus told him, "Go and do likewise." (Luke 10:36:7)
The Parable of the Sower makes this point too. We are to 'produce crops', not just intellectually believe.....
23 But the one who received the seed that fell on good soil is the man who hears the word and understands it. He produces a crop, yielding a hundred, sixty or thirty times what was sown." (Matthew 13:23)
Again, there is to be a change in our character as a result of our conversion, referred to as developing the 'fruit of the Spirit'.....
22 But the fruit of the Spirit is love, joy, peace, patience, kindness, goodness, faithfulness, 23 gentleness and self-control. Against such things there is no law. 24 Those who belong to Christ Jesus have crucified the sinful nature with its passions and desires. (Galatians 5:22-3)
Yes, our faith is to be reflected in action, resulting in a changed life.

SOME SPIRITUAL IMPLICATIONS FOR TODAY
1. Conversion needs to be accompanied by discipling of new believers.
2. Works are to be a reflection of the God within us to the outside world. To achieve this, they need to be done in the community, not just within the church environment.
3. Our teaching and beliefs about evangelism need to be changed to emphasise the need for a changed life, rather than just being an intellectual decision.
Find out more about us at.....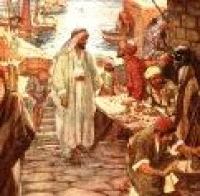 FROM THE WORD
THE WORDS OF JESUS
May we hear what the Lord is saying to us.....
Healing From Leprosy (Matthew 8:1-4, Mark 1:40-45, Luke 5:12-16)
At a man's request.
"Be healed!"
Immediately he was healed from his leprosy.
"Make sure you don't tell anyone,""Go and show yourself to the priest and give the offering which Moses required as public proof."
Healing the Paralytic (Matthew 9:1-8, Mark 2:1-12, Luke 5:17-26)
As Jesus returned to Nazareth.
"My friend, cheer up! Your sins are forgiven."
When queried about being able to forgive sins.
"Why are you thinking evil thoughts in your hearts? What is easier to say, 'Your sins are forgiven,' or 'Get up and walk'? But to convince you that the Son of man does have the authority to forgive sins…" "Get up, pick up your mat, and go home!"
Matthew the Tax Collector Called(Matthew9:9-13 , Mark 2:13-17, Luke 5:27-31)
"Follow me!"
Jesus was then criticized for mixing with undesirables, while eating at Matthew's house.
"Those who are well don't need a doctor, but sick people do. Go and discover what this means: 'I want mercy, not sacrifice. For I didn't come to call those who do right—I came to call sinners.'"
(Continued next week)
Download the complete 'Words of Jesus' here.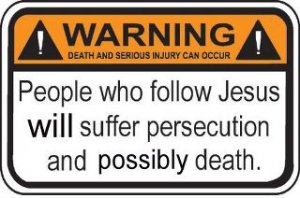 A MUZUNGU'S (White Man's) THOUGHT – Issue 19
The 'Age of Grace' is a very comforting that we now live in is very comforting to us all, for it means, as many, likely most, see it, that we can keep on sinning and continue to be forgiven without any consequences.
But is this teaching biblical?
Actually, you cannot find it anywhere, if the truth be told! For it is a teaching that only came into being in the 1800's!
You will likely be as surprised to hear this as I was when I first found out about it! There are so many things we accept as being biblical, when in fact they are merely traditions, doctrines extrapolated from a few bible verses, generally as a comfort to make life easier for believers.
The other major teaching of this type that is deluding well-meaning followers of Jesus, is that of the pre-tribulation rapture, an easy escape from the promised persecution to come. This originated from a Scottish lady's dream and was spread by some unscrupulous preachers in Britain in order to get a greater following.
For we all want easy lives, don't we? We all want success without sacrifice, salvation with commitment. That is simply human nature.
Unfortunately however, that is not the way of Jesus, or the teachings, or the experience of the people of Scripture.
The Old Testament prophets were ridiculed, persecuted and often killed for their faith. Jesus taught that we would face persecution, even from our families, as well as unbelievers. All the disciples except John were martyred for their faith in the resurrected Jesus, their Saviour and Lord.
Many today are also being persecuted and martyred for Jesus, in an increasing number of countries throughout the world.
Jesus tells us that we will all face persecution in the last days, and you can see the beginning of that now in the West, where humanism has taken hold and Christian values are being ridiculed and those who hold to them are being prosecuted for their beliefs. Jesus promised us that this would only increase.
The amazing result of persecution though, is that normally, there is a growth in the number of believers!
China is a classic example of this. Soon, the number of believers there, if it is not so already, will be the largest of any country in the world, in spite of Communist persecution.
Jesus was not part of the establishment then, nor in times present and to come, are His true disciples. For His teachings and the way we are to live, are different to worldly ways. To live for Him, we must reject worldly ways and follow the way of sacrifice, the way of the Cross, and live as Jesus did.
Then, we will be true disciples of our Lord.
Shukrani
(Thank You)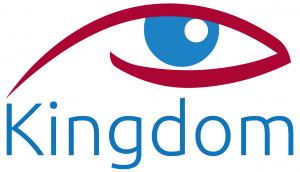 OUR AFRICAN EXPERIENCE
FOR MORE DETAILED AND REGULAR UPDATES, VISIT OUR FACEBOOK PAGE
AN EYE 4 Africa - https://www.facebook.com/aneye4africa/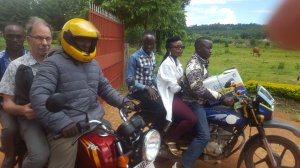 OUR NEW VIDEO!
This is a must-see to get a real idea of who and what we are!
Our thanks to John Fickling for all his many, many hours of work, both in travelling to Kenya to film (where he was ably assisted by Moses) and in New Zealand, editing the many hours of film down into what is 13:40 of the essence of Kingdom, including video footage of our 1st cataract surgeries. Thank you so much, mate.
Lve Link.....
https://www.youtube.com/watch?v=Np1ocYF5hoU&t=22s
PHOTO: Hi ho, Hi ho, It's off to video we go!
***NOW***NINE BOOKS ARE AVAILABLE ON AMAZON!!!
9 BOOKS are now available on Amazon (Kindle)!

All are available worldwide for electronic download on Amazon (Kindle) for $US0.99c . Unfortunately there has to be a charge in order to list.

Your support would be appreciated and they could well change your life!

They are all found at this link.....
http://www.amazon.com/s/ref=nb_sb_noss?url=search-alias%3Daps&field-keywords=david+tait+books/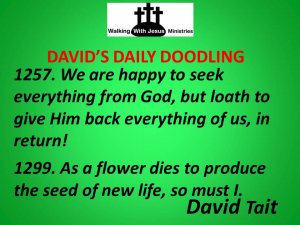 ***DAILY EZINE!*** 'DAVID'S DAILY DOODLINGS' Subscribe Today
Receive one of David's sayings in your mailbox each day to inspire, challenge or maybe, amuse. To register today, go down to the bottom of the page link below, click on the subscribe link dd-on@wwj.org.nz (or paste the address in an email yourself and send) Then it's done! If you have an Irish heritage, you will love the background coloring!
Subscription and back issue link is.....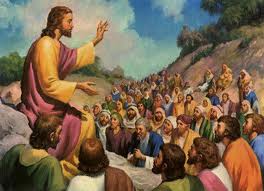 'THE WORDS OF JESUS' REMAIN AVAILABLE FOR PDF DOWNLOAD
Join the many who have downloaded the 'The Words of Jesus'. I am sure you will be blessed by it, as I have been.

One key element here is the setting out in chronological order (as far as it is possible to do so) our Lord's words drawn from all the Gospels, and the elimination of repetition between Gospels.

You may be surprised by the different perspective this presentation gives you both in understanding of His life and ministry, and in achieving a closer relationship with Him.

Download the free PDF here.....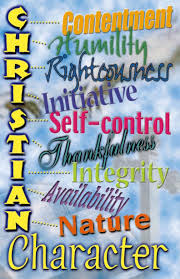 DAVID'S DOODLINGS
CHARACTER
1109. Spiritual fruit grows on 'Character Trees'!

1110. Love, joy, peace, patience, kindness, goodness, faithfulness, gentleness and self-control are the fruit of the 'Character Tree'.

1111. Sin decreases as character builds.

1112. Sin is overcome by a godly character.

1113. Character and sin are mutually exclusive. The more we have of the one the less we have of the other.

1114. The best protection against sin is the development of a godly character.

1233. Godly character can only be developed through a submissive heart.

1234. The less of us in us, the more room in us for God!

1235. As we give our character to God, so He builds His character in us.

1236. Submission to God's will removes an 'o', transforming 'good' character into 'God' character!

1237. To receive God's character we need to give away our own!

1238. Our character is often more known by others than understood by ourselves.

1239. A godly character must be inherited from God. It cannot be developed in our own strength.

Please feel free to quote these quotes. Acknowledgement of David Tait as the author would be appreciated. There are now over 1300 David sayings for you to view at ...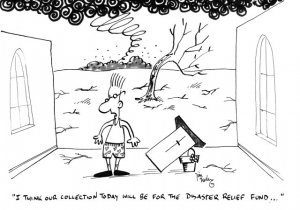 CARTOONS FROM TOON FEVER
Visit the Toon Fever website for more cartoon fun..... http://www.toonfever.com

Check it out at...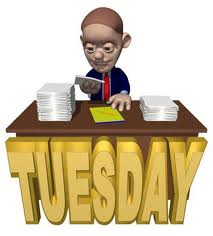 TUESDAY TEACHINGS
TRANSFORMATION OF THE CHURCH: 2. THE POWER OF PERSECUTION
Something we don't want to know about!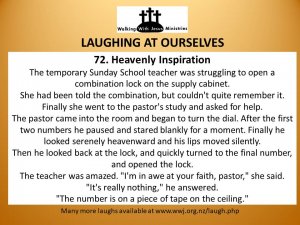 *** ANOTHER DAILY EZINE FROM WWJ!*** 'LAUGHING AT OURSELVES' Subscribe Today
As Christians, if we can't laugh at ourselves, others will! A fun way to start your day. To register today, go down to the bottom of the page link below, click on the subscribe link lao--on@wwj.org.nz (or paste the address in an email yourself and send) Then it's done!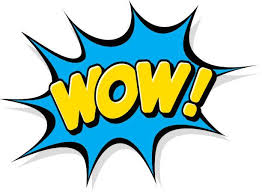 LAUGHING AT OURSELVES
***Blessed are those who can laugh at themselves for they shall never cease to be amused***
*** Those who can't laugh at themselves leave the job to others. ***
359. Thank God!
A rabbi said to a precocious six-year-old boy: "So your mother says your prayers for you each night Very commendable. What does she say?"
The little boy replied, "Thank God he's in bed!"
360. Country Wisdom
Pastor Jones was on vacation and had just driven into a rural town, when he had a flat tire. "How far is it to the next service station?" the pastor asked a farmer.
"Nigh onto two miles as the crow flies," the farmer said.
Perturbed, the pastor asked, "Well, how far is it if the crow has to walk and roll a flat tire?"
361. A Minister Learns from a Student
A minister was chatting with a University student about the doctoral paper he was preparing. Through reading and exacting studies with many patients, the student was prepared to report that the type of conversation that went on in the operating room had a definite impact on the recovery rate of surgical patients.
The minister was especially interested in the finding that even though a patient under anaesthesia was totally "out of it", in a comatose like condition, positive conversation by doctors and other attendants had a very beneficial affect on the patient. As the pastor listened to this revelation, his face suddenly lit up, and he said, "At last I've found some hope for the people who attend the Sunday morning church service."
QWIK QWIP: "It is far more impressive when others discover your good qualities without your help."
Download the book 'Laughing At Ourselves' in PDF format at LAUGHING AT OURSELVES One of the most comprehensive sources of Christian Humour on the Net with 800 sermon fillers for your entertainment and use at ..... https://www.wwj.org.nz/content/wwj18p47.pdf
Or read them all online at.....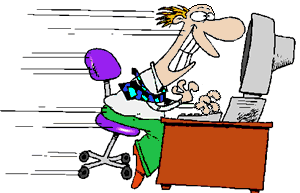 A DAVID MUSING
Over the past 6 months, our radio internet has been getting slower, and sloower, and slooower!
It has taken a long time to prepare PGIM and do other work, waiting for uploads and downloads.
Then today, we swapped to a new Providor, whom we just learned of 2 days go. And guess what - the speed has trippled to quadrupled! WOW! Should only have to work half a day now!
Life in God can be like that too.
You struggle and struggle and things seem to go backwards, or at best stand still. "What is happening Lord?!"
Then, all of a sudden, something happens, doors open, lights go on, and you are away!
The spiritual problem is waiting until it is God's time.
But as we develop the spiritual gifts of patience and perseverance, in God's timing, things will happen to move us on in Him.
Thank you Lord.
Until next week.....
MAY GOD BLESS YOU AND YOU BLESS GOD
His servant and yours
David Tait

Visit us here.....
REPRODUCTION OF NEWSLETTER CONTENT
Most weeks we get enquiries about reproducing, in electronic or print form, articles contained in 'PGIM!' We welcome and encourage you to utilize this material. Freely received, freely given. We would ask though, that the source be acknowledged as an encouragement to others to subscribe to this newsletter also.
CHANGING YOUR EMAIL ADDRESS? NEWSLETTER STOPS COMING?
Each week we can lose up to 2% of our readers when they change email addresses without letting us know. Or sometimes, by your server acting strangely and just cutting us off! If you are about to change your address, please advise us of both your old and new addresses here at
enquiries@wwj.org.nz
and we will happily change our records to ensure ongoing delivery. Thanks.
Please also keep our address in your address book, as sometimes servers will automatically delete your address if there is even a one off problem in delivery. If your newsletter doesn't arrive, please let us know and we will reinstate you.
LINKS
If you would like to link your web site to ours, and ours to yours, please advise us on
links@wwj.org.nz
ABOUT US
WALKING WITH JESUS MINISTRIES is a non-profit, non-denominational, Bible based ministry located in Hastings, New Zealand. A ministry dedicated to developing discipleship, fostering unity amongst God's people to achieve the Great Commission, and in doing so, preparing for Christ's return. It is securely based upon the foundational principles of the Apostles Creed while recognising the wide and rich diversity of beliefs amongst Christians in other areas. In accordance with the Lord's direction, materials produced by the ministry are available, free of charge, to genuine enquirers upon request. The ministry is solely funded by donations, as the Lord provides. A list of materials available (plus some fun!) is obtainable and freely downloadable from our website
wwj.org.nz
or by contacting us as follows.
Walking With Jesus Ministries
7 Bull Street
Ahuriri
Napier
New Zealand
Phone: (06) 835 0567 International (+64) 6 835 0567
Email:
enquiries@wwj.org.nz
Web:
wwj.org.nz
Our role is to bless and encourage those in ministry while promoting co-operation and unity of direction amongst the body of Christ, as emphasised 3 times by Jesus in His longest prayer, immediately prior to His arrest and crucifixion. "... so that they may be one as we are one." (John 17:12, 21, 23-4) Our website is currently being developed to encourage your participation one with another, to share resources, and to enable you to promote events and items of interest to the body as a whole - and have a smile while doing it!
For comments upon and contributions to this service, please contact
david@wwj.org.nz
SUBSCRIPTION MANAGEMENT
We would encourage you to share this free service with your friends in ministry. To subscribe yourself please email pgim-on@wwj.org.nz.
If your name has been referred to us by a friend or supporting Ministry or has been obtained from a public Christian Directory or Website, it isn't our wish to burden you with information in which you aren't interested. To remove yourself from this list, please email pgim-off@wwj.org.nz.