A Weekly World Wide Word of Encouragement to those in the Ministry
PRAISE GOD IT'S MONDAY!
A WEEKLY 'WWW (world-wide word) OF ENCOURAGEMENT'
TO THOSE IN MINISTRY
A FREE service, currently connecting with Christian leaders from 3,000 denominations and ministries, in 70 countries.

Issue No: 866 Published: 28 May 2018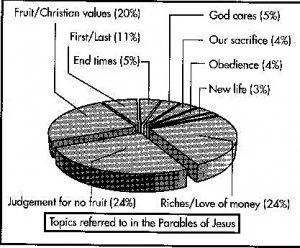 WHOSE CHURCH IS IT ANYWAY? Part 44
THE CHALLENGE OF..... LIVING THE KINGDOM LIFESTYLE
To conclude this presentation on the history of the church, past, present and likely future from a Holy Spirit anointing perspective, we will finish by looking at the 'Parables of Jesus' which set out the principles of living a kingdom lifestyle.
AN INTRODUCTION
Why are the parables so important to our understanding of how to live in the kingdom today? The disciples wondered this and Jesus gave them the answer.
Kingdom living is not understood, indeed ridiculed by, non-believers and sadly, many Christians too. So Jesus took the step of explaining the Christian lifestyle in a way that could only be truly understood through the revelation of the Holy Spirit. In this way, no-one is offended! But all believers with a longing to discover the heart of God, are truly challenged!
10 The disciples came to him and asked, "Why do you speak to the people in parables?"
11 He replied, "The knowledge of the secrets of the kingdom of heaven has been given to you, but not to them. 12 Whoever has will be given more, and he will have an abundance. Whoever does not have, even what he has will be taken from him. 13 This is why I speak to them in parables: "Though seeing, they do not see; though hearing, they do not hear or understand. (Matthew 13:10-13)
The parables, then, contain His secret messages to us, His followers.
Several years ago I went through these, and made a summary list of the topics referred to in them. This summary shows the emphasis that Jesus placed on the positive attributes we are to develop, but at the same time deals in detail with the areas in which we are most likely to be tempted to go astray. For He knows us better than we know ourselves! I am glad about that, for often it seems, I don't know much about myself! God is so practical!
The summary is contained in the pie chart.
What then, is the most important attribute required to live the kingdom lifestyle?
Reading the Word? Experiencing Holy Spirit anointing? Deep theology? No, no and no!
The single most important factor in kingdom living is in the production of fruit in our lives. No, it is not apples, which is a pity really, for we live in Hawkes Bay, one of the foremost apple growing areas of the world! But rather, spiritual fruit, which Paul summarised as being;
22 But the fruit of the Spirit is love, joy, peace, patience, kindness, goodness, faithfulness, 23 gentleness and self-control. Against such things there is no law. 24 Those who belong to Christ Jesus have crucified the sinful nature with its passions and desires. 25 Since we live by the Spirit, let us keep in step with the Spirit. (Galatians 5:22-5)
Developing spiritual fruit in our lives is the key to kingdom living.
Jesus was a very practical person, understanding us better than we understand ourselves. So He also took the opportunity, through the parables, to warn us of the key areas in which we can, more likely will, go astray.
First of all, there is the logical area of living a life no, or little difference, to that which we lived before we knew Jesus - commonly called, 'one foot in the kingdom, one in the world.' Seeking the benefits without being prepared to pay the price!
Jesus was tough on this! We will see this as we go through the parables individually. A quarter of them deal with the judgment that will come upon us if we don't bear fruit in our lives! Don't know about you, but it certainly gives me food for thought. And motivation for action too!
We live in a time when the love of Jesus is promoted, almost to the exclusion of the other side of His, and the Father's, balanced character, which is ultimately, His judgment, should we choose to continually ignore His will for us.
We need to understand that, just because we have accepted Jesus as Saviour, we are not excused from judgment. Don't believe me, believe the Word! In fact, it is repeated twice in this passage, in both verses 12 and 13.
12 And I saw the dead, great and small, standing before the throne, and books were opened. Another book was opened, which is the book of life. The dead were judged according to what they had done as recorded in the books. 13 The sea gave up the dead that were in it, and death and Hades gave up the dead that were in them, and each person was judged according to what he had done. (Revelation 20:12-13)
The book of life refers to Christians. How do I know that? From verse 15.
15 If anyone's name was not found written in the book of life, he was thrown into the lake of fire. (Revelation 20:15)
So Jesus warned us both in the parables, written specifically for believers, and here in the description of Judgment Day, what would happen if we ignored His instructions to produce spiritual fruit in our lives. This warning is again confirmed in Hebrews…
26 If we deliberately keep on sinning after we have received the knowledge of the truth, no sacrifice for sins is left, 27 but only a fearful expectation of judgment and of raging fire that will consume the enemies of God. 28 Anyone who rejected the law of Moses died without mercy on the testimony of two or three witnesses. 29 How much more severely do you think a man deserves to be punished who has trampled the Son of God under foot, who has treated as an unholy thing the blood of the covenant that sanctified him, and who has insulted the Spirit of grace? 30 For we know him who said, "It is mine to avenge; I will repay," and again, "The Lord will judge his people." 31 It is a dreadful thing to fall into the hands of the living God. (Hebrews 10:26-31)
Is all hopeless then? No, it is not. If we do the will of God...
36 You need to persevere so that when you have done the will of God, you will receive what he has promised. (Hebrews 10:36)
And again in Romans...
7 To those who by persistence in doing good seek glory, honor and immortality, he will give eternal life. (Romans 2:7)
The choice is ours.
The second practical warning of Jesus, once again contained in round a quarter of the parables, is a warning against the love of money and accumulating riches. I can see the hairs rising on the back of your head!
Alternatively, you may be thinking 'I don't love money', as you sit back relaxing in your armchair watching the news about the Haiti earthquake on your 100 inch screen, surround sound, Blu-ray, home theatre system thinking, I am so blessed that I don't live there!
The reality is, in the natural, we all like money, whether we admit it or not! If we don't have it, we want it, if we do have it, we want more. That simply is human nature.
Of course, Jesus understood this reality and spent a great deal of time talking about money and warning us of the dangers involved. But even before Jesus came, the Old Testament books of wisdom contained similar warnings.
10 Whoever loves money never has money enough; whoever loves wealth is never satisfied with his income. This too is meaningless. 11 As goods increase, so do those who consume them. And what benefit are they to the owner except to feast his eyes on them? 12 The sleep of a laborer is sweet, whether he eats little or much, but the abundance of a rich man permits him no sleep. 13 I have seen a grievous evil under the sun: wealth hoarded to the harm of its owner, 14 or wealth lost through some misfortune, so that when he has a son there is nothing left for him. 15 Naked a man comes from his mother's womb, and as he comes, so he departs. He takes nothing from his labor that he can carry in his hand. (Ecclesiastes 5:11-15)
Jesus was straight up about it.
24 "No one can serve two masters. Either he will hate the one and love the other, or he will be devoted to the one and despise the other. You cannot serve both God and Money. (Matthew 6:24)
The Pharisees were quoted as a worldly example.
14 The Pharisees, who loved money, heard all this and were sneering at Jesus. 15 He said to them, "You are the ones who justify yourselves in the eyes of men, but God knows your hearts. What is highly valued among men is detestable in God's sight. (Luke 16:14-15)
How about going on a ministry trip this way?
8 These were his instructions: "Take nothing for the journey except a staff—no bread, no bag, no money in your belts. (Mark 6:8)
Leave your VISA card at home, would seem to be the advice here! Some inspired wisdom from Timothy.....
6 But godliness with contentment is great gain. 7 For we brought nothing into the world, and we can take nothing out of it. 8 But if we have food and clothing, we will be content with that. 9 People who want to get rich fall into temptation and a trap and into many foolish and harmful desires that plunge men into ruin and destruction. 10 For the love of money is a root of all kinds of evil. Some people, eager for money, have wandered from the faith and pierced themselves with many griefs. (1 Timothy 6:6-10)
Interestingly, I did a trip to Africa in (nearly) that way. Although my airfares had been paid! I had 50c a day to live on for 2 months. After 10 days my $30 was down to $2 with 50 days to go! Then the Lord started bringing the money in. I left Africa with no money but having been provided for throughout my trip also. Everyone was surprised - the Africans and me!
In whom, or what, do we put our trust?
(Continued next week)
Find out more about us here.....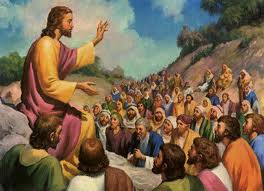 FROM THE WORD
THE WORDS OF JESUS
May we hear what the Lord is saying to us.....
Life Through the Son of God (John 5:16-30)
Jesus criticized for healing on the Sabbath and claiming to be God's son.
"My Father is still working, and so am I."
"I tell you the truth, the Son can do nothing by himself; he can only do what he sees the Father doing. Whatever the Father does the Son does as well. For the Father loves the Son, and reveals to him everything he does; and the Father will show to him even more incredible things that will completely amaze you. For just as the Father gives life to those he resurrects from the dead, in the same way the Son also gives life to those that he wants. The Father judges no one. He has given to the Son all the authority to judge, so that everyone may honor the Son just as they honor the Father. Anyone who doesn't honor the Son doesn't honor the Father who sent him. I tell you the truth: those who follow what I say and trust the One who sent me have eternal life. They won't be condemned, but have gone from death to life. "I tell you the truth: The time is coming—in fact it's here already—when the dead will hear the voice of the Son of God, and those who hear will live! Just as the Father has life-giving power in himself, so has he given the Son the same life-giving power in himself. The Father also granted the authority for judgment to him, for he is the Son of man. Don't be surprised at this, for the time is coming when all those in the grave will hear his voice and will rise again: those who have done good to the resurrection of life, and those who have done evil to the resurrection of condemnation. I can do nothing by myself. I judge based on what I'm told, and my decision is right, for I'm not doing my own will but the will of the One who sent me.
Testimonies of Jesus (John 5:31-47)
If I were to make claims about myself, such claims wouldn't be valid; but someone else gives evidence about me, and I know what he says about me is true. You asked John about me, and he told the truth, 34but I don't need any human endorsement. I'm explaining this to you so you can be saved. John was like a brightly-burning light, and you were willing to enjoy his light for a while. But the evidence I'm giving is greater than John's. For I am doing the work that the Father gave me to do, and this is the proof that the Father sent me. The Father who sent me, he himself speaks on my behalf. You've never heard his voice, and you've never seen what he looks like, and you don't accept what he says, because you don't trust in the one he sent.
"You search the Scriptures because you think that through them you'll gain eternal life. But the evidence they give is in support of me! And yet you don't want to come to me so that you might live. I'm not looking for human approval —I know you, and that you don't have God's love in you. For I've come to represent my Father, and you won't accept me; but if someone comes representing themselves, then you accept them! How can you trust in me when you look for praise from one another and yet you don't look for praise from the one true God? But don't think I will be making accusations about you to the Father. It's Moses who is accusing you, the one in whom you place such confidence. For if you really trusted Moses you would trust in me, because he wrote about me. But since you don't trust what he said, why would you trust what I say?"
(Continued next week)
You can download the complete 'Words of Jesus' here.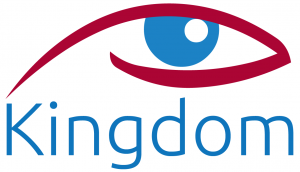 OUR AFRICAN EXPERIENCE
FOR MORE DETALED AND REGULAR UPDATES, VISIT OUR FACEBOOK PAGE
AN EYE 4 Africa - https://www.facebook.com/aneye4africa/
PRAYER AND PRACTICAL
The kingdom of God is based on the foundation of prayer and the application of the results. Either one by themselves is insufficient.
Kathy is out praying in the (torrential but warm) rain before our day, started with devotions, in the Clinic.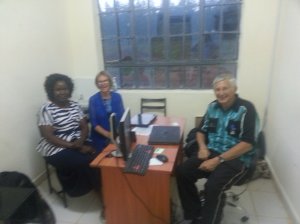 FLORENCE!
A meeting with Florence, the County Nurse responsible for working with non Government medical institutions. What a lady! So helpful - and she helps arrange treatments for those with serious cancer also. Thank you Florence.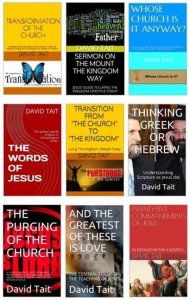 ***NOW***NINE BOOKS ARE AVAILABLE ON AMAZON!!!
9 BOOKS are now available on Amazon (Kindle)!

All are available worldwide for electronic download on Amazon (Kindle) for $US0.99c . Unfortunately there has to be a charge in order to list.

Your support would be appreciated and they could well change your life!

They are all found at this link.....
http://www.amazon.com/s/ref=nb_sb_noss?url=search-alias%3Daps&field-keywords=david+tait+books/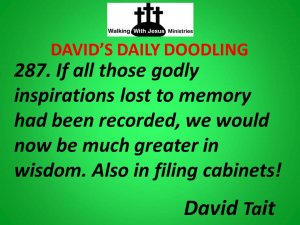 ***DAILY EZINE!*** 'DAVID'S DAILY DOODLINGS' Subscribe Today
Receive one of David's sayings in your mailbox each day to inspire, challenge or maybe, amuse. To register today, go down to the bottom of the page link below, click on the subscribe link dd-on@wwj.org.nz (or paste the address in an email yourself and send) Then it's done! If you have an Irish heritage, you will love the background coloring!
Subscription and back issue link is.....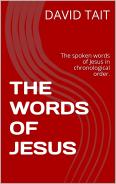 'THE WORDS OF JESUS' REMAIN AVAILABLE FOR PDF DOWNLOAD
Join the many who have downloaded the 'The Words of Jesus'. I am sure you will be blessed by it, as I have been.

One key element here is the setting out in chronological order (as far as it is possible to do so) our Lord's words drawn from all the Gospels, and the elimination of repetition between Gospels.

You may be surprised by the different perspective this presentation gives you both in understanding of His life and ministry, and in achieving a closer relationship with Him.

Download the free PDF here.....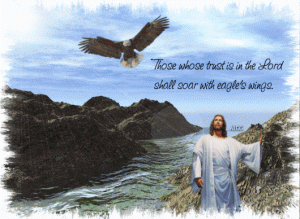 DAVID'S DOODLINGS
FAITH
289. We can have the faith of the sparrow, the dove or the eagle. Our choice determines the height to which we can soar.

290. Exercising faith releases further faith. (These sayings - good or bad - are an example of it!)

291. Dreams are centred in hope, accomplishments in faith.

292. Without dreams there is no hope, but without faith, no reality.

293. Without challenges there can be no accomplishments. Faith lubricates the challenges and drives the accomplishments.

294. As we grow in God, so our hope is expressed through faith and our faith through love.

295. Faith in mankind will occasionally generate human love, but godly love is a requirement of faith in Christ.

296. Lose faith and die.

297. A young person without faith rapidly grows old, while vibrant faith keeps us young at heart.

298. When we give up on faith we give up on life.
Please feel free to quote these quotes. Acknowledgement of David Tait as the author would be appreciated. There are now over 1300 David sayings for you to view at ...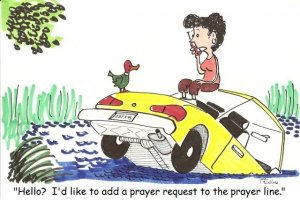 CARTOONS FROM TOON FEVER
Visit the Toon Fever website for more cartoon fun..... http://www.toonfever.com

Check it out at...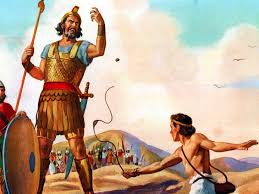 TUESDAY TEACHINGS
NEXT WEEK: THE DAVIDIC COVENANT concludes
We complete our study of the major Old Testament covenants as we look at the sacrifice and seal of the Davidic Covenant.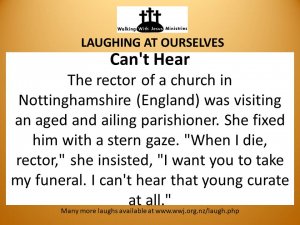 *** ANOTHER DAILY EZINE FROM WWJ!*** 'LAUGHING AT OURSELVES' Subscribe Today
As Christians, if we can't laugh at ourselves, others will! A fun way to start your day. To register today, go down to the bottom of the page link below, click on the subscribe link lao--on@wwj.org.nz (or paste the address in an email yourself and send) Then it's done!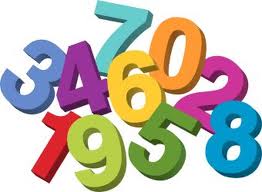 LAUGHING AT OURSELVES
***Blessed are those who can laugh at themselves for they shall never cease to be amused***
*** Those who can't laugh at themselves leave the job to others. ***
144. Know The 10 Commandments
A student was asked to list the 10 Commandments in any order. His response was: 3, 6, 1, 8, 4, 5, 9, 2, 10, 7.
QUIK QWIP: "Exercise daily -- walk with the Lord."
145. A Dog's Love
Rev. Warren J. Keating, Pastor of the First Presbyterian Church of Yuma, AZ., says that the best prayer he ever heard was, "Lord, please make me the kind of person my dog thinks I am."
146. Gravity Rules
A woman was at the beach with her children when her four-year-old son ran up to me, grabbed my hand and led me to the shore where a sea gull lay dead in the sand. "Mommy, what happened to him?" my son asked. "He died and went to heaven," I replied. My son thought a moment and then said, "And God threw him back down?"
147. The Truth of It
After the church service a little boy told the pastor, "When I grow up, I'm going to give you some money. "Well, thank you," the pastor replied. "But why?" "Because," the boy responded, "my daddy says you're one of the poorest preachers we've ever had."
FREE DOWNLOAD: You can now download the book 'Laughing At Ourselves' in PDF format at LAUGHING AT OURSELVES One of the most comprehensive sources of Christian Humour on the Net with 800 sermon fillers for your entertainment and use at ..... https://www.wwj.org.nz/content/wwj18p47.pdf
Or read them all online at.....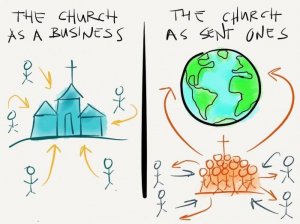 A DAVID MUSING
It is amazing how some good news changes atmosphere and attitudes.
We have been trying hard to get more involved with the community here in Malaha Village, Kenya. Finally it is paying off as patient numbers increase. It has taken a lot of effort, running clinics in the community and attending churches and funerals, of which there are many of both.
Trust is now being built up with the people around.
Actually, it is the same with churches. You cannot expect people to come in to you. You must go out into the community and build trust there.
Until next week.......

MAY GOD BLESS YOU AND YOU BLESS GOD.


His servant and yours
David Tait

Visit us here.....
REPRODUCTION OF NEWSLETTER CONTENT
Most weeks we get enquiries about reproducing, in electronic or print form, articles contained in 'PGIM!' We welcome and encourage you to utilize this material. Freely received, freely given. We would ask though, that the source be acknowledged as an encouragement to others to subscribe to this newsletter also.
CHANGING YOUR EMAIL ADDRESS? NEWSLETTER STOPS COMING?
Each week we can lose up to 2% of our readers when they change email addresses without letting us know. Or sometimes, by your server acting strangely and just cutting us off! If you are about to change your address, please advise us of both your old and new addresses here at
enquiries@wwj.org.nz
and we will happily change our records to ensure ongoing delivery. Thanks.
Please also keep our address in your address book, as sometimes servers will automatically delete your address if there is even a one off problem in delivery. If your newsletter doesn't arrive, please let us know and we will reinstate you.
LINKS
If you would like to link your web site to ours, and ours to yours, please advise us on
links@wwj.org.nz
ABOUT US
WALKING WITH JESUS MINISTRIES is a non-profit, non-denominational, Bible based ministry located in Hastings, New Zealand. A ministry dedicated to developing discipleship, fostering unity amongst God's people to achieve the Great Commission, and in doing so, preparing for Christ's return. It is securely based upon the foundational principles of the Apostles Creed while recognising the wide and rich diversity of beliefs amongst Christians in other areas. In accordance with the Lord's direction, materials produced by the ministry are available, free of charge, to genuine enquirers upon request. The ministry is solely funded by donations, as the Lord provides. A list of materials available (plus some fun!) is obtainable and freely downloadable from our website
wwj.org.nz
or by contacting us as follows.
Walking With Jesus Ministries
7 Bull Street
Ahuriri
Napier
New Zealand
Phone: (06) 835 0567 International (+64) 6 835 0567
Email:
enquiries@wwj.org.nz
Web:
wwj.org.nz
Our role is to bless and encourage those in ministry while promoting co-operation and unity of direction amongst the body of Christ, as emphasised 3 times by Jesus in His longest prayer, immediately prior to His arrest and crucifixion. "... so that they may be one as we are one." (John 17:12, 21, 23-4) Our website is currently being developed to encourage your participation one with another, to share resources, and to enable you to promote events and items of interest to the body as a whole - and have a smile while doing it!
For comments upon and contributions to this service, please contact
david@wwj.org.nz
SUBSCRIPTION MANAGEMENT
We would encourage you to share this free service with your friends in ministry. To subscribe yourself please email pgim-on@wwj.org.nz.
If your name has been referred to us by a friend or supporting Ministry or has been obtained from a public Christian Directory or Website, it isn't our wish to burden you with information in which you aren't interested. To remove yourself from this list, please email pgim-off@wwj.org.nz.