A Weekly World Wide Word of Encouragement to those in the Ministry
PRAISE GOD IT'S MONDAY!
A WEEKLY 'WWW (world-wide word) OF ENCOURAGEMENT'
TO THOSE IN MINISTRY
A FREE service, currently connecting with Christian leaders from 3,000 denominations and ministries, in 70 countries.

Issue No: 1013 Published: 15 Mar 2021
THINKING GREEK OR HEBREW
KNOWING v DOING
Greek (Western) The Greek way of thinking is knowledge based, dependent upon the development of logical thought.
In Christian circles too, it is often more important to believe and speak out "the right thing," rather than to live the right way. We are obsessed with creeds, doctrinal statements, Systematic Theologies, orthodoxy vs. heresy, and creating "Evangelical" or "Sabbatarian" or "Trinitarian" theologies.
Prophecy is seen as occurring on a time-line. We need to tick off prophetic events as they happen, in a logical order.
We also are inclined to abandon literal translation of the Scriptures in favour of allegorical explanations.

Eastern (Hebrew) Hebrews are concerned with actions, about living a righteous life
They look to the moral, rather than the intellectual.
They also look to the 'day of the Lord', knowing that He will act in His time, rather than to a specific prophetic timetable.

A COMPARISON BETWEEN HEBRAIC AND WESTERN THINKING
This table, taken from www.godward.org sums up the differences between the two cultures.

WESTERN APPROACH ….HEBRAIC APPROACH
1. Life analysed in precise categories.
...Everything blurs into everything else.
2. A split between natural & supernatural
....Supernatural affects everything.
3. Linear logic
....Contextual or "block" logic
4. "Rugged Individualism"
....Importance of being part of group
5. Equality of persons
....Value comes from place in hierarchies
6. Freedom orientation
....Security orientation
7. Competition is good
....Competition is evil (cooperation is better)
8. Man-centred universe
....God/tribe/family-centred universe
9. Worth of person based on money/material possessions/power .
...Worth derived from family relationships
10. Biological life sacred
....Social life supremely important
11. Chance + cause & effect limit what can happen
....God causes everything in his universe
12. Man rules nature through understanding and applying laws of science
....God rules everything, so relationship with God determines how things turn out.
13. Power over others achieved through business, politics and human organizations.
....Power over others is structured by social patterns ordained by God.
14. All that exists is the material.
....The universe is filled with powerful spirit beings
15. Linear time divided into neat segments. Each event is new.
....Cyclical or spiralling time. Similar events constantly reoccur.
16. History is recording facts objectively and chronologically.
....History is an attempt to preserve significant truths in meaningful or
memorable ways, whether or not details are objective facts.
17. Oriented to the near future
....Oriented to lessons of history
18. Change is good = progress
....Change is bad = destruction of traditions
19. Universe evolved by chance
....Universe created by God
20. Universe dominated and controlled by science and technology.
....God gave man stewardship over his earthly creation, being based on accountability to God.
21. Material goods = measure of personal achievement
....Material goods = measure of God's blessing
22. Blind faith
....Knowledge-based faith
23.Time as points on straight line ("at this point in time…")
....Time determined by content ("In the day that the Lord did…")
(Continues next week)
Acknowledgements: http://www.followtherabbi.com and http://hethathasanear.com and http://www.wildbranch.org
See more about us at.....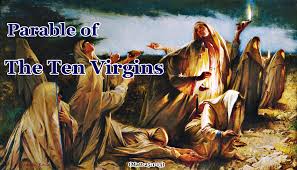 FROM THE WORD
THE WORDS OF JESUS
May we hear what the Lord is saying to us.....
A Warning to be Alert (Matthew 24:36-51, Mark 13:32-37, Luke 21:32-36)
For the return of Jesus.
"But no one knows the day or hour when this will take place, not the angels in heaven, nor the Son. Only the Father knows. When the Son of man comes it will be like it was during the time of Noah. 38It will be as in the days before the flood, when they were eating and drinking, marrying and giving in marriage, right up until the day that Noah went into the Ark. They didn't realize what was going to happen until the flood came and swept them all away. That's how the coming of the Son of man will be.
"Two men will be working in the fields. One will be taken, the other left. Two women will be grinding grain with a mill. One will be taken, the other left. So stay alert, because you don't know what day your Lord is coming. But consider this: if the house-owner knew what time a thief was coming, he would keep watch. He would not allow his house to be broken into and robbed. You also need to be ready, because the Son of man is coming at a time when you're not expecting him.
"For who is the trustworthy and thoughtful servant? It's the one his master puts in charge of his household
to provide them with food at the proper time. How good it will be for that servant to be found doing that when his master returns! I tell you the truth: the master will put that servant in charge over everything he has. But if he was evil, the servant would say to himself, 'My master is taking a long time,' and would start beating the other servants, feasting and drinking with the drunks. Then that servant's master will return when the man doesn't expect him, at a time he doesn't know. He'll cut him to pieces, and treat him in the same way as the hypocrites, sending him to a place where there's weeping and gnashing of teeth.
Parable of the Ten Virgins (Matthew 25:1-13)
"The kingdom of heaven is like ten girls, who took their lamps with them to go and meet the bridegroom.
Five were foolish, and five were wise. The foolish girls took their lamps but didn't take any oil with them, while the wise took jars of oil with them as well as their lamps.
The bridegroom took a long time and all the girls became drowsy and fell asleep. At midnight the shout came, 'Look, the bridegroom's here! Come out and meet him!' All the girls got up and trimmed the wicks of their lamps. The foolish girls said to the wise ones, 'Give us some of your oil, because our lamps are going out.' But the wise girls replied, 'No, because otherwise there won't be enough for both you and for us. Go to the shopkeepers and buy some oil for yourselves.' While they went to buy oil, the bridegroom arrived, and those who were ready went in with him to the wedding, and the door was locked shut. The other girls came later. 'Lord, Lord,' they called, 'Open the door for us!' But he answered, 'I tell you the truth: I don't know you.' So stay alert, for you don't know the day, or the hour.
(Continued next week)
Download the complete 'Words of Jesus' here.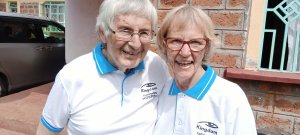 OUR AFRICAN EXPERIENCE
FOR MORE DETAILED AND REGULAR UPDATES, VISIT OUR FACEBOOK PAGE
AN EYE 4 Africa - https://www.facebook.com/aneye4africa/
(Kathy with Selina, our hostess in whose house we have lived for 3 1/2 years now!)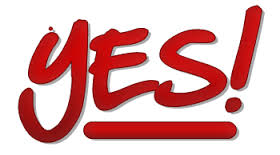 YES,YES, YES, YES, YES YEEEEESSSSS!!!!!!!!!!!!!!!!!!!!!!!!
Finally, Finally, Finally, after 1023 days (Just on 3 years 10 months) we have received our NHIF Contract!!!!!!!!!!!!!!!!!!!!!!!!!!!!!!!!!
Amazing, incredible stupendous - and very much needed.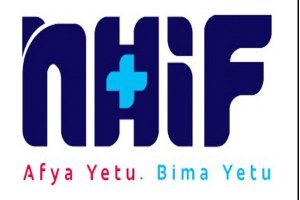 The National Health Insurance Fund(NHIF) is a quasi Government Health Insurance Scheme for the masses. From as little as $US5 you can receive health cover over all your family under 18! Imagine that in the West! Currently about 1/3 of Kenyans are covered, but shortly the Government will use NHIF as the vehicle to introduce Universal Health Care. The Government will pay for the poorest 1 million individuals and families. It will be compulsory for everyone else.
The immediate impact on our hospital will be huge, increasing patients 5-10 times and revenue by 3 times per patient, or more!
Longer term it will enable us to provide both eye and general services to many, many more people.
It has been a huge battle and test of faith for Kathy and I as the delays in the process have been extreme, However, the Lord has used this time to teach us more about Himself and to grow us further as His disciples.
To those who have supported us over these past, approaching 4 years we have been in Kenya we trust you will now see the fruits of your investment. Thank you all so much. To K, S, J, and CBM, we offer special thanks, for we would not be here without your extra generous support.
Today we have done 14 cataracts, providing sight for the blind. Tomorrow we will rest a little, although work continues, before we really get stuck in on Monday and make the most of which the Lord, through you, and FINALLY, the Kenyan bureaucracy, has given us!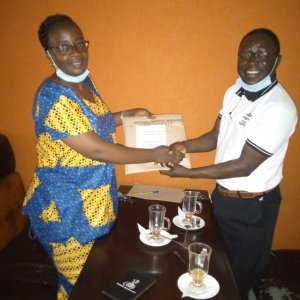 A very, very, happy Tatwa, our Administrator, is presented the contract by Dianna, the Quality Control Officer Of the Bungoma County NHIF Office.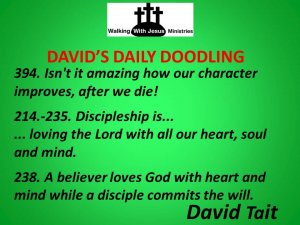 ***DAILY EZINE!*** 'DAVID'S DAILY DOODLINGS' Subscribe Today
Receive one of David's sayings in your mailbox each day to inspire, challenge or maybe, amuse. To register today, go down to the bottom of the page link below, click on the subscribe link dd-on@wwj.org.nz (or paste the address in an email yourself and send) Then it's done! If you have an Irish heritage, you will love the background coloring!
Subscription and back issue link is.....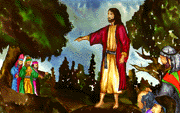 'THE WORDS OF JESUS' REMAIN AVAILABLE FOR PDF DOWNLOAD
Join the many who have downloaded the 'The Words of Jesus'. I am sure you will be blessed by it, as I have been.

One key element here is the setting out in chronological order (as far as it is possible to do so) our Lord's words drawn from all the Gospels, and the elimination of repetition between Gospels.

You may be surprised by the different perspective this presentation gives you both in understanding of His life and ministry, and in achieving a closer relationship with Him.

Download the free PDF here.....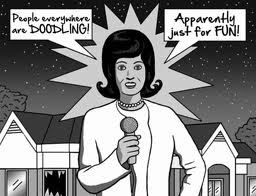 DAVID'S DOODLINGS
GENERAL
558. Hope is of the mind, faith of the heart, but true love is our expression of God's will.

559. Prophecy is powerful when confirmed by the Word.

560. Mankind loves words, God desires action.

810. Grace is God working in us, in order to work through us.

868. Sovereign 'Sonship' is birthed in sacrificial servanthood.

869. God designed 'the Church' to be the means, not the end.

872. The humanist looks inwards, the activist outwards, but truth is found in looking upwards.

873. To 'win' God we must first 'lose' ourselves.

1076. A dose of adversity is the best treatment for a swollen ego.

1272. Practice makes 'less imperfect'.
Please feel free to quote these quotes. Acknowledgment of David Tait as the author would be appreciated. There are now over 1300 David sayings for you to view at ...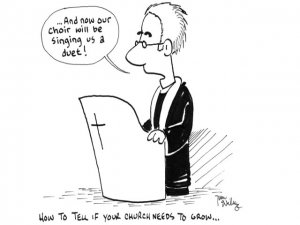 CARTOONS FROM TOON FEVER
Visit the Toon Fever website for more cartoon fun..... http://www.toonfever.com

Check it out at...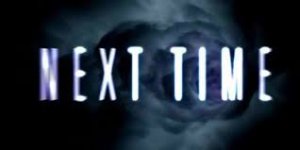 TUESDAY TEACHINGS
THIS WEEK:GOD AND MAN continues.....
...as we look at the first steps we need to take in order to claim our inheritance.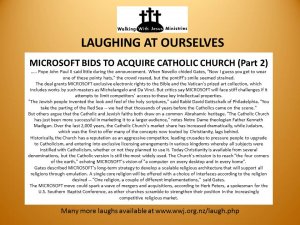 *** ANOTHER DAILY EZINE FROM WWJ!*** 'LAUGHING AT OURSELVES' Subscribe Today
As Christians, if we can't laugh at ourselves, others will! A fun way to start your day. To register today, go down to the bottom of the page link below, click on the subscribe link lao--on@wwj.org.nz (or paste the address in an email yourself and send) Then it's done!
https://www.wwj.org.nz/laughing-at-ourselves-ezine
LAUGHING AT OURSELVES
***Blessed are those who can laugh at themselves for they shall never cease to be amused***
*** Those who can't laugh at themselves leave the job to others. ***
20. Signs Outside Churches
YOU ARE NOT TOO BAD TO COME IN
YOU ARE NOT TOO GOOD TO STAY OUT.
COME IN AND LET US PREPARE YOU FOR YOUR FINALS.
A MISER IS A RICH PAUPER.
ASK ABOUT OUR PRAY-AS-YOU-GO PLAN.
WE HOLD SIT-IN DEMONSTRATIONS EVERY SUNDAY.
NO MATTER HOW MUCH YOU NURSE A GRUDGE
IT WON'T GET BETTER.
START LIVING TO BEAT HELL.
QWIK QWIP: "Plan ahead - It wasn't raining when Noah built the ark."
21. Feed My Cow
One Sunday a cowboy went to church. When he entered, he saw that he and the preacher were the only ones present. The preacher asked the cowboy if he wanted him to go ahead and preach.
The cowboy said, "I'm not too smart, but if I went to feed my cattle and only one showed up, I'd feed him."
So the minister began his sermon.
One hour passed, then two hours, then two-and-a-half hours. The preacher finally finished and came down to ask the cowboy how he had liked the sermon.
The cowboy answered slowly, "Well, I'm not very smart, but if I went to feed my cattle and only one showed up, I sure wouldn't feed him ALL the hay."
QWIK QWIP: "WARNING: "Exposure to the Son may prevent burning."
22. Heavenly Guidance
A boy was watching his father, a pastor, write his sermon. "How do you know what to say?" he asked.
"Why, God tells me."
"Oh, then why do you keep crossing things out?"
Download the book 'Laughing At Ourselves' in PDF format at LAUGHING AT OURSELVES One of the most comprehensive sources of Christian Humour on the Net with 800 sermon fillers for your entertainment and use at ..... https://www.wwj.org.nz/content/wwj18p47.pdf
Or read even more online at.....

A DAVID MUSING
AN ENCOURAGEMENT FOR YOU!
Those who have been reading these articles will know that we have been waiting for nearly 3 years to get provider status for the Kenyan National Health Insurance Fund (NHIF). This status is required in order that we may run our hospital here effectively and to become economically viable.
Kathy and I came to Kenya from New Zealand, 4 years ago in July. Ever since we opened the hospital in March 2018, we have been looking forward to this day.
We have had so many broken promises, and NHIF itself has been involved in a big corruption scandal which has meant no new approvals 2 1/2 years! Even the NHIF staff felt sorry for us, having to wait so long!
However, God has used this time to bring us to greater reliance upon Him.
He has tested us to the 'Nth" degree!
Our donors have been amazing, supporting us all the way through! However, this year there has been a change. Donors are concentrating on the eye hospital, leaving us in trouble paying the bills on the general hospital side.
But God has come to the party just in time to save us from a huge problem there. Last Friday, 12 March 2021 we received our NHIF contract! Wow! How happy and relieved we are!
The past 4 years have been a real challenge, new country, new culture and much more.
However, our God has been with us, all the way through, even those times when it seemed, particularly for Kathy, that He might have deserted us.
If you are in this position today, of waiting for a promise to be fulfilled, or not seeing an end to your problems, be assured that there is an end, in God's timing.
Stick in there and He will come through, as he has done for us.
Until next time.....
MAY GOD BLESS YOU AND YOU BLESS GOD
His servant and yours
David Tait

Visit us here.....
CHANGING YOUR EMAIL ADDRESS? NEWSLETTER STOPS COMING?
Each week we can lose up to 2% of our readers when they change email addresses without letting us know. Or sometimes, by your server acting strangely and just cutting us off! If you are about to change your address, please advise us of both your old and new addresses here at
enquiries@wwj.org.nz
and we will happily change our records to ensure ongoing delivery. Thanks.
Please also keep our address in your address book, as sometimes servers will automatically delete your address if there is even a one off problem in delivery. If your newsletter doesn't arrive, please let us know and we will reinstate you.
REPRODUCTION OF NEWSLETTER CONTENT
Most weeks we get enquiries about reproducing, in electronic or print form, articles contained in 'PGIM!' We welcome and encourage you to utilize this material. Freely received, freely given. We would ask though, that the source be acknowledged as an encouragement to others to subscribe to this newsletter also.
LINKS
If you would like to link your web site to ours, and ours to yours, please advise us on
links@wwj.org.nz
ABOUT US
WALKING WITH JESUS MINISTRIES is a non-profit, non-denominational, Bible based ministry located in Hastings, New Zealand. A ministry dedicated to developing discipleship, fostering unity amongst God's people to achieve the Great Commission, and in doing so, preparing for Christ's return. It is securely based upon the foundational principles of the Apostles Creed while recognising the wide and rich diversity of beliefs amongst Christians in other areas. In accordance with the Lord's direction, materials produced by the ministry are available, free of charge, to genuine enquirers upon request. The ministry is solely funded by donations, as the Lord provides. A list of materials available (plus some fun!) is obtainable and freely downloadable from our website
wwj.org.nz or by contacting us as follows.

Walking With Jesus Ministries
P O Box 2
Webye 50205
Kenya

Email: enquiries@wwj.org.nz
Web: wwj.org.nz

Our role is to bless and encourage those in ministry while promoting co-operation and unity of direction amongst the body of Christ, as emphasised 3 times by Jesus in His longest prayer, immediately prior to His arrest and crucifixion. "... so that they may be one as we are one." (John 17:12, 21, 23-4) Our website is currently being developed to encourage your participation one with another, to share resources, and to enable you to promote events and items of interest to the body as a whole - and have a smile while doing it!

For comments upon and contributions to this service, please contact
david@wwj.org.nz
SUBSCRIPTION MANAGEMENT
We would encourage you to share this free service with your friends in ministry. To subscribe yourself please email pgim-on@wwj.org.nz.
If your name has been referred to us by a friend or supporting Ministry or has been obtained from a public Christian Directory or Website, it isn't our wish to burden you with information in which you aren't interested. To remove yourself from this list, please email pgim-off@wwj.org.nz.