A Weekly World Wide Word of Encouragement to those in the Ministry
PRAISE GOD IT'S MONDAY!
A WEEKLY 'WWW (world-wide word) OF ENCOURAGEMENT'
TO THOSE IN MINISTRY
A FREE service, currently connecting with Christian leaders from 3,000 denominations and ministries, in 70 countries.

Issue No: 1105 Published: 19 Dec 2022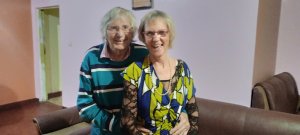 CHRISTMAS GREETINGS FROM DAVID AND KATHY
Christmas has come round again for us all. May we taks time to enjoy family and, of course, most of all, to remember Jesus our Saviour and Lord. For without His birth, where would we be?
Of course there are those for whom Christmas is not a happy time. Jesus remembers you too, and will give you comfort, if you ask Him to.
Christmas greetings from us.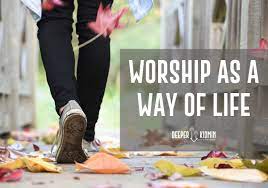 THINKING GREEK OR HEBREW
WORSHIP
AN EMOTIONAL EXPERIENCE v A WAY OF LIFE
Greek (Western)
Worship is an experience to be entered into and enjoyed at specific times.
Our approach to worship derives from the Greek concept of proskuneo, a specific act of reverence or homage. Many large coliseums were built in which to worship and honour the many different gods of Greece on their various designated celebratory occasions, with music, singing and dancing. People were happy and content after having worshipped. Does this not sound like our church?
We go to special purpose buildings to sing, and perhaps dance, to music provided by the worship team, generally on a Sunday morning. Like the Greeks, it is a special occasion experience, not a general part of our day to day life. Pseudo worship, today too, is found at sports events, where we are generally given to more overt displays of enthusiasm than at church! Again, these are an experience taking us away from the reality of day to day life, for a period of time.
Eastern (Hebrew)
Worship is a continuous act, being a part of work or service, as well as being practised on special occasions.
In Hebrew culture, worship is considered to be a part of everyday life.
Psalm 100
A psalm. For giving thanks.
1 Shout for joy to the LORD, all the earth.
2 Worship the LORD with gladness;
come before him with joyful songs.
3 Know that the LORD is God.
It is he who made us, and we are his;
we are his people, the sheep of his pasture.
4 Enter his gates with thanksgiving
and his courts with praise;
give thanks to him and praise his name.
5 For the LORD is good and his love endures forever;
his faithfulness continues through all generations.
There is no separation of the theological from the practical. Worship is found in looking after your spouse, being at work and while participating in community service.
12 The LORD will open the heavens, the storehouse of his bounty, to send rain on your land in season and to bless all the work of your hands. You will lend to many nations but will borrow from none. 13 The LORD will make you the head, not the tail. If you pay attention to the commands of the LORD your God that I give you this day and carefully follow them, you will always be at the top, never at the bottom. (Deuteronomy 28:12-13)
Worship is found in the beauty of nature.....
1 The Mighty One, God, the LORD, speaks and summons the earth
from the rising of the sun to the place where it sets.
2 From Zion, perfect in beauty, God shines forth. (Psalm 50:1-2)
Worship is seen in our work....
17 May the favor of the Lord our God rest upon us;
establish the work of our hands for us—
yes, establish the work of our hands. (Psalm 90:17)
A practical example of this is found in the Wife of Noble Character of Proverbs 31.....
30 Charm is deceptive, and beauty is fleeting;
but a woman who fears the LORD is to be praised.
31 Give her the reward she has earned,
and let her works bring her praise at the city gate. (Proverbs 31:30-31)
Observant Jews consider our Western 'worship services' of 1-2 hours a week as serving a part-time God! For we then move back into the secular world until the next week or other worship occasion. While we might get down on bended knees to worship God in the safe environment of our place of worship, we would not dream of doing so at work. For, unlike the Jews, we separate the two, the religious from the secular. I know, for it applies to me too!

SOME SPIRITUAL IMPLICATIONS FOR TODAY
1. We need to learn to give God thanks in all things, at all times.
2. We need to learn to rely upon God in the secular as well as the spiritual.
3. To do so is the only way we can truly become 'the light of the world' that Jesus desires us to become.
The Lamp of the Body
33 "No one lights a lamp and puts it in a place where it will be hidden, or under a bowl. Instead he puts it on its stand, so that those who come in may see the light. 34 Your eye is the lamp of your body. When your eyes are good, your whole body also is full of light. But when they are bad, your body also is full of darkness. 35 See to it, then, that the light within you is not darkness. 36 Therefore, if your whole body is full of light, and no part of it dark, it will be completely lighted, as when the light of a lamp shines on you." (Luke 11:33-6)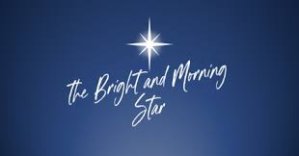 FROM THE WORD
THE WORDS OF JESUS
To the Church in Sardis
"Write this to the angel of the Sardis church: This is what the One who has the seven Spirits of God and the seven stars says: I know what you have accomplished, and that you give the appearance of being alive—but in reality you are dead. Wake up, and try to revive what is left that's about to die! For I have discovered that from the perspective of my God, nothing you've done has been finished.
"So remind yourselves of how this message came to you, and what you heard. Observe what you were told to do, and repent. If you don't watch out, I'll come unexpectedly like a thief, and you won't know at what time I'll come to you!
"But there are some among you in Sardis who have not ruined their clothes, and they will walk with me dressed in white, for they deserve to do so. Those who are victorious will be dressed in white like this. Their names will not be removed from the book of life, and I will speak for them in the presence of my Father and his angels. If you have ears, listen to what the Spirit is telling the churches.
To the Church in Philadelphia
"Write this to the angel of the Philadelphia church: This is what the One says, the One who is holy and true, who has the key of David. He can open and nobody is able to shut, he can shut, and nobody is able to open: I know what you have accomplished—look, I've opened a door for you that no one can shut. I know that you only have a little strength, but you did what I told you, and you did not deny me. 9From Satan's synagogue I will bring those who say they are Jews, (but are not, they are liars), making them come and worship at your feet, so that they will acknowledge that I love you. Because you have persevered as I told you to, I will take care of you during the testing time that is coming on the whole world when those who live on the earth will be on trial.
"I am coming soon! Keep a tight grasp on what you have, so no one can take your crown. Those who are victorious I will make into pillars in the temple of my God. They won't ever have to leave. I will write on them the name of my God, the name of the city of my God called New Jerusalem which descends from heaven from my God, and my own new name. If you have ears, listen to what the Spirit is telling the churches.
To the Church in Laodicea
"Write this to the angel of the Laodicea church: This is what the Amen says, who is the faithful, true witness, highest ruler of God's creation: I know what you have accomplished—you're neither hot nor cold. I wish you were hot or cold! 16But because you're lukewarm, neither hot nor cold, I'm going to spit you out of my mouth. You say to yourselves, 'I'm rich, I have wealth, and don't need anything.' But you don't know that you are miserable and poor and blind and naked. I advise you to buy from me gold refined by fire so you may be rich; and have white clothes so you can be properly dressed and you won't reveal your nakedness and shame; and ointment to put on your eyes so you can see.
"Those I love I correct and discipline. So be really sincere, and repent. Look, I'm standing at the door, knocking. If anyone hears me calling and opens the door, I will come in and eat with them, and they with me. I will have those who are victorious sit down with me beside my throne, just as I was victorious and sat down beside my Father on his throne. If you have ears, listen to what the Spirit is telling the churches."
The Final Words of Jesus (Revelation 22:7-21)
He is coming soon!
"I am coming soon! Blessed are those who obey the prophetic words of this book."
"I am coming soon, and I am bringing my reward to give to everybody depending on what they've done."
"I am the Alpha and Omega, the first and the last, the beginning and the end." Blessed are those who wash their robes so that they have the right to the tree of life, and can enter into the city through the gates.
Those outside the city are dogs, those who practice witchcraft, those who are sexually immoral, those who murder, those who worship idols, and all those who love and invent lies.
"I, Jesus, have sent my angel to give you this testimony to share with the churches. I am both the root and the descendant of David, the bright morning star."
"Yes, I am coming soon."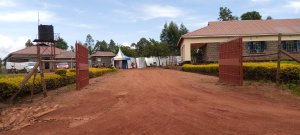 OUR AFRICAN EXPERIENCE IN NEW ZEALAND
Of course, hospitals round the world, have to remain operational on Christmas Day.
May we make a special effort to thank these people wherever you are.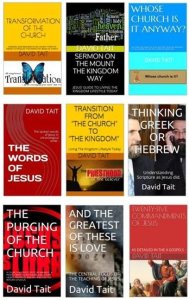 ***NOW***NINE BOOKS ARE AVAILABLE ON AMAZON!!!
9 BOOKS are now available on Amazon (Kindle)!

All are available worldwide for electronic download on Amazon (Kindle) for $US0.99c . Unfortunately there has to be a charge in order to list.

Your support would be appreciated and they could well change your life!
Many more online at https://www.wwj.org.nz/more-free-downloads

They are all found at this link.....
http://www.amazon.com/s/ref=nb_sb_noss?url=search-alias%3Daps&field-keywords=david+tait+books/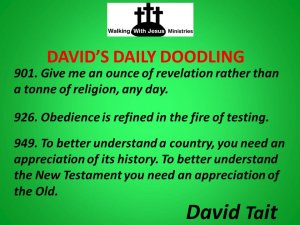 ***DAILY EZINE!*** 'DAVID'S DAILY DOODLINGS' Subscribe Today
Receive one or more of David's sayings in your mailbox each day to inspire, challenge or maybe, amuse. To register today, go down to the bottom of the page link below, click on the subscribe link dd-on@wwj.org.nz (or paste the address in an email yourself and send) Then it's done! If you have an Irish heritage, you will love the background coloring!
Subscription and back issue link is.....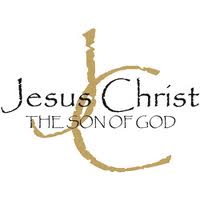 'THE WORDS OF JESUS' REMAIN AVAILABLE FOR PDF DOWNLOAD
Join the many who have downloaded the 'The Words of Jesus'. I am sure you will be blessed by it, as I have been.
One key element here is the setting out in chronological order (as far as it is possible to do so) our Lord's words drawn from all the Gospels, and the elimination of repetition between Gospels.
You may be surprised by the different perspective this presentation gives you both in understanding of His life and ministry, and in achieving a closer relationship with Him.

Download the free PDF here.....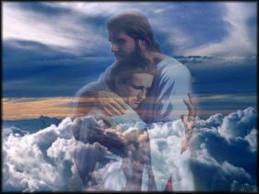 DAVID'S DOODLINGS
GOD's REST
20. God's rest is a gift, but resting in God a way of life.
21. God's rest is learned, not earned.
22. God's rest is free, not earned. Rest in God is also free, but learned.
23. Gods rest is freely given, but rest in God must be freely learned.
24. A believer receives God's rest, but a disciple rests in God.
309. Man seeks to strive for God. God wants us to rest in Him. Couldn't be easier, couldn't be harder!
310. God's rest is to be sought not only in death, but firstly in life
311. Lord, teach me not to strive!
312. At work we seek rest. In God we strive to work. Something is wrong here!
313. Resting in God seems too easy to be religious. It is! And it isn't!
1304. The more we work on ourselves, the less opportunity God has to work in us
Please feel free to quote these quotes. Acknowledgment of David Tait as the author would be appreciated. There are now over 1300 David sayings for yo1204. Ministry is the call upon us all!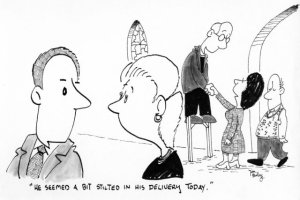 CARTOONS FROM TOON FEVER
Visit the Toon Fever website for more cartoon fun..... http://www.toonfever.com
Check it out at...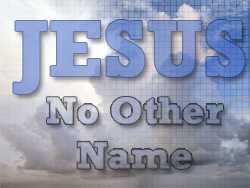 TUESDAY TEACHINGS
A REVELATON OF....... THE 3 PRIESTHOODS continues
...... ....as we see more about the priesthood of Jesus.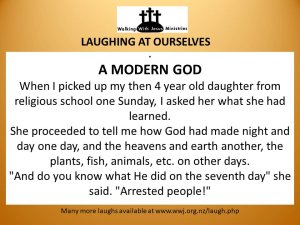 *** ANOTHER DAILY EZINE FROM WWJ!*** 'LAUGHING AT OURSELVES' Subscribe Today
As Christians, if we can't laugh at ourselves, others will! A fun way to start your day. To register today, go down to the bottom of the page link below, click on the subscribe link lao--on@wwj.org.nz (or paste the address in an email yourself and send) Then it's done!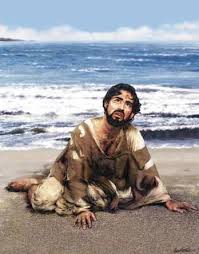 LAUGHING AT OURSELVES
***Blessed are those who can laugh at themselves for they shall never cease to be amused***
QWIK QWIP: "Adam and Eve had many advantages, but the principal one was that they escaped teething."
281. Jonah and the Whale
After telling the story of Jonah and the whale to her Sunday school class, the teacher decided to quiz them. She asked, "Timmy, what is the moral of the story?"
Timmy thought for a minute, then said, "People make whales throw up."
282. Long Sermon
A man got up to leave during a long sermon. The minister said, "Where are you going?"
The man replied, "To get a haircut."
The minister said, "You should have gotten one before you came."
The man replied, "When I came in, I didn't need one!"
QWIK QWIP: "If you are willing to admit you are wrong when you are wrong, you are all right."
283. Pastoral Candidates
The following is a confidential report on several candidates being considered for a pastorate.
ADAM: Good man but problems with his wife. Also one reference told of how his wife and he enjoy walking nude in the woods.
NOAH: Former pastorate of 120 years with not even one convert. Prone to unrealistic building projects.
ABRAHAM: Though the references reported wife-swapping, the facts seem to show he never slept with another man's wife, but did offer to share his own wife with another man.
JOSEPH: A big thinker, but a braggart, believes in dream-interpreting, and has a prison record.
MOSES: A modest and meek man, but poor communicator, even stuttering at times. Sometimes blows his stack and acts rashly. Some say he left an earlier church over a murder charge.
DAVID: The most promising leader of all until we discovered the affair he had with his neighbour's wife.
SOLOMON: Great preacher but our parsonage would never hold all those wives.
ELIJAH: Prone to depression. Collapses under pressure.
ELISHA: Reported to have lived with a single widow while at his former church.
HOSEA: A tender and loving pastor but our people could never handle his wife's occupation.
DEBORAH: Strong leader and seems to be anointed, but she is female.
JEREMIAH: Emotionally unstable, alarmist, negative, always lamenting things, reported to have taken a long trip to bury his underwear on the bank of a foreign river.
JONAH: Refused God's call into ministry until he was forced to obey by getting swallowed up by a great fish. He told us the fish later spit him out on the shore near here. We hung up.
AMOS: Too backward and unpolished. With some seminary training he might have promise, but has a hang-up against wealthy people--might fit in better in a poor congregation.
Download the book 'Laughing At Ourselves' in PDF format at LAUGHING AT OURSELVES One of the most comprehensive sources of Christian Humour on the Net with 800 sermon fillers for your entertainment and use at ..... https://www.wwj.org.nz/content/wwj18p47.pdf
Or read even more online at.....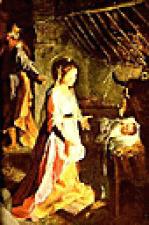 A DAVID MUSING
In Kenya, Christmas is a simple time.
People go back to their village from the cities for a week or so together.
On Christmas Day people go to church and usually, there is a simple lunch provided.
And that is it!
Why so simple?
A lack of money to spend.
In our developed countries world, celebrations, including Christmas, have become so commercialized that their real meaning is lost.
Most of us realize it but we follow the same pattern year in and year out.
Waty will break the circle? Persecution, most likely.
May we put Jesus in first place this Christmas.
Until next time
His servant and yours
David Tait

Visit us here.....
CHANGING YOUR EMAIL ADDRESS? NEWSLETTER STOPS COMING?
Each week we can lose up to 2% of our readers when they change email addresses without letting us know. Or sometimes, by your server acting strangely and just cutting us off! If you are about to change your address, please advise us of both your old and new addresses here at
enquiries@wwj.org.nz
and we will happily change our records to ensure ongoing delivery. Thanks.
Please also keep our address in your address book, as sometimes servers will automatically delete your address if there is even a one off problem in delivery. If your newsletter doesn't arrive, please let us know and we will reinstate you.
REPRODUCTION OF NEWSLETTER CONTENT
Most weeks we get enquiries about reproducing, in electronic or print form, articles contained in 'PGIM!' We welcome and encourage you to utilize this material. Freely received, freely given. We would ask though, that the source be acknowledged as an encouragement to others to subscribe to this newsletter also.
LINKS
If you would like to link your web site to ours, and ours to yours, please advise us on
links@wwj.org.nz
ABOUT US
WALKING WITH JESUS MINISTRIES is a non-profit, non-denominational, Bible based ministry located in Hastings, New Zealand. A ministry dedicated to developing discipleship, fostering unity amongst God's people to achieve the Great Commission, and in doing so, preparing for Christ's return. It is securely based upon the foundational principles of the Apostles Creed while recognising the wide and rich diversity of beliefs amongst Christians in other areas. In accordance with the Lord's direction, materials produced by the ministry are available, free of charge, to genuine enquirers upon request. The ministry is solely funded by donations, as the Lord provides. A list of materials available (plus some fun!) is obtainable and freely downloadable from our website
wwj.org.nz or by contacting us as follows.

Walking With Jesus Ministries
P O Box 2
Webuye 50205
Kenya

Email: enquiries@wwj.org.nz
Web: wwj.org.nz

Our role is to bless and encourage those in ministry while promoting co-operation and unity of direction amongst the body of Christ, as emphasised 3 times by Jesus in His longest prayer, immediately prior to His arrest and crucifixion. "... so that they may be one as we are one." (John 17:12, 21, 23-4) Our website is currently being developed to encourage your participation one with another, to share resources, and to enable you to promote events and items of interest to the body as a whole - and have a smile while doing it!

For comments upon and contributions to this service, please contact
david@wwj.org.nz
SUBSCRIPTION MANAGEMENT
We would encourage you to share this free service with your friends in ministry. To subscribe yourself please email pgim-on@wwj.org.nz.
If your name has been referred to us by a friend or supporting Ministry or has been obtained from a public Christian Directory or Website, it isn't our wish to burden you with information in which you aren't interested. To remove yourself from this list, please email pgim-off@wwj.org.nz.