A Weekly World Wide Word of Encouragement to those in the Ministry
PRAISE GOD IT'S MONDAY!
A WEEKLY 'WWW (world-wide word) OF ENCOURAGEMENT'
TO THOSE IN MINISTRY
A FREE service, currently connecting with Christian leaders from 3,000 denominations and ministries, in 70 countries.

Issue No: 922 Published: 24 Jun 2019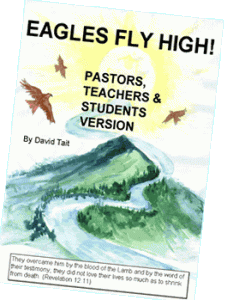 A REVELATION OF……. THE THIRD AND FINAL DWELLING PLACE OF GOD'S GLORY PLUS THE RIVER OF LIFE. Part 5
THE RIVER OF LIFE (Continued)
A VISION
This morning I had a vision! Proves I must still be young man at 71! Please tell my body!
In this vision I saw the mountain of God where His presence dwells. It looked like a very high volcano, higher than any other mountain. Many looked at the mountain and saw that it was very high, too high to climb. Other intrepid people tried to climb but there were boulders and crevasses in the way that caused them to turn back.
Round the back of the mountain however, there was a steep face full of huge rocks, and rock falls and avalanches which people thought impossible to climb.
But when the occasional person who was determined to climb the mountain of God and had failed on the other sides, in desperation tried the far side, they found there was s narrow path leading up the mountain which got appeared even narrower as it got higher.
I saw Kathy (my wife) and myself climbing up this small path with our steps being guided by Jesus.
On the way up, we found that there was a small river that was coming down the side of the mountain, which we could use for refreshing as we continued climbing.
There the vision ended.
What does this mean?
Most believers are happy to view the mountaintop of God from the comfort of life on the plain where life is relatively easy and prosperous.
But the way of the Lord requires a different dimension, as beautifully and inspirationally explained by King David in this Psalm…..
3 Who may ascend the mountain of the Lord? Who may stand in his holy place?
4 The one who has clean hands and a pure heart, who does not trust in an idol
or swear by a false god.a
5 They will receive blessing from the Lord and vindication from God their Savior.
6 Such is the generation of those who seek him, who seek your face, God of Jacob.[b][c]
9 Lift up your heads, you gates; lift them up, you ancient doors,
that the King of glory may come in. 10 Who is he, this King of glory?
The Lord Almighty — he is the King of glory. (Psalm 24:3-10)
He emphasizes the means of ascending the mountain - one who has clean hands and a pure heart. It carries on to say that we must put God above all else. No idol such as fame or fortune, sport or religion, an obsession with sex, gossip, or even with family -anything that takes us away from God and becoming, as we are able, like Jesus, our Saviour and Lord.
The writer of Hebrews also expresses it well…..
14 Make every effort to live in peace with everyone and to be holy; without holiness no one will see the Lord. 15 See to it that no one falls short of the grace of God and that no bitter root grows up to cause trouble and defile many. 16 See that no one is sexually immoral, or is godless like Esau, who for a single meal sold his inheritance rights as the oldest son. 17 Afterward, as you know, when he wanted to inherit this blessing, he was rejected. Even though he sought the blessing with tears, he could not change what he had done.
Why talk about the mountain concerning the river of life?
The reason is the mountain of God is the source of the river, both in the picture in Ezekiel's Temple and in the fulfilment of the river of God.
(Continued next week)
Find out more about us at.....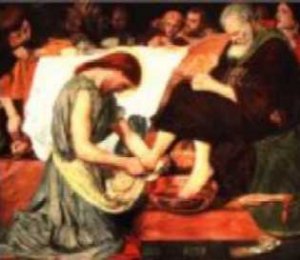 FROM THE WORD
THE WORDS OF JESUS
May we hear what the Lord is saying to us.....
Preparations for the Passover (Matthew 26:17-19, Mark 14:12-16, Luke 22:7-13)
Instructions to Peter and John.
"Go and prepare the Passover meal, so we can eat it together."
"When you enter the city you'll meet a man carrying a jar of water. Follow him and go into the house he enters. Tell the owner of the house, 'The Teacher asks you, "Where is the dining room where I can eat the Passover with my disciples?"' He'll show you a large upstairs room that already has the necessary furniture. Prepare the meal there."
Jesus Washes the Feet of His Disciples (John 13:1-20)
Peter protests.
"You won't realize what I'm doing for you now. But one day you'll understand."
"If I don't wash you, you have no part with me,"
"Anyone who has had a bath only needs to wash their feet and then they're clean all over. You are clean—but not all of you."
"Do you understand what I've done to you?" "You call me 'Teacher' and 'Lord,' and rightly so, for that's who I am. So if I, your Teacher and Lord, washed your feet, you ought to wash one another's feet. I have set you an example, so you should do just as I did. I tell you the truth, servants are not more important than their master, and the one sent is not greater than the sender. Now that you understand these things, you will be blessed if you do them.
I'm not talking about all of you—I know those I have chosen. But this is to fulfill Scripture: "The one who shares my food has turned against me. I'm telling you this now, before it happens, so when it does happen you will be convinced that I am who I am. I tell you the truth, whoever welcomes anyone I send welcomes me; and whoever welcomes me, welcomes the One who sent me."
The Lord's Supper (Matthew 26:26-9, Mark 14:22-5, Luke 22:14-20 , 1 Corinthians 11:23-9)
Instructions to Peter and John.
"I've been really looking forward to eating this Passover meal with you before my sufferings begin. I tell you I shall not eat it again until the time it is fulfilled in the kingdom of God."
Taking the cup.
"Take this and share it among yourselves. I tell you that I won't drink again of the fruit of the vine until the kingdom of God comes."
Taking the bread.
"This is my body which is given for you; do this in order to remember me,"
Taking the cup again after supper.
"This cup is the new agreement in my blood which is poured out for you."
(Continued next week)
Download the complete 'Words of Jesus' here.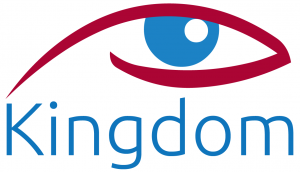 OUR AFRICAN EXPERIENCE
FOR MORE DETAILED AND REGULAR UPDATES, VISIT OUR FACEBOOK PAGE
AN EYE 4 Africa - https://www.facebook.com/aneye4africa/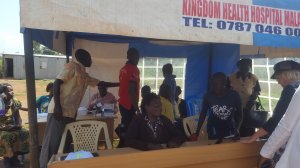 AN OUTREACH AT HOME!
This seemed strange to me, but as it turned out, was most effective! For it brought people into the hospital who have not been here for a long time, or never been here before.

In true outreach fashion we set up our gazebo next to the hospital, and the people came for free consultations. FREE is a very powerful word among the villagers! Many were seen.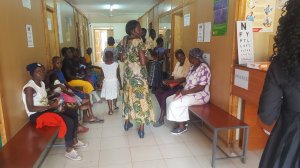 To get medications and tests the people came inside the hospital itself. A successful day.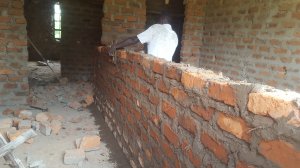 CREATING A DISABLED TOILET
Building a wall in the partially completed Eye Hospital to add a disabled toilet, at the request of our partner CBM.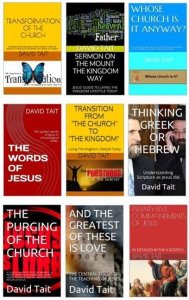 ***NOW***NINE BOOKS ARE AVAILABLE ON AMAZON!!!
9 BOOKS are now available on Amazon (Kindle)!

All are available worldwide for electronic download on Amazon (Kindle) for $US0.99c . Unfortunately there has to be a charge in order to list.

Your support would be appreciated and they could well change your life!

They are all found at this link.....
http://www.amazon.com/s/ref=nb_sb_noss?url=search-alias%3Daps&field-keywords=david+tait+books/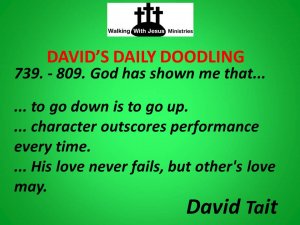 ***DAILY EZINE!*** 'DAVID'S DAILY DOODLINGS' Subscribe Today
Receive one of David's sayings in your mailbox each day to inspire, challenge or maybe, amuse. To register today, go down to the bottom of the page link below, click on the subscribe link dd-on@wwj.org.nz (or paste the address in an email yourself and send) Then it's done! If you have an Irish heritage, you will love the background coloring!
Subscription and back issue link is.....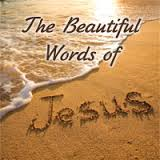 'THE WORDS OF JESUS' REMAIN AVAILABLE FOR PDF DOWNLOAD
Join the many who have downloaded the 'The Words of Jesus'. I am sure you will be blessed by it, as I have been.

One key element here is the setting out in chronological order (as far as it is possible to do so) our Lord's words drawn from all the Gospels, and the elimination of repetition between Gospels.

You may be surprised by the different perspective this presentation gives you both in understanding of His life and ministry, and in achieving a closer relationship with Him.

Download the free PDF here.....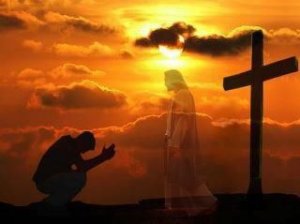 DAVID'S DOODLINGS
HEAVENLY TRUTHS GOD HAS SHOWN ME
739. - 809. God has shown me that...

... we learn more about Him in the hard times than the good.

... He can turn our failure into His success.

... when we put others first in this world, He does the same for us in His.

... in the end, He always wins.

... in Him, to die is to live.

... when there is less of me there is room for more of Him.

... salvation is a privilege, not a right.

... He can change me if I let Him.

... while salvation is free, the walk with Jesus is to cost us everything we have.

... our love for Him is reflected through our service to others.

... His love is infinitely greater than my hurts, and His grace, than my sins.

... I can't hide anything from Him, even though I try.
Please feel free to quote these quotes. Acknowledgement of David Tait as the author would be appreciated. There are now over 1300 David sayings for you to view at ...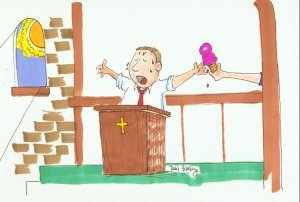 CARTOONS FROM TOON FEVER
Visit the Toon Fever website for more cartoon fun..... http://www.toonfever.com

Check it out at...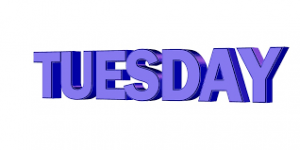 TUESDAY TEACHINGS
THIS WEEK: 12 LESSONS TO BE LEARNED FROM 'DIVIDING THE WATERS' (Concludes)
as we look at the second part of our study, 'Winning the War' and summarise 12 requirements of restoration we have considered.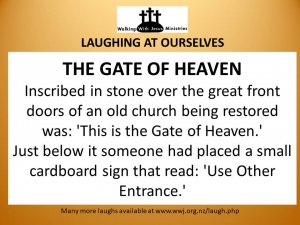 *** ANOTHER DAILY EZINE FROM WWJ!*** 'LAUGHING AT OURSELVES' Subscribe Today
As Christians, if we can't laugh at ourselves, others will! A fun way to start your day. To register today, go down to the bottom of the page link below, click on the subscribe link lao--on@wwj.org.nz (or paste the address in an email yourself and send) Then it's done!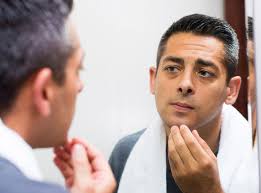 LAUGHING AT OURSELVES
***Blessed are those who can laugh at themselves for they shall never cease to be amused***
*** Those who can't laugh at themselves leave the job to others. ***
278. God Speaks Billboards
Some new billboards are popping up all along major highways all over the country depicting some things God might say. The billboards are a simple black background with white text with no fine print or sponsoring organisation listed. Here's a list of all variations of the "God Speaks" billboards.
C'mon over and bring the kids. - God
What part of "Thou Shalt Not..." didn't you understand? - God
We need to talk. - God
Keep using my name in vain, I'll make rush hour longer. - God
Loved the wedding, invite me to the marriage. - God
That "Love Thy Neighbour" thing... I meant it. - God
I love you and you and you and you and... - God
Will the road you're on get you to my place? - God
Follow me. -God
Big bang theory, you've got to be kidding. - God
My way is the highway. - God
Need directions? - God
You think it's hot here? - God
Have you read my #1 best seller? There will be a test. - God
Do you have any idea where you're going? - God
Don't make me come down there. - God
QWIK QWIP: "Heroes are people who rise to the occasion and slip quietly away." -Tom Brokaw
279. The Barber
The Barber After twenty years of shaving himself every morning, a man in a small Southern town decided he had had enough. He told his wife that he intended to let the local barber shave him each day. He put on his hat and coat and went to the barbershop, which was owned by the pastor of the town's Baptist Church.
The barber's wife, Grace, was working that day, so she performed the task. Grace shaved him and sprayed him with lilac water, and said, "That will be $20." The man thought the price was a bit high, but he paid the bill and went to work.
The next morning the man looked in the mirror, and his face was as smooth as it had been when he left the barbershop the day before. Not bad, he thought. At least I don't need to get a shave every day. The next morning, the man's face was still smooth. Two weeks later, the man was still unable to find any trace of whiskers on his face.
It was more than he could take, so he returned to the barbershop. "I thought $20 was high for a shave", he told the barber's wife, "But you must have done a great job. It's been two weeks and my whiskers still haven't started growing back."
Expecting his comment, the expression on her face didn't even change. She responded, "You were shaved by Grace. Once shaved, always shaved."

Download the book 'Laughing At Ourselves' in PDF format at LAUGHING AT OURSELVES One of the most comprehensive sources of Christian Humour on the Net with 800 sermon fillers for your entertainment and use at ..... https://www.wwj.org.nz/content/wwj18p47.pdf
Or read them all online at.....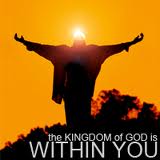 A DAVID MUSING
On Friday I received the following messages on Facebook, on our Hospital page AN EYE 4 Africa..... (Please feel welcome to read if you are interested in what we do).
GUEST:Please!!! Welcome to our church here in kisii county at Nyamasege and built that hospital , if you are real GOD's people.
DAVID:We have requests to go to many places and build hospitals. Our call is to Webuye and we are fully committed here. Disappointing comment!
This is clearly a case of attempted spiritual blackmail! Of course, it won't work on me, as it is so blatant, but for many Christians spiritual blackmail is a fact of life. Follow me as your pastor, or teacher, or prophet or apostle, TV personality or even bishop! (Not Jesus!) Do as I say if you want to go to heaven! Buy this book or come to this conference and it will change your life! Give to me and you will get 10 times back............
There is always someone in the 'game of religion' all to ready to exert power and take the money off the gullible.
Once I was at a Kenneth Copeland meeting at the huge Anaheim Convention Centre, which by chance happened to be on while we were taking our family to Los Angeles Disneyland. Someone once told me to look in the carpark if I went to such a meeting to see the quality of the cars. Sadly, they were all 'bombs' belonging to poor people who were being duped to give what little they had to the preacher. No success stories (or cars) to be seen.
How do we avoid all this 'stuff'? The answer is simple, but seemingly so difficult to many. READ ALL THE BIBLE - again and again so that it becomes a part of you. Read beyond your favorite verses on which your theology, or rather, that of your 'spiritual guru', feeds to you.
Of course, there are many dedicated godly servant leaders around, but discernment is always required.
The kingdom of God is all about relationship - between you personally, and God. To result in obedience to what God tells you, not man. Sadly few are prepared to put in the time and energy into Bible study and prayer in order to hear His voice.
In life we generally get out what we put, and our 'walk with Jesus' is no exception.
May I encourage you to seek more of Jesus today.
Until next week.....
MAY GOD BLESS YOU AND YOU BLESS GOD
His servant and yours
David Tait

Visit us here.....
REPRODUCTION OF NEWSLETTER CONTENT
Most weeks we get enquiries about reproducing, in electronic or print form, articles contained in 'PGIM!' We welcome and encourage you to utilize this material. Freely received, freely given. We would ask though, that the source be acknowledged as an encouragement to others to subscribe to this newsletter also.
CHANGING YOUR EMAIL ADDRESS? NEWSLETTER STOPS COMING?
Each week we can lose up to 2% of our readers when they change email addresses without letting us know. Or sometimes, by your server acting strangely and just cutting us off! If you are about to change your address, please advise us of both your old and new addresses here at
enquiries@wwj.org.nz
and we will happily change our records to ensure ongoing delivery. Thanks.
Please also keep our address in your address book, as sometimes servers will automatically delete your address if there is even a one off problem in delivery. If your newsletter doesn't arrive, please let us know and we will reinstate you.
LINKS
If you would like to link your web site to ours, and ours to yours, please advise us on
links@wwj.org.nz
ABOUT US
WALKING WITH JESUS MINISTRIES is a non-profit, non-denominational, Bible based ministry located in Hastings, New Zealand. A ministry dedicated to developing discipleship, fostering unity amongst God's people to achieve the Great Commission, and in doing so, preparing for Christ's return. It is securely based upon the foundational principles of the Apostles Creed while recognising the wide and rich diversity of beliefs amongst Christians in other areas. In accordance with the Lord's direction, materials produced by the ministry are available, free of charge, to genuine enquirers upon request. The ministry is solely funded by donations, as the Lord provides. A list of materials available (plus some fun!) is obtainable and freely downloadable from our website
wwj.org.nz
or by contacting us as follows.
Walking With Jesus Ministries
7 Bull Street
Ahuriri
Napier
New Zealand
Phone: (06) 835 0567 International (+64) 6 835 0567
Email:
enquiries@wwj.org.nz
Web:
wwj.org.nz
Our role is to bless and encourage those in ministry while promoting co-operation and unity of direction amongst the body of Christ, as emphasised 3 times by Jesus in His longest prayer, immediately prior to His arrest and crucifixion. "... so that they may be one as we are one." (John 17:12, 21, 23-4) Our website is currently being developed to encourage your participation one with another, to share resources, and to enable you to promote events and items of interest to the body as a whole - and have a smile while doing it!
For comments upon and contributions to this service, please contact
david@wwj.org.nz
SUBSCRIPTION MANAGEMENT
We would encourage you to share this free service with your friends in ministry. To subscribe yourself please email pgim-on@wwj.org.nz.
If your name has been referred to us by a friend or supporting Ministry or has been obtained from a public Christian Directory or Website, it isn't our wish to burden you with information in which you aren't interested. To remove yourself from this list, please email pgim-off@wwj.org.nz.