A Weekly World Wide Word of Encouragement to those in the Ministry
PRAISE GOD IT'S MONDAY!
A WEEKLY 'WWW (world-wide word) OF ENCOURAGEMENT'
TO THOSE IN MINISTRY
A FREE service, currently connecting with Christian leaders from 3,000 denominations and ministries, in 70 countries.

Issue No: 1141 Published: 28 Aug 2023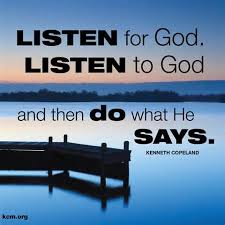 A REVELATION OF..... THE TABERNACLE OF DAVID
THE BLESSING OF OBEDIENCE
18 After he had finished sacrificing the burnt offerings and fellowship offerings, he blessed the people in the name of the LORD Almighty. 19 Then he gave a loaf of bread, a cake of dates and a cake of raisins to each person in the whole crowd of Israelites, both men and women. And all the people went to their homes. (2 Samuel 6:18-19)
David had finally succeeded in returning the Ark to Jerusalem. Besides consolidating his political power, now having both the political and religious streams of Jewish life centered in Jerusalem, personally he was residing in close proximity to the Ark of the presence of God. He could literally, as well as spiritually, come into God's presence whenever he wished. What a reason for celebration for one whose life was sold out to the Lord!
THE PROBLEM
Yet, in spite of His closeness to the Lord, David still did things his own way. He wanted to please the Lord. He truly wanted to do his best for the Lord. Yet he didn't ask God first. Just like us! For while we too have hearts for God, we still insist on glorifying Him the way we think is best, without asking Him first. Nothing changes!
THE LESSON
David, no doubt relieved, as well as being overjoyed, blessed the people in the natural, with gifts of food. Physical provision was the Old Testament way of blessing, peaking of course, in the splendor of Solomon's kingdom.
In this Age of Grace, the one of New Testament blessing, our blessing is spiritual, to be obtained through holiness.
3 Praise be to the God and Father of our Lord Jesus Christ, who has blessed us in the heavenly realms with every spiritual blessing in Christ. 4 For he chose us in him before the creation of the world to be holy and blameless in his sight. In love 5 he predestined us to be adopted as his sons through Jesus Christ, in accordance with his pleasure and will— 6 to the praise of his glorious grace, which he has freely given us in the One he loves. (Ephesians 1:3-6)
This change in blessing between the two Testaments is confirmed here.
50 I declare to you, brothers, that flesh and blood cannot inherit the kingdom of God, nor does the perishable inherit the imperishable. (1 Corinthians 15:50)
.Unfortunately, in our human nature, we still look to the Old Covenant blessing of physical prosperity. Yet God has chosen those who are materially poor but rich in faith to inherit the kingdom.
5 Listen, my dear brothers: Has not God chosen those who are poor in the eyes of the world to be rich in faith and to inherit the kingdom he promised those who love him? (James 2:5)
Our blessing today is in the spiritual realms.
3 Praise be to the God and Father of our Lord Jesus Christ, who has blessed us in the heavenly realms with every spiritual blessing in Christ. (Ephesians 1:3)
The blessing comes through obedience. Jesus too had to learn obedience, and attained perfection by doing so.
8 Although he was a son, he learned obedience from what he suffered 9 and, once made perfect, he became the source of eternal salvation for all who obey him (Hebrews 5:8-9)
Obedience leads to righteousness which, in turn, leads to the spiritual blessing of kingdom inheritance.
16 Don't you know that when you offer yourselves to someone to obey him as slaves, you are slaves to the one whom you obey—whether you are slaves to sin, which leads to death, or to obedience, which leads to righteousness? (Romans 6:16)
8 But about the Son he says, "Your throne, O God, will last for ever and ever, and righteousness will be the scepter of your kingdom. (Hebrews 1:8)
Unlike the Old Testament where kingship, status and wealth were the signs of God's favour and blessing, our blessing comes through personal sacrifice, servanthood and obedience to God's will, as was the case with Jesus. For He operated under New Covenant provisions.
5 Your attitude should be the same as that of Christ Jesus: 6 Who, being in very nature God, did not consider equality with God something to be grasped, 7 but made himself nothing, taking the very nature of a servant, being made in human likeness. 8 And being found in appearance as a man, he humbled himself and became obedient to death— even death on a cross! 9 Therefore God exalted him to the highest place and gave him the name that is above every name, 10 that at the name of Jesus every knee should bow, in heaven and on earth and under the earth, 11 and every tongue confess that Jesus Christ is Lord, to the glory of God the Father. (Philippians 2:5-11)
The spiritual has replaced the physical.
10 This is the covenant I will make with the house of Israel after that time, declares the Lord. I will put my laws in their minds and write them on their hearts. I will be their God, and they will be my people….. 13 By calling this covenant "new," he has made the first one obsolete; and what is obsolete and aging will soon disappear. (Hebrews 8:10,13)
For our true blessing is in building the kingdom of God within.
20 Once, having been asked by the Pharisees when the kingdom of God would come, Jesus replied, "The kingdom of God does not come with your careful observation, 21 nor will people say, 'Here it is,' or 'There it is,' because the kingdom of God is within you."
(Luke 17:20-21)
This is a kingdom that the overcomers will inherit physically upon the return of Jesus.
50 I declare to you, brothers, that flesh and blood cannot inherit the kingdom of God, nor does the perishable inherit the imperishable. 51 Listen, I tell you a mystery: We will not all sleep, but we will all be changed— 52 in a flash, in the twinkling of an eye, at the last trumpet. For the trumpet will sound, the dead will be raised imperishable, and we will be changed. 53 For the perishable must clothe itself with the imperishable, and the mortal with immortality. 54 When the perishable has been clothed with the imperishable, and the mortal with immortality, then the saying that is written will come true: "Death has been swallowed up in victory." (1 Corinthians 15:50-54)
To rule and reign with Him for a thousand years.
21 To him who overcomes, I will give the right to sit with me on my throne, just as I overcame and sat down with my Father on his throne.(Revelation 3:21)
END TIME CHURCH TRAIT 11: A people seeking the ultimate blessing of ruling and reigning with Christ.
(Continued next week)
Find more about us here.....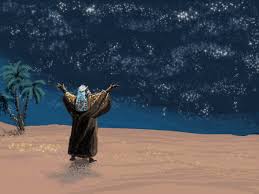 FROM THE WORD
THE WORDS OF JESUS
Children of Abraham (John 8:31-59)
The debate continued with the Pharisees claim to be Abraham's children.
"If you follow my teaching then you really are my disciples. You will know the truth, and the truth will set you free."
"I tell you the truth, everyone who sins is a slave of sin. A slave doesn't have permanent place in the family, but the son is part of the family forever. If the Son sets you free, then you're truly free. I know you're Abraham's descendants. yet you're trying to kill me because you refuse to accept my words. I'm telling you what the Father has revealed to me, while you do what your father told you."
"If you really were children of Abraham, you'd do what Abraham did," "But you are trying to kill me now, because I told you the truth that I heard from God. Abraham would never have done that. You're doing what your father does."
"If God really was your father, you would love me. I came from God and now I am here. The decision to come wasn't mine, but the One who sent me. Why can't you understand what I'm saying? It's because you refuse to hear my message! Your father is the Devil, and you love to follow your father's evil desires. He was a murderer from the beginning. He never stood for the truth, because there is no truth in him. When he lies he reveals his true character, for he's a liar and the father of lies. 45So because I tell you the truth, you don't believe me! Can any one of you prove that I'm guilty of sin? If I'm telling you the truth, why don't you believe me? Anyone who belongs to God listens to what God says. The reason you don't listen is because you don't belong to God."
"No, I don't have a demon," "I honor my Father, but you dishonor me. I'm not here looking to glorify myself. But there is One who does this for me and who judges in my favor. I tell you the truth, anyone who follows my teaching will never die."
"If I glorify myself, my glory means nothing. But it is God himself who glorifies me, the one you claim, 'He is our God.' You don't know him, but I know him. If I were to say, 'I don't know him,' I'd be a liar, just like you. But I do know him, and I do what he says. Your father Abraham was delighted as he looked forward to see my coming, and was so happy when he saw it."
"I tell you the truth, before Abraham was born, I am,"
Jesus Heals a Man Blind Since Birth (John 9:1-12)
The disciples asked why he was blind.
"It wasn't because the man or his parents sinned, but so that what God can do may be shown in his life. We have to keep on doing the work of the One who sent me as long as it is still daytime. The night is coming when no one can work. 5While I'm here in the world I am the light of the world."
"Go and wash yourself in the Pool of Siloam"
Jesus Finds the Excommunicated Blind Man (John 9:9:13-41)
He speaks to the man and then the Pharisees.
"Do you trust in the Son of man?"
"You've already seen him. He's the one speaking with you now!"
"I've come into the world to bring judgment so that those who are blind may see, and those who see will become blind.
And then the Pharisees.
"If you were blind, you wouldn't be guilty. But now that you say you see, your guilt remains."
(Continued next week)
Find out more about us at.....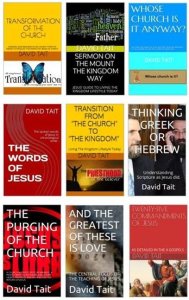 ***NOW***NINE BOOKS ARE AVAILABLE ON AMAZON!!!
9 BOOKS are now available on Amazon (Kindle)!

All are available worldwide for electronic download on Amazon (Kindle) for $US0.99c . Unfortunately there has to be a charge in order to list.

Your support would be appreciated and they could well change your life!
These and many more are availble for free online at https://www.wwj.org.nz/more-free-downloads

They Amazon books are all found at this link.....
http://www.amazon.com/s/ref=nb_sb_noss?url=search-alias%3Daps&field-keywords=david+tait+books/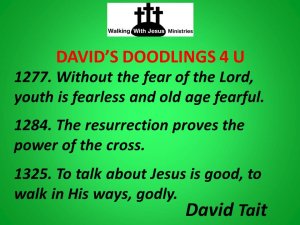 *DAVID"S DOODLINGS
Enjoy some of David's sayings here, plus 1300 more on the website at.....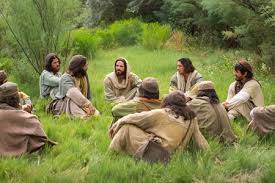 'THE WORDS OF JESUS' REMAIN AVAILABLE FOR PDF DOWNLOAD
Join the many who have downloaded the 'The Words of Jesus'. I am sure you will be blessed by it, as I have been.
One key element here is the setting out in chronological order (as far as it is possible to do so) our Lord's words drawn from all the Gospels, and the elimination of repetition between Gospels.
You may be surprised by the different perspective this presentation gives you both in understanding of His life and ministry, and in achieving a closer relationship with Him.

Download the free PDF here.....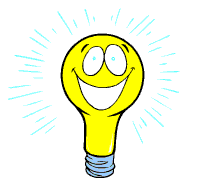 DAVID'S DOODLINGS
DARKNESS AND LIGHT
408. The only way to turn off darkness is to switch on the light.

409. The laws of both Nature and the Spirit reveal that light will always penetrate darkness.

410. Most people try to switch off darkness when in reality, they need to turn on the light.

411. There is nowhere so dark that it cannot be penetrated by light.

412. So often we don't appreciate the true value of light until we find ourselves in darkness.

413. Light doesn't shine brightly through a dirty window.

414. We must pull back the curtains to let light shine into the room of our life.

415. Light and darkness cannot co-exist. The one will always mingle with the other.

416. There must always be a barrier to separate light and darkness.

417. There are only two ways to turn light into darkness - building walls to exclude the light, or turning the light off at its source. The second is by far the easiest.
Many more at.....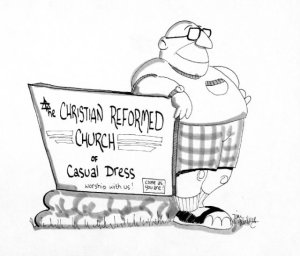 CARTOONS FROM TOON FEVER
Visit the Toon Fever website for more cartoon fun..... http://www.toonfever.com
Check it out at...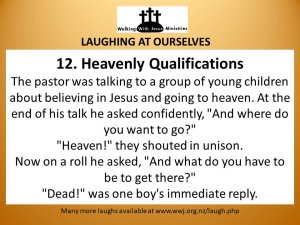 'LAUGHING AT OURSELVES
Another laugh or three for you today
Many more on our website below. Also many, may, many more under these categories on our website, wwj,org,nz Look under the heading MAINLY LAUGHS. Choose from.....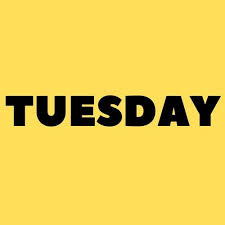 THIS WEEKS TUESDAY TEACHING.....
A REVELATION OF....... 3 KINGDOM AGES: THE 'OTHER' SIDE
For us to have freewill there must be alternatives to choose between. For there is no choice without choice!
So we need to have both good and evil available to us.
This study looks at the different ways satan has persued his influence through the kingdom ages.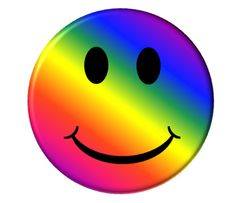 LAUGHING AT OURSELVES
***Blessed are those who can laugh at themselves for they shall never cease to be amused***
392. Death Angel
There's the story of the man who was doing his bank business at the local Bank when he caught sight of the "Death Angel" waiting by the outside door. Being somewhat alarmed, he went out the other door and walked around the building to his car and hastily drove home.
When he came into the kitchen, his wife noted that his face was all white, and she asked what the matter was. He said, "I just saw the death angel."
"So what are you going to do," she asked.
"I'm getting out of town as fast as I can - I'll go to my brother's in Ashfield."
Unbelieving, as soon as his car pulled out of the drive way, the wife rushed down to the bank. Sure enough, there was the Death Angel, still standing by the door.
Being more bold than her husband, she walked up to the Angel and told him that her husband had been very frightened to see him there.
The Death Angel replied, "Well actually, I was also somewhat surprised to see your husband here. I was sure I had an appointment with him later today in Ashfield."
QWIK QWIP: "Too many people work up a head of steam before they find out what's cooking."
393. The One Boy Who Knows His Holidays
Three 4th grade Sunday School boys were promised a free Bible trip if they can answer one simple question.
The teacher asks the first boy, "What is Easter?"
The boy replies, "Oh, that's easy! It's the holiday in November when everyone gets together, eats turkey, and are thankful."
"Wrong!," replies the teacher, and proceeds to ask the second student the same question, "What is Easter?"
The second boy replies, "Easter is the holiday in December when we put up a nice tree, exchange presents, and celebrate the birth of Jesus."
The teacher looks at the second boy, shakes his head in disgust, tells him he's wrong, then peers over at the third boy and asks, "What is Easter?"
Confidently he looks the teacher in the eyes, "I know what Easter is."
"Oh?" the teacher says incredulously.
"Easter is the Christian holiday that coincides with the Jewish celebration of Passover. Jesus and his disciples were eating at the Last Supper and Jesus was later betrayed and handed over to the Romans by one of his disciples. The Romans took him to be crucified and he was stabbed in the side, made to wear a crown of thorns, and was hung on a cross with nails through his hands and feet. He was buried in a nearby cave which was sealed off by a large boulder."
As the Sunday School teacher smiles broadly with delight, the third student continues, "Every year the boulder is moved aside so that Jesus can come out...and, if he sees his shadow, there will be six more weeks of winter."
Download the book 'Laughing At Ourselves' in PDF format at LAUGHING AT OURSELVES One of the most comprehensive sources of Christian Humour on the Net with 800 sermon fillers for your entertainment and use at ..... https://www.wwj.org.nz/content/wwj18p47.pdf
Or read even more online at.....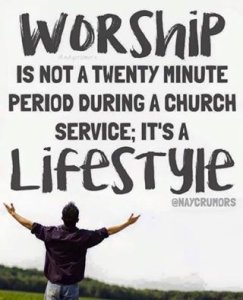 A DAVID MUSING
How often do you worship the Lord in song?
In church on Sundays, or daily, or perhaps, throughout the day?
The Lord loves our worship! He loves connecting with us.
He wants to stay in contact with us at all times, and so should we with Him.
Sadly, in the busy world we live in, God gets lost in our busyness.
He is there always for us. And He desires us too.
If we do link with Him regularly He will help us through the issues we all have.
Worth a thought?
Until next time
His servant and yours
David Tait

Visit us here.....
CHANGING YOUR EMAIL ADDRESS? NEWSLETTER STOPS COMING?
Each week we can lose up to 2% of our readers when they change email addresses without letting us know. Or sometimes, by your server acting strangely and just cutting us off! If you are about to change your address, please advise us of both your old and new addresses here at
enquiries@wwj.org.nz and we will happily change our records to ensure ongoing delivery. Thanks.

Please also keep our address in your address book, as sometimes servers will automatically delete your address if there is even a one off problem in delivery. If your newsletter doesn't arrive, please let us know and we will reinstate you.
REPRODUCTION OF NEWSLETTER CONTENT
Most weeks we get enquiries about reproducing, in electronic or print form, articles contained in 'PGIM!' We welcome and encourage you to utilize this material. Freely received, freely given. We would ask though, that the source be acknowledged as an encouragement to others to subscribe to this newsletter also.
LINKS
If you would like to link your web site to ours, and ours to yours, please advise us on
links@wwj.org.nz
ABOUT US
WALKING WITH JESUS MINISTRIES is a non-profit, non-denominational, Bible based ministry located in Hastings, New Zealand. A ministry dedicated to developing discipleship, fostering unity amongst God's people to achieve the Great Commission, and in doing so, preparing for Christ's return. It is securely based upon the foundational principles of the Apostles Creed while recognising the wide and rich diversity of beliefs amongst Christians in other areas. In accordance with the Lord's direction, materials produced by the ministry are available, free of charge, to genuine enquirers upon request. The ministry is solely funded by donations, as the Lord provides. A list of materials available (plus some fun!) is obtainable and freely downloadable from our website
wwj.org.nz or by contacting us as follows.

Walking With Jesus Ministries
P O Box 2
Webuye 50205
Kenya

Email: enquiries@wwj.org.nz
Web: wwj.org.nz

Our role is to bless and encourage those in ministry while promoting co-operation and unity of direction amongst the body of Christ, as emphasised 3 times by Jesus in His longest prayer, immediately prior to His arrest and crucifixion. "... so that they may be one as we are one." (John 17:12, 21, 23-4) Our website is currently being developed to encourage your participation one with another, to share resources, and to enable you to promote events and items of interest to the body as a whole - and have a smile while doing it!

For comments upon and contributions to this service, please contact
david@wwj.org.nz
SUBSCRIPTION MANAGEMENT
We would encourage you to share this free service with your friends in ministry. To subscribe yourself please email pgim-on@wwj.org.nz.
If your name has been referred to us by a friend or supporting Ministry or has been obtained from a public Christian Directory or Website, it isn't our wish to burden you with information in which you aren't interested. To remove yourself from this list, please email pgim-off@wwj.org.nz.