A Weekly World Wide Word of Encouragement to those in the Ministry
PRAISE GOD IT'S MONDAY!
A WEEKLY 'WWW (world-wide word) OF ENCOURAGEMENT'
TO THOSE IN MINISTRY
A FREE service, currently connecting with Christian leaders from 3,000 denominations and ministries, in 70 countries.

Issue No: 825 Published: 21 Aug 2017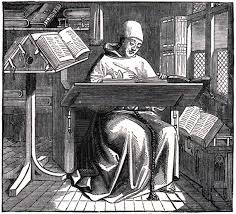 WHOSE CHURCH IS IT ANYWAY? Part 10
325-600AD
THE MONASTICS Continued

PACHOMIUS (AD292-346) A soldier by profession, and likely inspired by Antony, he retired to live the life of a hermit. One day, in his cell, an angel appeared to him and said, "Go and gather together unto thyself those who are wandering, and be thou dwelling with them, and lay down for them such laws as I shall tell unto thee."

Subsequently, Pachomius organized the first monastery about AD320, at Tabennisi on the east bank of the Nile. Each member dressed similarly, had a communal work assignment, along with scheduled times of both private and corporate worship.

An ancient writer described Pachomius as "a man endowed with apostolic grace both in teaching and in performing miracles." For example, he had a visitor from the West who spoke Latin, a language he did not understand. After 3 hours of concerted prayer, Pachomius was able to converse with his visitor in Latin. Several other times too, he was reported as speaking in a language he had not learned, indicating that speaking in tongues was known within the monastic communities.
ATHANASIUS (AD295-373) Athanasius was known as 'the Father of Orthodoxy', and was the bishop of Alexandria in Egypt. Best known for his writings against 'Arianism' (Christ as a created being, different from and less than the Father), he insisted Christ was coequal, cosubstantial and coeternal with the Father. Exiled 5 times, his teaching was finally accepted as official church doctrine.

Talking of the Holy Spirit, when writing of his friend Antony, he said.....

And we ought not to doubt whether such marvels were wrought by the hand of a man. For it is the promise of the Saviour, when He saith, "If ye have faith as a grain of mustard seed, ye shall say to this mountain, remove hence and it shall remove, and nothing shall be impossible unto you."

The office of bishop was becoming formalized, leading to a life of ease, wealth and temptation. However, he reasoned he could still live a devoted life as a bishop while some monks didn't.....

"We know bishops who work wonders [miracles] and monks who do not."

Athanasius clearly experienced spiritual gifts personally and saw them being for the body, not the limited few of an appointed clergy.

HILARION (AD305-385) Born in Gaza city in Palestine to pagan parents, he received a good education, becoming a believer at an early age and showing a tendency towards an ascetic lifestyle.

While still in his teens he visited Antony in the Egyptian desert and then devoted himself to a life of devotion in the Palestinian wilderness. Like his mentor Antony, he gained a reputation for holiness and power in prayer. Jerome, who knew Hilarion personally said of him, "Time would fail me if I wished to relate all the miracles which were wrought by him."

On one occasion, Hilarion found a paralyzed man lying near the entrance of his dwelling. After finding out the man's identity.....

weeping much and stretching out his hand to the prostrate man he said, "I bid you in the name of our Lord Jesus Christ, arise and walk." The words were still on the lips of the speaker when, with miraculous speed, the limbs were strengthened and the man arose and stood firm.

He died in Cyprus, having spent his last years there. A friend stole his body and returned it to Palestine. Jerome, writing after Hilarion's death, recorded that miracles continued to take place both at the site of his death in Cyprus and at his tomb in Palestine.
AMBROSE (AD340-397) Giving up a successful political career, Ambrose became bishop of Milan in 374. An able administrator and preacher, he brought Augustine to Jesus, baptizing him in 387.

Augustine, in turn, reported of a time in Milan when a 'vast throng' gathered at the tomb of two martyrs, the location of which had been revealed by the Holy Spirit to Ambrose. As the crowd gathered there, a blind man miraculously received his sight.

Ambrose lived in a time of general spiritual decline, which he tried to counteract in his work "Of The Holy Spirit", linking the Holy Spirit to the Father and the Son through active spiritual gifts.....

You see the Father and Christ also set teachers in the churches; and as the Father gives the gift of healings, so too does the Son give; as the Father gives the gift of tongues, so too has the Son also granted it. In like manner we have heard also above concerning the Holy Spirit that He too grants the same kinds of graces. So, then, the Spirit gives the same gifts as the Father and the Son also gives them.

JEROME (AD347-420) Becoming a Christian at an early age, Jerome, an astute scholar, loved classical learning. While travelling through Antioch, he became very sick and the Lord appeared to him, reproaching him for his devotion to classical study.

This encounter with God changed Jerome's life. Repenting of his former ways and living as a hermit near Antioch, he became an avid bible student, so much so that he was described by one writer (Sullivan) as the ablest scholar the ancient Western Church could boast."

Later, having moved to Palestine to head a monastery, he produced the works for which he is noted, the greatest being "The Vulgate" (pictured), the famous and hugely influential Latin translation of the Bible. From the Council of Trent (1545-63) until recently, The Vulgate was the only official Bible of the Roman Catholic Church.

Jerome was a firm believer in the power of the Holy Spirit to work miracles. This was particularly noted in his work "The Life of Saint Hilarion" (see last week). Jerome tells of Hilarion stilling a raging sea brought about by a violent earthquake (perhaps a tidal wave?) that was about to engulf the village of Epidaurus, by raising his outstretched hands. Jerome then comments.....

Verily, what was said to the Apostles, "If ye have faith, ye shall say unto this mountain, Remove into the sea, and it shall be done," may even be literally fulfilled if one has such faith as the Lord commanded the Apostles to have.

Living on into the 5th century, it is clear that Jerome considered that spiritual gifts were still applicable to the church of the time and were not about to cease.
(Continued next week)
Find out more about us here.....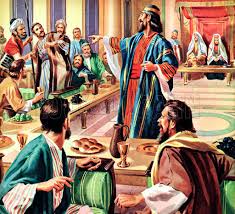 FROM THE WORD
THE WORDS OF JESUS
May we hear what the Lord is saying to us.
Parable of the Feast (Luke 14:7-11)
Addressed to all the Pharisees, sitting in the places of honour.
"When you're invited to a wedding reception, don't take the place of honor, because someone more important than you may have been invited," he began. "Your host who invited you both will come and tell you, 'Give this man your place.' Then in embarrassment you'll have to move to whatever place is left. Instead, when you're invited, take the lowest place, so that when your host comes in, he'll tell you, 'My friend, please move to a better seat.' Then you'll be honoured before all the guests sitting with you. For those who exalt themselves will be humbled, and those who humble themselves will be exalted."
Invitation Advice (Luke 14:12-14)
Given to the host.
"When you give a lunch or a dinner, don't invite your friends, or your brothers, or your relatives, or your rich neighbors, for they may invite you back, and then you'd be repaid. Instead, when you give a banquet, invite the poor, the crippled, the lame, the blind, and you will be blessed, for they have nothing to repay you with, and you'll be rewarded at the resurrection of the righteous."
Parable of the Banquet (Luke 14:15-24)
Given to the host.
"Once there was a man who prepared a great banquet, and invited many guests," Jesus replied. "When it was time to eat he sent his servant out to tell everyone who had been invited, 'Come, because the banquet's ready.' But they all started to make excuses. The first said, 'I've just bought a field and I have to go and see it. Please excuse me.' Another said, 'I've just bought five pairs of oxen and have to go and try them out. Please excuse me.' Still another said, 'I've just got married, so I can't come.' The servant returned and told his master what they'd said. The home-owner became angry and told his servant, Quickly, go out into the streets and alleys of the town, and bring in the poor and crippled and blind and lame.'
"Then the servant said, 'Master, I did what you told me, but there are still empty places.' "So the master told the servant, 'Go out on the country roads and lanes, and make people come—I want my house to be full. I tell you, not a single one of those people I invited will get a taste of my banquet.'"
(Continued next week)
You can download the complete 'Words of Jesus' here.
DAVID AND KATHY EXPERIENCING LIFE HERE IN WEBUYE, KENYA, EAST AFRICA
Arriving in Kenya on 14 July 2017, we would now like to share with you our life and observations, so you too may also share in our experience. We much appreciate your prayers, and as the Lord leads, your contributions to the work of the kingdom here.
Enjoy!
Karibu! (Welcome)
Check out our website here.....

THE KENYAN ELECTIONS
Firstly, I must apologize for my error in last weeks report.
The issue took me 3 days to complete, and as I was finishing on the Friday afternoon (an early bird then!) I assumed, along with most Kenyans, that the final, inevitable results, that were just about to be released, would be accepted by the opposition NASA Coalition.
How wrong we all were! For this is Kenya! At the last minute NASA withdrew and a few days later, did what they had promised they would not do, in approaching the Supreme Court to overturn the result. Under the Constitution, the Court has 2 weeks in which to arrive at a decision.
However, this was the least of the fake news that circulated on the news and on the net. Photos were posted of violence in earlier elections, and even some that were not from Kenya at all! What a world we live in!
There were only really speaking only 2 trouble spots, in the slums of Nairobi and the city of Kisumu, both of which were primarily thugs seeking an excuse to loot, rather than genuine protests. The Police quickly settled this down.
So, once again, you cannot believe everything you read, particularly on these days of social networks which can spread disinformation round the world in minutes.
We are safe, well, and along with the locals, eagerly awaiting the inevitable Court judgement that, while there may have been some small irregularities, the result was conclusive in the large margin of 54-44% gained by the Jubilee Party.
Compared to previous elections, this has been very peaceful.
Christian prayer works!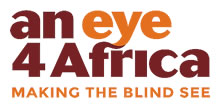 THE EYE CLINIC/HOSPITAL
Our Dutch visitors have arrived, including the Pastor Bert, the primary one responsible for the vision and building of the Compound where we are living.
The initial reaction to our proposal is one of enthusiasm and excitement.
Over the next couple of weeks of their visit, we will sort out the final details before proceeding.
In Africa, all good things take time!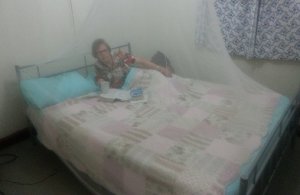 MOSQUITOES AND MALARIA
One of the first questions we are asked by Westerners is, "What do you do about mosquitoes and malaria?"
The reality is that we can't do anything medical, as protection pills cannot be taken over the long term. So we have to learn to live with the possibility that we may catch Malaria.
We do take precautions, of course. We sleep under a mosquito net. After a couple of weeks, this became natural to us. Additionally, we spray our room before going to bed. We started with the standard DOOM spray, but this only caused the vermin to get sleepy for a while, before waking up and getting back into action! A week ago we found an improved spray GOOD KNIGHT, which kills mosquitoes instantly - and cockroaches as well!
So sleep is now much more comfortable.
Unfortunately, there are more mosquitoes round at present, than normal.
Forutunately, the type that carry malaria are mainly active in the middle of the night, when we are in bed under a net.
Our hosts are vewry aware of the disease, and seek treatment once the first flu-like symptoms appear. At that time an infedtion is more easily countered.
But, in the end, it is a risk we have to live with.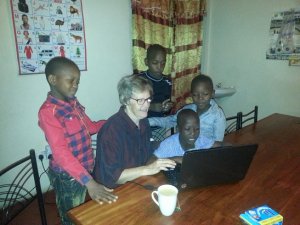 THE KIDS
Amazingly, the kids here are both generally very well behaved, happy in spite of having very little, and very obedient towards their parents!
This obedience is taught at school, Sunday School and in the home.
You very rarely hear a baby or child cry. It is incredible!
But, of course, when the opportunity to play a computer game comes up, per courtesy of Kathy, they are all in, as the picture shows!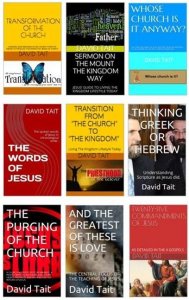 ***NOW***NINE BOOKS ARE AVAILABLE ON AMAZON!!!
9 BOOKS are now available on Amazon (Kindle)!

All are available worldwide for electronic download on Amazon (Kindle) for $US0.99c . Unfortunately there has to be a charge in order to list.

Your support would be appreciated and they could well change your life!

They are all found at this link.....
http://www.amazon.com/s/ref=nb_sb_noss?url=search-alias%3Daps&field-keywords=david+tait+books/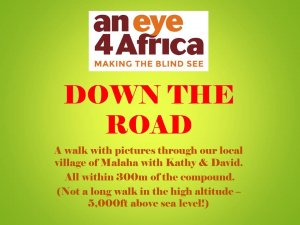 WATCH OUR PRESENTATION - DOWN THE ROAD
We have produced a slideshow about the area in whch we are living, available in video form on our Facebook page.....
https://web.facebook.com/aneye4africa/videos/vb.1222791161147706/1415422065217947/?type=2&theater
(Take the opportunity to like our page for our latest updates, at the same time!)
or for a high definition in slide format on Google Drive at.....
https://drive.google.com/file/d/0B44p0f3zvNcCbU5INVROQUVQaHc/view
Please share the experience with us.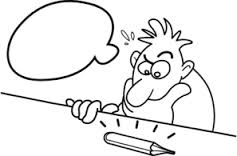 ***DAILY EZINE!*** 'DAVID'S DAILY DOODLINGS' Subscribe Today
Receive one of David's sayings in your mailbox each day to inspire, challenge or maybe, amuse. To register today, go down to the bottom of the page link below, click on the subscribe link dd-on@wwj.org.nz (or paste the address in an email yourself and send) Then it's done! If you have an Irish heritage, you will love the background coloring!
Subscription and back issue link is.....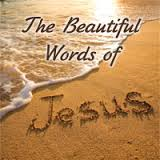 'THE WORDS OF JESUS' REMAIN AVAILABLE FOR PDF DOWNLOAD
Join the many who have downloaded the 'The Words of Jesus'. I am sure you will be blessed by it, as I have been.

One key element here is the setting out in chronological order (as far as it is possible to do so) our Lord's words drawn from all the Gospels, and the elimination of repetition between Gospels.

You may be surprised by the different perspective this presentation gives you both in understanding of His life and ministry, and in achieving a closer relationship with Him.

Download the free PDF here.....

DAVID'S DOODLINGS

1163. The revelation of sin in our lives deepens, as our walk with Jesus intensifies. But we only need to deal with the revelation of our current step.

1164. Sin is like an onion. God reveals it and we peel it off, with tears, a layer at a time!

1165. Sin is neither to be loved, nor feared, but dealt with!

1166. We cannot truly say we hate the sin in our lives if we are not prepared to do something about it!

1167. Contrary to common Christian exhortation, sin can be enjoyable - for a time. Many of us test the limits!

1168. Sin grows as it onward goes!

1169. Sin intensifies with repetition.

1170. Finally, thrills turn into spills!

1171. On Judgement Day, my sin is no-ones responsibility but my own.

1172. While others may lead us astray, it is we who reap the consequences.
Please feel free to quote these quotes. Acknowledgement of David Tait as the author would be appreciated. There are now over 1300 David sayings for you to view at ...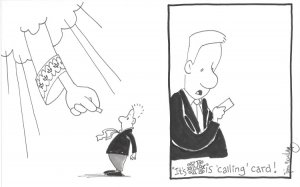 CARTOONS FROM TOON FEVER
Visit the Toon Fever website for more cartoon fun..... http://www.toonfever.com

Check it out at...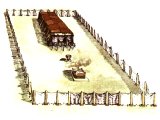 TUESDAY TEACHINGS
A REVELATION OF……. THE WAY OF HOLINESS
THIS WEEK: PART 2 OF 9
MOSES TABERNACLE -THE JOURNEY TO HOLINESS 1

Moses Tabernacle is just so important as an Old Testament picture of how we should live our life, as well as setting the pattern of God's church through the ages.

It never ceases to amaze me how God has had everything planned from the beginning of time. But then, He is outside of time, so it is understandable. Another study there!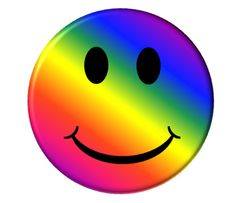 *** ANOTHER DAILY EZINE FROM WWJ!*** 'LAUGHING AT OURSELVES' Subscribe Today
As Christians, if we can't laugh at ourselves, others will! A fun way to start your day. To register today, go down to the bottom of the page link below, click on the subscribe link lao--on@wwj.org.nz (or paste the address in an email yourself and send) Then it's done!

LAUGHING AT OURSELVES
***Blessed are those who can laugh at themselves for they shall never cease to be amused***
*** Those who can't laugh at themselves leave the job to others. ***
38. Who's For a Wedding?
A minister was planning a wedding at the close of the Sunday morning service.
After the benediction he had planned to call the couple down to be married for a brief ceremony before the congregation.
For the life of him, he couldn't think of the names of those who were to be married.
"Will those wanting to get married please come to the front?" he requested.
Immediately, nine single ladies, three widows, four widowers, and six single men stepped to the front.
QWIK QWIP: "In the sentence of life, the devil may be a comma - but never let him be the period."
39. Heavenly Reward?
This 85-year-old couple, having been married almost 60 years, died in a car crash. They had been in good health the last 10 years, mainly due to her interest in health food and exercise.
When they reached the pearly gates, St. Peter took them to their mansion, which was decked out with a beautiful kitchen, master bath suite and Jacuzzi.
As they oohed and aahed, the old man asked Peter how much all this was going to cost. "It's free," Peter replied. "This is Heaven."
Next they went out back to survey the championship golf course in the backyard. They would have golfing privileges every day, and each week the course would change to a new one, representing the great golf courses on Earth.
The old man asked, "What are the greens fees?"
Peter's reply, "This is Heaven -- you play for free."
Next they went to the clubhouse and saw the lavish buffet lunch with the cuisine of the world laid out.
"How much to eat?" asked the old man.
"Don't you understand yet? This is Heaven, it's FREE!" Peter replied with some exasperation.
"Well, where are the low-fat and low-cholesterol tables?" the old man asked timidly.
Peter lectured, "That's the best part -- you can eat as much as you like of whatever you like and you never get fat and you never get sick. This is Heaven."
With that the old man went into a fit of anger, throwing down his hat and stomping on it, and shrieking wildly.
Peter and his wife both tried to calm him down, asking him what was wrong. The old man looked at his wife and said, "This is all your fault. If it weren't for your blasted bran muffins, I could have been here 10 years ago!"
FREE DOWNLOAD: You can now download the book 'Laughing At Ourselves' in PDF format at LAUGHING AT OURSELVES One of the most comprehensive sources of Christian Humour on the Net with 800 sermon fillers for your entertainment and use at ..... https://www.wwj.org.nz/content/wwj18p47.pdf
Or read them all online at.....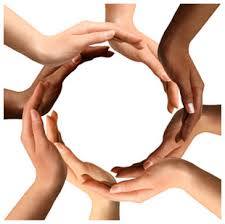 A DAVID MUSING
OnSaturday, we spoke to the first European people, of the Dutch team who built the compound on which we live, in the 5 weeks we have been in Kenya. Other than seeing 4 white faces in the distance one day we visited the city of Eldoret, where we understand round 800 Europeans live, all our society has been African.
It is amazing how quickly we have adapted to the culture and the people, although naturally, there are some differences that perhaps we don't really want to adapt to, but have to learn to live with.
The Dutch team are very friendly, with pretty good English, but amazingly, they appeared 'different' to what we have become used to.
I would encourage you to see people as people, in an intolerant world. Inside we are all have red blood, and no race is superior or inferior in God's eyes, to another, in spite of our superficial differences. We are all people, people to be understood and loved, just as Jesus did.
May we reconsider our attitudes today.
Karibu
Until next week.......

MAY GOD BLESS YOU AND YOU BLESS GOD.

His servant and yours

David Tait



Visit us here.....
REPRODUCTION OF NEWSLETTER CONTENT
Most weeks we get enquiries about reproducing, in electronic or print form, articles contained in 'PGIM!' We welcome and encourage you to utilize this material. Freely received, freely given. We would ask though, that the source be acknowledged as an encouragement to others to subscribe to this newsletter also.
CHANGING YOUR EMAIL ADDRESS? NEWSLETTER STOPS COMING?
Each week we can lose up to 2% of our readers when they change email addresses without letting us know. Or sometimes, by your server acting strangely and just cutting us off! If you are about to change your address, please advise us of both your old and new addresses here at
enquiries@wwj.org.nz
and we will happily change our records to ensure ongoing delivery. Thanks.
Please also keep our address in your address book, as sometimes servers will automatically delete your address if there is even a one off problem in delivery. If your newsletter doesn't arrive, please let us know and we will reinstate you.
LINKS
If you would like to link your web site to ours, and ours to yours, please advise us on
links@wwj.org.nz
ABOUT US
WALKING WITH JESUS MINISTRIES is a non-profit, non-denominational, Bible based ministry located in Hastings, New Zealand. A ministry dedicated to developing discipleship, fostering unity amongst God's people to achieve the Great Commission, and in doing so, preparing for Christ's return. It is securely based upon the foundational principles of the Apostles Creed while recognising the wide and rich diversity of beliefs amongst Christians in other areas. In accordance with the Lord's direction, materials produced by the ministry are available, free of charge, to genuine enquirers upon request. The ministry is solely funded by donations, as the Lord provides. A list of materials available (plus some fun!) is obtainable and freely downloadable from our website
wwj.org.nz
or by contacting us as follows.
Walking With Jesus Ministries
7 Bull Street
Ahuriri
Napier
New Zealand
Phone: (06) 835 0567 International (+64) 6 835 0567
Email:
enquiries@wwj.org.nz
Web:
wwj.org.nz
Our role is to bless and encourage those in ministry while promoting co-operation and unity of direction amongst the body of Christ, as emphasised 3 times by Jesus in His longest prayer, immediately prior to His arrest and crucifixion. "... so that they may be one as we are one." (John 17:12, 21, 23-4) Our website is currently being developed to encourage your participation one with another, to share resources, and to enable you to promote events and items of interest to the body as a whole - and have a smile while doing it!
For comments upon and contributions to this service, please contact
david@wwj.org.nz
SUBSCRIPTION MANAGEMENT
We would encourage you to share this free service with your friends in ministry. To subscribe yourself please email pgim-on@wwj.org.nz.
If your name has been referred to us by a friend or supporting Ministry or has been obtained from a public Christian Directory or Website, it isn't our wish to burden you with information in which you aren't interested. To remove yourself from this list, please email pgim-off@wwj.org.nz.