A Weekly World Wide Word of Encouragement to those in the Ministry
PRAISE GOD IT'S MONDAY!
A WEEKLY 'WWW (world-wide word) OF ENCOURAGEMENT'
TO THOSE IN MINISTRY
A FREE service, currently connecting with Christian leaders from 3,000 denominations and ministries, in 70 countries.

Issue No: 1023 Published: 24 May 2021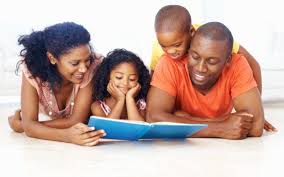 THINKING GREEK OR HEBREW
EDUCATION METHODS

Greek (Western) In Western ways, education is the responsibility of teachers and pupils are streamed according to their abilities.
Our education system has been inherited directly from Greek culture. In Greece, large gymnasiums (from 'gymnos', meaning naked) were built in which to teach the elite. Professional teachers were employed to strip intelligent students of the information they had gathered at home and replace it with instruction on every conceivable subject. Knowledge was the key both to excellence and power.
Children from poor families were dissuaded from studying science or the arts and encouraged to learn a trade from their parents instead.

Eastern (Hebrew) In the original Hebrew, before the development of the more modern Rabbinical system, fathers and mothers were responsible for their children's education, imparting knowledge from the creator, including His moral values and judgments.
The Lord is to be the teacher. He taught Moses.....
10 Moses said to the LORD, "O Lord, I have never been eloquent, neither in the past nor since you have spoken to your servant. I am slow of speech and tongue." 11 The LORD said to him, "Who gave man his mouth? Who makes him deaf or mute? Who gives him sight or makes him blind? Is it not I, the LORD? 12 Now go; I will help you speak and will teach you what to say." (Exodus 4:10-12)
What Moses taught the people, the people were to teach to their children.....
9 Only be careful, and watch yourselves closely so that you do not forget the things your eyes have seen or let them slip from your heart as long as you live. Teach them to your children and to their children after them. 10 Remember the day you stood before the LORD your God at Horeb, when he said to me, "Assemble the people before me to hear my words so that they may learn to revere me as long as they live in the land and may teach them to their children." (Deuteronomy 4:9-10)
Before Samson was born his mother asked for him to be taught by God's representative....
8 Then Manoah prayed to the LORD: "O Lord, I beg you, let the man of God you sent to us come again to teach us how to bring up the boy who is to be born." (Judges 13:8)
Arts and science was taught, but it was all based on scriptural principles. Some knowledge was not included, even if it was the truth. The classic example, which still causes controversy today, is sex education. It was not held to be healthy for children to learn at an early age.
The Law set out the limitations on sexual relations.....
6 "'No one is to approach any close relative to have sexual relations. I am the LORD..... (Leviticus 18:6)
But the mechanisms of bodily function were not taught at an early age. Birth control was facilitated by keeping the women separate from the men!
Unlike today, moral values were also taught. As fathers and mothers had a stake in their children's future, they had the child's entire life in mind in what they taught, and were not simply conduits for the acquisition of knowledge.

SOME SPIRITUAL IMPLICATIONS FOR TODAY
1. We must understand that our education system teaches knowledge but is limited in other areas.
2. We cannot abdicate the teaching of our children entirely to the system. Moral values need to be taught in the home.
3. We need to control what our children hear, see and read, for not all information is good and helpful in the healthy development of our family.
(Continues next week)
Acknowledgements: http://www.followtherabbi.com and http://hethathasanear.com and http://www.wildbranch.org
See more about us at.....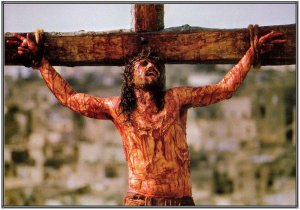 FROM THE WORD
THE WORDS OF JESUS
May we hear what the Lord is saying to us.....
Jesus Before Pilate (Matthew 27:11-14, Mark 15:1-15, Luke 23:1-7, John 18:29-38)
Asking if Jesus is the 'King of the Jews'.
"Did you think of this question yourself, or did others talk to you about me?"
"My kingdom is not of this world. If it was of this world, my subjects would fight to keep me from being handed over to the Jews. But my kingdom is not from here."
"You say that I'm a king," "The reason why I was born and I came to the world was to give evidence for the truth. All those who accept the truth pay attention to what I say."
Pilate Questions Jesus Again (John 19:8-11)
Trying to release Him.
"You would have no power over me unless it had been given to you from above," "Therefore the one who handed me over to you is guilty of the greater sin."
Before the Crucifixion (Luke 23:27-32)
Jesus speaking to weeping women.
"Daughters of Jerusalem, don't weep for me. Weep for yourselves and your children. For the time is coming when they'll say, 'Happy are those who are childless, and those who never had babies, and those who never nursed them.' They'll say to the mountains, 'Fall down on us,' and to the hills, 'Cover us.' For if they do this to wood that is new, what will happen when it's dried out?"
The Crucifixion (Matthew27:32-55, Mark 15:21-41, Luke 23:33-49, John 9:18-37)
To the Romans and Jews.
"Father, please forgive them, for they don't know what they're doing."
To the thief who repented.
"I promise you today you will be with me in paradise."
To Mary and John
"Mother, this is your son." "This is your mother."
Approaching death.
"Eli, Eli, lama sabachthani?" (which means, "My God, my God, why have you abandoned me?")
"I'm thirsty." "It's finished!"
"Father, I place my spirit in your hands."
(Continued next week)
Download the complete 'Words of Jesus' here.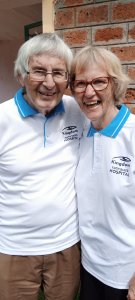 OUR AFRICAN EXPERIENCE
FOR MORE DETAILED AND REGULAR UPDATES, VISIT OUR FACEBOOK PAGE
AN EYE 4 Africa - https://www.facebook.com/aneye4africa/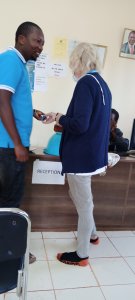 WE HAVE HAD TO SAY FAREWELL TO MOSES
Sadly, one of our Clinical Officers, Moses, has gone back to University to continue his full doctor training.
Has been with us for 6 months or more, while the universities were shut for Covid.
We wish you well Moses and look forward to seeing you again soon.
Kathy made her usual cake!
Very nice too!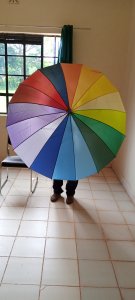 I love rainbows. This umbrella belongs to one of our clients. Really appeals to me! But I did give it back!!!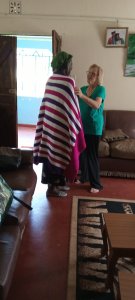 KATHYS BLANKET
Kathy has spent several months making this beautiful blanket for David, our host's Mum. She is in her late 80's and still going strong.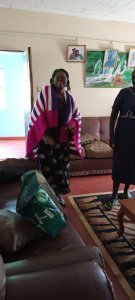 A JIG OF APPRECIATION!
Beautifully done sweet heart, and so much work!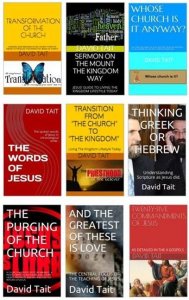 ***NOW***NINE BOOKS ARE AVAILABLE ON AMAZON!!!
9 BOOKS are now available on Amazon (Kindle)!

All are available worldwide for electronic download on Amazon (Kindle) for $US0.99c . Unfortunately there has to be a charge in order to list.

Your support would be appreciated and they could well change your life!

They are all found at this link.....
http://www.amazon.com/s/ref=nb_sb_noss?url=search-alias%3Daps&field-keywords=david+tait+books/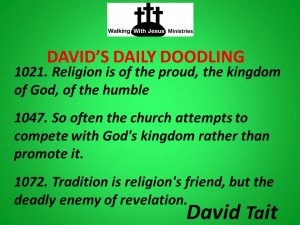 ***DAILY EZINE!*** 'DAVID'S DAILY DOODLINGS' Subscribe Today
Receive one of David's sayings in your mailbox each day to inspire, challenge or maybe, amuse. To register today, go down to the bottom of the page link below, click on the subscribe link dd-on@wwj.org.nz (or paste the address in an email yourself and send) Then it's done! If you have an Irish heritage, you will love the background coloring!
Subscription and back issue link is.....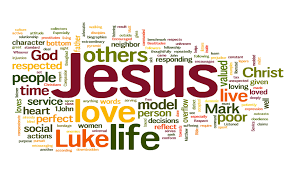 'THE WORDS OF JESUS' REMAIN AVAILABLE FOR PDF DOWNLOAD
Join the many who have downloaded the 'The Words of Jesus'. I am sure you will be blessed by it, as I have been.

One key element here is the setting out in chronological order (as far as it is possible to do so) our Lord's words drawn from all the Gospels, and the elimination of repetition between Gospels.

You may be surprised by the different perspective this presentation gives you both in understanding of His life and ministry, and in achieving a closer relationship with Him.

Download the free PDF here.....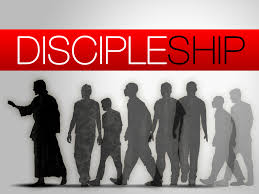 DAVID'S DOODLINGS
BELIEVERS v DISCIPLES
236. A believer praises the Lord in good tim
es, the disciple at all times.

237. The Holy Spirit resides in the believer but shines through the disciple.

238. A believer loves God with heart and mind while a disciple commits the will.

239. A believer loves God and others, but they are the disciple's life.

240. A believer lives in hope, but for the disciple, God's hope is certain.

241. A believer seeks forgiveness for sin but the disciple also determines not to walk that path again.

242. A believer has faith in God but the disciple's faith is tempered in the fire of testing.

243. A believer loves the Lord, but the disciple's love is unconditional.

244. The believer serves the Lord in strength, but the disciple is made perfect through weakness.

245. God is part of the believer's life, but the central focus of the disciple.

246. A believer forgives, but the disciple also forgets.

247. A believer communicates with God at their own convenience, but the disciple's heart is open to the Lord at all times.
Please feel free to quote these quotes. Acknowledgment of David Tait as the author would be appreciated. There are now over 1300 David sayings for you to view at ...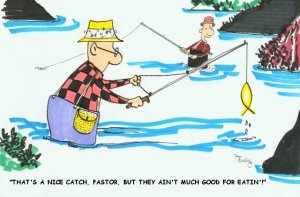 CARTOONS FROM TOON FEVER
Visit the Toon Fever website for more cartoon fun..... http://www.toonfever.com
Check it out at...

TUESDAY TEACHINGS
THIS WEEK:GOD AND MAN continues.....
...as we look the Bible's instructions about holy living.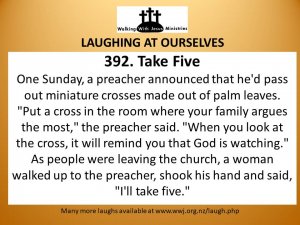 *** ANOTHER DAILY EZINE FROM WWJ!*** 'LAUGHING AT OURSELVES' Subscribe Today
As Christians, if we can't laugh at ourselves, others will! A fun way to start your day. To register today, go down to the bottom of the page link below, click on the subscribe link lao--on@wwj.org.nz (or paste the address in an email yourself and send) Then it's done!
https://www.wwj.org.nz/laughing-at-ourselves-ezine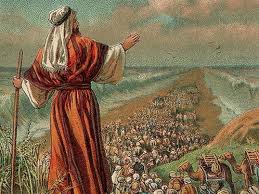 LAUGHING AT OURSELVES
***Blessed are those who can laugh at themselves for they shall never cease to be amused***
*** Those who can't laugh at themselves leave the job to others. ***
51. 'Fool'
A minister was opening his mail one morning. Drawing a single sheet of paper from an envelope he found written on it only one word: 'FOOL'.
The next Sunday he announced, "I have known many people who have written letters and forgot to sign their name.
"But this week I received a letter from someone who signed his name but forgot to write a letter."
QWIK QWIP: "God can mend all broken hearts. You just have to give him all the pieces."
52. The Latest Translation
Nine year old Joey, was asked by his mother what he had learned in Sunday school.
"Well, Mom, our teacher told us how God sent Moses behind enemy lines on a rescue mission to lead the Israelites out of Egypt. When he got to the Red Sea, he had his engineers build a pontoon bridge and all the people walked across safely. Then he used his walkie-talkie to radio headquarters for reinforcements. They sent bombers to blow up the bridge and all the Israelites were saved."
"Now, Joey, is that really what your teacher taught you?" his mother asked.
"Well, no, Mom. But if I told it the way the teacher did, you'd never believe it!"
53. The Transfer
A professor at London University, just appointed to a new post in the United States, informed his three-year-old daughter that she would soon be making her home in America.
That night, when her parents heard her prayers, the little girl started with, "Good-bye dear God, I'm going to America."
Download the book 'Laughing At Ourselves' in PDF format at LAUGHING AT OURSELVES One of the most comprehensive sources of Christian Humour on the Net with 800 sermon fillers for your entertainment and use at ..... https://www.wwj.org.nz/content/wwj18p47.pdf
Or read even more online at.....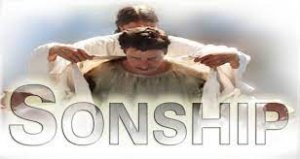 A DAVID MUSING
ARE YOU TRULY GOD'S SON OR DAUGHTER?
I have been a Christian for over 30 years, ministering about the kingdom of God in many countries, sharing that it is to be built on earth as it is in heaven.
I have been His servant from the day I was weeding flowers in our commercial flower growing operation in Tauranga, New Zealand, and He spoke to me in an audible voice. That is right! In an audible voice, while weeding our freesias. We had half a million! Took a lot of weeding! A day just like any other day! Except for one thing – God spoke personally to me!
He told me He wanted me to go into ministry, explaining what it was to be based on. He gave me the name Walking With Jesus Ministries. He told me to base it on Revelation 12:11, the verse that summarizes how we are to overcome satan. He explained it fully to me. Satan is overcome by 'the word of the Lanb' That is Jesus) plus the 'word of our testimony' (talking of the Holy Spirit, whose seat is the heart, where our testimony comes from) plus most importantly, and which few people are prepared to do is, 'they loved not their lives so much as to shrink from death', talking about obedience to God the Father.
From that time, 25+ years ago, this is how I and we, have attempted to walk, ministering personally in many countries, and also sharing what is now known as the KINGDOM WORD through the internet and by books etc.
From reading the Bible many times I understand that, in theory, I am His son, but preferred to look on myself as His servant.
Again, I know I am His son because the Bible tells me, but still see myself as His servant. God has worked miracles through me and has enabled me to share His Word and revelation, in so many ways.
But it was only when praying on Wednesday morning, God implanted the deep spirit of sonship, truly understanding that I am indeed His son, that He loves me as a Father does, corrects me when I am wrong, and is proud of me when I walk truly in His way.
While a servant is loved his good master, he can never be a son.
God put it deep into my inner self the surety that I am truly His son.
Why I am writing this is not to lift up myself, but to help you know too, there is a deeper place in God which we can all reach should we so desire, through obeying His personal direction for us.
So many people talk flippantly about being God's son or daughter, yet you can see it is not reflected in their lives. In reality they are prodigal sons or daughters who can talk about it, but finally, don't walk the walk.
Sadly, so many Christians today believe in their church, denomination, or come to be entertained, or many more reasons, but don't come to build a deeply personal relationship with Him.
Just because you are a pastor or leader, doesn't mean you have a personal relationship with Jesus, as a son or daughter. Then there are many others who were like me until this week, who serve Him diligently out of both love and desire, but who don't truly have the comfort of understanding that they truly are siblings of God.
I want to encourage you to spend time truly seeking out the Lord, to do what He tells you specifically, to listen to Him, to let Him speak into your life. Then, after a time of seeking, you too will come to the place where you truly recognize that you indeed are His son or daughter, deep inside your inner being.
Amen
David Tait
Walking With Jesus Ministries
wwj.org.nz
19 May 2021
Until next time.....
MAY GOD BLESS YOU AND YOU BLESS GOD
His servant and yours
David Tait

Visit us here.....
CHANGING YOUR EMAIL ADDRESS? NEWSLETTER STOPS COMING?
Each week we can lose up to 2% of our readers when they change email addresses without letting us know. Or sometimes, by your server acting strangely and just cutting us off! If you are about to change your address, please advise us of both your old and new addresses here at
enquiries@wwj.org.nz
and we will happily change our records to ensure ongoing delivery. Thanks.
Please also keep our address in your address book, as sometimes servers will automatically delete your address if there is even a one off problem in delivery. If your newsletter doesn't arrive, please let us know and we will reinstate you.
REPRODUCTION OF NEWSLETTER CONTENT
Most weeks we get enquiries about reproducing, in electronic or print form, articles contained in 'PGIM!' We welcome and encourage you to utilize this material. Freely received, freely given. We would ask though, that the source be acknowledged as an encouragement to others to subscribe to this newsletter also.
LINKS
If you would like to link your web site to ours, and ours to yours, please advise us on
links@wwj.org.nz
ABOUT US
WALKING WITH JESUS MINISTRIES is a non-profit, non-denominational, Bible based ministry located in Hastings, New Zealand. A ministry dedicated to developing discipleship, fostering unity amongst God's people to achieve the Great Commission, and in doing so, preparing for Christ's return. It is securely based upon the foundational principles of the Apostles Creed while recognising the wide and rich diversity of beliefs amongst Christians in other areas. In accordance with the Lord's direction, materials produced by the ministry are available, free of charge, to genuine enquirers upon request. The ministry is solely funded by donations, as the Lord provides. A list of materials available (plus some fun!) is obtainable and freely downloadable from our website
wwj.org.nz or by contacting us as follows.

Walking With Jesus Ministries
P O Box 2
Webuye 50205
Kenya

Email: enquiries@wwj.org.nz
Web: wwj.org.nz

Our role is to bless and encourage those in ministry while promoting co-operation and unity of direction amongst the body of Christ, as emphasised 3 times by Jesus in His longest prayer, immediately prior to His arrest and crucifixion. "... so that they may be one as we are one." (John 17:12, 21, 23-4) Our website is currently being developed to encourage your participation one with another, to share resources, and to enable you to promote events and items of interest to the body as a whole - and have a smile while doing it!

For comments upon and contributions to this service, please contact
david@wwj.org.nz
SUBSCRIPTION MANAGEMENT
We would encourage you to share this free service with your friends in ministry. To subscribe yourself please email pgim-on@wwj.org.nz.
If your name has been referred to us by a friend or supporting Ministry or has been obtained from a public Christian Directory or Website, it isn't our wish to burden you with information in which you aren't interested. To remove yourself from this list, please email pgim-off@wwj.org.nz.