A Weekly World Wide Word of Encouragement to those in the Ministry
PRAISE GOD IT'S MONDAY!
A WEEKLY 'WWW (world-wide word) OF ENCOURAGEMENT'
TO THOSE IN MINISTRY
A FREE service, currently connecting with Christian leaders from 3,000 denominations and ministries, in 70 countries.

Issue No: 1096 Published: 17 Oct 2022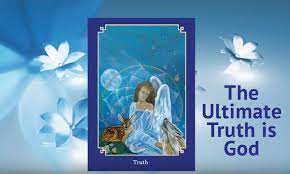 THINKING GREEK OR HEBREW
ULTIMATE TRUTH

Greek (Western)
We view the ultimate in truth as being scientific and rational. We focus on how things are done, both in Scripture and in life. We come to believe in truth as we think things logically through.
In the natural, arguments such as creation versus evolution are hugely important to us. Logic and reason are generally the foundation of our faith.
We also analyse revival. When it occurs we work out what God is doing and proceed do it for Him! The revival dies.
Men are particularly susceptible to the tyranny of logic.

Eastern (Hebrew)
Hebrews see the ultimate in truth as being religious and experiential. When looking at Scripture they focus on what was done and who did it. They come to believe truth as they experience it.
Hence the great interest and importance the Jewish people place on history and inheritance, on genealogy. Matthew, as a Jew understood this and included the genealogy of Jesus in his Epistle, which was primarily targeted to the Jewish people. It was so important that it was the first thing he wrote about.....
The Genealogy of Jesus
1 A record of the genealogy of Jesus Christ the son of David, the son of Abraham: 2 Abraham was the father of Isaac, Isaac the father of Jacob, Jacob the father of Judah and his brothers, 3 Judah the father of Perez and Zerah, whose mother was Tamar, Perez the father of Hezron, Hezron the father of Ram, 4 Ram the father of Amminadab, Amminadab the father of Nahshon, Nahshon the father of Salmon, 5 Salmon the father of Boaz, whose mother was Rahab, Boaz the father of Obed, whose mother was Ruth, Obed the father of Jesse, 6 and Jesse the father of King David. David was the father of Solomon, whose mother had been Uriah's wife, 7 Solomon the father of Rehoboam, Rehoboam the father of Abijah, Abijah the father of Asa, 8 Asa the father of Jehoshaphat, Jehoshaphat the father of Jehoram, Jehoram the father of Uzziah, 9 Uzziah the father of Jotham, Jotham the father of Ahaz, Ahaz the father of Hezekiah, 10 Hezekiah the father of Manasseh, Manasseh the father of Amon, Amon the father of Josiah, 11 and Josiah the father of Jeconiah and his brothers at the time of the exile to Babylon. 12 After the exile to Babylon: Jeconiah was the father of Shealtiel, Shealtiel the father of Zerubbabel, 13 Zerubbabel the father of Abiud, Abiud the father of Eliakim, Eliakim the father of Azor, 14 Azor the father of Zadok, Zadok the father of Akim, Akim the father of Eliud, 15 Eliud the father of Eleazar, Eleazar the father of Matthan, Matthan the father of Jacob, 16 and Jacob the father of Joseph, the husband of Mary, of whom was born Jesus, who is called Christ. (Matthew 1:1-16)
Jesus quoted the sins and unrighteous deeds of their forefathers in His teachings. For example.....
45 One of the experts in the law answered him, "Teacher, when you say these things, you insult us also." 46 Jesus replied, "And you experts in the law, woe to you, because you load people down with burdens they can hardly carry, and you yourselves will not lift one finger to help them. 47 "Woe to you, because you build tombs for the prophets, and it was your forefathers who killed them. 48 So you testify that you approve of what your forefathers did; they killed the prophets, and you build their tombs. 49 Because of this, God in his wisdom said, 'I will send them prophets and apostles, some of whom they will kill and others they will persecute.' 50 Therefore this generation will be held responsible for the blood of all the prophets that has been shed since the beginning of the world, 51 from the blood of Abel to the blood of Zechariah, who was killed between the altar and the sanctuary. Yes, I tell you, this generation will be held responsible for it all. (Luke 11:45-51)
Faith is enhanced by the experience of the great men of yesteryear.
17 By faith Abraham, when God tested him, offered Isaac as a sacrifice. He who had received the promises was about to sacrifice his one and only son, 18 even though God had said to him, "It is through Isaac that your offspring will be reckoned." 19 Abraham reasoned that God could raise the dead, and figuratively speaking, he did receive Isaac back from death. 20 By faith Isaac blessed Jacob and Esau in regard to their future.
21 By faith Jacob, when he was dying, blessed each of Joseph's sons, and worshiped as he leaned on the top of his staff. 22 By faith Joseph, when his end was near, spoke about the exodus of the Israelites from Egypt and gave instructions about his bones. 23 By faith Moses' parents hid him for three months after he was born, because they saw he was no ordinary child, and they were not afraid of the king's edict. 24 By faith Moses, when he had grown up, refused to be known as the son of Pharaoh's daughter. (Hebrews 11:17-24)
And events that occurred in the past.....
29 By faith the people passed through the Red Sea as on dry land; but when the Egyptians tried to do so, they were drowned. 30 By faith the walls of Jericho fell, after the people had marched around them for seven days. (Hebrews 11:29-30)

A TESTIMONY FROM DAVID As the people experience truth, so their faith is built up. I remember a time in Uganda when a lame man got up his bed and walked. I can't understand it logically. But I did experience God's power moving through my hands and into him. It certainly increased my faith in a greater way than any than any theological belief I have ever had!

SOME SPIRITUAL IMPLICATIONS FOR TODAY
1. Just do it! We can spend a lot of time learning about Jesus but real faith is built through experiencing the power of Jesus in our lives.
2. We are not to get so entranced by minor points of theology that we miss the point of truly 'walking with Jesus'.
3. We must let Jesus, through the Holy Spirit, lead and guide us in our daily walk, growing in faith as we experience more of Him in our life.
4. Do not try to outthink God!
Acknowledgements: http://www.followtherabbi.com and http://hethathasanear.com and http://www.wildbranch.org
(Continued next week)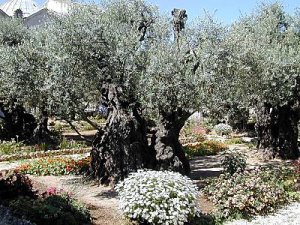 FROM THE WORD
THE WORDS OF JESUS
Jesus Warns the Disciples to be Prepared (Luke 22:35-8)
For His death.
"When I sent you out without money, without a bag, and without an extra pair of sandals, did you lack anything?"
But now, if you have money you should take it, as well as a bag, and if you don't have a sword, sell your cloak and buy one. I tell you that this statement in Scripture about me must be fulfilled: 'He was counted with the wicked.' What was said about me is now being fulfilled.
Jesus Comforts the Disciples (John:14:1-31)
In general
The way and the truth and the life. No one comes to the Father except through me. If you had known me, you would know my Father as well. From now on, you do know him and you have seen him."
To Philip
"Have I been with you such a long time, Philip, and yet you still don't know me? Anyone who has seen me has seen the Father. How can you say, 'Show us the Father'? Don't you believe that I live in the Father and the Father lives in me? The words I speak are not mine; it's the Father living in me who is doing his work. Believe me when I tell you that I live in the Father, and the Father lives in me, or at least believe because of the evidence of all that I've done.
"I tell you the truth, anyone who trusts in me will do the same things I am doing. In fact they will do even greater things because I am going to the Father. I'll do whatever you ask in my name, so that the Father may be glorified through the Son. Whatever you ask for in my name, I will do it.
If you love me, you will keep my commands. I will ask the Father, and he will give you another Comforter, the Spirit of truth, who will always be with you. The world cannot accept him because it isn't looking for him and does not know him. But you know him because he lives with you and will be in you.
"I will not abandon you like orphans: I will come back to you. Soon the world will not see me anymore, but you will see me. Because I live, you will live too. On that day you will know that I live in the Father, you live in me, and I live in you. Those who keep my commands are the ones who love me, those who love me will be loved by my Father. I will love them too, and will reveal myself to them."
To Judas (not Iscariot)
"Those who love me will do as I say. My Father will love them, and we will come and make our home with them. Those who don't love me don't do what I say. These words don't come from me, they come from the Father who sent me.
"I'm explaining this to you while I'm still here with you. But when the Father sends the Comforter, the
Holy Spirit, in my place, he will teach you everything and remind you of all that I told you.
"Peace I leave you; my peace I'm giving you. The peace I give you is nothing like what the world gives.
Don't let your minds be anxious, and don't be afraid.
"You've heard me tell you, 'I am going away, but I will come back to you.' If you really loved me, you would be happy because I'm going to the Father, for the Father is greater than I. I've explained this to you now before it happens so that when it does happen you will be convinced. I can't talk to you much longer, for the prince of this world is coming. He has no power to control me, but I'm doing what my Father told me to do so that the world will know that I love the Father.
Now get up. Let's go."
(Continued next week)
OUR AFRICAN EXPERIENCE IN NEW ZEALAND
Warmed up a tittle in the pasy couple of days.
Meant to be an early summer coming! I hope so! LOL!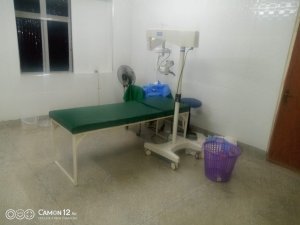 OUR THEATRE FLOOR
Sadly I wasn't there to see the man grind the ftloor level and apply an epoxy coat to keep water and blood from penetrating it during operations.
But the main thing you can see on it, other than the oerarating table, is the white stones mixed into it coming forth.
Will be softer to stand on than tiles.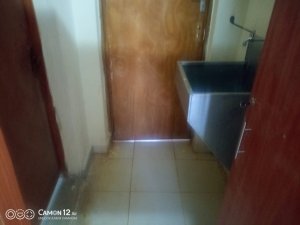 Outside the theartr we constructed a washing room with a large basin you can turn on with your elbowto allow the theatre staff to be clean when they go into the sterile theatre.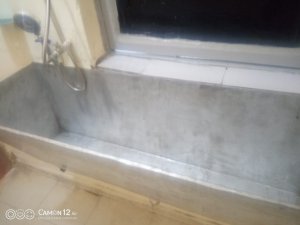 ANOTHER BASIN
This time in the SLUICE room, where the bloody items from the theatre are passed from the window above to get cleaned.
A 'bloody' job, literally!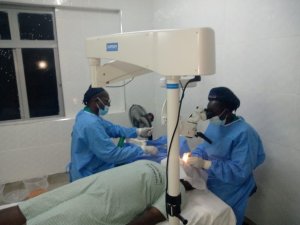 ON THE CLEANER SIDE.....
Our new surgeon LEAH, at her work doing a Cataract Surgery.
Leah started with us shrotly after we opened, as a Clinical Officer. (a step between a nurse and a doctor, who treat 99%+ of the clients who come for treatment at the hospital. A great invention!)
We sent her, per courtesy of one of our sponsors, on a 3 year Ophthalmic Degree, involving both theoretical and practical training. We are so pleased to have her back!
Our primary surgeon Lily, will be in the backgroud to assist where required.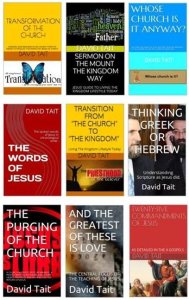 ***NOW***NINE BOOKS ARE AVAILABLE ON AMAZON!!!
9 BOOKS are now available on Amazon (Kindle)!

All are available worldwide for electronic download on Amazon (Kindle) for $US0.99c . Unfortunately there has to be a charge in order to list.

Your support would be appreciated and they could well change your life!
Many more online at https://www.wwj.org.nz/more-free-downloads

They are all found at this link.....
http://www.amazon.com/s/ref=nb_sb_noss?url=search-alias%3Daps&field-keywords=david+tait+books/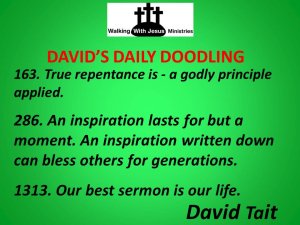 ***DAILY EZINE!*** 'DAVID'S DAILY DOODLINGS' Subscribe Today
Receive one or more of David's sayings in your mailbox each day to inspire, challenge or maybe, amuse. To register today, go down to the bottom of the page link below, click on the subscribe link dd-on@wwj.org.nz (or paste the address in an email yourself and send) Then it's done! If you have an Irish heritage, you will love the background coloring!
Subscription and back issue link is.....

'THE WORDS OF JESUS' REMAIN AVAILABLE FOR PDF DOWNLOAD
Join the many who have downloaded the 'The Words of Jesus'. I am sure you will be blessed by it, as I have been.

One key element here is the setting out in chronological order (as far as it is possible to do so) our Lord's words drawn from all the Gospels, and the elimination of repetition between Gospels.

You may be surprised by the different perspective this presentation gives you both in understanding of His life and ministry, and in achieving a closer relationship with Him.

Download the free PDF here.....
PHOTO: Possible look of Jesus in society of the time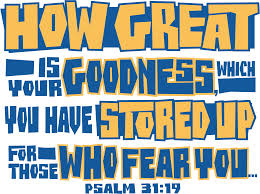 DAVID'S DOODLINGS
FEAR OF THE LORD
1277. Without the fear of the Lord, youth is fearless and old age fearful.
1278. Earthly fear breeds rejection on earth, Godly fear confirms acceptance in heaven.
1279. Earthly fear results in a negative reaction while the fear of God leads to positive action.
1280. Without holy fear, surely God cannot be God?
1281. Genuine 'fear of the Lord' breeds confidence, not calamity.
1282. Fear of man leads to control by others, while self-control is the fruit of 'fear of the Lord'.
1283. 'Human fear' dominates and destroys while 'fear of God' develops character.
Please feel free to quote these quotes. Acknowledgment of David Tait as the author would be appreciated. There are now over 1300 David sayings for yo1204. Ministry is the call upon us all!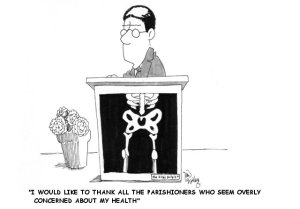 CARTOONS FROM TOON FEVER
Visit the Toon Fever website for more cartoon fun..... http://www.toonfever.com
Check it out at...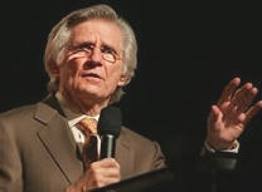 TUESDAY TEACHINGS
THIS WEEK: THE PURGING OF THE CHURCH Parts 11 & 12
INTRODUCTION
The Lord has led me to go back to a sermon/prophecy I received in a group mailing, and filed, some time ago. It is by David Wilkerson.
David was the Founding Pastor of Times Square Church in New York City. He was called to New York in 1958 to minister to gang members and drug addicts, as told in the best-selling book, The Cross and the Switchblade.
After the introduction, he gave 11 bullet points about THE GLORIOUS FUTURE JUST AHEAD. As the Lord leads, I will expand on these challenging but inspiring aspects
Let us begin…..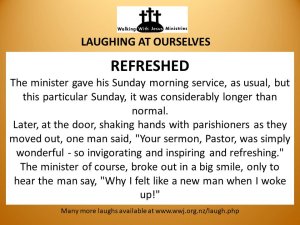 *** ANOTHER DAILY EZINE FROM WWJ!*** 'LAUGHING AT OURSELVES' Subscribe Today
As Christians, if we can't laugh at ourselves, others will! A fun way to start your day. To register today, go down to the bottom of the page link below, click on the subscribe link lao--on@wwj.org.nz (or paste the address in an email yourself and send) Then it's done!

LAUGHING AT OURSELVES
***Blessed are those who can laugh at themselves for they shall never cease to be amused***
*** Those who can't laugh at themselves leave the job to others. ***
258. Not So Good Sermons
A young minister took a rural parish. His wife kept herself busy with ministry and hobbies. Three years later, the couple decided to move to another parish because the church was dying. As the minister cleaned out the bedroom closet, he found an egg carton filled with money. He counted out a dozen one-dollar bills and three beautifully decorated eggs.
"What's this, sugar?" he asked his wife. "Oh, honey," she said bashfully, "I was hoping you wouldn't find that." When her husband asked her to explain, she at last complied.
"You see, dear," she said in an embarrassed tone, "one of my hobbies is decorating eggs. When I get depressed, I decorate an egg and I feel better."
"Oh," the minister replied. "Tell me more. Why haven't you told me about this before?"
"Well," she continued meekly, "The only time I get depressed is when you preach a bad sermon. So I decorate an egg whenever you mess up really bad."
At that point, the minister grinned and hugged his wife. "Not a bad record, if I do say so myself! Three years, over fifty sermons a year, and only three bad ones!"
After the hug, the wife spoke up again.
"There's something else I should tell you," she said bashfully. "Every time I got a dozen eggs decorated I sold them to the women's missionary corps for a dollar."
QWIK QWIP: "When your ship comes in.... make sure you are willing to unload it.
259. Bubba and the Pope
Bubba was bragging to his boss one day, "You know, I know everyone there is to know. Just name someone, anyone, and I know them."
Tired of his boasting, his boss called his bluff, "OK, Bubba how about Tom Cruise?"
"Sure, yes, Tom and I are old friends, and I can prove it." So Bubba and his boss fly out to Hollywood and knock on Tom Cruise's door, and sure enough, Tom Cruise, shouts, "Bubba! Great to see you! You and your friend come right in and join me for lunch!"
Although impressed, Bubba's boss is still sceptical. After they leave Cruise's house, he tells Bubba that he thinks Bubba's knowing Cruise was just lucky.
"No, no, just name anyone else," Bubba says.
"President Clinton," his boss quickly retorts.
"Yes," Bubba says, "I know him, let's fly out to Washington." And off they go. At the White House, Clinton spots Bubba on the tour and motions him and his boss over, saying, "Bubba, what a surprise, I was just on my way to a meeting, but you and your friend come on in and let's have a cup of coffee first and catch up." Well, the boss is very shaken by now, but still not totally convinced.
After they leave the White house grounds, he expresses his doubts to Bubba, who again implores him to name anyone else.
"The Pope," his boss replies.
"Sure!" says Bubba. "My folks are from Poland, and I've know the Pope a long time." So off they fly to Rome. Bubba and his boss are assembled with the masses in Vatican Square when Bubba says, "This will never work. I can't catch the Pope's eye among all these people. Tell you what, I know all the guards so let me just go upstairs and I'll come out on the balcony with the Pope." and he disappears into the crowd headed toward the Vatican. Sure enough, half an hour later Bubba emerges with the Pope on the balcony. But by the time Bubba returns, he finds that his boss has had a heart attack and is surrounded by paramedics.
Working his way to his boss' side, Bubba asks him, "What happened?" His boss looks up and says, "I was doing fine until you and the Pope came out on the balcony and the man next to me said, "Who's that on the balcony with Bubba?"
Download the book 'Laughing At Ourselves' in PDF format at LAUGHING AT OURSELVES One of the most comprehensive sources of Christian Humour on the Net with 800 sermon fillers for your entertainment and use at ..... https://www.wwj.org.nz/content/wwj18p47.pdf
Or read even more online at.....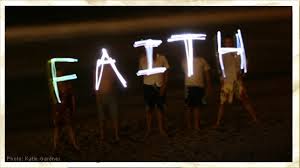 A DAVID MUSING
We are being so spoiled since I came back to New Zealand. Kathy had been so for 3 months before I came!
People are so generous when looking after us.
God tells us to be hospitible whether its for a meal or looking after the waifs and stays. That's us ! LOL!
While I am enjying being back in New Zealand, other tham weather, I still think of Kenya often, and going back there.
Of course ultimately I am very looking forward to going to live with my Lord, once my days here come to a end.
May that be the desire of us all.
Until next time.
His servant and yours
David Tait

Visit us here.....
CHANGING YOUR EMAIL ADDRESS? NEWSLETTER STOPS COMING?
Each week we can lose up to 2% of our readers when they change email addresses without letting us know. Or sometimes, by your server acting strangely and just cutting us off! If you are about to change your address, please advise us of both your old and new addresses here at
enquiries@wwj.org.nz
and we will happily change our records to ensure ongoing delivery. Thanks.
Please also keep our address in your address book, as sometimes servers will automatically delete your address if there is even a one off problem in delivery. If your newsletter doesn't arrive, please let us know and we will reinstate you.
REPRODUCTION OF NEWSLETTER CONTENT
Most weeks we get enquiries about reproducing, in electronic or print form, articles contained in 'PGIM!' We welcome and encourage you to utilize this material. Freely received, freely given. We would ask though, that the source be acknowledged as an encouragement to others to subscribe to this newsletter also.
LINKS
If you would like to link your web site to ours, and ours to yours, please advise us on
links@wwj.org.nz
ABOUT US
WALKING WITH JESUS MINISTRIES is a non-profit, non-denominational, Bible based ministry located in Hastings, New Zealand. A ministry dedicated to developing discipleship, fostering unity amongst God's people to achieve the Great Commission, and in doing so, preparing for Christ's return. It is securely based upon the foundational principles of the Apostles Creed while recognising the wide and rich diversity of beliefs amongst Christians in other areas. In accordance with the Lord's direction, materials produced by the ministry are available, free of charge, to genuine enquirers upon request. The ministry is solely funded by donations, as the Lord provides. A list of materials available (plus some fun!) is obtainable and freely downloadable from our website
wwj.org.nz or by contacting us as follows.

Walking With Jesus Ministries
P O Box 2
Webuye 50205
Kenya

Email: enquiries@wwj.org.nz
Web: wwj.org.nz

Our role is to bless and encourage those in ministry while promoting co-operation and unity of direction amongst the body of Christ, as emphasised 3 times by Jesus in His longest prayer, immediately prior to His arrest and crucifixion. "... so that they may be one as we are one." (John 17:12, 21, 23-4) Our website is currently being developed to encourage your participation one with another, to share resources, and to enable you to promote events and items of interest to the body as a whole - and have a smile while doing it!

For comments upon and contributions to this service, please contact
david@wwj.org.nz
SUBSCRIPTION MANAGEMENT
We would encourage you to share this free service with your friends in ministry. To subscribe yourself please email pgim-on@wwj.org.nz.
If your name has been referred to us by a friend or supporting Ministry or has been obtained from a public Christian Directory or Website, it isn't our wish to burden you with information in which you aren't interested. To remove yourself from this list, please email pgim-off@wwj.org.nz.