A Weekly World Wide Word of Encouragement to those in the Ministry
PRAISE GOD IT'S MONDAY!
A WEEKLY 'WWW (world-wide word) OF ENCOURAGEMENT'
TO THOSE IN MINISTRY
A FREE service, currently connecting with Christian leaders from 3,000 denominations and ministries, in 70 countries.

Issue No: 1031 Published: 19 Jul 2021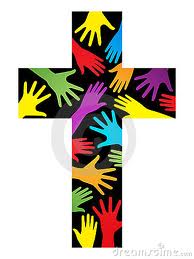 THINKING GREEK OR HEBREW
SUMMARY
5. IMPORTANCE OF COMMUNITY - THE CALL TO UNITY
As we have learned together about the cultural differences between East and West, a key difference has been the emphasis upon the individual in the Western world, while in Eastern culture, the greater good of the group, the family, the nation, took precedence over the individual.
Put succinctly, we promote the 'rights' (of the individual), whereas Eastern cultures emphasize 'obligations' (to the community).
It is true that, under the New Covenant, salvation has become a decision of the individual.....
15 He said to them, "Go into all the world and preach the good news to all creation. 16 Whoever believes and is baptized will be saved, but whoever does not believe will be condemned. (Mark 16:15-16)
.....but it also says that all Israel will be finally also be saved.....
All Israel Will Be Saved
25 I do not want you to be ignorant of this mystery, brothers, so that you may not be conceited: Israel has experienced a hardening in part until the full number of the Gentiles has come in. 26 And so all Israel will be saved, as it is written: "The deliverer will come from Zion; he will turn godlessness away from Jacob. 27 And this is my covenant with them when I take away their sins." (Romans 11:25-7)
This indeed, as it says, is a mystery to us, with our Western mindset. But it will make sense to the Jews, for it is the way God has dealt with them in the past, as prophesied through Isaiah.....
15 Truly you are a God who hides himself, O God and Savior of Israel. 16 All the makers of idols will be put to shame and disgraced; they will go off into disgrace together. 17 But Israel will be saved by the LORD with an everlasting salvation; you will never be put to shame or disgraced, to ages everlasting. (Isaiah 45:15-17)
Unity is a concept that we, in the West, do not truly understand. For us, unity involves full agreement on every aspect of the area of unity we are considering. For example, take the supporters of a team at a football match. They are united in the support of their team. As are, of course, the supporters of the opposing team!
Unfortunately however, this unity does not exist in the ultimate winning team of all - the 'Jesus Joy Jumpers'! See, we can't even agree on the name - for we don't jump for joy in our church! How unseemly! How sad, actually! For if we put two Christian theologians together, we will likely end up with 3 opinions! Opinions that have divided the church into over 30,000 denominations and groupings! Perhaps a lot more! Sadly, what divides is greater than that which unites.
Jews too, have many differing opinions. Paul knew how to exploit this.....
6 Then Paul, knowing that some of them were Sadducees and the others Pharisees, called out in the Sanhedrin, "My brothers, I am a Pharisee, the son of a Pharisee. I stand on trial because of my hope in the resurrection of the dead." 7 When he said this, a dispute broke out between the Pharisees and the Sadducees, and the assembly was divided. 8 (The Sadducees say that there is no resurrection, and that there are neither angels nor spirits, but the Pharisees acknowledge them all.) (Acts 23:6-8)
However, when it comes to the crunch, as is well illustrated in Israel today, if the nation is threatened, the people come together as one.
In the Old Testament, when the people agreed and operated as one, the Lord was with them.....
10 The couriers went from town to town in Ephraim and Manasseh, as far as Zebulun, but the people scorned and ridiculed them. 11 Nevertheless, some men of Asher, Manasseh and Zebulun humbled themselves and went to Jerusalem. 12 Also in Judah the hand of God was on the people to give them unity of mind to carry out what the king and his officials had ordered, following the word of the LORD. 13 A very large crowd of people assembled in Jerusalem to celebrate the Feast of Unleavened Bread in the second month. 14 They removed the altars in Jerusalem and cleared away the incense altars and threw them into the Kidron Valley.......... 26 There was great joy in Jerusalem, for since the days of Solomon son of David king of Israel there had been nothing like this in Jerusalem. 27 The priests and the Levites stood to bless the people, and God heard them, for their prayer reached heaven, his holy dwelling place. (2 Chronicles 30:10-14, 26-27)
We too are called to unity in Jesus.....
Jesus Prays for All Believers
20 "My prayer is not for them alone. I pray also for those who will believe in me through their message, 21 that all of them may be one, Father, just as you are in me and I am in you. May they also be in us so that the world may believe that you have sent me. 22 I have given them the glory that you gave me, that they may be one as we are one: 23 I in them and you in me. May they be brought to complete unity to let the world know that you sent me and have loved them even as you have loved me. (John 17:20-23)
I am certain, that next to lost souls, the thing that upsets the Lord most are the divisions amongst His people. His appointed leaders' prime function is to bring unity of faith to His people.....
11 It was he who gave some to be apostles, some to be prophets, some to be evangelists, and some to be pastors and teachers, 12 to prepare God's people for works of service, so that the body of Christ may be built up 13 until we all reach unity in the faith and in the knowledge of the Son of God and become mature, attaining to the whole measure of the fullness of Christ. (Ephesians 4:11-13)
May we put aside our differences and learn to love and support each other as we are instructed to do.....
12 Therefore, as God's chosen people, holy and dearly loved, clothe yourselves with compassion, kindness, humility, gentleness and patience. 13 Bear with each other and forgive whatever grievances you may have against one another. Forgive as the Lord forgave you. 14 And over all these virtues put on love, which binds them all together in perfect unity. (Colossians 3:12-14)
Amen.
ww.followtherabbi.com and http://hethathasanear.com and http://www.wildbranch.org
See more about us at.....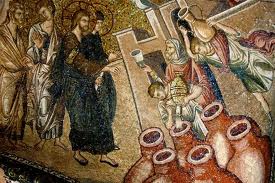 FROM THE WORD
THE WORDS OF JESUS
May we hear what the Lord is saying to us.....
Changing Water into Wine (John 2:1-11)
As requested by His mother at the wedding.
"Mother, why should you involve me? My time hasn't come yet,"
"Fill the jars with water,"
"Pour some out, and take it to the master of ceremonies."
Jesus Clearing the Temple (John 2:12-25)
Overturning the tables and driving people out with a whip. Talking to the dove sellers.
"Take these things out of here! Don't turn my Father's house into a market!"
Then when His authority was questioned by the leaders and a miracle asked for.
"Destroy this Temple, and in three days I'll raise it up!"
Jesus Meets Nicodemus at Night (John 3:1-21)
The Jewish teacher.
"I tell you the truth," Jesus replied, "Unless you are reborn, you can't experience God's kingdom."
Nicodemus asked how?
"I tell you the truth, you can't enter God's kingdom unless you are born of water and the Spirit," "What's born of the flesh is flesh, and what's born of the Spirit is Spirit. Don't be surprised at my telling you, 'You must be reborn.' The wind blows wherever it wants, and just as you hear the sound it makes, but know where it's coming from or where it's going, that's how it is for everyone who is born of the spirit."
"You're a famous teacher in Israel, and yet you don't understand such things?" "I tell you the truth, we speak of what we know and give evidence regarding what we have seen, but you refuse to accept our testimony. If you don't trust what I say when I tell you about earthly things, how would you ever trust what I say if I were to tell you about heavenly things? No one has gone up to heaven, but the Son of man came down from heaven. Just as Moses lifted up the serpent in the desert, so the Son of man must be lifted up, that everyone who trusts in him will have eternal life.
"For God loved the world, and this is how: he gave his one and only Son, so that everyone who trusts in him shouldn't die, but have eternal life. God didn't send the Son into the world to condemn the world, but to save the world through him. Those who trust in him are not condemned, while those who don't trust in him are condemned already because they didn't trust in the one and only Son of God. This is how the decision is made: the light came to the world, but people loved the darkness rather than the light, for their actions were evil. All those who do evil hate the light and don't come into the light, because they don't want their actions to be exposed. But those who do good come into the light, so that what God accomplishes in them can be revealed."
(Continues next week)
Download the complete 'Words of Jesus' here.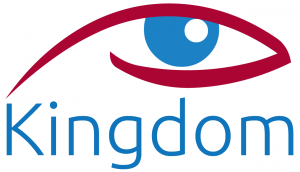 OUR AFRICAN EXPERIENCE
FOR MORE DETAILED AND REGULAR UPDATES, VISIT OUR FACEBOOK PAGE
AN EYE 4 Africa - https://www.facebook.com/aneye4africa/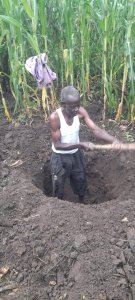 A patient by the name Joel Kapteka, had bilateral cataract. The patient was not able to do any kind of work by himself. He was being assisted even going in the washroom. The wife stopped doing her business to earn a living because the husband was blind. She spends all day looking after the husband.
They managed to come to our facility for the eye treatment whereby he was diagnosed to have Cataracts in both eyes. We managed to do cataract extraction in one eye. And the vision was very good. They were very happy and thanked the hospital for the service that they were given. After 3 weeks, we did the second eye and 1 month later visited the home area for follow up and we saw a happy family. The old man was at his farm working and the wife was carrying on with her business.
We thank God for the good work we are doing in this hospital.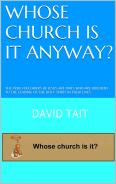 BOOK OF THE WEEK
WHOSE CHURCH IS IT ANYWAY?
When asking the Lord what He wanted me to write about next, He has led me to look at HIS CHURCH, not in the way of standard church history, but from His viewpoint. I will try my best to be obedient to His wishes. But any errors will be mine!
As you will soon see, the history of His church revolves around the Holy Spirit, and the Spirit's activity upon the earth, rather than what we consider the church to be.
We look also at the future church, the kingdom church for whom Jesus is returning.
I trust it will both inform and challenge you about our future, both as individuals and the church as a whole.
Let us begin.....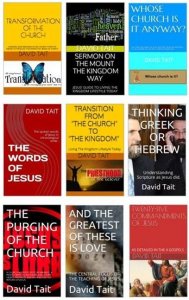 ***NOW***NINE BOOKS ARE AVAILABLE ON AMAZON!!!
9 BOOKS are now available on Amazon (Kindle)!

All are available worldwide for electronic download on Amazon (Kindle) for $US0.99c . Unfortunately there has to be a charge in order to list.

Your support would be appreciated and they could well change your life!

They are all found at this link.....
http://www.amazon.com/s/ref=nb_sb_noss?url=search-alias%3Daps&field-keywords=david+tait+books/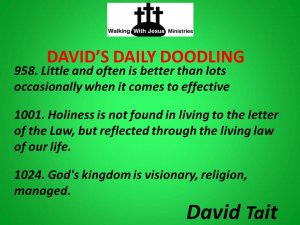 ***DAILY EZINE!*** 'DAVID'S DAILY DOODLINGS' Subscribe Today
Receive one of David's sayings in your mailbox each day to inspire, challenge or maybe, amuse. To register today, go down to the bottom of the page link below, click on the subscribe link dd-on@wwj.org.nz (or paste the address in an email yourself and send) Then it's done! If you have an Irish heritage, you will love the background coloring!
Subscription and back issue link is.....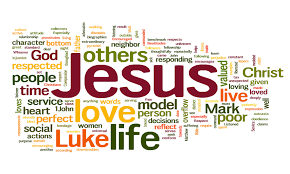 'THE WORDS OF JESUS' REMAIN AVAILABLE FOR PDF DOWNLOAD
Join the many who have downloaded the 'The Words of Jesus'. I am sure you will be blessed by it, as I have been.

One key element here is the setting out in chronological order (as far as it is possible to do so) our Lord's words drawn from all the Gospels, and the elimination of repetition between Gospels.

You may be surprised by the different perspective this presentation gives you both in understanding of His life and ministry, and in achieving a closer relationship with Him.

Download the free PDF here.....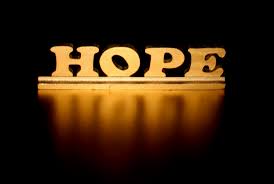 DAVID'S DOODLINGS
TRUTH AND KNOWLEDGE
486. The one thing history teaches is the futility of placing our hope in the goodness of man. Could the world rely upon me - or you?
487. Hope in mankind is hopeless, but hope in God springs eternal.
488. Without hope we perish. Without God we perish. So our hope is to be found in God.

489. In mankind there is only futility, but in God we have hope.

490. Faith turns the hope of our salvation into the experience of God's love.

491. God's hopefulness gives the hopeless, hope.

492. Godly hope transforms human hopelessness - if we will allow it!

493. Life without hope is short, but with God's hope, eternal.
494. God's hope can help transform tragedy into triumph.

495. It is often said that 'without hope we perish.' This is as true literally as it is figuratively
Please feel free to quote these quotes. Acknowledgment of David Tait as the author would be appreciated. There are now over 1300 David sayings for you to view at ...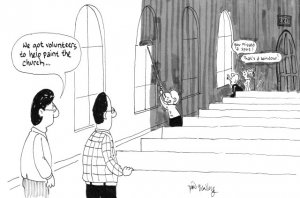 CARTOONS FROM TOON FEVER
Visit the Toon Fever website for more cartoon fun..... http://www.toonfever.com
Check it out at...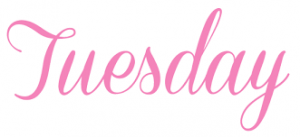 TUESDAY TEACHINGS
THIS WEEK: THE PARABLE OF THE SOWER continues.....
..... as we look at the parables application to our lives.
*** ANOTHER DAILY EZINE FROM WWJ!*** 'LAUGHING AT OURSELVES' Subscribe Today
As Christians, if we can't laugh at ourselves, others will! A fun way to start your day. To register today, go down to the bottom of the page link below, click on the subscribe link lao--on@wwj.org.nz (or paste the address in an email yourself and send) Then it's done!
https://www.wwj.org.nz/laughing-at-ourselves-ezine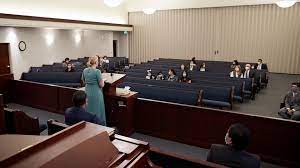 LAUGHING AT OURSELVES
***Blessed are those who can laugh at themselves for they shall never cease to be amused***
*** Those who can't laugh at themselves leave the job to others. ***
76. Divine Wisdom
A local priest and pastor were fishing on the side of the road.
They thoughtfully made a sign saying, "The End is Near! Turn yourself around now before it's too late!" and showed it to each passing car.
One driver that drove by didn't appreciate the sign and shouted at them: "Leave us alone you religious nuts!"
All of a sudden they heard a big splash, looked at each other, and the priest said to the pastor .....
"You think we should just put up a sign that says 'bridge out' instead?"
77. Saving or Saved?
A friend of mine and her husband were on vacation.
They visited a Church on Sunday.
My friend likes to sit close to the front.
So they entered a pew in the second row.
Shortly after settling into the pew, an usher came up to them, tapped lightly on bench, and said, "This pew is saved."
Her husband replied, "So are WE!"
78. Intimate Congregations
A group of women were talking together. One woman said, "Our congregation is sometimes down to 30 or 40 on a Sunday."
Another said, "That's nothing. Sometimes our congregation is down to six or seven."
A maiden lady in her seventies added her bit, "Why, it's so bad in our church on Sundays that when the minister says 'dearly beloved,' it makes me blush."
QWIK QWIP: "You will never "have it all together." "
Download the book 'Laughing At Ourselves' in PDF format at LAUGHING AT OURSELVES One of the most comprehensive sources of Christian Humour on the Net with 800 sermon fillers for your entertainment and use at ..... https://www.wwj.org.nz/content/wwj18p47.pdf
Or read even more online at.....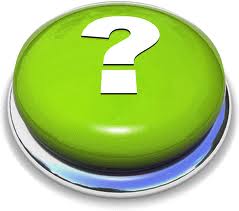 A DAVID MUSING
Last week's article on a passive or participatory church had had the expected reaction. Disliked by evangelists, while liked by those with a hunger for more of God.
Change is necessary for with our current way of doings being both against God's will and catastrophic for an already dying church,
You may think I exaggerate, or point out individual growth situations, but on the whole, Western churches are in a downward spiral.
In the end, the choice is ours.
Do we want to continue as we have, or are we going to train disciples rather than just seek believers?
His servant and yours
David Tait

Visit us here.....
CHANGING YOUR EMAIL ADDRESS? NEWSLETTER STOPS COMING?
Each week we can lose up to 2% of our readers when they change email addresses without letting us know. Or sometimes, by your server acting strangely and just cutting us off! If you are about to change your address, please advise us of both your old and new addresses here at
enquiries@wwj.org.nz
and we will happily change our records to ensure ongoing delivery. Thanks.
Please also keep our address in your address book, as sometimes servers will automatically delete your address if there is even a one off problem in delivery. If your newsletter doesn't arrive, please let us know and we will reinstate you.
REPRODUCTION OF NEWSLETTER CONTENT
Most weeks we get enquiries about reproducing, in electronic or print form, articles contained in 'PGIM!' We welcome and encourage you to utilize this material. Freely received, freely given. We would ask though, that the source be acknowledged as an encouragement to others to subscribe to this newsletter also.
LINKS
If you would like to link your web site to ours, and ours to yours, please advise us on
links@wwj.org.nz
ABOUT US
WALKING WITH JESUS MINISTRIES is a non-profit, non-denominational, Bible based ministry located in Hastings, New Zealand. A ministry dedicated to developing discipleship, fostering unity amongst God's people to achieve the Great Commission, and in doing so, preparing for Christ's return. It is securely based upon the foundational principles of the Apostles Creed while recognising the wide and rich diversity of beliefs amongst Christians in other areas. In accordance with the Lord's direction, materials produced by the ministry are available, free of charge, to genuine enquirers upon request. The ministry is solely funded by donations, as the Lord provides. A list of materials available (plus some fun!) is obtainable and freely downloadable from our website
wwj.org.nz or by contacting us as follows.

Walking With Jesus Ministries
P O Box 2
Webuye 50205
Kenya

Email: enquiries@wwj.org.nz
Web: wwj.org.nz

Our role is to bless and encourage those in ministry while promoting co-operation and unity of direction amongst the body of Christ, as emphasised 3 times by Jesus in His longest prayer, immediately prior to His arrest and crucifixion. "... so that they may be one as we are one." (John 17:12, 21, 23-4) Our website is currently being developed to encourage your participation one with another, to share resources, and to enable you to promote events and items of interest to the body as a whole - and have a smile while doing it!

For comments upon and contributions to this service, please contact
david@wwj.org.nz
SUBSCRIPTION MANAGEMENT
We would encourage you to share this free service with your friends in ministry. To subscribe yourself please email pgim-on@wwj.org.nz.
If your name has been referred to us by a friend or supporting Ministry or has been obtained from a public Christian Directory or Website, it isn't our wish to burden you with information in which you aren't interested. To remove yourself from this list, please email pgim-off@wwj.org.nz.