A Weekly World Wide Word of Encouragement to those in the Ministry
PRAISE GOD IT'S MONDAY!
A WEEKLY 'WWW (world-wide word) OF ENCOURAGEMENT'
TO THOSE IN MINISTRY
A FREE service, currently connecting with Christian leaders from 3,000 denominations and ministries, in 70 countries.

Issue No: 1123 Published: 24 Apr 2023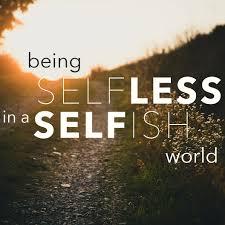 THINKING GREEK OR HEBREW
DOCTRINE v EXPERIENTIAL TRUTH
THE SOURCE OF SIN
Greek (Western) In Western thought we believe in a persona called satan (usually capitalized which I have always refused to do) who rules the demons (often regarded as fallen angels) who largely cause us to sin.
This concept of 2 opposing empires of good and evil first arose in Persia but also fits comfortably into the Greek concept of good and evil gods, or gods with good and bad sides to their nature.
The end result of this is that we blame a lot of our sin upon the devil. In other words, we conveniently disclaim responsibility for our actions, saying our actions are of the devil, and so excusing sin in our life.
Our translation of Scripture reflects this understanding. As we have mentioned, the word 'satan' is capitalized and the persona treated as a spiritual being in charge of the horde of demons (perhaps fallen angels) that disrupt our lives. Yet the Hebrew understanding of the word 'satan' is
an opposing force to the Words of YHVH with all of the following meanings: divide, set at odds with, accuse, slander, reject, deceive, oppose, be adversarial. (hethathasanear.com/Warfare-2.html)
Not once in the original Hebrew language is satan identified as having a persona or form, spiritual or physical.

Eastern (Hebrew) In Hebrew thought, evil comes from within the individual. It is regarded as personal opposition to the Words of God (at heart, 'selfness' through human 'selfishness'.)
The force of evil is found in our human self-determination which is in opposition to the godly foundation of self-denial.
This is beautifully expressed in a practical way by Jesus.....
23 Jesus replied, "If anyone loves me, he will obey my teaching. My Father will love him, and we will come to him and make our home with him. 24 He who does not love me will not obey my teaching. These words you hear are not my own; they belong to the Father who sent me. (John 14:23-4)
And again.....
23 Then he said to them all: "If anyone would come after me, he must deny himself and take up his cross daily and follow me. (Luke 9:23)
James put it this way.....
16 For where you have envy and selfish ambition, there you find disorder and every evil practice. (James 3:16)
Paul explained the same principle as.....
4 Each of you should look not only to your own interests, but also to the interests of others. (Philippians 2:4)
When I was a boy (some time ago now!) we used to pray the Lord's Prayer in church every Sunday. At that time it was recited out of the King James Version.....
13And lead us not into temptation, but deliver us from evil: (Matthew 6:13a)
In this instance, the literal translation (of much of) the King James expresses the Hebrew view of evil as a force, rather than as a person, as most later translations record it. E.g. NIV - deliver us from the evil one
Paul, when explaining his ongoing tendency to sin, does not blame his sin on a person of satan or demons, but on the old selfish nature still lurking within him - but of course, one which he was gradually overcoming with the help of the Holy Spirit.
14 We know that the law is spiritual; but I am unspiritual, sold as a slave to sin. 15 I do not understand what I do. For what I want to do I do not do, but what I hate I do. 16 And if I do what I do not want to do, I agree that the law is good. 17 As it is, it is no longer I myself who do it, but it is sin living in me. 18 I know that nothing good lives in me, that is, in my sinful nature. For I have the desire to do what is good, but I cannot carry it out. 19 For what I do is not the good I want to do; no, the evil I do not want to do—this I keep on doing. 20 Now if I do what I do not want to do, it is no longer I who do it, but it is sin living in me that does it. 21 So I find this law at work: When I want to do good, evil is right there with me. 22 For in my inner being I delight in God's law; 23 but I see another law at work in the members of my body, waging war against the law of my mind and making me a prisoner of the law of sin at work within my members. 24 What a wretched man I am! Who will rescue me from this body of death? 25 Thanks be to God—through Jesus Christ our Lord! So then, I myself in my mind am a slave to God's law, but in the sinful nature a slave to the law of sin. (Romans 7:14-25)

SOME SPIRITUAL IMPLICATIONS FOR TODAY
I fully understand that the Hebrew view contradicts virtually all our understanding and teaching!
I just ask that we both don't reject out of hand what has been said here but absorb the vital spiritual principle it contains.
The key element is not the theological argument but the necessity for us to take responsibility for our own lives and the sin in our lives. God is 'selfless'. We are by nature 'selfish'. Replacing our 'selfishness' with God's 'selflessness' is what walking with Jesus is all about. Are we prepared to make the 'self-sacrifice' required?
(Continued next week)
Find out more about us at.....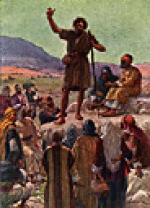 FROM THE WORD
THE WORDS OF JESUS
Jesus Heals the Centurion's Servant (Matthew 8:5-13, Luke 7;1-10)
Through the faith of the Centurion, without visiting his home.
"I will come and heal him,"
"I tell you the truth, I haven't found this kind of trust anywhere in Israel. I tell you that many will come from the east and the west, and sit down with Abraham and Isaac and Jacob in the kingdom of heaven. But the heirs of the kingdom will be thrown out into utter darkness where there will be weeping and grinding of teeth."
"Go home. Because you trusted that it would happen, what you asked for has been done."
Jesus Raises the Widow of Nain's Son(Luke 7:11-17)
When the boy's body was being taken outside of the town.
"Don't cry,"
"Young man, I tell you, get up."
Jesus Commends John the Baptist (Matthew 11:1-19, Luke 7:18-35)
When approached by John's disciples asking Jesus if He truly was 'the one who was to come'.
"Go and tell John what you've seen and heard. The blind see, the lame walk, the lepers cured, the deaf hear, the dead raised back to life, the poor are told the good news. How good it is for those who are not offended because of me!"
"About John: what did you expect to see when you went out to meet him in the desert? Some reed blown about by the wind? Did you come looking for a man dressed in fine clothes? No, those who have stylish clothes and live in luxury are found in palaces. Were you looking for a prophet? Yes he is, and I'm telling you, he's much more than a prophet. "It was written about him in Scripture: 'Look, I'm sending my messenger to go before you to prepare your way.' "I tell you, no one born of women is greater than John, but even the most unimportant person in God's kingdom is greater than he is!"
But the Pharisees disagreed.
"What shall I compare these people to?" "What are they like? "They're like children sitting in the market who tell one other, 'We played the flute for you but you didn't dance; we sang sad songs but you didn't cry.' When John the Baptist came he didn't eat bread or drink wine, but you say he's demon-possessed. Now the Son of man is here, and eats and drinks with people, but you say, 'Look, he spends his time eating too much food and drinking too much wine. Plus he's a friend of tax collectors and sinners.' However, God's wise ways are proved right by all who follow him!"
(Continued next week)
Find out more about us at.....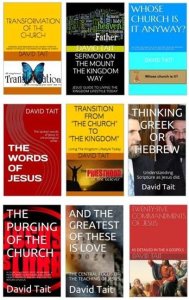 ***NOW***NINE BOOKS ARE AVAILABLE ON AMAZON!!!
9 BOOKS are now available on Amazon (Kindle)!

All are available worldwide for electronic download on Amazon (Kindle) for $US0.99c . Unfortunately there has to be a charge in order to list.

Your support would be appreciated and they could well change your life!
Many more online at https://www.wwj.org.nz/more-free-downloads

They are all found at this link.....
http://www.amazon.com/s/ref=nb_sb_noss?url=search-alias%3Daps&field-keywords=david+tait+books/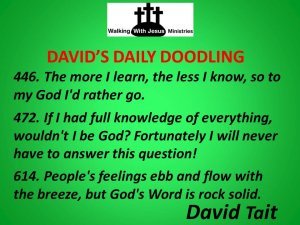 *DAVID"S DOODLINGS
Enjoy some of David's sayings here, plus 1300 more on the website at.....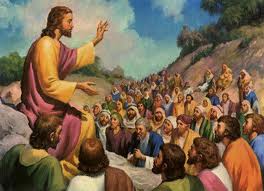 'THE WORDS OF JESUS' REMAIN AVAILABLE FOR PDF DOWNLOAD
Join the many who have downloaded the 'The Words of Jesus'. I am sure you will be blessed by it, as I have been.
One key element here is the setting out in chronological order (as far as it is possible to do so) our Lord's words drawn from all the Gospels, and the elimination of repetition between Gospels.
You may be surprised by the different perspective this presentation gives you both in understanding of His life and ministry, and in achieving a closer relationship with Him.

Download the free PDF here.....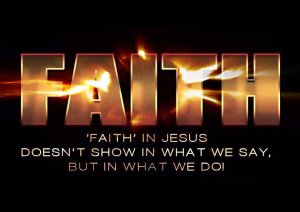 DAVID'S DOODLINGS
FAITH
143. Present faith is built upon our past experiences of its results.
144. Faith is like a baby ' it needs to learn to crawl and to walk before it can run.
145. Faith is like dropping a stone into a pond. The small circles enlarge with time.
146. A single step of faith is necessary to start the marathon of life.
147. One step of faith is worth ten thousand words of talk about it.
148. Faith is but one small step for God, but viewed as a giant step by us.
149. The dropping of a small stone in the centre, ripples the entire pool of faith.
150. As we build a reservoir of faith experience, so our power generation capacity increases.
151. Enacting God-given faith is easy, for He never lets us down.
152. FEAR is the inability to affect the unknown.
Many more at.....
CARTOONS FROM TOON FEVER
Visit the Toon Fever website for more cartoon fun..... http://www.toonfever.com
Check it out at...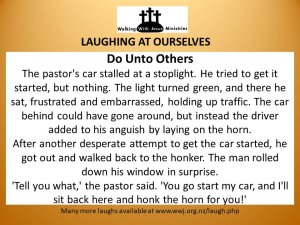 'LAUGHING AT OURSELVES
Another laugh or three for you today
Many more on our website below. Also many, may, many more under these categories on our website, wwj,org,nz Look under the heading MAINLY LAUGHS. Choose from.....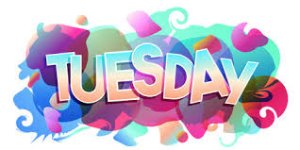 THIS WEEKS TUESDAY TEACHING.....
THIS WEEK: A REVELATION OF...THE SEVEN REVELATIONS OF THE LAMBTHE LAMB OF OBEDIENCE
The Bible is the ongoing story of both obedience and disobedience to God, and the resulting consequences for the participants, both good and bad.
Abraham is a classic example of both! Fortunately, he is primarily remembered for his obedience, through his willingness to sacrifice his most precious son Isaac, if that was his God's will.
Let's see what Abraham's actions are saying to us today.

LAUGHING AT OURSELVES
***Blessed are those who can laugh at themselves for they shall never cease to be amused***
QWIK QWIP: "We can never really go where God is not, and where He is, all is well."
341. Having the Preacher for Dinner
In a small town way out in the country, a local farmer invited the new preacher and his wife to come out to the farm for supper. While the women were finishing preparations in the kitchen, the men talked in the living room. The farmer was in the middle of telling the preacher that because he was sure that most ministers liked chicken, that's what he had asked his wife to prepare. The farmer's son, playing nearby, spoke up and said, "But I thought it was 'buzzard', not 'chicken' that we were eating today."
"Of course not, where did you ever get that idea?" demanded the farmer
"Well, I overheard you telling mommy that we ought to hurry up and have the 'old buzzard'" for dinner and get it over with."
342. Can You Spell "GOD"?
Three people from different parts of the country passed away at the same time. All were met at the gates by St. Peter. The first was an architect from California. Peter said, "You've built beautiful buildings and served men on earth, but before you come in you have to pass one small test, spell 'God'". "G-O-D," replied the architect and St. Peter waved him through.
The second person to approach was a rancher from Texas. Peter looked at him and said, "You've served man upon the earth by providing food through the cattle you've raised but before you come in there's just one small test, spell 'GOD'". "G-O-D", said the rancher and Peter waved him through.
The third person was an attractive businesswoman from New York. Peter said, "You've served the world of commerce, but before you come in you'll have to pass one small test." At this the woman interrupted, "Oh come on now Saint," said the woman, "I've had to fight for every promotion I've ever gotten. I've had to take lower pay for the same job as a male colleague, and I've been continually harassed by bosses and peers for one reason, my gender. And now here I am and you're giving me a hard time too; what kind of test? Let's get it over with."
Peter thought for a moment and said, "Spell Czechoslovakia"
343. Isaiah and His Horse
A young lad came home from church one day, and his mother asked him what he had learned in Sunday school. He said, "We learned about Isme."
Not remembering that name in the Bible, his mother asked, "Who is Isme?" "I guess it was a horse, the horse a man by the name of Isaiah rode." "What are you talking about, there's no mention in the Bible of Isaiah riding a horse", the mother responded.
"Well, he must have", said the young boy. My teacher read from the place where Isaiah said "Woah, Isme!"
QWIK QWIP: "No matter what is happening in your life, know that God is waiting for you with open arms."
Download the book 'Laughing At Ourselves' in PDF format at LAUGHING AT OURSELVES One of the most comprehensive sources of Christian Humour on the Net with 800 sermon fillers for your entertainment and use at ..... https://www.wwj.org.nz/content/wwj18p47.pdf
Or read even more online at.....

A DAVID MUSING
When you work for God, not everything goes smoothly.
Surely God, I am doing this for you! Why are things so hard!
In reality, God pushes us to new steps of faith in what we are doing. How much do we trust Him?
That has been our week, this week.
Maybe next week will improve!
Please help us Lord.
Until next time
His servant and yours
David Tait

Visit us here.....
CHANGING YOUR EMAIL ADDRESS? NEWSLETTER STOPS COMING?
Each week we can lose up to 2% of our readers when they change email addresses without letting us know. Or sometimes, by your server acting strangely and just cutting us off! If you are about to change your address, please advise us of both your old and new addresses here at
enquiries@wwj.org.nz and we will happily change our records to ensure ongoing delivery. Thanks.

Please also keep our address in your address book, as sometimes servers will automatically delete your address if there is even a one off problem in delivery. If your newsletter doesn't arrive, please let us know and we will reinstate you.
REPRODUCTION OF NEWSLETTER CONTENT
Most weeks we get enquiries about reproducing, in electronic or print form, articles contained in 'PGIM!' We welcome and encourage you to utilize this material. Freely received, freely given. We would ask though, that the source be acknowledged as an encouragement to others to subscribe to this newsletter also.
LINKS
If you would like to link your web site to ours, and ours to yours, please advise us on
links@wwj.org.nz
ABOUT US
WALKING WITH JESUS MINISTRIES is a non-profit, non-denominational, Bible based ministry located in Hastings, New Zealand. A ministry dedicated to developing discipleship, fostering unity amongst God's people to achieve the Great Commission, and in doing so, preparing for Christ's return. It is securely based upon the foundational principles of the Apostles Creed while recognising the wide and rich diversity of beliefs amongst Christians in other areas. In accordance with the Lord's direction, materials produced by the ministry are available, free of charge, to genuine enquirers upon request. The ministry is solely funded by donations, as the Lord provides. A list of materials available (plus some fun!) is obtainable and freely downloadable from our website
wwj.org.nz or by contacting us as follows.

Walking With Jesus Ministries
P O Box 2
Webuye 50205
Kenya

Email: enquiries@wwj.org.nz
Web: wwj.org.nz

Our role is to bless and encourage those in ministry while promoting co-operation and unity of direction amongst the body of Christ, as emphasised 3 times by Jesus in His longest prayer, immediately prior to His arrest and crucifixion. "... so that they may be one as we are one." (John 17:12, 21, 23-4) Our website is currently being developed to encourage your participation one with another, to share resources, and to enable you to promote events and items of interest to the body as a whole - and have a smile while doing it!

For comments upon and contributions to this service, please contact
david@wwj.org.nz
SUBSCRIPTION MANAGEMENT
We would encourage you to share this free service with your friends in ministry. To subscribe yourself please email pgim-on@wwj.org.nz.
If your name has been referred to us by a friend or supporting Ministry or has been obtained from a public Christian Directory or Website, it isn't our wish to burden you with information in which you aren't interested. To remove yourself from this list, please email pgim-off@wwj.org.nz.