A Weekly World Wide Word of Encouragement to those in the Ministry
PRAISE GOD IT'S MONDAY!
A WEEKLY 'WWW (world-wide word) OF ENCOURAGEMENT'
TO THOSE IN MINISTRY
A FREE service, currently connecting with Christian leaders from 3,000 denominations and ministries, in 70 countries.

Issue No: 1040 Published: 20 Sep 2021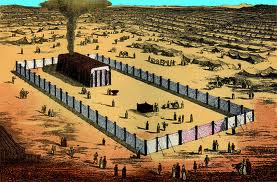 A WALK THROUGH THE TABERNACLE OF MOSES
SIN IS MADE 'ATONEMENT" FOR (FORGIVEN THROUGH SACRIFICE)
THE STORY SO FAR
A farmer who has sinned has come to the Tabernacle of Moses, to seek forgiveness of his sin by bringing the best lamb of his flock. He has entered the gate (of SALVATION0 of the Tabernacle.
A DAY IN THE LIFE OF…… Continued
The atmosphere suddenly changes when passing through the gate. For now you are in the courtyard of God's dwelling place. In the Outer Court, where the one and only almighty God demands the cleansing of sin through sacrifice, to come into His Holy presence. The lamb starts squirming in your arms. For she can sense the smell of death that permeates the surroundings and is scared. Looking into her innocent, pleading eyes you turn quickly away, with tears in your eyes. You can't bear to look at her again. What had she done to deserve this untimely end? Absolutely nothing! Solely your responsibility! What a sudden reminder of the awfulness of sin and God's righteous judgement! Moving now towards the Brazen Altar, towards your meeting with God – feeling absolutely devastated. Oh God, that perfect, innocent lamb's life - the price for my sin, for my life. Your legal requirement, I know. Oh God, I am so sorry for my stupid words. I won't make that mistake again! A fear filled, "awe-full" moment!
The priest attracts your attention as he bounds towards you, speedily covering the few metres from the bronze Washing Basin, (Symbolizing WATER BAPTISM) set on its sparkling, shiny brass stand. It is so lovingly polished by the Levites that you can see your face in it. He is ready to make your sacrifice (symbolizing JESUS), having washed both his hands and feet in the basin's water, holy water that the Levites had sprinkled with anointing oil and blood. With mixed emotions you hand over your struggling, squirming lamb to the priest, desperate as she senses her impending death. In one movement, the priest holds down her head and expertly slits her throat, avoiding the innocent, pleading look in her panic-stricken eyes. Her bright red lifeblood spurts out in an unforgettable stream through her severed artery, her body spasms confirming the grim finality of a gruesome death. A life for a life as God's law requires. The priest dips his finger in the blood, quickly placing a touch on each of the four horns of the altar while simultaneously holding the lamb up by its back legs, it's remaining lifeblood draining out in a grim red ooze at the base of the altar. An innocent life for your life – the price has been paid for your sin.
Quickly slitting open and gutting the lamb, the priest throws the putrid smelling offal to one side for later disposal. The foul smell almost causes you to throw up! After skinning the lamb, he carefully removes all the fat from the carcass in accordance with God's instructions to Moses. The fat is placed upon the altar, producing, as it burns, an aroma pleasing to the Lord. The priest puts the carcass to one side for later cooking and consumption by himself and his sons. So overcome are you by the gruesomeness of the whole experience and the terrible price the innocent lamb had to pay for your stupidity, your unnecessary sin, that you unashamedly fall onto your knees, crying out to the Lord your God in repentance. "My God, please forgive me, please forgive me – I won't do it again! Please God! Please God! Please God!" …… Surely there must be a better way!
The priest sees your distress and gently places his hand on your shoulder. "You have done well, my friend. The Lord is pleased with you. For you only see the horror of sin and sacrifice, but He shows me His glory too. Let me tell you about it.
(To be continued)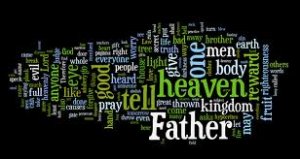 FROM THE WORD
THE WORDS OF JESUS
May we hear what the Lord is saying to us.....
SERMON ON THE MOUNT CONTINUES
Adultery (Matthew 5:27-30)
You've heard that the law said, 'Do not commit adultery.' But I tell you that everyone who looks lustfully at a woman has already committed adultery with her in his heart. If your right eye leads you to sin, then tear it out and throw it away, because it's better to lose one part of your body than to have your whole body thrown into the fire of judgment. If your right hand leads you to sin, then cut it off and throw it away, for it's better for you to lose one of your limbs than for your whole body to go into the fire of judgment.
Divorce (Matthew 5:31-2)
"The law also said, 'If a man divorces his wife, he should give her a certificate of divorce.' But I tell you that any man who divorces his wife except for sexual immorality causes her to commit adultery, and whoever marries a divorced woman commits adultery.
Oaths (Matthew 5:33-7)
"And again, you've heard that the law said to the people of long ago, 'You shall not perjure yourself.
Instead make sure you keep the oaths you swear to the Lord.' But I tell you, don't swear at all. Don't swear by heaven, because it's the throne of God. Don't swear by the earth, because it's God's footstool. Don't swear by Jerusalem, because it's the city of the great King. Don't even swear by your head, because you're not able to make a single hair white or black. Simply say yes or no—more than this comes from the Evil One.
(Continues next week)
Download the complete 'Words of Jesus' here.
OUR AFRICAN EXPERIENCE
FOR MORE DETAILED AND REGULAR UPDATES, VISIT OUR FACEBOOK PAGE
AN EYE 4 Africa - https://www.facebook.com/aneye4africa/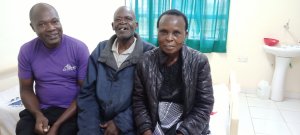 A VERY HAPPY CATARACT CLIENT
After having surgery on his second eye last Friday, he has gone from virtual blindness to seeing well! Seen here with his wife and Emmanuel, our Theatre Nurse.
Thanks to Lily and the team for your excellent work.
More on this story next week. PTL!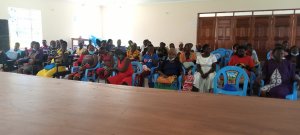 INVADED BY PREGNANT LADIES!
The Government hospital treatment programme for pregnant mothers, Linda Mama, has started once again after a gap of a few months.
So we gathered 70 ladies to persuade them to choose our hospital for their clinics and deliveries. A good proportion agreed!
Here od some of them, meeting in the Bible School Hall next door. Thank you Selina, for allowing us to use your beautiful facility.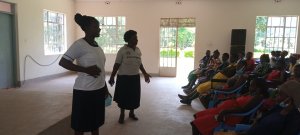 ADDRESSED BY.....
Our Head Nurse Noelle, and the head Community Worker for the area.
BOOK OF THE WEEK
THE PURGING OF THE CHURCH
A CHURCH WITHOUT SPOT OR WRINKLE, A PEOPLE WITH CLEAN HANDS AND A PURE HEART, PREPARED AND WAITING FOR THE RETURN OF JESUS
The Lord has led me to go back to a sermon/prophecy I received in a group mailing, and filed, some time ago. It is by David Wilkerson. David was the Founding Pastor of Times Square Church in New York City. He was called to New York in 1958 to minister to gang members and drug addicts, as told in the best-selling book, The Cross and the Switchblade. After the introduction, he gave 11 bullet points about THE GLORIOUS FUTURE JUST AHEAD. As the Lord leads, I will expand on these challenging but inspiring aspects.
Let us begin…..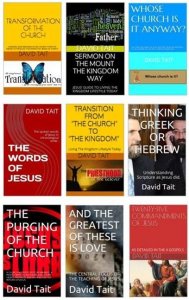 ***NOW***NINE BOOKS ARE AVAILABLE ON AMAZON!!!
9 BOOKS are now available on Amazon (Kindle)!

All are available worldwide for electronic download on Amazon (Kindle) for $US0.99c . Unfortunately there has to be a charge in order to list.

Your support would be appreciated and they could well change your life!

They are all found at this link.....
http://www.amazon.com/s/ref=nb_sb_noss?url=search-alias%3Daps&field-keywords=david+tait+books/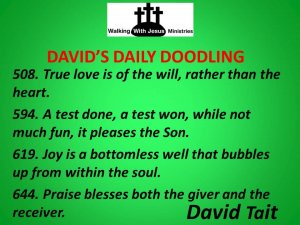 ***DAILY EZINE!*** 'DAVID'S DAILY DOODLINGS' Subscribe Today
Receive one of David's sayings in your mailbox each day to inspire, challenge or maybe, amuse. To register today, go down to the bottom of the page link below, click on the subscribe link dd-on@wwj.org.nz (or paste the address in an email yourself and send) Then it's done! If you have an Irish heritage, you will love the background coloring!
Subscription and back issue link is.....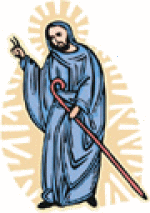 'THE WORDS OF JESUS' REMAIN AVAILABLE FOR PDF DOWNLOAD
Join the many who have downloaded the 'The Words of Jesus'. I am sure you will be blessed by it, as I have been.

One key element here is the setting out in chronological order (as far as it is possible to do so) our Lord's words drawn from all the Gospels, and the elimination of repetition between Gospels.

You may be surprised by the different perspective this presentation gives you both in understanding of His life and ministry, and in achieving a closer relationship with Him.

Download the free PDF here.....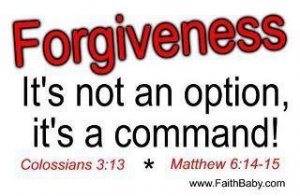 DAVID'S DOODLINGS
FORGIVENESS
583. Forgiveness is the healing balm of life.

584. 'Tis the oil of forgiveness that lubricates the journey of life.

585. 'Tis only by grace, we run the race.

586. To win life's 'race', start it with a 'g'!

587. Forgiveness first heals the forgiver.

588. Forgiveness heals both the forgiver and the forgiven.

589. To forgive is Christian, to forgive and forget - Godly.

590. Lord; please forgive me for forgetting forgiveness!
Please feel free to quote these quotes. Acknowledgment of David Tait as the author would be appreciated. There are now over 1300 David sayings for you to view at ...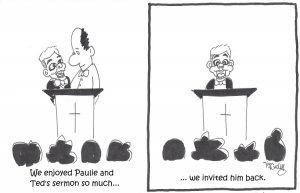 CARTOONS FROM TOON FEVER
Visit the Toon Fever website for more cartoon fun..... http://www.toonfever.com
Check it out at...
TUESDAY TEACHINGS
NEXT WEEK:
Still a surprise to both of us!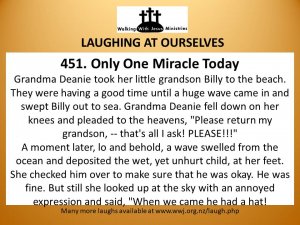 *** ANOTHER DAILY EZINE FROM WWJ!*** 'LAUGHING AT OURSELVES' Subscribe Today
As Christians, if we can't laugh at ourselves, others will! A fun way to start your day. To register today, go down to the bottom of the page link below, click on the subscribe link lao--on@wwj.org.nz (or paste the address in an email yourself and send) Then it's done!
https://www.wwj.org.nz/laughing-at-ourselves-ezine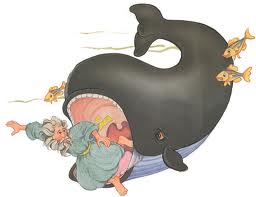 LAUGHING AT OURSELVES
***Blessed are those who can laugh at themselves for they shall never cease to be amused***
*** Those who can't laugh at themselves leave the job to others. ***
QWIK QWIP: "Many folks want to serve God, but only as advisers."
103. Jonah and the Whale
A little girl was talking to her teacher about whales. The teacher said it was
physically impossible for a whale to swallow a human because even though they were
very large mammals, their throat was very small. The little girl stated that Jonah
was swallowed by a whale.
The teacher reiterated that a whale could not swallow a human; it was impossible.
The little girl said, "When I get to heaven I will ask Jonah."
The teacher asked, "What if Jonah went to hell?"
The little girl replied, "Then you ask him.
104. Free Admission
A little child in church for the first time watched as the ushers passed the offering plates.
When they neared the pew where he sat, the youngster piped up so that everyone could hear; "Don't pay for me Daddy, I'm under five."
105. Burning Faith
Nearing the parish church during his daily walk, a young man saw that some shubbery was on fire. He banged on the rectory door and told the woman who opened it to call the fire department. She ran to the phone, and he heard her place the call. She identified herself, gave the location, and explained the situation.
"You mean to tell me," said the emergency dispatcher, "that there's a burning bush on the church lawn, and you want to put it out?"
Download the book 'Laughing At Ourselves' in PDF format at LAUGHING AT OURSELVES One of the most comprehensive sources of Christian Humour on the Net with 800 sermon fillers for your entertainment and use at ..... https://www.wwj.org.nz/content/wwj18p47.pdf
Or read even more online at.....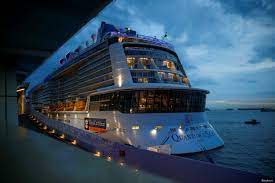 A DAVID MUSING
Life is slow here in the Kenyan country side, similar to the West, say 50+ years ago. How time flies!
Not to mention the Bureaucracy, of course!
However, as things speed up, particularly in the technology area, it finally gets too hard, and people hop off the technology ship at their nearest port, happy with what they have.
God however, is a God of constant change, throughout our life. For us to become more like Jesus, is a development process, not an event. We are to keep learning until we die!
Now, that is a real challenge!
His servant and yours
David Tait

Visit us here.....
CHANGING YOUR EMAIL ADDRESS? NEWSLETTER STOPS COMING?
Each week we can lose up to 2% of our readers when they change email addresses without letting us know. Or sometimes, by your server acting strangely and just cutting us off! If you are about to change your address, please advise us of both your old and new addresses here at
enquiries@wwj.org.nz
and we will happily change our records to ensure ongoing delivery. Thanks.
Please also keep our address in your address book, as sometimes servers will automatically delete your address if there is even a one off problem in delivery. If your newsletter doesn't arrive, please let us know and we will reinstate you.
REPRODUCTION OF NEWSLETTER CONTENT
Most weeks we get enquiries about reproducing, in electronic or print form, articles contained in 'PGIM!' We welcome and encourage you to utilize this material. Freely received, freely given. We would ask though, that the source be acknowledged as an encouragement to others to subscribe to this newsletter also.
LINKS
If you would like to link your web site to ours, and ours to yours, please advise us on
links@wwj.org.nz
ABOUT US
WALKING WITH JESUS MINISTRIES is a non-profit, non-denominational, Bible based ministry located in Hastings, New Zealand. A ministry dedicated to developing discipleship, fostering unity amongst God's people to achieve the Great Commission, and in doing so, preparing for Christ's return. It is securely based upon the foundational principles of the Apostles Creed while recognising the wide and rich diversity of beliefs amongst Christians in other areas. In accordance with the Lord's direction, materials produced by the ministry are available, free of charge, to genuine enquirers upon request. The ministry is solely funded by donations, as the Lord provides. A list of materials available (plus some fun!) is obtainable and freely downloadable from our website
wwj.org.nz or by contacting us as follows.

Walking With Jesus Ministries
P O Box 2
Webuye 50205
Kenya

Email: enquiries@wwj.org.nz
Web: wwj.org.nz

Our role is to bless and encourage those in ministry while promoting co-operation and unity of direction amongst the body of Christ, as emphasised 3 times by Jesus in His longest prayer, immediately prior to His arrest and crucifixion. "... so that they may be one as we are one." (John 17:12, 21, 23-4) Our website is currently being developed to encourage your participation one with another, to share resources, and to enable you to promote events and items of interest to the body as a whole - and have a smile while doing it!

For comments upon and contributions to this service, please contact
david@wwj.org.nz
SUBSCRIPTION MANAGEMENT
We would encourage you to share this free service with your friends in ministry. To subscribe yourself please email pgim-on@wwj.org.nz.
If your name has been referred to us by a friend or supporting Ministry or has been obtained from a public Christian Directory or Website, it isn't our wish to burden you with information in which you aren't interested. To remove yourself from this list, please email pgim-off@wwj.org.nz.