A Weekly World Wide Word of Encouragement to those in the Ministry
PRAISE GOD IT'S MONDAY!
A WEEKLY 'WWW (world-wide word) OF ENCOURAGEMENT'
TO THOSE IN MINISTRY
A FREE service, currently connecting with Christian leaders from 3,000 denominations and ministries, in 70 countries.

Issue No: 857 Published: 26 Mar 2018
WHOSE CHURCH IS IT ANYWAY? Part 35
SOME LATER 20TH CENTURY SPIRITUAL MOVES
Since the Charismatic Renewal there have been other spiritual revivals which, while not as universal in their influence, have impacted on the church in some way, be it territorially, denominationally, or through influencing the wider body. Some, particularly Peter Wagner, have described these as the 'Third Wave' of spiritual revival, after the after the Pentecostal Revival of the early 20th Century and then the more recent Charismatic Renewal. Some have arisen and waned, while others have been become formalized within new denominations. It would be fair to say that none individually, have had the widespread impact of the Pentecostal and Charismatic movements, but collectively, they have had a considerable influence in the later 20th century. Only a sample can be considered here.....

JOHN WIMBER (1934-97) AND THE VINEYARD CHURCH
A successful secular musician from a non-religious family, Wimber found Jesus in 1963. He joined the Quakers and was responsible for converting many hundreds of people. This led to his appointment as Founding Director of the Department of Church Growth at a offshoot of the Fuller Theological seminary. Forming a house group that began adopting Charismatic values brought about a split with the Quakers. This led to the formation of a new church associated with Vineyard Christian Fellowships, started by Kenn Gulliksen, which later became the Anaheim Vineyard Christian Fellowship.

John Wimber travelled widely and his meetings were characterized by manifestations of the Holy Spirit, similar to those of the early Pentecostals. Hyatt writes.....

Prophecy and speaking in tongues commonly occurred in these meetings, and various other manifestations, such as being slain in the Spirit, shaking and swooning in a state similar to drunkenness also occurred.

David White, a psychiatrist and proponent of the Third Wave, describes the phenomenon similar to drunkenness. In meetings where the Holy Spirit's power is strongly manifest, some people may seem a little drunk...

They may describe a heaviness that is on them. Their speech may be slightly slurred, their movements uncoordinated. They may need support to walk. They show little concern about what anyone will think of their condition and are usually a little dazed. The condition may endure several hours.

Theologically, Wimber and Vineyard had 2 differences to early Pentecostals. Firstly, they believed that all spiritual gifts were received at conversion, although they may not be manifested until later. This included speaking in tongues, which Pentecostals taught and teach is the true sign of conversion. They also placed greater emphasis on the importance of all the spiritual gifts.

TESTIMONY: This has been the experience of my own life, where I was able to prophesy some time before speaking in tongues.

Their second point of difference was in the development of 'Kingdom Theology' which promotes the building of God's kingdom upon the earth, rejecting the escapist, rapture theology of traditional Pentecostals of believers avoiding the tribulation, or part thereof, by being whisked off to heaven. Hence there is a greater emphasis on holiness and righteousness and the release of all spiritual gifts, in order to build God's kingdom now. As the Lord's Prayer says.....

Your kingdom come, Your will be done on earth as it is in heaven

John Wimber died of a brain haemorrhage on November 17, 1997, aged 63, following a fall and after recent coronary bypass surgery.

Today the Vineyard Movement - an association of likeminded independent churches - comprises about 1600 churches worldwide.
THE INFLUENCE OF RODNEY HOWARD-BROWNE
A successful South African evangelist, Howard-Browne received God's call to go to America, He arrived at the Lakeland Carpenter's Church (named after the "Carpenters and Joiners Home," a retirement home for members of the United Brotherhood of Carpenters and Joiners of America, the previous owners of the building) in March 1993 for a scheduled 1 week meeting. Hyatt reports.....

The one-week meeting, however, became a fourteen-week revival. Pastor Karl Strader declared it to be the greatest move of God he had ever seen: "It was like something from the history books." Spiritual phenomena common in past revivals such as falling, weeping and joyous laughter occurred nightly, attracting large crowds. By the fourth week of the revival, so many conversions had occurred that a baptismal service was held with fifteen hundred being baptized. By the end of the sixth week, cumulative attendance had exceeded one hundred thousand, with many pastors and church leaders attending and being profoundly affected.

God had shown him that the revival in Lakeland was not to become a mecca, but that he was to carry the revival throughout America. After holding similar meetings at Calvary Cathedral International in Fort Worth, Texas, Oral Roberts University in Tulsa, Oklahoma and Rhema Bible Institute in Broken Arrow, Oklahoma.

His heart remains as a travelling evangelist, even though today he also pastors a church in Tampa Florida.

TESTIMONY: I attended a Rodney Howard-Browne meeting in Auckland, New Zealand, where I observed the manifestations of the Holy Spirit that occurred. I felt disconnected. However, a few weeks later, I conducted the first evangelism meetings of my own, and similar manifestations, on a much smaller scale amongst the few who attended, occurred there, at the final meeting, much to my surprise. While in later times, these particular manifestations have not happened again, the Holy Spirit, in His grace, generally has a powerful presence when I minister.

(Continued next week)
Find out more about us here.....

FROM THE WORD
THE WORDS OF JESUS
May we hear what the Lord is saying to us.....
Jesus' Messages to the Seven Churches (Revelation 1:1-3:21)
Through the apostle John.
"I am the Beginning and the End,"
"Write down in a book what you see and send it to the seven churches: Ephesus, Smyrna, Pergamum, Thyatira, Sardis, Philadelphia, and Laodicea."
"Don't be afraid, I am the first and the last, the Living One. I was dead, but look! Now I am alive for ever and ever, and I hold the keys of death and the grave.
"So write down what you've seen—what's happening in the present and what will happen in the future.
The meaning of the seven stars that you saw me holding in my right hand and the seven golden candlesticks is this: the seven stars are the angels of the seven churches and the seven candlesticks are the seven churches.
To the Church in Ephesus
"Write this to the angel of the Ephesus church: This is what the One who holds the seven stars in his right hand says, the one who walks among the seven golden candlesticks: I know what you've accomplished, your hard work and perseverance. I know you can't tolerate evil people, and how you investigated those who claimed to be apostles but are not, and discovered they were frauds. I know about your patience, and what you endured for my sake—and that you didn't give up!
"But I have something against you: you have neglected your first love. So remember how far you've fallen—repent and go back to what you were doing at first. Otherwise I'll come to you and I will remove your candlestick from where it is—unless you repent. However you do have this to your credit: you hate the actions of the Nicolaitans, just as I do. If you have ears, listen to what the Spirit is telling the churches. I will give to those who are victorious the privilege of eating from the tree of life, which stands in the Paradise of God.
To the Church in Smyrna
"Write this to the angel of the Smyrna church: This is what the first and last says, the One who was dead and came back to life: I know the troubles you are going through, and how poor you are (but you are rich), and the abuse from those who say they are Jews but are not, but belong to Satan's synagogue. Don't be afraid about what you are going to suffer. Yes, the devil will throw some of you into prison to test you, and you will suffer persecution for ten days. Just remain faithful, even if it means death, and I will give you the crown of life! If you have ears, listen to what the Spirit is telling the churches. The second death will not harm those who are victorious.
You can download the complete 'Words of Jesus' here.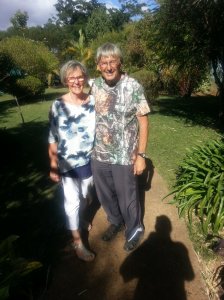 OUR AFRICAN EXPERIENCE
FOR MORE DETALED AND REGULAR UPDATES, VISIT OUR FACEBOOK PAGE
AN EYE 4 Africa - https://www.facebook.com/aneye4africa/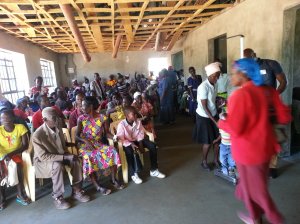 MEDICAL CAMP PROMOTING THE KINGDOM CLINIC
On Friday we had a free Medical Camp in conjunction with the Public Health people which 700 people attended, all together it seemed, but over a period of 3 hours.
Fortunately Kenyans are patient and forgiving and eventually we saw them all.
The word 'free' here is always most attractive!
Free services included consultations, malaria tests, some free drugs, cancer screening, family planning, AIDS, jiggers, ENT, eyes, under 5 immunizations, and more.
The photo shows people patiently waiting to be weighed, the start of the process. They are in the Theatre Block, which is yet to be finished.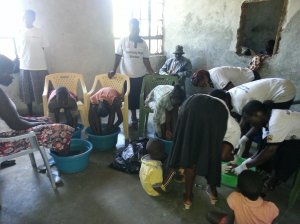 JIGGERS
Small bugs which burrow under the skin of the feet and are very painful. They get dug out by a special Jiggers Team.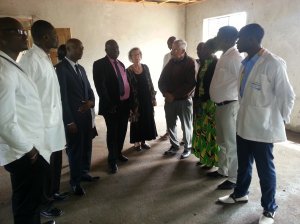 A DAY OF MEETING THE TOP GOVERNMENT OFFICIALS IN BUNGOMA COUNTY
It has always been our objective to work for the benefit of the community and to partner with the Government and the local health people, where possible.
On Wednesday the opportunity came to meet with the top people in the Bungoma County Government.
In the morning, the Minister of Health (in the pink shirt and suit) inspecting our facility. He was impressed++. Then off to Bungoma town to meet with other senior parliamentarians and officials. A successful day.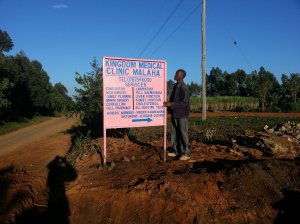 SIGNS UP!
Finally, on the early morning of our Medical Camp, our signs went up - with corrected spelling from the first view!
Today, Sunday, it appears people are reading the services but not our opening hours! Trust they come back tomorrow!
Amos, the site Foreman, put the signs up for us.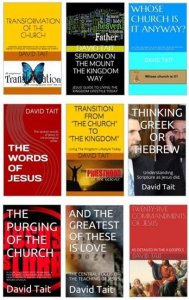 ***NOW***NINE BOOKS ARE AVAILABLE ON AMAZON!!!
9 BOOKS are now available on Amazon (Kindle)!

All are available worldwide for electronic download on Amazon (Kindle) for $US0.99c . Unfortunately there has to be a charge in order to list.

Your support would be appreciated and they could well change your life!

They are all found at this link.....
http://www.amazon.com/s/ref=nb_sb_noss?url=search-alias%3Daps&field-keywords=david+tait+books/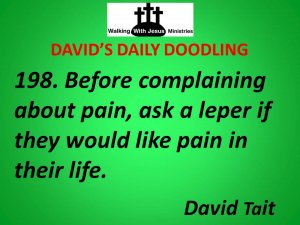 ***DAILY EZINE!*** 'DAVID'S DAILY DOODLINGS' Subscribe Today
Receive one of David's sayings in your mailbox each day to inspire, challenge or maybe, amuse. To register today, go down to the bottom of the page link below, click on the subscribe link dd-on@wwj.org.nz (or paste the address in an email yourself and send) Then it's done! If you have an Irish heritage, you will love the background coloring!
Subscription and back issue link is.....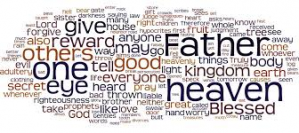 'THE WORDS OF JESUS' REMAIN AVAILABLE FOR PDF DOWNLOAD
Join the many who have downloaded the 'The Words of Jesus'. I am sure you will be blessed by it, as I have been.

One key element here is the setting out in chronological order (as far as it is possible to do so) our Lord's words drawn from all the Gospels, and the elimination of repetition between Gospels.

You may be surprised by the different perspective this presentation gives you both in understanding of His life and ministry, and in achieving a closer relationship with Him.

Download the free PDF here.....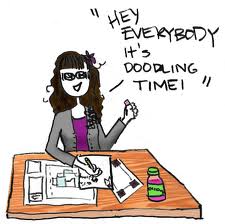 DAVID'S DOODLINGS
SUCCESS
104. 'Earthly Success' is based upon achievement, 'Godly Success' upon relationship.

105. 'To be, not to do, that is the answer.' (with apologies to Shakespeare)

106. God desires our 'being' much more than our 'doing'.

107. God prefers 'ones self' to 'ones works'.

108. In God's order 'works' should proceed, not precede, relationship.

109. On earth favours lead to friendship, while with God, friendship leads to blessings.

110. Money is slippery ' hard to grasp and even harder to hold on to.

111. Earthly achievement's are fleeting, a heavenly investment eternal.

112. Being a Christian is both to give and to for-give.

113. Nothing is less conspicuous than a famous man's grave.
Please feel free to quote these quotes. Acknowledgement of David Tait as the author would be appreciated. There are now over 1300 David sayings for you to view at ...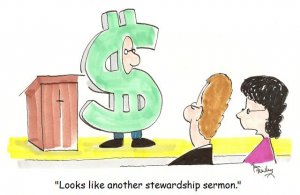 CARTOONS FROM TOON FEVER
Visit the Toon Fever website for more cartoon fun..... http://www.toonfever.com

Check it out at...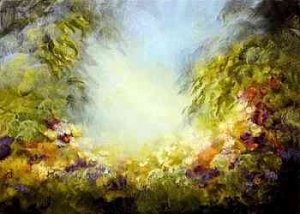 TUESDAY TEACHINGS
THIS WEEK: THE EDENIC COVENANT
While we could spend a huge amount of time going through the covenants, the approach taken will be to analyse each one under 7 headings, which I trust will give you a good overview of them.

The first considered will be the Edenic Covenant, which as the name suggests, was made in the Garden of Eden.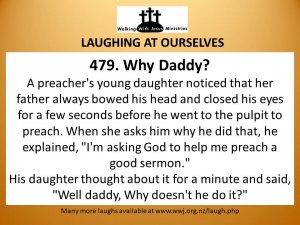 *** ANOTHER DAILY EZINE FROM WWJ!*** 'LAUGHING AT OURSELVES' Subscribe Today
As Christians, if we can't laugh at ourselves, others will! A fun way to start your day. To register today, go down to the bottom of the page link below, click on the subscribe link lao--on@wwj.org.nz (or paste the address in an email yourself and send) Then it's done!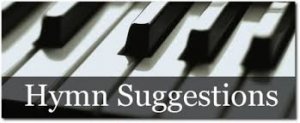 LAUGHING AT OURSELVES
***Blessed are those who can laugh at themselves for they shall never cease to be amused***
*** Those who can't laugh at themselves leave the job to others. ***
QWIK QWIP: "Quit griping about your church; if it was perfect, you couldn't belong."
123. Occupational Hymns
The Dentist's Hymn.............Crown Him With Many Crowns
The Weatherman's Hymn..........There Shall Be Showers of Blessing
The Contractor's Hymn..........The Church's One Foundation
The Tailor's Hymn..............Holy, Holy, Holy
The Golfer's Hymn..............There is A Green Hill Far Away
The Politician's Hymn..........Standing on the Promises
The Optometrist's Hymn.........Open My Eyes That I Might See
The IRS Agent's Hymn...........I Surrender All
The Gossip's Hymn..............Pass It On
The Electrician's Hymn.........Send the Light
The Shopper's Hymn.............Sweet By and By
The Realtor's Hymn.........I've Got A Mansion Just Over the Hilltop
The Pilot's Hymn...............I'll Fly Away
The Paramedic's Hymn...........Revive Us Again
The Judge's Hymn...............Almost Persuaded
The Psychiatrist's Hymn........Just a Little Talk With Jesus
The Architect's Hymn...........How Firm A Foundation
The Credit Card Telemarketer's Hymn.....A Charge To Keep I Have
The Zookeeper's Hymn...........All Creatures of Our God & King
The Postal Worker's Hymn.......So Send I You
The Waiter's Hymn..............Fill My Cup, Lord
The Gardener's Hymn............Lo, How A Rose E'er Blooming
The Lifeguard's Hymn...........Rescue the Perishing
The Criminal's Hymn............Search Me, O God
The Baker's Hymn...............When the Roll Is Called Up Yonder
The Shoe Repairer's Hymn.......It Is Well With My Soul
The Travel Agent's Hymn........Anywhere With Jesus
The Geologist's Hymn...........Rock of Ages
The Haematologist's Hymn.......Are You Washed in the Blood?
The Mens' Wear Clerk's Hymn....Blest Be the Tie
The Umpire's Hymn..............I Need No Other Argument
The Librarian's Hymn...........Whispering Hope
124. Can't Take It With You
There once was a rich man who was near death. He was very grieved because he had worked so hard for his money and he wanted to be able to take it with him to heaven. So he began to pray that he might be able to take some of his wealth with him.
An angel hears his plea and appears to him. "Sorry, but you can't take your wealth with you." The man implores the angel to speak to God to see if He might bend the rules.
The man continues to pray that his wealth could follow him. The angel reappears and informs the man that God has decided to allow him to take one suitcase with him. Overjoyed, the man gathers his largest suitcase and fills it with pure gold bars and places it beside his bed.
Soon afterward the man dies and shows up at the Gates of Heaven to greet St. Peter. St. Peter seeing the suitcase says, "Hold on, you can't bring that in here!"
But the man explains to St. Peter that he has permission and asks him to verify his story with the Lord. Sure enough, St. Peter checks and comes back saying, "You're right. You are allowed one carry-on bag, but I'm supposed to check its contents before letting it through."
St. Peter opens the suitcase to inspect the worldly items that the man found too precious to leave behind and exclaims, "You brought pavement?!!!
FREE DOWNLOAD: You can now download the book 'Laughing At Ourselves' in PDF format at LAUGHING AT OURSELVES One of the most comprehensive sources of Christian Humour on the Net with 800 sermon fillers for your entertainment and use at ..... https://www.wwj.org.nz/content/wwj18p47.pdf
Or read them all online at.....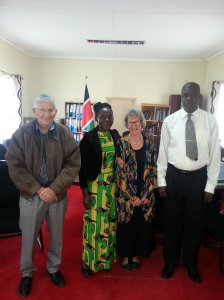 A DAVID MUSING
I have lost my lovely wife Kathy for a month as she goes back to New Zealand to visit family and friends.
While she is away we will 'celebrate' having known each other for 50 years, and shortly after retuning, will truly celebrate our 48th Wedding Anniversery. Where has the time gone?
Here in Kenya, polygamy is legal and particularly practised by the older generation. It is not uncommon to hear of an older man with three wives and 30 children!
The myth here is that there are far more women born than men, but the latest census has disproved that with, as you would expect, roughly equal numbers of both sexes.
The younger generation of men however, particularly the educated ones, have but one wife and 2-4 children, for the cost of a reasonable education for the family is so high. Without education here, there is little hope of getting a job. Even with education, it is still difficult, with students having to do masters degrees and doctorates to try and get to the front of the job queue. Which, of course, costs parents even more!
So I have to wait for my one wife to return. she tells me that if I take another while she is away, she won't come back! LOL! So wait, I will!
Interestingly Jesus spoke about marriage and divorce and Paul about polygamy in leadership. One man, one wife for life is God's best plan. Of course this does not always happen, for many reasons, and God understands, but it is not God's best plan.
Thank you Kathy for sticking by me through thick and thin for so long. You are a martyr!
Photo: Kathy and I with the Deputy Speaker of the Bungoma County Parliament, and Matilda, networker supreme, who introduced us.
Until next week.......

MAY GOD BLESS YOU AND YOU BLESS GOD.


His servant and yours
David Tait

Visit us here.....
REPRODUCTION OF NEWSLETTER CONTENT
Most weeks we get enquiries about reproducing, in electronic or print form, articles contained in 'PGIM!' We welcome and encourage you to utilize this material. Freely received, freely given. We would ask though, that the source be acknowledged as an encouragement to others to subscribe to this newsletter also.
CHANGING YOUR EMAIL ADDRESS? NEWSLETTER STOPS COMING?
Each week we can lose up to 2% of our readers when they change email addresses without letting us know. Or sometimes, by your server acting strangely and just cutting us off! If you are about to change your address, please advise us of both your old and new addresses here at
enquiries@wwj.org.nz
and we will happily change our records to ensure ongoing delivery. Thanks.
Please also keep our address in your address book, as sometimes servers will automatically delete your address if there is even a one off problem in delivery. If your newsletter doesn't arrive, please let us know and we will reinstate you.
LINKS
If you would like to link your web site to ours, and ours to yours, please advise us on
links@wwj.org.nz
ABOUT US
WALKING WITH JESUS MINISTRIES is a non-profit, non-denominational, Bible based ministry located in Hastings, New Zealand. A ministry dedicated to developing discipleship, fostering unity amongst God's people to achieve the Great Commission, and in doing so, preparing for Christ's return. It is securely based upon the foundational principles of the Apostles Creed while recognising the wide and rich diversity of beliefs amongst Christians in other areas. In accordance with the Lord's direction, materials produced by the ministry are available, free of charge, to genuine enquirers upon request. The ministry is solely funded by donations, as the Lord provides. A list of materials available (plus some fun!) is obtainable and freely downloadable from our website
wwj.org.nz
or by contacting us as follows.
Walking With Jesus Ministries
7 Bull Street
Ahuriri
Napier
New Zealand
Phone: (06) 835 0567 International (+64) 6 835 0567
Email:
enquiries@wwj.org.nz
Web:
wwj.org.nz
Our role is to bless and encourage those in ministry while promoting co-operation and unity of direction amongst the body of Christ, as emphasised 3 times by Jesus in His longest prayer, immediately prior to His arrest and crucifixion. "... so that they may be one as we are one." (John 17:12, 21, 23-4) Our website is currently being developed to encourage your participation one with another, to share resources, and to enable you to promote events and items of interest to the body as a whole - and have a smile while doing it!
For comments upon and contributions to this service, please contact
david@wwj.org.nz
SUBSCRIPTION MANAGEMENT
We would encourage you to share this free service with your friends in ministry. To subscribe yourself please email pgim-on@wwj.org.nz.
If your name has been referred to us by a friend or supporting Ministry or has been obtained from a public Christian Directory or Website, it isn't our wish to burden you with information in which you aren't interested. To remove yourself from this list, please email pgim-off@wwj.org.nz.