A Weekly World Wide Word of Encouragement to those in the Ministry
PRAISE GOD IT'S MONDAY!
A WEEKLY 'WWW (world-wide word) OF ENCOURAGEMENT'
TO THOSE IN MINISTRY
A FREE service, currently connecting with Christian leaders from 3,000 denominations and ministries, in 70 countries.

Issue No: 1071 Published: 25 Apr 2022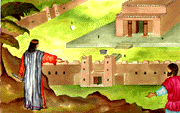 TRANSITION FROM 'THE CHURCH' TO 'THE KINGOM'
FROM "THE MATERIAL" TO "THE SPIRITUAL"
In the natural, the desire of almost everyone is for more material goods, in order to live, supposedly, a better life.
Here's a free tip! If your desire is to build the world's largest religion, promise wealth to your followers - and then deliver on it!
Sadly, too much of the Christian church has gone down this road - at least, the first part of it! The promises of the 'prosperity doctrine' however, have not delivered the goods - other than to the preachers who falsely proclaim them! How sad! No, more than sad!
Disgraceful!
So what is the Biblical pattern?
This is where a lot of the confusion comes in. For it depends on whether we look at the New Testament or the Old. There is a key difference between the two.

OLD COVENANT BLESSINGS
Blessings under the Old Covenant (Testament) were physical, applying to the family in the case of the patriarchs, and then to the nation of Israel. Abraham and his descendants were promised material blessings and a long life - and received them..
12 As the sun was setting, Abram fell into a deep sleep, and a thick and dreadful darkness came over him. 13 Then the LORD said to him, "Know for certain that your descendants will be strangers in a country not their own, and they will be enslaved and mistreated four hundred years. 14 But I will punish the nation they serve as slaves, and afterward they will come out with great possessions. 15 You, however, will go to your fathers in peace and be buried at a good old age. (Genesis 15:12-15)
The high point of God's material blessing to Israel was in the time of Solomon, conditional upon obedience to the Lord.....
10 The Lord was pleased that Solomon had asked for this. 11 So God said to him, "Since you have asked for this and not for long life or wealth for yourself, nor have asked for the death of your enemies but for discernment in administering justice, 12 I will do what you have asked. I will give you a wise and discerning heart, so that there will never have been anyone like you, nor will there ever be. 13 Moreover, I will give you what you have not asked for—both riches and honor—so that in your lifetime you will have no equal among kings. 14 And if you walk in my ways and obey my statutes and commands as David your father did, I will give you a long life." (1 Kings 3:10-15)
Of course, as we know, Solomon went astray, and the history of Israel was all downhill from there, for the success or failure of the country was determined by the degree of obedience or disobedience of the king to the Lord. The country soon divided into two - Israel and Judah. First Israel disappeared as a nation.....
5 The king of Assyria invaded the entire land, marched against Samaria and laid siege to it for three years. 6 In the ninth year of Hoshea, the king of Assyria captured Samaria and deported the Israelites to Assyria. He settled them in Halah, in Gozan on the Habor River and in the towns of the Medes. (2 Kings 17:5-6)
.....and then Jerusalem was conquered by the Babylonians.....
The Fall of Jerusalem
Now Zedekiah rebelled against the king of Babylon. 25 So in the ninth year of Zedekiah's reign, on the tenth day of the tenth month, Nebuchadnezzar king of Babylon marched against Jerusalem with his whole army. He encamped outside the city and built siege works all around it. 2 The city was kept under siege until the eleventh year of King Zedekiah. 3 By the ninth day of the fourth month the famine in the city had become so severe that there was no food for the people to eat. 4 Then the city wall was broken through, and the whole army fled at night through the gate between the two walls near the king's garden, though the Babylonians were surrounding the city. They fled toward the Arabah, 5 but the Babylonian army pursued the king and overtook him in the plains of Jericho. All his soldiers were separated from him and scattered, 6 and he was captured. He was taken to the king of Babylon at Riblah, where sentence was pronounced on him. 7 They killed the sons of Zedekiah before his eyes. Then they put out his eyes, bound him with bronze shackles and took him to Babylon. (2 kings 24:20b-25:25:7)
The Temple, and city, was destroyed and the majority of the people exiled to Babylon.....
8 On the seventh day of the fifth month, in the nineteenth year of Nebuchadnezzar king of Babylon, Nebuzaradan commander of the imperial guard, an official of the king of Babylon, came to Jerusalem. 9 He set fire to the temple of the LORD, the royal palace and all the houses of Jerusalem. Every important building he burned down. 10 The whole Babylonian army, under the commander of the imperial guard, broke down the walls around Jerusalem. 11 Nebuzaradan the commander of the guard carried into exile the people who remained in the city, along with the rest of the populace and those who had gone over to the king of Babylon. (2 Kings 25:8-11)
.....while a remnant of the people of Judah returned under the leadership of Nehemiah and rebuilt the city walls.....
15 So the wall was completed on the twenty-fifth of Elul, in fifty-two days. (Nehemiah 6:15)
The Temple was rebuilt.....
15 The temple was completed on the third day of the month Adar, in the sixth year of the reign of King Darius. (Ezra 6:15)
but not to its former glory.....
12 But many of the older priests and Levites and family heads, who had seen the former temple, wept aloud when they saw the foundation of this temple being laid, while many others shouted for joy. (Ezra 3:12)
After the Babylonians, the nation continued to be under the subjugation of Greece and Rome, until it finally ceased to exist in AD70. The Roman historian Josephus described its fate.
The Wars of the Jews, Book 6 Chapter 8
(403) So the Romans being now become masters of the wars, they both placed their ensigns upon the towers, and made joyful acclamations for the victory they had gained, as having found the end of this war much lighter than its beginning; for when they had gotten upon the last was, without any bloodshed, they could hardly believe what they found to be true; but seeing nobody to oppose them, they stood in doubt what such an unusual solitude could mean. (404) But when they went in numbers into the lanes of the city, with their swords drawn, they slew those whom they overtook, without mercy, and set fire to the houses wither the Jews were fled, and burnt every soul in them, and laid waste a great many of the rest; (405) and when they were come to the houses to plunder them, they found in them entire families of dead men, and the upper rooms full of dead corpses, that is of such as died by the famine; they then stood in a horror at this sight, and went out without touching anything. (406) But although they had this commiseration for such as were destroyed in that manner, yet had they not the same for those that were still alive, but they ran every one through whom they met with, and obstructed the very lanes with their dead bodies, and made the whole city run down with blood, to such a degree indeed that the fire of many of the houses was quenched with these men's blood. (407) And truly so it happened, that though the slayers left off at the evening, yet did the fire greatly prevail in the night, and as all was burning, came that eighth day of the month Gorpieus [Elul] upon Jerusalem; (408) a city that had been liable to so many miseries during the siege, that, had it always enjoyed as much happiness from its first foundation, it would certainly have been the envy of the world. Nor did it on any other account so much deserve these sore misfortunes, as by producing such a generation of men as were the occasions of this its overthrow.
The age of material blessings to a nation was finally over, to be replaced by a better way.
(Part 2 next week)
Find out more about us at.....

FROM THE WORD
THE WORDS OF JESUS
May we hear what the Lord is saying to us.....
Repentance Required (Luke 13:1-5)
Jesus asked about sinful Galileans who were killed while offering sacrifices in the Temple.
"Do you think that these Galileans were worse sinners than any other Galileans because they suffered like this?" "No, I tell you. But unless you repent, you will all perish as well.
What about those eighteen people that were killed when the tower in Siloam fell on them? Do you think they were the worst people in the whole of Jerusalem? No, I tell you. But unless you repent, you will all perish as well."
Parable of the Fig Tree (Luke 13:6-9)
Jesus explained more with a parable.
"Once there was man who had a fig tree planted in his vineyard. He came to look for fruit on the tree, but he didn't find any. So he told the gardener, 'Look, for three years I've been coming to look for fruit on this fig tree and I haven't found any. Chop it down! Why should it be taking up space?'
"'Master,' the man replied, 'please leave it alone for just one more year. I'll dig the soil around it and put down some fertilizer. If it produces fruit, then that's fine. If not, then chop it down.'"
Crippled Woman Healed on the Sabbath (Luke 13:10-17)
Contrary to accepted religious thought, with Jesus being criticized by the synagogue leader.
"You're freed of your sickness."
"You hypocrites! Doesn't every one of you untie your ox or donkey from the stall and take it to drink? Why shouldn't this woman, this daughter of Abraham whom Satan has kept tied up for eighteen years, be untied and set free this Sabbath day?"
Download the complete 'Words of Jesus' here.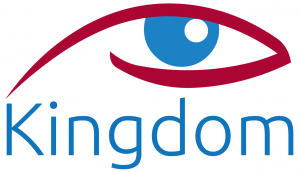 OUR AFRICAN EXPERIENCE
FOR MORE DETAILED AND REGULAR UPDATES, VISIT OUR FACEBOOK PAGE
AN EYE 4 Africa - https://www.facebook.com/aneye4africa/
Your prayer would still be appreciated.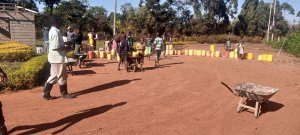 THE SUMMER DROUGHT
Last week we had our largest, so had many people taking free water from Kingdom.
But this week the rains came, about a month late.
Now the numbers have shrinked considerably, as peolpe are collecting rain water from their roof and the springs and streams are beginning to flow.
The photo is from last week.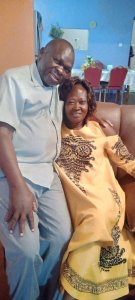 A KENYAN BIRTHDAY
Birthdays have only started to be celebrated in recent years.
But traditions soon grow.
Our hosts, David and Selina. relaxing in a good pose.
But what is to come!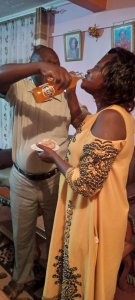 Feeding eack other is a longer term tradition.
But then.....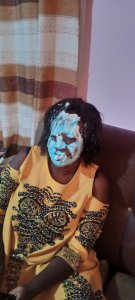 ........... along come the kids with the icing from the cake!
Happy birthday Selina!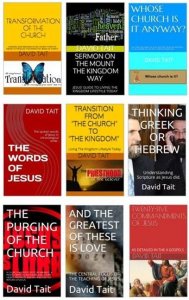 ***NOW***NINE BOOKS ARE AVAILABLE ON AMAZON!!!
9 BOOKS are now available on Amazon (Kindle)!

All are available worldwide for electronic download on Amazon (Kindle) for $US0.99c . Unfortunately there has to be a charge in order to list.

Your support would be appreciated and they could well change your life!
Many more online at https://www.wwj.org.nz/more-free-downloads

They are all found at this link.....
http://www.amazon.com/s/ref=nb_sb_noss?url=search-alias%3Daps&field-keywords=david+tait+books/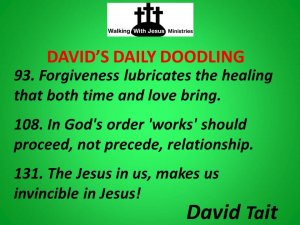 ***DAILY EZINE!*** 'DAVID'S DAILY DOODLINGS' Subscribe Today
Receive one or more of David's sayings in your mailbox each day to inspire, challenge or maybe, amuse. To register today, go down to the bottom of the page link below, click on the subscribe link dd-on@wwj.org.nz (or paste the address in an email yourself and send) Then it's done! If you have an Irish heritage, you will love the background coloring!
Subscription and back issue link is.....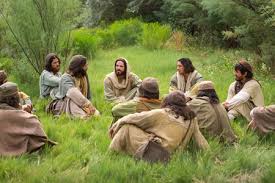 'THE WORDS OF JESUS' REMAIN AVAILABLE FOR PDF DOWNLOAD
Join the many who have downloaded the 'The Words of Jesus'. I am sure you will be blessed by it, as I have been.

One key element here is the setting out in chronological order (as far as it is possible to do so) our Lord's words drawn from all the Gospels, and the elimination of repetition between Gospels.

You may be surprised by the different perspective this presentation gives you both in understanding of His life and ministry, and in achieving a closer relationship with Him.

Download the free PDF here.....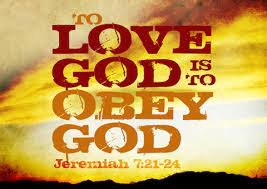 DAVID'S DOODLINGS
916. Belief is of the mind, worship of the heart, but obedience is of the will.our life.
917. The greatest change we can make is from gratifying our own will to obeying God's will . Obedience to God's will for our life is the highest call.
918. Obedience to God's will and ways is the very core of the Gospel.

919. Christian maturity develops as we submit to the will of God for our life.

920. In the world, submission is weakness, in God, strength.

921. In the world, submission comes from without, in God, from within.

922. I obey my master. The question is, "who is my master?"

923. Disobedience comes from Adam and Eve. Obedience is modelled by Jesus. Whom will we follow?

924. Disobedience is selfish, Godly obedience, selfless!

925. Obedience and suffering are common bedfellows.
Please feel free to quote these quotes. Acknowledgment of David Tait as the author would be appreciated. There are now over 1300 David sayings for you to view at ...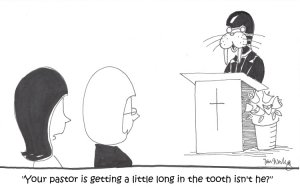 CARTOONS FROM TOON FEVER
Visit the Toon Fever website for more cartoon fun..... http://www.toonfever.com
Check it out at...

TUESDAY TEACHINGS
THE FIRST MIRACLE OF JESUS Turning the Water into Wine PLUS THE LORD'S SUPPER Part 3
..... with Part 3, where we see that Jesus is the fulfillment of the Priesthood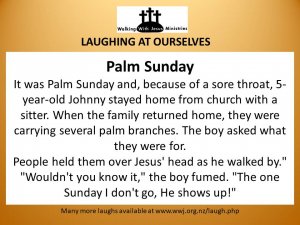 *** ANOTHER DAILY EZINE FROM WWJ!*** 'LAUGHING AT OURSELVES' Subscribe Today
As Christians, if we can't laugh at ourselves, others will! A fun way to start your day. To register today, go down to the bottom of the page link below, click on the subscribe link lao--on@wwj.org.nz (or paste the address in an email yourself and send) Then it's done!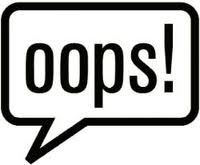 LAUGHING AT OURSELVES
***Blessed are those who can laugh at themselves for they shall never cease to be amused***
*** Those who can't laugh at themselves leave the job to others. ***
185. All Together Now...
A worker was trying to get a large, heavy pulpit through the door of a church. A passerby, seeing his struggle, offered to help. They pushed and tugged until they were exhausted but it wouldn't move. Finally, the man on the inside said, "We'd better give up, we'll never get this out."
The volunteer on the outside end said, "What do you mean, get it out? I thought you were trying to get it in!"
186. Stuck In A Rut...
An old gentleman at a small country church had given the same testimony at every meeting for the last twenty years. It was always, "I'm not making much progress, but Praise the Lord, I'm established."
One rainy afternoon his car slipped off the narrow dirt road and into the ditch. Try as he could, he couldn't budge, but simply spun his tires. Along came a deacon who could never quite accept the old fellow's testimony. Stopping to look the situation over he said with a smile, "Well, Brother, I see you're not making much progress, but you 're sure established!"
QWIK QWIP: "Lead your life so you won't be ashamed to sell the family parrot to the town gossip."
\
187. Bet You Can't Tell Just One...
The pastor had come home tired after a full day of visitation and counselling, when there was a knock at the door. A peek through the curtain revealed the pinched features of the church's resident busybody. "Oh, no," whispered the worn-out minister to his wife. "It's Miss Brisby! Tell her I went to bed early!" And he hurried upstairs to nominally justify the story by lying down on the bed.
After nearly an hour of reading and relaxing, he ventured out of the bedroom and listened at the top of the stairs. Not hearing anything, he started down, calling out to his wife, "Well, honey, did that dreadfully nosy old bore finally leave?"
As he finished the sentence he rounded the stair corner and saw his wife standing next to the woman in question. Both wore a shocked expression as they stared at him.
But his fast-thinking wife saved the day and said, "Yes, dear, she did; but now Mrs. Brisby is here and would love to see you! "
Download the book 'Laughing At Ourselves' in PDF format at LAUGHING AT OURSELVES One of the most comprehensive sources of Christian Humour on the Net with 800 sermon fillers for your entertainment and use at ..... https://www.wwj.org.nz/content/wwj18p47.pdf
Or read even more online at.....

A DAVID MUSING
LIFE!
The sky was once so blue
But now has a grey hue
Indeed the sun did shine
And life was, oh so fine.
But now the rain has surely come,
Pouring cats and dogs on some,
Life's problems are too big to bear,
Oh Lord, it surely, simply, isn't fair!
But then, one day, the rain just disappears,
The sun returns, and with it, no more fears.
Spring has sprung, new growth peaks through,
Your life so bad changes, now shines anew.
Yes, we all go through testing,
Challenges, problems galore,
Until we grow again to resting,
In our Lord's love, forevermore.
David Tait
24 April 2022
Until next time.
His servant and yours
David Tait

Visit us here.....
CHANGING YOUR EMAIL ADDRESS? NEWSLETTER STOPS COMING?
Each week we can lose up to 2% of our readers when they change email addresses without letting us know. Or sometimes, by your server acting strangely and just cutting us off! If you are about to change your address, please advise us of both your old and new addresses here at
enquiries@wwj.org.nz
and we will happily change our records to ensure ongoing delivery. Thanks.
Please also keep our address in your address book, as sometimes servers will automatically delete your address if there is even a one off problem in delivery. If your newsletter doesn't arrive, please let us know and we will reinstate you.
REPRODUCTION OF NEWSLETTER CONTENT
Most weeks we get enquiries about reproducing, in electronic or print form, articles contained in 'PGIM!' We welcome and encourage you to utilize this material. Freely received, freely given. We would ask though, that the source be acknowledged as an encouragement to others to subscribe to this newsletter also.
LINKS
If you would like to link your web site to ours, and ours to yours, please advise us on
links@wwj.org.nz
ABOUT US
WALKING WITH JESUS MINISTRIES is a non-profit, non-denominational, Bible based ministry located in Hastings, New Zealand. A ministry dedicated to developing discipleship, fostering unity amongst God's people to achieve the Great Commission, and in doing so, preparing for Christ's return. It is securely based upon the foundational principles of the Apostles Creed while recognising the wide and rich diversity of beliefs amongst Christians in other areas. In accordance with the Lord's direction, materials produced by the ministry are available, free of charge, to genuine enquirers upon request. The ministry is solely funded by donations, as the Lord provides. A list of materials available (plus some fun!) is obtainable and freely downloadable from our website
wwj.org.nz or by contacting us as follows.

Walking With Jesus Ministries
P O Box 2
Webuye 50205
Kenya

Email: enquiries@wwj.org.nz
Web: wwj.org.nz

Our role is to bless and encourage those in ministry while promoting co-operation and unity of direction amongst the body of Christ, as emphasised 3 times by Jesus in His longest prayer, immediately prior to His arrest and crucifixion. "... so that they may be one as we are one." (John 17:12, 21, 23-4) Our website is currently being developed to encourage your participation one with another, to share resources, and to enable you to promote events and items of interest to the body as a whole - and have a smile while doing it!

For comments upon and contributions to this service, please contact
david@wwj.org.nz
SUBSCRIPTION MANAGEMENT
We would encourage you to share this free service with your friends in ministry. To subscribe yourself please email pgim-on@wwj.org.nz.
If your name has been referred to us by a friend or supporting Ministry or has been obtained from a public Christian Directory or Website, it isn't our wish to burden you with information in which you aren't interested. To remove yourself from this list, please email pgim-off@wwj.org.nz.