A Weekly World Wide Word of Encouragement to those in the Ministry
PRAISE GOD IT'S MONDAY!
A WEEKLY 'WWW (world-wide word) OF ENCOURAGEMENT'
TO THOSE IN MINISTRY
A FREE service, currently connecting with Christian leaders from 3,000 denominations and ministries, in 70 countries.

Issue No: 893 Published: 03 Dec 2018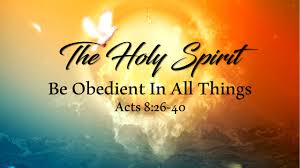 WHOSE CHURCH IS IT ANYWAY? Part 62
THE CHALLENGE OF..... LIVING THE KINGDOM LIFESTYLE
SUMMARY AND CONCLUSIONS
SUMMARY
For these teachings of Jesus, found in greatest detail in Matthew, chapters 5, 6, and 7, form the heart of the gospel of the kingdom. Significantly these chapters include what we know as the Lord's (really the disciples) Prayer which includes....
In this manner, therefore, pray: Our Father in heaven, Hallowed be Your name. Your kingdom come. Your will be done On earth as it is in heaven.(Matthew 6:9-10)
Then we went on to have a look at the church according to Jesus, including the churches of Revelation which Jesus Himself, through John, commented on.
This was followed, from the Biblical accounts, an analysis of the early Jewish church and the primarily Gentile churches set up by Paul.
At this stage, of course, we had to revert to the history books in order to follow the progress of the church through the next, nearly 2 millennia.
Finally we have considered the kingdom parables in order to see what the church of the future, the kingdom church, will look like.
CONCLUSIONS
1. The Lord is doing a new thing in His church today. It is very different to the old. For He is working directly in the hearts of His faithful believers personally, in order to make us fully sold out citizens of His kingdom. This is not a movement led by a person, but rather through the deep working of the Holy Spirit in the lives of individual's right around the world.
36Jesus said, "My kingdom is not of this world. If it were, my servants would fight to prevent my arrest by the Jewish leaders. But now my kingdom is from another place." (John 18:36)
20And when he was demanded of the Pharisees, when the kingdom of God should come, he answered them and said, The kingdom of God cometh not with observation: 21Neither shall they say, Lo here! or, lo there! for, behold, the kingdom of God is within you. (Luke 17:20-1 KJV)
2. It is in this way that the united kingdom church is developing, for it is a spiritual unity, rather than a locational or denominational one. As we have seen, it is very obvious that the current denominational model has never been, and never will, be able to produce the unity promised for the faithful kingdom church that is necessary to develop before the return of Jesus.
13until we all reach unity in the faith and in the knowledge of the Son of God and become mature, attaining to the whole measure of the fullness of Christ. (Ephesians 4:13)
3. The primary focus of this kingdom church will be SOLD OUT LOVE, both of God and our fellow humans. This love cannot be programmed or taught but must come from a deep conviction of the Holy Spirit within, to turn our natural self-oriented human nature into the sacrificial nature of Jesus. This is not easy. We will have trials and tribulations along the way, but we will now understand that they all have a purpose. The one of building the character of Jesus in us.
23And this is his command: to believe in the name of his Son, Jesus Christ, and to love one another as he commanded us. 24The one who keeps God's commands lives in him, and he in them. And this is how we know that he lives in us: We know it by the Spirit he gave us. (1 John 3:23-4)
4. The result of our unconditional love will be unconditional obedience to the instructions of the Father, as revealed to us through the Holy Spirit. To HEAR and to OBEY God's voice.
3We know that we have come to know him if we keep his commands. 4Whoever says, "I know him," but does not do what he commands is a liar, and the truth is not in that person. 5But if anyone obeys his word, love for God is truly made complete in them. This is how we know we are in him: 6Whoever claims to live in him must live as Jesus did. (1 John 2:3-6)
Then we can look forward with confidence to the return of Jesus.....
6Then I heard what sounded like a great multitude, like the roar of rushing waters and like loud peals of thunder, shouting: "Hallelujah! For our Lord God Almighty reigns. 7Let us rejoice and be glad and give him glory! For the wedding of the Lamb has come, and his bride has made herself ready. 8Fine linen, bright and clean, was given her to wear." Fine linen stands for the righteous acts of God's holy people.) 9Then the angel said to me, "Write this: Blessed are those who are invited to the wedding supper of the Lamb!" And he added, "These are the true words of God."
Come, Lord Jesus, come.
Amen
So we can finally conclude that.....
THE TRUE FOLLOWERS OF JESUS ARE ONES WHO ARE OBEDIENT TO THE LEADING OF THE HOLY SPIRIT IN THEIR LIVES.
Find out more about us here.....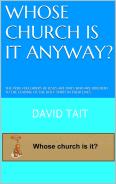 COMPLETE DOWNLOAD OF 'WHOSE CHURCH IS IT ANYWAY?'
This series has been spread over a period 14 months, a long time.
So to refresh yourself, you may download the full teaching in PDF format here.....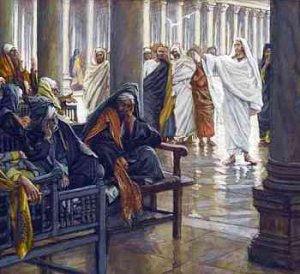 FROM THE WORD
THE WORDS OF JESUS
May we hear what the Lord is saying to us.....
Jesus' Testimony Questioned (John 8:12-30)
In the Temple Treasury, the Pharisees question the validity of Jesus' origin.
"I am the light of the world. If you follow me you won't walk in darkness for you will have the life-giving light."
"You can't be your own witness! What you say doesn't prove anything!" "Even if I am my own witness, my testimony is true," "for I know where I came from and where I'm going. But you don't know where I came from or where I'm going. You judge in a typically way, but I don't judge anyone. Even if I did judge, my judgment would be right because I am not doing this alone. The Father who sent me is with me. Your own law states that the testimony of two witnesses is valid. I am my own witness, and my other witness is my Father who sent me."
"You don't know me or my Father," "If you knew me then you would know my Father as well."
"I'm leaving, and you'll search for me, but you'll die in your sin. You can't come where I'm going."
"You are from below; I am from above. You are of this world; I am not of this world. That is why I told you that you'll die in your sins. For if you don't trust in me, the 'I am,' you'll die in your sins."
They now ask who he is.
"Exactly who I told you I was from the beginning," "There's much I could say about you, and much I could condemn. But the one who sent me tells the truth, and what I'm saying to you here in this world is what I heard from him."
"When you have lifted up the Son of man then you'll know that I am the 'I am,' and that I do nothing of myself, but only say what the Father taught me. The One who sent me is with me; he has not abandoned me, for I always do what pleases him."
Children of Abraham (John 8:31-59)
The debate continued with the Pharisees claim to be Abraham's children.
"If you follow my teaching then you really are my disciples. You will know the truth, and the truth will set you free."
"I tell you the truth, everyone who sins is a slave of sin. A slave doesn't have permanent place in the family, but the son is part of the family forever. If the Son sets you free, then you're truly free. I know you're Abraham's descendants. yet you're trying to kill me because you refuse to accept my words. I'm telling you what the Father has revealed to me, while you do what your father told you."
"If you really were children of Abraham, you'd do what Abraham did," "But you are trying to kill me now, because I told you the truth that I heard from God. Abraham would never have done that. You're doing what your father does."
"If God really was your father, you would love me. I came from God and now I am here. The decision to come wasn't mine, but the One who sent me. Why can't you understand what I'm saying? It's because you refuse to hear my message! Your father is the Devil, and you love to follow your father's evil desires. He was a murderer from the beginning. He never stood for the truth, because there is no truth in him. When he lies he reveals his true character, for he's a liar and the father of lies. 45So because I tell you the truth, you don't believe me! Can any one of you prove that I'm guilty of sin? If I'm telling you the truth, why don't you believe me? Anyone who belongs to God listens to what God says. The reason you don't listen is because you don't belong to God."
"No, I don't have a demon," "I honor my Father, but you dishonor me. I'm not here looking to glorify myself. But there is One who does this for me and who judges in my favor. I tell you the truth, anyone who follows my teaching will never die."
"If I glorify myself, my glory means nothing. But it is God himself who glorifies me, the one you claim, 'He is our God.' You don't know him, but I know him. If I were to say, 'I don't know him,' I'd be a liar, just like you. But I do know him, and I do what he says. Your father Abraham was delighted as he looked forward to see my coming, and was so happy when he saw it."
"I tell you the truth, before Abraham was born, I am,"
You can download the complete 'Words of Jesus' here.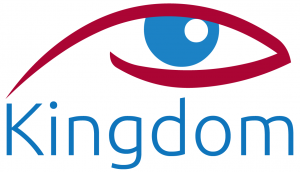 OUR AFRICAN EXPERIENCE
FOR MORE DETAILED AND REGULAR UPDATES, VISIT OUR FACEBOOK PAGE
AN EYE 4 Africa - https://www.facebook.com/aneye4africa/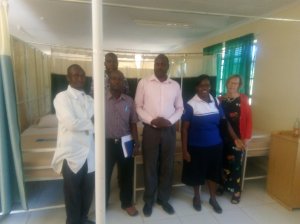 OUR WARD GETS THE BIG TICK!
We have passed our County inspection. All seem to be most impressed.

A mix of County staff and ours, after approval has been given.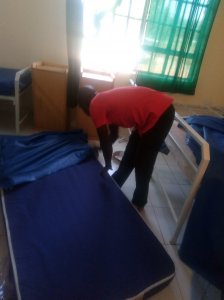 WATERPROOFING
Geoffery, pronounced Goffrey here, our Head of Security and fixit man, puts a waterproof Macintosh on a mattress.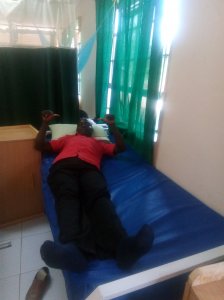 Well done mate! Job finished!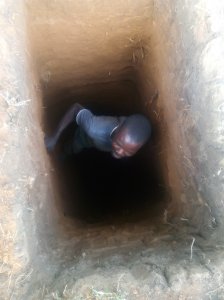 PLACENTA PIT
Digging yet anoth pit, this time for placentas. The tradition is to put them in the pit and set fire to it. A cover yet to come.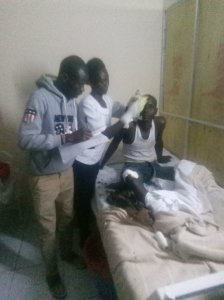 BODABODA ACCIDENT
Bodabodas, like all motor bikes, tip easily and you meet the ground without protection. A necessary mode of transport for us, and others, without vehicles. This driver fell off at night, near the hospital. Doctor and nurse treating him here.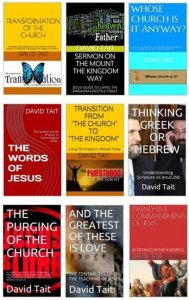 ***NOW***NINE BOOKS ARE AVAILABLE ON AMAZON!!!
9 BOOKS are now available on Amazon (Kindle)!

All are available worldwide for electronic download on Amazon (Kindle) for $US0.99c . Unfortunately there has to be a charge in order to list.

Your support would be appreciated and they could well change your life!

They are all found at this link.....
http://www.amazon.com/s/ref=nb_sb_noss?url=search-alias%3Daps&field-keywords=david+tait+books/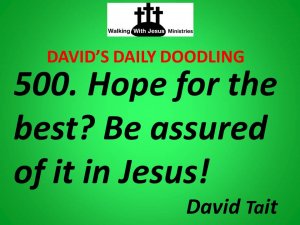 ***DAILY EZINE!*** 'DAVID'S DAILY DOODLINGS' Subscribe Today
Receive one of David's sayings in your mailbox each day to inspire, challenge or maybe, amuse. To register today, go down to the bottom of the page link below, click on the subscribe link dd-on@wwj.org.nz (or paste the address in an email yourself and send) Then it's done! If you have an Irish heritage, you will love the background coloring!
Subscription and back issue link is.....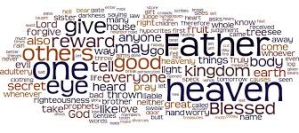 'THE WORDS OF JESUS' REMAIN AVAILABLE FOR PDF DOWNLOAD
Join the many who have downloaded the 'The Words of Jesus'. I am sure you will be blessed by it, as I have been.

One key element here is the setting out in chronological order (as far as it is possible to do so) our Lord's words drawn from all the Gospels, and the elimination of repetition between Gospels.

You may be surprised by the different perspective this presentation gives you both in understanding of His life and ministry, and in achieving a closer relationship with Him.

Download the free PDF here.....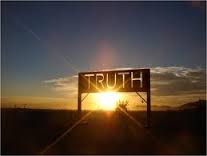 DAVID'S DOODLINGS
TRUTH AND KNOWLEDGE
464. Knowledge is partial, truth complete.
465. Man's truth is revealed in the world, God's truth in the Word. One 'l' of a difference!
466. Understanding the truth is just one small step for God, but a giant leap for mankind.
467. Knowledge binds up, while the truth sets free.
468. Knowledge is to doubt as truth is to faith.
469. Knowledge is to be desired, faith to be sought.
470. All too often we place our faith in knowledge rather than acknowledging our true need for faith.
471. Knowledge is complex, faith and truth simple.
472. If I had full knowledge of everything, wouldn't I be God? Fortunately I will never have to answer this question!
473. Knowledge is a golden sceptre, appearing to be so powerful and beautiful to behold, yet it can be quickly disfigured by even the smallest diamond of truth.
Please feel free to quote these quotes. Acknowledgement of David Tait as the author would be appreciated. There are now over 1300 David sayings for you to view at ...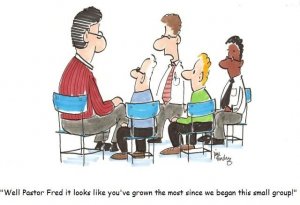 CARTOONS FROM TOON FEVER
Visit the Toon Fever website for more cartoon fun..... http://www.toonfever.com

Check it out at...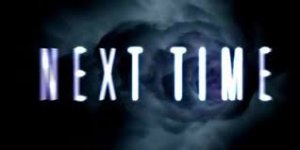 TUESDAY TEACHINGS
NEXT WEEK: A REVELATION OF... THE TABERNACLE OF DAVID - Part 10 - DAVID - A TYPE OF THE FUTURE
David was way ahead of his time! He broke the rules of the Old Covenant and in doing so, provides a picture of what we have available to us today - if only we will take advantage of it.
Let's find out!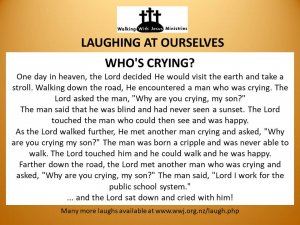 *** ANOTHER DAILY EZINE FROM WWJ!*** 'LAUGHING AT OURSELVES' Subscribe Today
As Christians, if we can't laugh at ourselves, others will! A fun way to start your day. To register today, go down to the bottom of the page link below, click on the subscribe link lao--on@wwj.org.nz (or paste the address in an email yourself and send) Then it's done!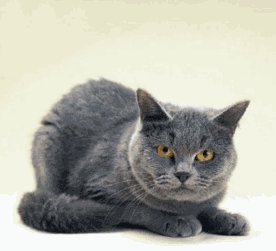 LAUGHING AT OURSELVES
***Blessed are those who can laugh at themselves for they shall never cease to be amused***
*** Those who can't laugh at themselves leave the job to others. ***
206. Wish for Understanding
A man walking along a California beach was deep in prayer. All of a sudden he said out loud, "Lord grant me one wish."
Suddenly the sky clouded above his head and in a booming voice the Lord said, "Because you have TRIED to be faithful to me in all your ways, I will grant you one wish"
The man said, "Build a bridge to Hawaii so I can drive over anytime I want."
The Lord said, "Your request is very materialistic. Think of all the challenges for that kind of undertaking. The supports are required to reach the bottom of the pacific! The concrete and steel it would take! I can do it, but it is hard for me to justify your desire for such worldly things. Take a little more time and think of another wish, a wish that would honour and glorify me."
The man thought about it for a long time. Finally he said, "Lord I wish that I could understand women. I want to know how they feel inside, what they are thinking when they give me the silent treatment, why they cry, what they mean when they say 'nothing', and how can I make a woman truly happy."
The Lord replied, "You want two or four lanes on that bridge?"
207. A Cat Passes On
A little boy is gone to school one day and while he is gone, his cat gets killed. His mother is very concerned about how he will take the news.
Upon his arrival home, she explains the tragedy and tries to console the boy saying, "But don't worry, the cat is in heaven with God now."
The boy replied, "What's God gonna' do with a dead cat?"
208. Prayer in a Time of Trouble
A little boy who got in trouble at church while everyone was giving in his or her prayer request.
The daddy scooped the little boy up and made his way down the centre aisle toward the back, and on the way the little boy yelled out, "Pray Saints Pray !!!!!"
QWIK QWIP: "God writes with a pen that never blots, speaks with a tongue that never slips, and acts with a hand that never fails."
FREE DOWNLOAD: You can now download the book 'Laughing At Ourselves' in PDF format at LAUGHING AT OURSELVES One of the most comprehensive sources of Christian Humour on the Net with 800 sermon fillers for your entertainment and use at ..... https://www.wwj.org.nz/content/wwj18p47.pdf
Or read them all online at.....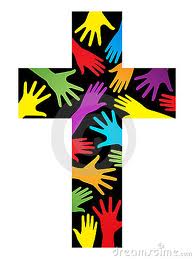 A DAVID MUSING
Prejudices are dangerous.
In the world, someone else is always to blame. Maybe a person we don't like, perhaps of a different race, or someone from a rival political party.
Then, in the church, again there can be someone you don't like in your congregation, or anyone from a different denomination.
God, on the other hand, is into unity, forgiveness and love.
Christian unity is not as man understands it, a one world church, but rather, unity of Spirit of believers spread round the world that individually, are sold out to Him.
For their is only one Holy Spirit. As we get closer to God, through the Holy Spirit we get a more accurate idea of the true nature and purpose of God.
May we seek Him today.
Until next week.....
MAY GOD BLESS YOU AND YOU BLESS GOD
His servant and yours
David Tait

Visit us here.....
REPRODUCTION OF NEWSLETTER CONTENT
Most weeks we get enquiries about reproducing, in electronic or print form, articles contained in 'PGIM!' We welcome and encourage you to utilize this material. Freely received, freely given. We would ask though, that the source be acknowledged as an encouragement to others to subscribe to this newsletter also.
CHANGING YOUR EMAIL ADDRESS? NEWSLETTER STOPS COMING?
Each week we can lose up to 2% of our readers when they change email addresses without letting us know. Or sometimes, by your server acting strangely and just cutting us off! If you are about to change your address, please advise us of both your old and new addresses here at
enquiries@wwj.org.nz
and we will happily change our records to ensure ongoing delivery. Thanks.
Please also keep our address in your address book, as sometimes servers will automatically delete your address if there is even a one off problem in delivery. If your newsletter doesn't arrive, please let us know and we will reinstate you.
LINKS
If you would like to link your web site to ours, and ours to yours, please advise us on
links@wwj.org.nz
ABOUT US
WALKING WITH JESUS MINISTRIES is a non-profit, non-denominational, Bible based ministry located in Hastings, New Zealand. A ministry dedicated to developing discipleship, fostering unity amongst God's people to achieve the Great Commission, and in doing so, preparing for Christ's return. It is securely based upon the foundational principles of the Apostles Creed while recognising the wide and rich diversity of beliefs amongst Christians in other areas. In accordance with the Lord's direction, materials produced by the ministry are available, free of charge, to genuine enquirers upon request. The ministry is solely funded by donations, as the Lord provides. A list of materials available (plus some fun!) is obtainable and freely downloadable from our website
wwj.org.nz
or by contacting us as follows.
Walking With Jesus Ministries
7 Bull Street
Ahuriri
Napier
New Zealand
Phone: (06) 835 0567 International (+64) 6 835 0567
Email:
enquiries@wwj.org.nz
Web:
wwj.org.nz
Our role is to bless and encourage those in ministry while promoting co-operation and unity of direction amongst the body of Christ, as emphasised 3 times by Jesus in His longest prayer, immediately prior to His arrest and crucifixion. "... so that they may be one as we are one." (John 17:12, 21, 23-4) Our website is currently being developed to encourage your participation one with another, to share resources, and to enable you to promote events and items of interest to the body as a whole - and have a smile while doing it!
For comments upon and contributions to this service, please contact
david@wwj.org.nz
SUBSCRIPTION MANAGEMENT
We would encourage you to share this free service with your friends in ministry. To subscribe yourself please email pgim-on@wwj.org.nz.
If your name has been referred to us by a friend or supporting Ministry or has been obtained from a public Christian Directory or Website, it isn't our wish to burden you with information in which you aren't interested. To remove yourself from this list, please email pgim-off@wwj.org.nz.