A Weekly World Wide Word of Encouragement to those in the Ministry
PRAISE GOD IT'S MONDAY!
A WEEKLY 'WWW (world-wide word) OF ENCOURAGEMENT'
TO THOSE IN MINISTRY
A FREE service, currently connecting with Christian leaders from 3,000 denominations and ministries, in 70 countries.

Issue No: 894 Published: 10 Dec 2018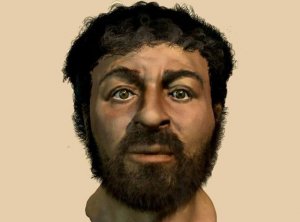 OBSERVATIONS FROM AFRICA
INTRODUCTION
Kathy and I have been living in Kenya, in East Africa, for 18 months now. After this time we are starting to understand the culture a little, although much is still beyond our comprehension. As it is for those Europeans who have lived here for 30 years too! LOL!
I will use this series to share some of the observations we have made, in the hope that they might be helpful to you too.
OVERSEAS MINISTRY MUST BE BY GOD'S CALLING
The first lesson we have learned is that if your call to another country out of your comfort zone and culture is not of God, you will fail.
Working in a different culture is difficult. You soon realize that you are in the minority and have to adapt to their culture, not them to yours.
You cannot Europeanise or Americanise other cultures in the name of God!
In the West, we easily forget that Jesus was a Jew and came from a Middle Eastern culture, with very different cultural norms to those of modern Western culture. He neither looked like nor behaved like the Mel Gibson Jesus of Western film portrayal.
Most countries you go to will have previously been colonised by a European country. In today's world you have to face the results of colonisation, both good and bad.
Should the country you go to be poor, as many are, you will have to learn to deal with the constant requests for money. The perception that money grows on trees in the West is ingrained in the psyche of people in the developing world. This has come firstly by observation during colonisation and now by liberal aid that has been spread round both by Western Governments and visiting missionaries, since independence. Therefore every white person is presumed to be rich!
The primary problem though, as people experience everywhere, is that thought patterns and processes vary greatly between cultures around the world.
It is not that one is better than another, but just different. This is the primary challenge missionaries face and have to reconcile themselves to. If your call is not of God, you will fail.
God certainly calls the willing, and He promises not to test us beyond our ability to cope. It is this promise that we need to hold onto at all times.
Photo: Jewish male appearance at the time of Jesus.
Find out more about us here.....

FROM THE WORD
THE WORDS OF JESUS
May we hear what the Lord is saying to us.....
Jesus Heals a Man Blind Since Birth (John 9:1-12)
The disciples asked why he was blind.
"It wasn't because the man or his parents sinned, but so that what God can do may be shown in his life. We have to keep on doing the work of the One who sent me as long as it is still daytime. The night is coming when no one can work. While I'm here in the world I am the light of the world."
"Go and wash yourself in the Pool of Siloam"
Jesus Finds the Excommunicated Blind Man (John 9:9:13-41)
He speaks to the man and then the Pharisees.
"Do you trust in the Son of man?"
"You've already seen him. He's the one speaking with you now!"
"I've come into the world to bring judgment so that those who are blind may see, and those who see will become blind.
And then the Pharisees.
"If you were blind, you wouldn't be guilty. But now that you say you see, your guilt remains."
The Good Shepherd (John 10:1-18)
Jesus continued as the Pharisees would not accept what He was saying.
"I tell you the truth, anyone who doesn't come in through the gate of the sheepfold but climbs in some other way is a thief and a robber. The one who comes in through the gate is the shepherd of the sheep. The gatekeeper opens it for him, and the sheep respond to his voice. He calls his own sheep by name, and leads them out. After bringing them out, he walks ahead of them, and the sheep follow him because they recognize his voice. They won't follow strangers. In fact they run away from a stranger because they don't recognize the voice of strangers."
"I tell you the truth: I am the gate of the sheepfold. All those who came before me were thieves and robbers, but the sheep didn't listen to them. I am the gate. Anyone who comes in through me will be healed. They will be able to come and go, and find the food they need. The thief comes only to steal, kill, and destroy. I've come to bring you life, life full to overflowing. I am the good shepherd. The good shepherd lays down his life for the sheep. The man paid to look after the sheep is not the shepherd and he runs away when he sees the wolf coming. He abandons the sheep because they're not his, and the wolf attacks and scatters the flock for the man is only working for pay and doesn't care about the sheep. I am the good shepherd. I know who are mine, and they know me, just as the Father knows me and I know him. I lay down my life for the sheep. I have other sheep that are not in this sheepfold. I must bring them too. They will listen to my voice and there will be one flock with one shepherd.
"This is why the Father loves me, because I lay down my life so I may take it up again. No one takes it from me; I choose to lay it down. I have the right to give it up, and I have the right to take it back. This is the command my Father gave me."
You can download the complete 'Words of Jesus' here.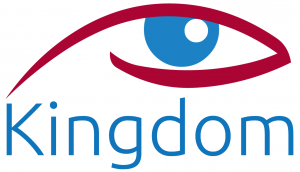 OUR AFRICAN EXPERIENCE
FOR MORE DETAILED AND REGULAR UPDATES, VISIT OUR FACEBOOK PAGE
AN EYE 4 Africa - https://www.facebook.com/aneye4africa/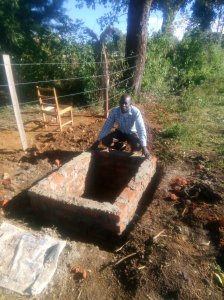 THE PLACENTA PIT
Construction finished. Next need to tidy things up.
The bricks go down 1 metre of the 4, where we struck a big rock, preventing deeper digging.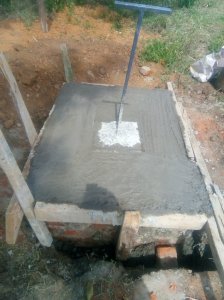 Concrete slab and opening mechanism put on top.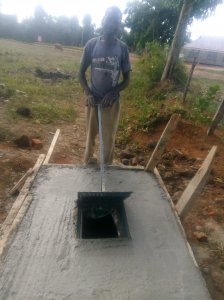 The long handle enables the placenta to be put in without directly having to approach the hole.
Often petrol is poured down the hole and set alight, afterwards.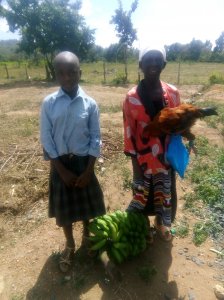 Kathy went the extra mile with this customer, taking her 2 hours or so away for special tests not available locally.The lady was cured after months of pain.
Here is Kathy's reward - a cuukoo and a bunch of green bananas, Sold the hen and will cook the bananas.
Sadly, Kathy wasn't here to receive them, actually being at another staff member's wedding!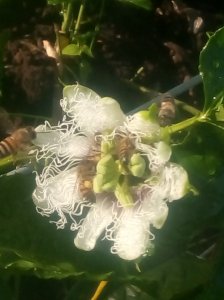 BEES IN KENYA
Any bees in Kenya? Here is your answer! They invade our passionfruit flowers in the mornings, the only time of day the flowers are viable for pollination. The result is hundreds of fruit forming on our 8, 4 month old vines. Amazing!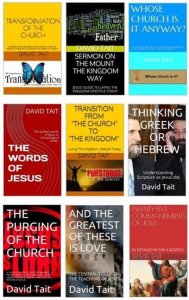 ***NOW***NINE BOOKS ARE AVAILABLE ON AMAZON!!!
9 BOOKS are now available on Amazon (Kindle)!

All are available worldwide for electronic download on Amazon (Kindle) for $US0.99c . Unfortunately there has to be a charge in order to list.

Your support would be appreciated and they could well change your life!

They are all found at this link.....
http://www.amazon.com/s/ref=nb_sb_noss?url=search-alias%3Daps&field-keywords=david+tait+books/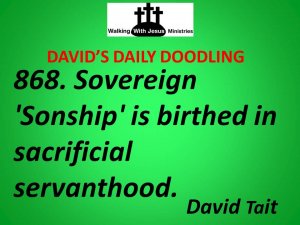 ***DAILY EZINE!*** 'DAVID'S DAILY DOODLINGS' Subscribe Today
Receive one of David's sayings in your mailbox each day to inspire, challenge or maybe, amuse. To register today, go down to the bottom of the page link below, click on the subscribe link dd-on@wwj.org.nz (or paste the address in an email yourself and send) Then it's done! If you have an Irish heritage, you will love the background coloring!
Subscription and back issue link is.....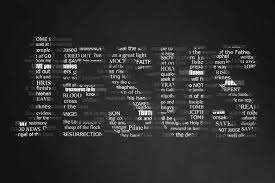 'THE WORDS OF JESUS' REMAIN AVAILABLE FOR PDF DOWNLOAD
Join the many who have downloaded the 'The Words of Jesus'. I am sure you will be blessed by it, as I have been.

One key element here is the setting out in chronological order (as far as it is possible to do so) our Lord's words drawn from all the Gospels, and the elimination of repetition between Gospels.

You may be surprised by the different perspective this presentation gives you both in understanding of His life and ministry, and in achieving a closer relationship with Him.

Download the free PDF here.....

DAVID'S DOODLINGS
TRUTH AND KNOWLEDGE
474. Faith grows through a conviction of the truth rather than in the understanding of knowledge.
475. Knowledge enhances a faith already secure in the truth.
476. God's truth is constant, but knowledge is defined by our circumstances.
477. God's truth is progressively revealed to those with a heart willing to embrace it.
478. Faith is built by embracing God's truth, enabling further truths to be revealed.
479. Faith and truth are heavenly lovers.
480. Faith and truth is a marriage made in heaven.
481. Genuine faith revels in godly truth, but human faith is dependent upon earthly knowledge.
482. It is so easy to be beguiled by the complexity of knowledge when seeking the simplicity of true faith.
Please feel free to quote these quotes. Acknowledgement of David Tait as the author would be appreciated. There are now over 1300 David sayings for you to view at ...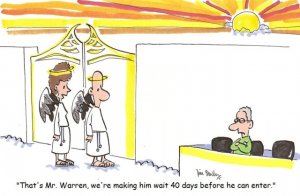 CARTOONS FROM TOON FEVER
Visit the Toon Fever website for more cartoon fun..... http://www.toonfever.com

Check it out at...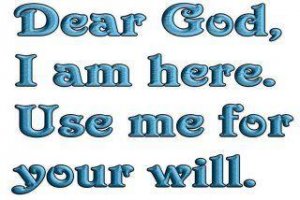 TUESDAY TEACHINGS
NEXT WEEK: A REVELATION OF... THE TABERNACLE OF DAVID - Part 11 - THE BLESSING OF OBEDIENCE
When it comes to understanding 'blessing' today, there is ongoing confusion between the Old Testament and the New.

This week we look at the blessing promised to the end time 'bride', as revealed through David's Tabernacle.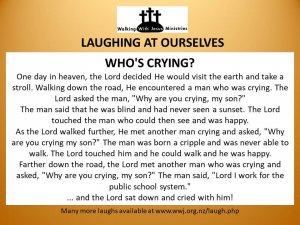 *** ANOTHER DAILY EZINE FROM WWJ!*** 'LAUGHING AT OURSELVES' Subscribe Today
As Christians, if we can't laugh at ourselves, others will! A fun way to start your day. To register today, go down to the bottom of the page link below, click on the subscribe link lao--on@wwj.org.nz (or paste the address in an email yourself and send) Then it's done!

LAUGHING AT OURSELVES
***Blessed are those who can laugh at themselves for they shall never cease to be amused***
*** Those who can't laugh at themselves leave the job to others. ***
209. No Room
A college drama group presented a play in which one character would stand on a trapdoor and announce, "I descend into hell!" A stagehand below would then pull a rope, the trapdoor would open, and the character would plunge through.
The play was well received.
When the actor playing the part became ill, another actor who was quite overweight took his place. When the new actor announced, "I descend into hell!" the stagehand pulled the rope, and the actor began his plunge, but became hopelessly stuck.
No amount of tugging on the rope could make him descend. One student in the balcony jumped up and yelled: "Hallelujah! Hell is full!"
QWIK QWIP: "God can heal a broken heart, but he has to have all the pieces."
210. Terrorist Cell Groups
Subject: TERRORIST CELL GROUPS DISCOVERED IN THE CHURCH
By Rev. Dennis Smart, alias Bin Readin
Edited by Carlton Earp, alias Bin Thinkin
Latest news reports are that five terrorist cell groups have been operating in Baptist churches.
Church security identifies these as: Bin Sleepin, Bin Arguin, Bin Fightin, Bin Complainin, and Bin Missin. Their leader, Osama Bin Lucifer, trained these groups to destroy the Body of Christ. The plan is to come into the church disguised as Christians and to work within the church to discourage, disrupt, and destroy the pastors and the churches.
Earlier reports of a sixth group proved false. A tiny cell known by the name Bin Workin is actually the only effective counter terrorism force in the church. This group appears to be very weak. It is easy to detect because it is the only group that is active in services to Christ. Unlike the true terrorist cells, the Bin Workin team does not blend in with whoever and whatever comes along.
Bin Workin visibly does whatever is needed to uplift and encourage the Body of Christ. We have noticed that the Bin Workin cell group has different characteristics than the others. They have Bin Watchin, Bin Waitin, Bin Prayin, and Bin Longin for their Master, Jesus Christ to return.
Which cell group do you belong to?
These same groups have been detected in other denominations since Smart first filed his report. The Office of Home Church Security is co-ordinating its efforts with the Bin Workin group to interdict the activities of the five terrorist cells now known to be active throughout many churches worldwide.
FREE DOWNLOAD: You can now download the book 'Laughing At Ourselves' in PDF format at LAUGHING AT OURSELVES One of the most comprehensive sources of Christian Humour on the Net with 800 sermon fillers for your entertainment and use at ..... https://www.wwj.org.nz/content/wwj18p47.pdf
Or read them all online at.....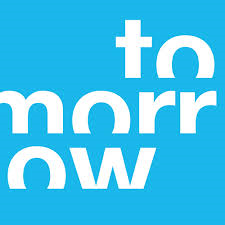 A DAVID MUSING
TOMORROW
Wait, wait, wait,
The story of life,
Here in Africa,
With the wife.
Tomorrow is the favourite word,
Wait, wait, wait, with the herd,
But when will tomorrow be?
That, we must wait and see!
For tomorrow to become today,
That is what we always pray.
Optomistic one must always be,
To see the wood from the tree.
Similarly, it is for your life too,
To see the foot from the shoe.
Believe that in God's timing, His promises will come true.
Unlike man, God's never late in coming to me and to you.
David Tait 7 December 2018
Until next week.....
MAY GOD BLESS YOU AND YOU BLESS GOD
His servant and yours
David Tait

Visit us here.....
REPRODUCTION OF NEWSLETTER CONTENT
Most weeks we get enquiries about reproducing, in electronic or print form, articles contained in 'PGIM!' We welcome and encourage you to utilize this material. Freely received, freely given. We would ask though, that the source be acknowledged as an encouragement to others to subscribe to this newsletter also.
CHANGING YOUR EMAIL ADDRESS? NEWSLETTER STOPS COMING?
Each week we can lose up to 2% of our readers when they change email addresses without letting us know. Or sometimes, by your server acting strangely and just cutting us off! If you are about to change your address, please advise us of both your old and new addresses here at
enquiries@wwj.org.nz
and we will happily change our records to ensure ongoing delivery. Thanks.
Please also keep our address in your address book, as sometimes servers will automatically delete your address if there is even a one off problem in delivery. If your newsletter doesn't arrive, please let us know and we will reinstate you.
LINKS
If you would like to link your web site to ours, and ours to yours, please advise us on
links@wwj.org.nz
ABOUT US
WALKING WITH JESUS MINISTRIES is a non-profit, non-denominational, Bible based ministry located in Hastings, New Zealand. A ministry dedicated to developing discipleship, fostering unity amongst God's people to achieve the Great Commission, and in doing so, preparing for Christ's return. It is securely based upon the foundational principles of the Apostles Creed while recognising the wide and rich diversity of beliefs amongst Christians in other areas. In accordance with the Lord's direction, materials produced by the ministry are available, free of charge, to genuine enquirers upon request. The ministry is solely funded by donations, as the Lord provides. A list of materials available (plus some fun!) is obtainable and freely downloadable from our website
wwj.org.nz
or by contacting us as follows.
Walking With Jesus Ministries
7 Bull Street
Ahuriri
Napier
New Zealand
Phone: (06) 835 0567 International (+64) 6 835 0567
Email:
enquiries@wwj.org.nz
Web:
wwj.org.nz
Our role is to bless and encourage those in ministry while promoting co-operation and unity of direction amongst the body of Christ, as emphasised 3 times by Jesus in His longest prayer, immediately prior to His arrest and crucifixion. "... so that they may be one as we are one." (John 17:12, 21, 23-4) Our website is currently being developed to encourage your participation one with another, to share resources, and to enable you to promote events and items of interest to the body as a whole - and have a smile while doing it!
For comments upon and contributions to this service, please contact
david@wwj.org.nz
SUBSCRIPTION MANAGEMENT
We would encourage you to share this free service with your friends in ministry. To subscribe yourself please email pgim-on@wwj.org.nz.
If your name has been referred to us by a friend or supporting Ministry or has been obtained from a public Christian Directory or Website, it isn't our wish to burden you with information in which you aren't interested. To remove yourself from this list, please email pgim-off@wwj.org.nz.