A Weekly World Wide Word of Encouragement to those in the Ministry
PRAISE GOD IT'S MONDAY!
A WEEKLY 'WWW (world-wide word) OF ENCOURAGEMENT'
TO THOSE IN MINISTRY
A FREE service, currently connecting with Christian leaders from 3,000 denominations and ministries, in 70 countries.

Issue No: 1117 Published: 13 Mar 2023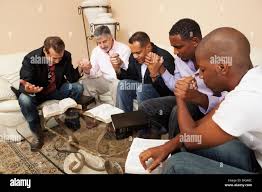 THINKING GREEK OR HEBREW
WHO DOES IT?
Greek (Western) In the Western church the leadership pronounce, while the people, simply receive.
The pastor prepares, preaches and teaches, prayers come from the front (often a mini sermon couched in prayer type language) to which the people are encouraged to agree. Very often too, worship teams dominate praise and worship.
We are a leadership driven church. We pay the pastor to 'do the religious stuff of life' on our behalf! And usually, lot's more beside! Ask any pastor! Or pastor's wife! As people, so busy living life in an increasingly frantic world, we separate the 'spiritual' from our everyday life and delegate our responsibility to paid staff. Then we turn up on Sunday for an hour or so to hear how the pastor has been looking after us during the week! If we are not happy that they have done enough, we move to another church! (OK, maybe a slight exaggeration, but I trust it makes a point!)

Eastern (Hebrew) In the Eastern way of thinking, spirituality is an all embracing part of the life of both the individual and the community
The Jewish (and Muslim) emphasis is on personal prayer in a collective situation. The reason for praying at a number of specified times during the day reminds people to pray often, as an integral part of day to day activities, and to get all the community praying together as one. Prayers are both short and frequent.
This community principle is seen in the prayer that Jesus taught His disciples to pray, which today, we call the Lord's Prayer.
9 "This, then, is how you should pray: "'Our Father in heaven, hallowed be your name, (Matthew 6:9)
As you can see, we are taught to pray the plural 'our' rather than the singular 'my', which would be more appropriate in a Western context.
This communal principle is reiterated many times throughout both the Old Testament and the New.
In the Old.....
16 But you are our Father, though Abraham does not know us or Israel acknowledge us; you, O LORD, are our Father, our Redeemer from of old is your name. (Isaiah 63:16)
..... and in the New. Paul, in his introduction to the Roman church, took this communal approach also.....
7 To all in Rome who are loved by God and called to be saints: Grace and peace to you from God our Father and from the Lord Jesus Christ. (Romans 1:7)
A further prayer difference in Eastern culture is the time spent in thanksgiving for what the Lord has done for the community, in doing so, encouraging all that His presence will be with them now. For instance, when the army was going out to war.....
When you go to war against your enemies and see horses and chariots and an army greater than yours, do not be afraid of them, because the LORD your God, who brought you up out of Egypt, will be with you. (Deuteronomy 20:1)
The goodness of God to the community is seen as an encouragement of faith to the individual.

SOME SPIRITUAL IMPLICATIONS FOR TODAY
1. We must learn that our spiritual and daily lives are one and cannot be divided.
2. We must stop delegating responsibility for our spiritual lives to others, paid or unpaid, professional or otherwise. We are responsible for our own ongoing salvation.
3. Understand that we are a part of a broader community of believers.
4. Learn to pray frequently as part of a community.
5. Learn to put the needs of our family in God above our own.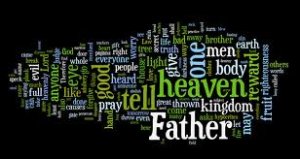 FROM THE WORD
THE WORDS OF JESUS
Sermon on the Mount(Matthew 5:1-7:29, Luke 6:17-49)
The primary 'life teachings' of Jesus.
Adultery (Matthew 5:27-30)
You've heard that the law said, 'Do not commit adultery.' But I tell you that everyone who looks lustfully at a woman has already committed adultery with her in his heart. If your right eye leads you to sin, then tear it out and throw it away, because it's better to lose one part of your body than to have your whole body thrown into the fire of judgment. If your right hand leads you to sin, then cut it off and throw it away, for it's better for you to lose one of your limbs than for your whole body to go into the fire of judgment.
Divorce (Matthew 5:31-2)
"The law also said, 'If a man divorces his wife, he should give her a certificate of divorce.' But I tell you that any man who divorces his wife except for sexual immorality causes her to commit adultery, and whoever marries a divorced woman commits adultery.
Oaths (Matthew 5:33-7)
"And again, you've heard that the law said to the people of long ago, 'You shall not perjure yourself.
Instead make sure you keep the oaths you swear to the Lord.' But I tell you, don't swear at all. Don't swear by heaven, because it's the throne of God. Don't swear by the earth, because it's God's footstool. Don't swear by Jerusalem, because it's the city of the great King. Don't even swear by your head, because you're not able to make a single hair white or black. Simply say yes or no—more than this comes from the Evil One.
(Continued next week)
Find out more about us at.....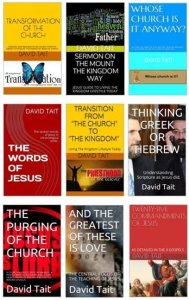 ***NOW***NINE BOOKS ARE AVAILABLE ON AMAZON!!!
9 BOOKS are now available on Amazon (Kindle)!

All are available worldwide for electronic download on Amazon (Kindle) for $US0.99c . Unfortunately there has to be a charge in order to list.

Your support would be appreciated and they could well change your life!
Many more online at https://www.wwj.org.nz/more-free-downloads

They are all found at this link.....
http://www.amazon.com/s/ref=nb_sb_noss?url=search-alias%3Daps&field-keywords=david+tait+books/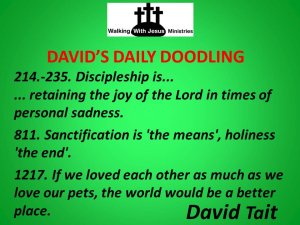 ***DAILY EZINE!*** 'DAVID'S DAILY DOODLINGS' Subscribe Today
Receive one or more of David's sayings in your mailbox each day to inspire, challenge or maybe, amuse. To register today, go down to the bottom of the page link below, click on the subscribe link dd-on@wwj.org.nz (or paste the address in an email yourself and send) Then it's done! If you have an Irish heritage, you will love the background coloring!
Subscription and back issue link is.....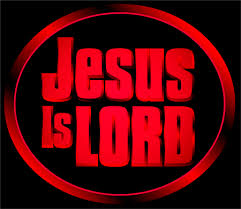 'THE WORDS OF JESUS' REMAIN AVAILABLE FOR PDF DOWNLOAD
Join the many who have downloaded the 'The Words of Jesus'. I am sure you will be blessed by it, as I have been.
One key element here is the setting out in chronological order (as far as it is possible to do so) our Lord's words drawn from all the Gospels, and the elimination of repetition between Gospels.
You may be surprised by the different perspective this presentation gives you both in understanding of His life and ministry, and in achieving a closer relationship with Him.

Download the free PDF here.....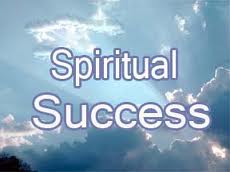 DAVID'S DOODLINGS
SUCCESS
114. Having control over ones self is of much greater worth than having control over others.
115. You must clamber over the rocks of failure in order to ascend the mountain of success.
116. It takes the Holy Spirit to transform a 'churchian' into a 'Christian'.
117. The world will meander, as long as men philander.
118. Sleep refreshes body, mind and spirit, but you have to wake up to experience the benefits.
119. Failure is often the first rung on the ladder of success.
120. 100% success is unattainable, but 100% effort is available to all.
121. Easy success breeds arrogance, but success hard-earned, builds character.
122. God accepts us as we are. As we learn to accept this, he develops us into what we can be.
123. Let failure breed experience, not despair.
Many more at.....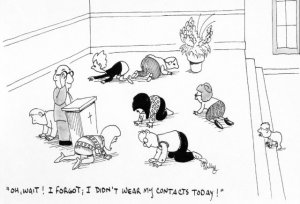 CARTOONS FROM TOON FEVER
Visit the Toon Fever website for more cartoon fun..... http://www.toonfever.com
Check it out at...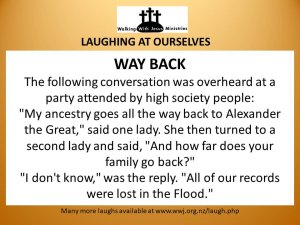 *** ANOTHER DAILY EZINE FROM WWJ!*** 'LAUGHING AT OURSELVES' Subscribe Today
As Christians, if we can't laugh at ourselves, others will! A fun way to start your day. To register today, go down to the bottom of the page link below, click on the subscribe link lao--on@wwj.org.nz (or paste the address in an email yourself and send) Then it's done!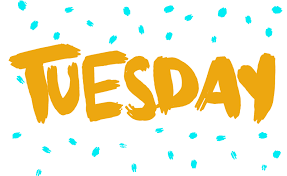 THIS WEEKS TUESDAY TEACHING.....
A REVELATION OF... REVELATION 12:11WALKING WITH JESUS continues
Thank you for your inquiry. Sorry, we don't have partners, nor can we visit or assist financially. However, you are welcome to use our teachings, without charge, and teach from them, on our website www.wwj.org.nz, Go to Publications. Thank you again.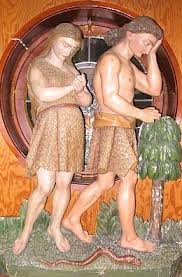 LAUGHING AT OURSELVES
***Blessed are those who can laugh at themselves for they shall never cease to be amused***
320. Getting What You Deserve
Matt, Kimo, and Ken are killed in a car accident and end up at St. Peter's gates. Matt is told by St. Peter that a wife has been chosen for him for eternity. St. Peter then introduces Matt to his new mate, who is ugly and not to the Matt's liking. Matt says "What did I do to deserve this?" St. Peter answers, "You killed 10 birds in your lifetime, and this is the eternal result."
Kimo is then introduced to his eternal wife who is even uglier than Matt's wife. Kimo grumbles, "What did I do to deserve this?" St. Peter replies, "While you lived, you killed 20 birds, and this is the eternal result."
Ken nervously approaches St. Peter but is overjoyed to meet his new wife, a beautiful woman any man would be thrilled to have. Kimo asks "What did I do to deserve this?" St. Peter responds, "You? It was her...she killed 30 birds!"
321. Just Checking
When Adam stayed out very late for a few nights, Eve became upset. "You're running around with other women," Eve charged.
"Don't be ridiculous, honey," Adam responded. "You're the only woman on earth."
The quarrel continued until Adam fell asleep, only to be awakened by someone poking him in the chest. It was Eve.
"What do you think you're doing?" Adam demanded.
"Counting your ribs," said Eve.
QWIK QWIP: "You can only live once, but if you do it right, once is enough."
322. Too Much To Bare
A Preacher, a missionary, and an overweight tenor from the church choir are visiting Israel when, all of a sudden, they are captured by Arab terrorists. They are informed by these terrorists that they are going to be shot.
The Preacher said, "We are men of God. You can't shoot us!"
When the terrorists refused, the Preacher asked the terrorists for one last request each.
"Okay," said the terrorist chief, "one last request each - but keep it short."
The Preacher says, "I would like to give a two hour sermon and not have anyone in my audience leave or fall asleep."
The tenor says, "I would like to give a two hour concert of my favourite hymns."
"And what about you?" the terrorist chief asked the missionary.
"Oh please!" said the missionary, kneeling with his hands raised in supplication. "Shoot me first!"
Download the book 'Laughing At Ourselves' in PDF format at LAUGHING AT OURSELVES One of the most comprehensive sources of Christian Humour on the Net with 800 sermon fillers for your entertainment and use at ..... https://www.wwj.org.nz/content/wwj18p47.pdf
Or read even more online at.....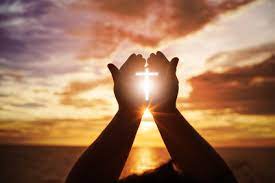 A DAVID MUSING
We have been blessed to stay with many friends, both single and couples, over the time we have been in New Zealand, waiting for visas to go back to Kenya.
Each place we stay is different. All have their own ways of doing things and relating to each other, and to us.
Fortunately, we are pretty adaptable and haven't had too many issues, if any. We are very grateful to them all.
We are all different and live differently.
When it comes to God, each of us is to have our own personal relationship with Him. God made it that way, None of us are the same.
So seek your own relationship with Him. Do not go through others, whether pastor or person. It takes time, but the rewards are eternal.
Until next time
His servant and yours
David Tait

Visit us here.....
CHANGING YOUR EMAIL ADDRESS? NEWSLETTER STOPS COMING?
Each week we can lose up to 2% of our readers when they change email addresses without letting us know. Or sometimes, by your server acting strangely and just cutting us off! If you are about to change your address, please advise us of both your old and new addresses here at
enquiries@wwj.org.nz
and we will happily change our records to ensure ongoing delivery. Thanks.
Please also keep our address in your address book, as sometimes servers will automatically delete your address if there is even a one off problem in delivery. If your newsletter doesn't arrive, please let us know and we will reinstate you.
REPRODUCTION OF NEWSLETTER CONTENT
Most weeks we get enquiries about reproducing, in electronic or print form, articles contained in 'PGIM!' We welcome and encourage you to utilize this material. Freely received, freely given. We would ask though, that the source be acknowledged as an encouragement to others to subscribe to this newsletter also.
LINKS
If you would like to link your web site to ours, and ours to yours, please advise us on
links@wwj.org.nz
ABOUT US
WALKING WITH JESUS MINISTRIES is a non-profit, non-denominational, Bible based ministry located in Hastings, New Zealand. A ministry dedicated to developing discipleship, fostering unity amongst God's people to achieve the Great Commission, and in doing so, preparing for Christ's return. It is securely based upon the foundational principles of the Apostles Creed while recognising the wide and rich diversity of beliefs amongst Christians in other areas. In accordance with the Lord's direction, materials produced by the ministry are available, free of charge, to genuine enquirers upon request. The ministry is solely funded by donations, as the Lord provides. A list of materials available (plus some fun!) is obtainable and freely downloadable from our website
wwj.org.nz or by contacting us as follows.

Walking With Jesus Ministries
P O Box 2
Webuye 50205
Kenya

Email: enquiries@wwj.org.nz
Web: wwj.org.nz

Our role is to bless and encourage those in ministry while promoting co-operation and unity of direction amongst the body of Christ, as emphasised 3 times by Jesus in His longest prayer, immediately prior to His arrest and crucifixion. "... so that they may be one as we are one." (John 17:12, 21, 23-4) Our website is currently being developed to encourage your participation one with another, to share resources, and to enable you to promote events and items of interest to the body as a whole - and have a smile while doing it!

For comments upon and contributions to this service, please contact
david@wwj.org.nz
SUBSCRIPTION MANAGEMENT
We would encourage you to share this free service with your friends in ministry. To subscribe yourself please email pgim-on@wwj.org.nz.
If your name has been referred to us by a friend or supporting Ministry or has been obtained from a public Christian Directory or Website, it isn't our wish to burden you with information in which you aren't interested. To remove yourself from this list, please email pgim-off@wwj.org.nz.