A Weekly World Wide Word of Encouragement to those in the Ministry
PRAISE GOD IT'S MONDAY!
A WEEKLY 'WWW (world-wide word) OF ENCOURAGEMENT'
TO THOSE IN MINISTRY
A FREE service, currently connecting with Christian leaders from 3,000 denominations and ministries, in 70 countries.

Issue No: 847 Published: 15 Jan 2018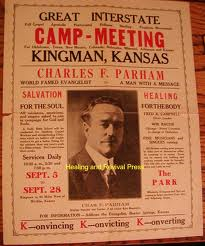 WHOSE CHURCH IS IT ANYWAY? Part 26
PARNHAM AND THE ZION CITY REVIVAL
In May 1906 Charles Parnham moved back from Texas to Baxter Springs, Kansas. He received a request to go to Zion City, and went with several co-workers in mid-September.

TROUBLE IN ZION CITY
Zion City, was established by John Alexander Dowie (pictured) in 1901 on the shores of Lake Michigan, round 40 miles north of Chicago. Dowie, known for a dramatic healing ministry, envisaged Zion as a Christian city from which missionaries would go out round the earth. Many dedicated believers from throughout the USA relocated there, dreaming of living in a Christian Utopia.

The dream was crushed when, in 1906, political strife and financial mismanagement plunged the city into corporate bankruptcy. Dowie and one of his lieutenants struggled for political control. The people utterly despaired. In the Federal Court a judge gave control of all Zion's industries to a receiver, who ordered an election for an Overseer. Dowie encouraged his followers not to vote, so Voliva won the election. The election did little to calm the citizens, many of whom had lost their life's savings. Bitterness, confusion, anger and strife, reigned.

Parnham arrived with his team arrived, having a meeting at Zion's impressive Elijah Hospice hotel on that same night. By the end of the week they were conducting 3 services daily with hundreds attending.

"TIL KINGDOM COME"
Voliva was not happy with Parnham's success. Reportedly, he phoned Parnham to ask how long he was staying. "Til kingdom come" was the reply. As the Elijah Hospice was under city control he was able to oust Parnmam from there. Voliva then rented every auditorium in the city so Parnham would have nowhere to go.

Parnham responded by organizing meetings in 5 homes concurrently, from 7pm until midnight. He would travel from one meeting to the next to preach, each night, in a horse drawn buggy.
A comment by a participant…..

Glenda, oh, you have to be careful nowadays, I said to Glenda, "Is that a good thing?" And she said, "Yes, it's a very good thing, indeed." So I said, " Well what are you doing on the telephone then?" So she said "Well, I'll tell you," she said.... She said, "I have crawled to the telephone on my hands and knees." So I managed to look solemn for another minute and I said "thank you very much. I will get back as soon as I can."

The crowds increased flooding from the houses onto porches and lawns. The Daily Sun of Illinois reported that thousands were attending. Many experienced release from bitterness, despair and anger upon being baptized in the Holy Spirit. They saw visions and hundreds responded to the call of full time ministry.

DIVINE HEALING AND THE HOLY SPIRIT
An important feature of the revival was the permanent merger between the divine healing teachings of Dowie and the Spirit baptism experience of Parnham. Through this powerful combination, several independent healing evangelists emerged from the Zion City Revival.
(Continued next week)
Find out more about us here.....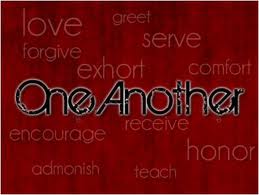 FROM THE WORD
THE WORDS OF JESUS
May we hear what the Lord is saying to us.....
Jesus Predicts His Betrayal (Matthew 26:21-5), Mark 14:18-21, Luke 22:21-3, John 13:21-30)
By Judas.
"I tell you the truth, one of you is going to betray me."
"It's the one to whom I will give a piece of bread after I have dipped it."
"What you're going to do, do it quickly,"
A New Commandment Given (John 13:31-5)
"Now the Son of man is glorified, and through him God is glorified. If God is glorified through him, then God will glorify the Son himself, and will glorify him immediately. My children, I will be with you only a little while longer. You will look for me, but I'm telling you now just as I told the Jews: you cannot come where I'm going.
I am giving you a new command: Love one another. Love one another in the same way I have loved you.
If you love one another you will prove to everyone that you are my disciples."
Dispute About Who is to be the Greatest (Luke 22:24-30)
Of the disciples.
"Foreign kings lord it over their subjects, and those having power even want people to call them 'benefactors. "But it should not be so with you! Whoever is highest among you should be like the lowest, and the leader should be like a servant. Who is greater—the one who sits at the table, or the one who serves?
Isn't it the one who sits at the table? But I'm among you as the one who serves. You have stayed with me throughout my trials. And I grant to you authority to rule, just as my Father granted it to me, so that you may eat and drink at my table in my kingdom, and sit on thrones judging the twelve tribes of Israel."
Jesus Predicts a General Denial (Matthew 26:31-2, Mark 14:27-8)
Of the disciples.
"All of you will abandon me tonight," Jesus told them. "As Scripture says, 'I will strike the shepherd, and the flock of sheep will be completely scattered.' But after I have risen, I'll go ahead of you to Galilee."
Jesus Prays for Peter. (Luke 22:31-2)
"Simon, Simon—Satan has asked to have all of you to sift like wheat, but I have prayed for you that your trust in me may not fail. And when you have returned, encourage your brothers."
Jesus Predicts Peter's Denial (Matthew 26:33-5, Mark:14:29-31, Luke 22:33-4)
Against Peter's protestations.
"This very night, before the cock crows, you'll deny me three times."
Jesus Warns the Disciples to be Prepared (Luke 22:35-8)
For His death.
"When I sent you out without money, without a bag, and without an extra pair of sandals, did you lack anything?"
But now, if you have money you should take it, as well as a bag, and if you don't have a sword, sell your cloak and buy one. I tell you that this statement in Scripture about me must be fulfilled: 'He was counted with the wicked.' What was said about me is now being fulfilled.
(Continued next week)
You can download the complete 'Words of Jesus' here.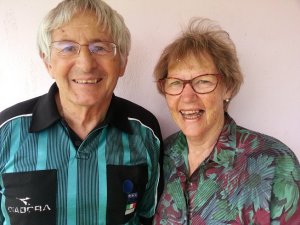 OUR AFRICAN EXPERIENCE
Experience life here with us in Kenya.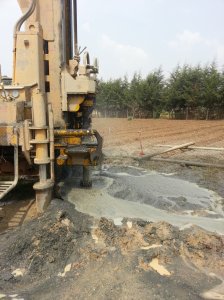 WATER, WATER, EVERYWHERE!
An absolutely fantastic result to our (very expensive) well drilling!
A drilling rig came and with it's accompanying compressor truck and set up one evening. A rig the equal of any we have of a similar size in the West. Very impressive! But would we find the water the geologist had forecast?
The next day we were up bright and early and sat there as one 5.5m (18ft) drilling pipe was inserted after another.
After 3 pipes, water was discovered. But this was a shallow resovoir that we knew about and dried up in the Dry Season. So on they drilled. 10, 12, 15 pipes. Nothing. But that was ok, as we expected it would need 20 pipes. 16, 17. Then whish, a water spout! Water at twice the flow rate (10,000lph) or 10 cubes in the lingo, double what was expected!
God's blessing overflowing on us!
Thank you Lord!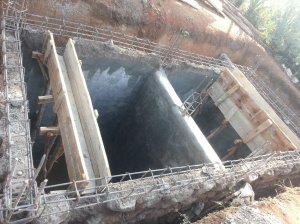 FROM FRESH WATER TO THE (EXPENSIVE) OTHER!
I have had an impressive life lesson - building septic tanks!
How can something so simple (a hole in the ground) become so complex?
Let it be my secret!
You can try and work it out though!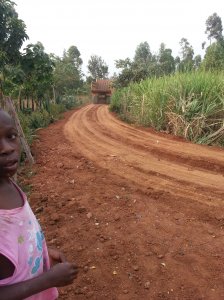 NOW WE HAVE A DRIVEWAY!
Thanks to a roading contractor working on a large overbridge and bypass, we have obtained huge loads of marram, used in foundations for roads and buildings, to form our drive, for the cost of freight only. As an added extra, these trucks consolidated it when bringing further truckloads onto site for later use!
Another blessing!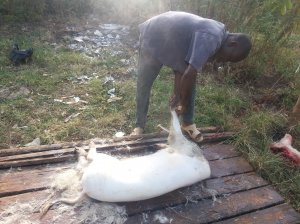 FOR THOSE WHO DON'T KNOW
MEAT DOES NOT GROW IN SUPERMARKET FRIDGES!
This week it was the turn of our second and final pig to meet its maker. All in aid of a birthday party for our Dutch friend Bert, who had the vision for the compound on which we live.
A happy end to a very final departure!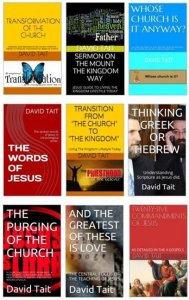 ***NOW***NINE BOOKS ARE AVAILABLE ON AMAZON!!!
9 BOOKS are now available on Amazon (Kindle)!

All are available worldwide for electronic download on Amazon (Kindle) for $US0.99c . Unfortunately there has to be a charge in order to list.

Your support would be appreciated and they could well change your life!

They are all found at this link.....
http://www.amazon.com/s/ref=nb_sb_noss?url=search-alias%3Daps&field-keywords=david+tait+books/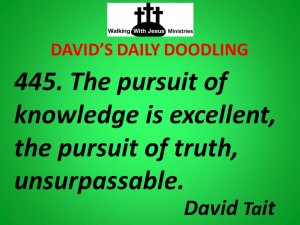 ***DAILY EZINE!*** 'DAVID'S DAILY DOODLINGS' Subscribe Today
Receive one of David's sayings in your mailbox each day to inspire, challenge or maybe, amuse. To register today, go down to the bottom of the page link below, click on the subscribe link dd-on@wwj.org.nz (or paste the address in an email yourself and send) Then it's done! If you have an Irish heritage, you will love the background coloring!
Subscription and back issue link is.....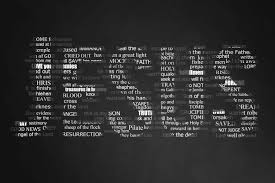 'THE WORDS OF JESUS' REMAIN AVAILABLE FOR PDF DOWNLOAD
Join the many who have downloaded the 'The Words of Jesus'. I am sure you will be blessed by it, as I have been.

One key element here is the setting out in chronological order (as far as it is possible to do so) our Lord's words drawn from all the Gospels, and the elimination of repetition between Gospels.

You may be surprised by the different perspective this presentation gives you both in understanding of His life and ministry, and in achieving a closer relationship with Him.

Download the free PDF here.....

DAVID'S DOODLINGS
KEEPING THE MIND OFF THE DENTIST'S DRILL!
60. Oh for more than two cheeks to turn!

61. When holiness meets with helpfulness a harvest is reaped.

62. Jesus turns our human 'LESS - ness' into His 'FULL - ness'.

63. From:
- restless to peaceful,
- hopeless to hopeful,
- careless to careful,
- thoughtless to merciful,
- mirthless to cheerful,
- powerless to powerful,
- humourless to gleeful,
- spineless to forceful,
- penniless to bountiful''..
Please feel free to quote these quotes. Acknowledgement of David Tait as the author would be appreciated. There are now over 1300 David sayings for you to view at ...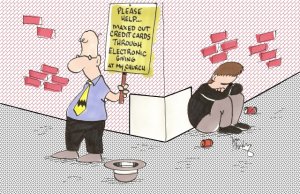 CARTOONS FROM TOON FEVER
Visit the Toon Fever website for more cartoon fun..... http://www.toonfever.com

Check it out at...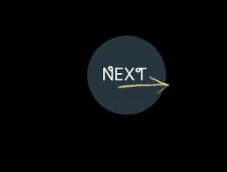 TUESDAY TEACHINGS
NEXT WEEK: REVELATION OF....... 3 KINGDOM AGES: MEASUREMENT OF SUCCESS
One of the greatest misunderstandings in the church today relates to the definition of success in our walk with Jesus.

There has changed with each kingdom age. The major problem is that we forget which kingdom age we now live in!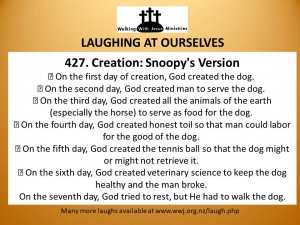 *** ANOTHER DAILY EZINE FROM WWJ!*** 'LAUGHING AT OURSELVES' Subscribe Today
As Christians, if we can't laugh at ourselves, others will! A fun way to start your day. To register today, go down to the bottom of the page link below, click on the subscribe link lao--on@wwj.org.nz (or paste the address in an email yourself and send) Then it's done!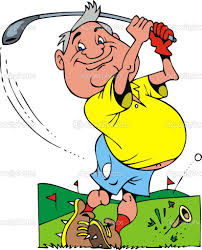 LAUGHING AT OURSELVES
***Blessed are those who can laugh at themselves for they shall never cease to be amused***
*** Those who can't laugh at themselves leave the job to others. ***
QWIK QWIP: "To the world you might be one person, but to one person you might be the world."
98. Condiments Please
The Sunday school teacher was carefully explaining the story of Elijah the Prophet and the false prophets of Baal. She explained how Elijah built the altar, put wood upon it, cut the steer in pieces and laid it upon the altar.
And then Elijah commanded the people of God to fill four barrels of water and pour it over the altar. He had them do this four times.
"Now, said the teacher, "can anyone in the class tell me why the Lord would have Elijah pour water over the steer on the altar?"
A little girl in the back of the room raised her hand with great enthusiasm. "To make the gravy," came her enthusiastic reply.
99. The First Sunday School Lesson
One Sunday after church the mother asked her very young daughter what her lesson had been about. Her daughter answered "Don't be scared, you'll get your quilts."
Needless to say, the mother was perplexed.
Later in the day, when the Pastor stopped by for tea, the mother asked him what that morning's Sunday school lesson had been about. The pastor said, "Be not afraid, thy comforter is coming."
QWIK QWIP: "Real friends are those who, when you feel you've made a fool of yourself, don't feel you've done a permanent job."
100. Skipping Church
John, who loved to play golf, was also pastor of the Community Church. Every Sunday he chafed under the realisation that while he had to go preach at the church, his golfing buddies were having a great time out on the greens. So John devised a plan. On Saturday evening he taped his sermon, and placed the tape player in the pulpit. He then connected it to the church's amplifying equipment, and set it on a timer so that it would start precisely at the time in the service when he would normally begin preaching. The next day, John enjoyed a wonderful day at the golf course. And surprisingly, there were no adverse comments from the church deacons, or from any of the members. So, John decided to follow the same plan the next week. However, after nine holes, John became a little uneasy, and decided to check to see if everything was going okay back at the church. As he approached the church, he could hear his own voice booming out the sermon he had taped the night before. He quietly opened the front door, and walked through the vestibule. But when he peered through the sanctuary doors, he was shocked to see that no one was in church at all. Instead, on every pew there were six small tape recorders, all of them eagerly taking in every word of the sermon.
FREE DOWNLOAD: You can now download the book 'Laughing At Ourselves' in PDF format at LAUGHING AT OURSELVES One of the most comprehensive sources of Christian Humour on the Net with 800 sermon fillers for your entertainment and use at ..... https://www.wwj.org.nz/content/wwj18p47.pdf
Or read them all online at.....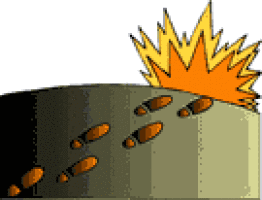 A DAVID MUSING
This has been an exciting week with lots of things happening the good, the African, and the bad. A summary of all our lives really compressed into a single week for me!
The good is, we have had a bore hole dug, producing twice the waterflow expected by the geologist, and finally, momentum is picking up on the building site, towards a finished Clinic/Hospital building by the end of the month.
The African, is the constant delays in in achieving things that would take little time in the West. Getting used to this now! Frustrations are a part of life everywhere, but magnified here in Africa - at least for Europeans working here.
And the bad. A couple of days off, mainly in bed, with a poisoned leg from, we think, an insect bite. It is recovering now.
Jesus promised not to be Father Christmas, but our brother and friend through life's good, bad and frustrating. Is He walking with you too?
Until next week.......

MAY GOD BLESS YOU AND YOU BLESS GOD.

His servant and yours

David Tait

Visit us here.....
REPRODUCTION OF NEWSLETTER CONTENT
Most weeks we get enquiries about reproducing, in electronic or print form, articles contained in 'PGIM!' We welcome and encourage you to utilize this material. Freely received, freely given. We would ask though, that the source be acknowledged as an encouragement to others to subscribe to this newsletter also.
CHANGING YOUR EMAIL ADDRESS? NEWSLETTER STOPS COMING?
Each week we can lose up to 2% of our readers when they change email addresses without letting us know. Or sometimes, by your server acting strangely and just cutting us off! If you are about to change your address, please advise us of both your old and new addresses here at
enquiries@wwj.org.nz
and we will happily change our records to ensure ongoing delivery. Thanks.
Please also keep our address in your address book, as sometimes servers will automatically delete your address if there is even a one off problem in delivery. If your newsletter doesn't arrive, please let us know and we will reinstate you.
LINKS
If you would like to link your web site to ours, and ours to yours, please advise us on
links@wwj.org.nz
ABOUT US
WALKING WITH JESUS MINISTRIES is a non-profit, non-denominational, Bible based ministry located in Hastings, New Zealand. A ministry dedicated to developing discipleship, fostering unity amongst God's people to achieve the Great Commission, and in doing so, preparing for Christ's return. It is securely based upon the foundational principles of the Apostles Creed while recognising the wide and rich diversity of beliefs amongst Christians in other areas. In accordance with the Lord's direction, materials produced by the ministry are available, free of charge, to genuine enquirers upon request. The ministry is solely funded by donations, as the Lord provides. A list of materials available (plus some fun!) is obtainable and freely downloadable from our website
wwj.org.nz
or by contacting us as follows.
Walking With Jesus Ministries
7 Bull Street
Ahuriri
Napier
New Zealand
Phone: (06) 835 0567 International (+64) 6 835 0567
Email:
enquiries@wwj.org.nz
Web:
wwj.org.nz
Our role is to bless and encourage those in ministry while promoting co-operation and unity of direction amongst the body of Christ, as emphasised 3 times by Jesus in His longest prayer, immediately prior to His arrest and crucifixion. "... so that they may be one as we are one." (John 17:12, 21, 23-4) Our website is currently being developed to encourage your participation one with another, to share resources, and to enable you to promote events and items of interest to the body as a whole - and have a smile while doing it!
For comments upon and contributions to this service, please contact
david@wwj.org.nz
SUBSCRIPTION MANAGEMENT
We would encourage you to share this free service with your friends in ministry. To subscribe yourself please email pgim-on@wwj.org.nz.
If your name has been referred to us by a friend or supporting Ministry or has been obtained from a public Christian Directory or Website, it isn't our wish to burden you with information in which you aren't interested. To remove yourself from this list, please email pgim-off@wwj.org.nz.