A Weekly World Wide Word of Encouragement to those in the Ministry
PRAISE GOD IT'S MONDAY!
A WEEKLY 'WWW (world-wide word) OF ENCOURAGEMENT'
TO THOSE IN MINISTRY
A FREE service, currently connecting with Christian leaders from 3,000 denominations and ministries, in 70 countries.

Issue No: 1131 Published: 19 Jun 2023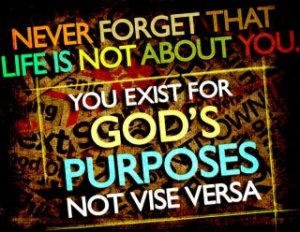 A REVELATION OF..... THE TABERNACLE OF DAVID
A GOOD HEART IS NOT GOOD ENOUGH!
David again brought together out of Israel chosen men, thirty thousand in all. 2 He and all his men set out from Baalah of Judah to bring up from there the ark of God, which is called by the Name, the name of the LORD Almighty, who is enthroned between the cherubim that are on the ark. 3 They set the ark of God on a new cart and brought it from the house of Abinadab, which was on the hill. Uzzah and Ahio, sons of Abinadab, were guiding the new cart 4 with the ark of God on it, and Ahio was walking in front of it. 5 David and the whole house of Israel were celebrating with all their might before the LORD, with songs and with harps, lyres, tambourines, sistrums and cymbals. 6 When they came to the threshing floor of Nacon, Uzzah reached out and took hold of the ark of God, because the oxen stumbled. 7 The LORD's anger burned against Uzzah because of his irreverent act; therefore God struck him down and he died there beside the ark of God. (2 Samuel 6:1-7)
David had a real heart for the Lord. He was also an astute ruler who understood the need to bring the priestly and kingly functions together in order to cement his role as leader of the nation. For Israel had always been an accumulation of tribes with diverse 'family' loyalties rather than a single nation state. In particular, there was a divide between the northern 10 tribes and the southern two, Judah and Benjamin. Moses Tabernacle was well established at Gibeah in the north under the High Priest Zadok and provided the potential to become a power base from which rebellion against David's rule could be initiated. Ironically though, finally it was Zadok who remained loyal and Abiathar, the High Priest in Jerusalem, who was disloyal. Zadok eventually replaced Abiathar, so unifying the High Priesthood again.
The city of Jerusalem, itself, was located in the territory of Benjamin, a politically acceptable location close to the border of the northern and southern tribal areas. So for David, this was an opportunity to combine matters of the heart, in wanting to have the Ark of the presence of His Lord near to him, and his desire to unify the kingdom under his rulership.
So David, in his enthusiasm, gathered together 30,000 representatives from amongst the people, gathering at Baalah and proceeding, no doubt with great excitement and celebration, the short distance to Kirjath-jearim to bring back the Ark to Jerusalem.
In their enthusiasm to get on with the job, they forgot God's instruction about the Levites carrying the Ark, then only when covered in cloth. Celebrating before the Lord with songs and instruments, they loaded the Ark onto a cart to be pulled by oxen back to its new home, a simple tent in Jerusalem.
They proceeded along the rough road with great rejoicing, However, when they came to Nacon's threshing floor, the oxen stumbled and Uzzah reached out to steady the Ark. Uzzah dropped dead! The celebration stopped!
THE PROBLEM
This is a clear picture of the many enthusiastic Christians around the world who truly want to do great things for God. But instead of seeking His guidance as to what to do and how to do it, they implement their own ideas and proceed in their own strength. In fact, this is what most Christians do! We implement and participate in multitudinous programmes that keep us busy, make us feel good, but end up bearing little or no fruit. We have all been there and done that!
THE LESSON
While infectious enthusiasm is an admirable human trait, God is seeking today those prepared to follow His instructions. To do what he asks, when he asks, in the way he asks! Those prepared to put aside their own ideas and aspirations to do things God's way. Often this means waiting until God is ready! For God's time, invariably, is longer than ours!
The reality, as God Himself tells us, is;
8 "For my thoughts are not your thoughts, neither are your ways my ways," declares the LORD. 9 "As the heavens are higher than the earth, so are my ways higher than your ways and my thoughts than your thoughts. (Isaiah 55:8-9)
So there is a call for us to put aside our own thoughts, dreams and aspirations, however well intentioned they might be, and follow the instructions of our heavenly leader! For the self motivated amongst us, this is particularly difficult, as I well know.
END TIME CHURCH TRAIT 1: A church seeking to do God's will.
..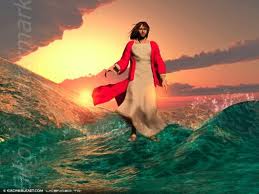 FROM THE WORD
THE WORDS OF JESUS "
Jesus Feeds the 5000 (Matthew 14:15-21, Mark 6:35-44, Luke 9:12-17, John 6:3-14)
Near Bethsaida, where a crowd had gathered.
"Where can we buy enough bread to feed all these people?"
"Sit them down in groups of about fifty,"
"Collect what's left over so nothing is wasted."
Jesus (and Peter) Walking on Water (Matthew 14:24-33, Mark 6:48-52, John 6:16-21)
In the storm. The disciples see Jesus.
"Don't worry, it's me! Don't be afraid!"
Peter walks - then sinks.
"Come on then,"
"You have such little trust in me. Why did you doubt?"
Jesus - The Bread of Life(John 6:22-59)
When the boat reached the other side the crowd asked how He got there. Jesus replied.
"I tell you the truth," "you're looking because you ate as much bread as you wanted, not because you understood the miracles. Don't be preoccupied about food that doesn't last, but concentrate on the lasting food of eternal life which the Son of man will give you, for God the Father has placed his seal of approval on him."
"What God wants you to do is to trust in the one he sent."
"I tell you the truth, it wasn't Moses who gave you bread from heaven," "It's my Father who gives you the true bread of heaven. For the bread of God is the one who comes from heaven and gives life to the world."
"I am the bread of life," "Anyone who comes to me will never be hungry again, and anyone who trusts in me will never be thirsty again. But as I explained to you before, you have seen me, but you still don't trust me. All those the Father gives me will come to me, and I won't reject any of them. For I came down from heaven not to do what I want, but to do what the One who sent me wants. What he wants is for me not to lose anyone he has given to me, but for me to raise them up at the last day. What my Father wants is for everyone who sees the Son and trusts in him to have eternal life, and for me to raise them up at the last day."
Then they disagreed with Him.
"Stop grumbling to each other," "No one can come to me unless the Father who sent me attracts them, and I will raise them up at the last day. As is written in Scripture by the prophets, 'Everyone will be taught by God.' Everyone who listens to and learns from the Father comes to me. Not that anyone has seen God, except he who is from God; he has seen the Father. I tell you the truth: anyone who trusts in him has eternal life. I am the bread of life. Your forefathers ate manna in the desert but they still died. But this is the bread that comes down from heaven, and anyone who eats it won't ever die. I am the life-giving bread from heaven, and anyone who eats this bread will live forever. The bread is my flesh that I give so that the world may live.
"I tell you the truth, unless you eat the flesh of the Son of man and drink his blood, you cannot truly live. Those who eat my flesh and drink my blood have eternal life, and I will raise them up at the last day. For my flesh is true food, and my blood is true drink. Those who eat my flesh and drink my blood remain in me, and I remain in them. Just as the life-giving Father sent me and I live because of the Father, so anyone who feeds on me will live because of me. Now this is the bread that came down from heaven, not the kind your forefathers ate and still died. Anyone who eats this bread will live forever."
(Continued next week)
Find out more about us at.....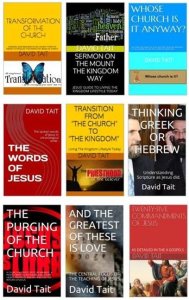 ***NOW***NINE BOOKS ARE AVAILABLE ON AMAZON!!!
9 BOOKS are now available on Amazon (Kindle)!

All are available worldwide for electronic download on Amazon (Kindle) for $US0.99c . Unfortunately there has to be a charge in order to list.

Your support would be appreciated and they could well change your life!
These and many more are availble for free online at https://www.wwj.org.nz/more-free-downloads

They Amazon books are all found at this link.....
http://www.amazon.com/s/ref=nb_sb_noss?url=search-alias%3Daps&field-keywords=david+tait+books/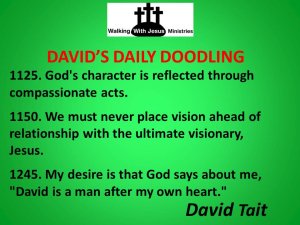 *DAVID"S DOODLINGS
Enjoy some of David's sayings here, plus 1300 more on the website at.....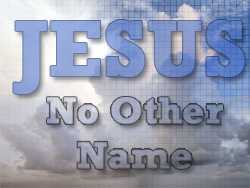 'THE WORDS OF JESUS' REMAIN AVAILABLE FOR PDF DOWNLOAD
Join the many who have downloaded the 'The Words of Jesus'. I am sure you will be blessed by it, as I have been.
One key element here is the setting out in chronological order (as far as it is possible to do so) our Lord's words drawn from all the Gospels, and the elimination of repetition between Gospels.
You may be surprised by the different perspective this presentation gives you both in understanding of His life and ministry, and in achieving a closer relationship with Him.

Download the free PDF here.....
DAVID'S DOODLINGS
LEADERSHIP
156. In God, being led to lead is a calling. Leading when not led, guarantees an appalling mauling!

157. A Christian leader is but an ordinary person called to an extraordinary task. Both leaders and the led need to be reminded of this!

158. Worldly leadership builds up self, but godly leadership builds up others.

159. In God, understanding and sharing vulnerabilities is a sign of maturity and success, not an acknowledgement of failure.

160. In God, if you're not led to lead, you'll be bled to death.

161. To lead or be led? The difference is 'a' for attitude!

162. Only God has the required glue to attach 'super' to 'natural'.

372. To be a leader in the world is difficult, in the church, impossible. However, with God's help, we can do the impossible.

373. God loves obedient leaders.

374. Leaders are not God - for only God is perfect.

375. Our leaders are not God substitutes. They too, make mistakes, just as we do.

376. Truly godly leaders are more precious than diamonds - and equally hard to find.

377. The Bible tells us that there is only one God. Some leaders need to be reminded of this fact.
Many more at.....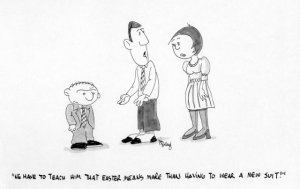 CARTOONS FROM TOON FEVER
Visit the Toon Fever website for more cartoon fun..... http://www.toonfever.com
Check it out at...
'LAUGHING AT OURSELVES
Another laugh or three for you today
Many more on our website below. Also many, may, many more under these categories on our website, wwj,org,nz Look under the heading MAINLY LAUGHS. Choose from.....

THIS WEEKS TUESDAY TEACHING.....
THIS WEEK: A REVELATION OF..... 3 KINGDOM AGES
Understanding the organisation of society throughout the various kingdom ages also helps us better understand how God worked as He did with the Patriarchs, Israel and now, us!
This is truly fascinating to me - and I hope to you also!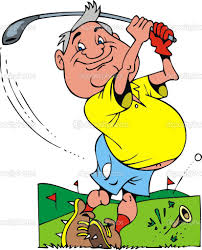 LAUGHING AT OURSELVES
***Blessed are those who can laugh at themselves for they shall never cease to be amused***
362. The Pope's Discovery
The Pope dies and, naturally, goes to heaven. He's met by the reception committee, and after a whirlwind tour is told that he can enjoy any of the myriad recreations available. He decides that he wants to read all of the ancient original text of the Holy scriptures, and spends the next aeon or so learning the languages.
After becoming a linguistic master, he sits down in the library and begins to pour over every version of the Bible, working back from the most recent "Easy reading" to the original script. All of a sudden there is a scream in the library.
The angels come running to him, only to find the Pope huddled in a chair, crying to himself, and muttering, "An 'R'! They left out the 'R'."
God takes him aside, offering comfort and asks him what the problem is. After collecting his wits, the Pope sobs again, "It's the letter 'R' ... the word was supposed to be CELEBRATE!
QWIK QWIP: "Yieldedness destroys bitterness."
363. Monkey Talk
Two monkeys were discussing the theory of evolution while they passed the time in their zoo cage. Finally, one turned to the other and said, "Tell me; am I my keeper's brother?"
364. Golfing On Sunday
Bill Jenkins served as a deacon in a very strict, fundamentalist church. Skipping church to play golf would be considered a grave infraction, especially for someone in leadership. But the urge was greater than his ability to resist, and Bill found himself at the golf course on a beautiful sunny Sunday morning.
Nearing the end of a very enjoyable 18 holes of golf, Bill suddenly heard a voice from heaven calling out his name. "You may receive either a blessing or a punishment. Which will it be?" "Well, of course a blessing," Bill answered. "Then you may ask for one blessing, what will it be?" "Oh, I would love, just one time, to get a 'hole in one'".
So Bill teed up, took a few practice swings, and sent the ball soaring toward the next green. To his great delight, the ball bounced at the edge of the green, and slowly rolled to the flag and dropped in." "Thank you, thank you", Bill shouted toward the sky. "Well actually," the voice responded, "You asked for a blessing, but you have received a punishment instead."
"Why? What do you mean?" "Because", intoned the voice, "Who are you going to tell?"
Download the book 'Laughing At Ourselves' in PDF format at LAUGHING AT OURSELVES One of the most comprehensive sources of Christian Humour on the Net with 800 sermon fillers for your entertainment and use at ..... https://www.wwj.org.nz/content/wwj18p47.pdf
Or read even more online at.....

A DAVID MUSING
On Saturday, there is the funeral in Kenya of a man, Patrick, who I only know through the internet, but with whom I had become a brother.
He sadly died from the injuries of a motor car accident, after being given the best medical treatment possible.
We had plans together for when Kathy and I returned to Kenya. We simply 'clicked'.
It is the way with some occasional people, isn't it?
I have found out from many people what a good person he was, in spite of a life full of personal tragedy. Some overcome, some get overwhelmed. That is life.
With Jesus however, we can also have close personal relationship. That is what He desires, indeed requires, from each one of us.
If we open our hearts to Him, He will respond in a beautiful way.
But it is up to us to take the first step.
Until next time
His servant and yours
David Tait

Visit us here.....
CHANGING YOUR EMAIL ADDRESS? NEWSLETTER STOPS COMING?
Each week we can lose up to 2% of our readers when they change email addresses without letting us know. Or sometimes, by your server acting strangely and just cutting us off! If you are about to change your address, please advise us of both your old and new addresses here at
enquiries@wwj.org.nz and we will happily change our records to ensure ongoing delivery. Thanks.

Please also keep our address in your address book, as sometimes servers will automatically delete your address if there is even a one off problem in delivery. If your newsletter doesn't arrive, please let us know and we will reinstate you.
REPRODUCTION OF NEWSLETTER CONTENT
Most weeks we get enquiries about reproducing, in electronic or print form, articles contained in 'PGIM!' We welcome and encourage you to utilize this material. Freely received, freely given. We would ask though, that the source be acknowledged as an encouragement to others to subscribe to this newsletter also.
LINKS
If you would like to link your web site to ours, and ours to yours, please advise us on
links@wwj.org.nz
ABOUT US
WALKING WITH JESUS MINISTRIES is a non-profit, non-denominational, Bible based ministry located in Hastings, New Zealand. A ministry dedicated to developing discipleship, fostering unity amongst God's people to achieve the Great Commission, and in doing so, preparing for Christ's return. It is securely based upon the foundational principles of the Apostles Creed while recognising the wide and rich diversity of beliefs amongst Christians in other areas. In accordance with the Lord's direction, materials produced by the ministry are available, free of charge, to genuine enquirers upon request. The ministry is solely funded by donations, as the Lord provides. A list of materials available (plus some fun!) is obtainable and freely downloadable from our website
wwj.org.nz or by contacting us as follows.

Walking With Jesus Ministries
P O Box 2
Webuye 50205
Kenya

Email: enquiries@wwj.org.nz
Web: wwj.org.nz

Our role is to bless and encourage those in ministry while promoting co-operation and unity of direction amongst the body of Christ, as emphasised 3 times by Jesus in His longest prayer, immediately prior to His arrest and crucifixion. "... so that they may be one as we are one." (John 17:12, 21, 23-4) Our website is currently being developed to encourage your participation one with another, to share resources, and to enable you to promote events and items of interest to the body as a whole - and have a smile while doing it!

For comments upon and contributions to this service, please contact
david@wwj.org.nz
SUBSCRIPTION MANAGEMENT
We would encourage you to share this free service with your friends in ministry. To subscribe yourself please email pgim-on@wwj.org.nz.
If your name has been referred to us by a friend or supporting Ministry or has been obtained from a public Christian Directory or Website, it isn't our wish to burden you with information in which you aren't interested. To remove yourself from this list, please email pgim-off@wwj.org.nz.