A Weekly World Wide Word of Encouragement to those in the Ministry
PRAISE GOD IT'S MONDAY!
A WEEKLY 'WWW (world-wide word) OF ENCOURAGEMENT'
TO THOSE IN MINISTRY
A FREE service, currently connecting with Christian leaders from 3,000 denominations and ministries, in 70 countries.

Issue No: 921 Published: 17 Jun 2019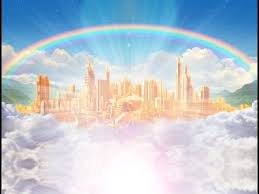 A REVELATION OF……. THE THIRD AND FINAL DWELLING PLACE OF GOD'S GLORY PLUS THE RIVER OF LIFE. Part 5
THE RIVER OF LIFE (Continued)
It is up to you to decide whether this word picture is literal or figurative. In either case, there are several interesting aspects to consider…..
1. "Come, I will show you the bride, the wife of the Lamb." The city is the residence of those who are part of the bride of Christ. Who are they…..
Let us rejoice and be glad and give him glory! For the wedding of the Lamb has come, and his bride has made herself ready. 8 Fine linen, bright and clean, was given her to wear." (Fine linen stands for the righteous acts of God's holy people.) 9 Then the angel said to me, "Write this: Blessed are those who are invited to the wedding supper of the Lamb!" And he added, "These are the true words of God."
These are those who live in righteousness and active holiness, not simply imputed upon salvation, but worked out in day to day life.
2. "I did not see a temple in the city, because the Lord God Almighty and the Lamb are its temple." As mentioned earlier, there is physical Temple required to be built for the return of Jesus. Just as today, the temple is in us, in the form of the Holy Spirit, so at that glorious time, the 'temple' will be here in person. For He is the way to God…..
Jesus answered, "I am the way and the truth and the life. No one comes to the Father except through me." (John 14:6)
Just as the Tabernacle, then the Temple was the way to the Father, now and in the future, Jesus is our intermediary, our way to the Father. No building is necessary.
To the Jews, most of who do not recognize Jesus, restoring the Temple is very important to them. But as Christians, we must not get caught up in their desire ­­­­­­­or make it our own. This truth is the heart of what Jesus did for us through His death and resurrection, and must not be replicated in a physical way.
3. 23 The city does not need the sun or the moon to shine on it, for the glory of God gives it light, and the Lamb is its lamp. 24 The nations will walk by its light, and the kings of the earth will bring their splendor into it. 25 On no day will its gates ever be shut, for there will be no night there.
As Jesus said…..
When Jesus spoke again to the people, he said, "I am the light of theworld. Whoever follows me will never walk in darkness, but will have the light of life." (John 8:12)
When here the first time, the light was figurative, upon His return, it is literal 24/7.
4. 26 The glory and honor of the nations will be brought into it.
The world will be governed from the city.
Again it needs to be pointed out that your determination of whether this passage is literal or figurative is your decision.
The Book of Revelation was primarily fulfilled at the time of the destruction of Jerusalem in AD70, which best fits the message of the Book. Most of Revelation was very likely written at an earlier date than tradition says, according to the latest research this makes the fulfilment realistic, of being written round AD50. However, most Bible prophecy has past, present and future fulfilment. So there remain lessons we can learn for today.
However, we need to concentrate on living for Jesus today, and He will look after our future
(Continued next week)
Find out more about us at.....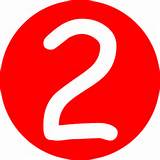 FROM THE WORD
THE WORDS OF JESUS
May we hear what the Lord is saying to us.....
Jesus Predicts His Day of Crucifixion (Matthew 26:1-2)
To his disciples.
"You know that it's Passover in two days time, and the Son of man will be handed over to be crucified."
Jesus Final Appeal to Unbelievers (John 12:20-36)
Prior to His death.
"The time has come for the Son of man to be glorified. I tell you the truth: unless a grain of wheat is planted in the soil and dies, it remains just one grain. But if it dies, it produces many more grains of wheat. If you love your own life you will lose it, but if you don't love your own life in this world you will keep your life forever. If you want to serve me you need to follow me. My servants will be where I am, and my Father will honor anyone who serves for me.
"Now I am troubled. What should I say? 'Father, save me from this coming time of suffering'? No, for this is why I came—to go through this time of suffering. Father, show the glory of your character.
Prior to His death.
"This voice spoke not for my sake, but for yours. Now is the judgment of this world; now the prince of this world will be thrown out. But when I am lifted up from the earth I will attract everyone to me." (He said this to point out the kind of death he was going to die).
The crowd asked, "Who is the Son of man?"
"The light is here with you for a little longer. Walk while you have the light so that the darkness doesn't overtake you. Those who walk in the dark don't know where they're going. Put your trust in the light while you still have it so that you can become children of light."
The Jews Continue to Reject Jesus (John 12:37-50)
In spite of His miracles.
"If you trust in me you're not just trusting in me but also in the one who sent me. When you see me you're seeing the one who sent me. I have come as a light shining into the world, so if you trust in me you won't remain in the dark. I don't judge anyone who hears my words but doesn't do what I say. I came to save the world, not to judge it. Anyone who rejects me and does not accept my words will be judged at the endtime judgment in accordance with what I have said. For I'm not speaking for myself but for my Father who sent me. He is the one who instructed me what to say and how to say it. I know that what he told me to say brings eternal life—so whatever I say is what the Father told me."
(Continued next week)
Download the complete 'Words of Jesus' here.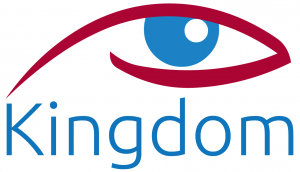 OUR AFRICAN EXPERIENCE
FOR MORE DETAILED AND REGULAR UPDATES, VISIT OUR FACEBOOK PAGE
AN EYE 4 Africa - https://www.facebook.com/aneye4africa/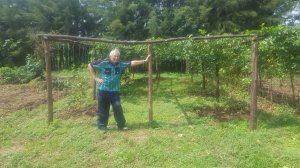 FANTASTIC FERTILITY!
For many crops, this is a grower's wonderland!

Of course, there are problems, such as heavy rains in this the wet winter season, bugs and certain diseases, but horticulture is never without challenges.

But when crops grow, they grow well!

Our passionfruit are grown on a Kenyan style trellis structure.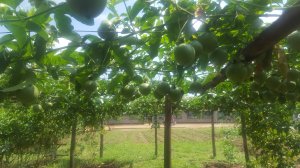 Great harvest (100's of fruit) on the way after only 6 months growth. The passionfruit plants are of a purple variety grown on a yellow rootstock. Large fruit, prolific and more disease resistant than the plain purple plants.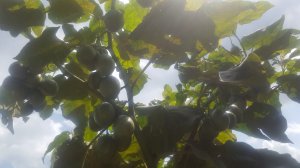 Many tree tomatoes are coming 6 months after planting.
Great satisfaction for me here. Thanks to Patrick our gardener fo doing the physical work.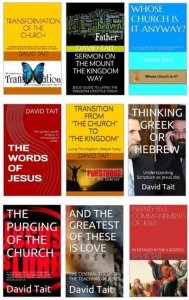 ***NOW***NINE BOOKS ARE AVAILABLE ON AMAZON!!!
9 BOOKS are now available on Amazon (Kindle)!

All are available worldwide for electronic download on Amazon (Kindle) for $US0.99c . Unfortunately there has to be a charge in order to list.

Your support would be appreciated and they could well change your life!

They are all found at this link.....
http://www.amazon.com/s/ref=nb_sb_noss?url=search-alias%3Daps&field-keywords=david+tait+books/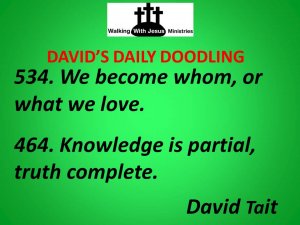 ***DAILY EZINE!*** 'DAVID'S DAILY DOODLINGS' Subscribe Today
Receive one of David's sayings in your mailbox each day to inspire, challenge or maybe, amuse. To register today, go down to the bottom of the page link below, click on the subscribe link dd-on@wwj.org.nz (or paste the address in an email yourself and send) Then it's done! If you have an Irish heritage, you will love the background coloring!
Subscription and back issue link is.....
'THE WORDS OF JESUS' REMAIN AVAILABLE FOR PDF DOWNLOAD
Join the many who have downloaded the 'The Words of Jesus'. I am sure you will be blessed by it, as I have been.

One key element here is the setting out in chronological order (as far as it is possible to do so) our Lord's words drawn from all the Gospels, and the elimination of repetition between Gospels.

You may be surprised by the different perspective this presentation gives you both in understanding of His life and ministry, and in achieving a closer relationship with Him.

Download the free PDF here.....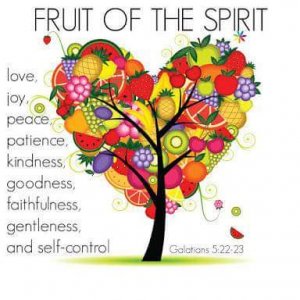 DAVID'S DOODLINGS
HEAVENLY TRUTHS GOD HAS SHOWN ME
739. - 809. God has shown me that...

... life is born out of death.

... life is not meant to be fair.

... we seek spiritual gifts while He desires spiritual fruit.

... submission builds character.

... character outscores performance every time.

... 'to be' is infinitely better than 'to do'.

... we cannot put Him into a box, no matter how big we make it.

... sin caused man and God's thought patterns to become diametrically opposed.

... He reveals himself to us when we least expect it.

... revelation is given in His timing - which generally isn't ours.
Please feel free to quote these quotes. Acknowledgement of David Tait as the author would be appreciated. There are now over 1300 David sayings for you to view at ...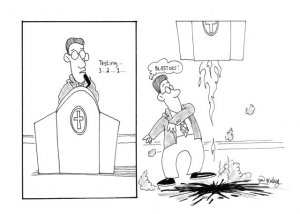 CARTOONS FROM TOON FEVER
Visit the Toon Fever website for more cartoon fun..... http://www.toonfever.com

Check it out at...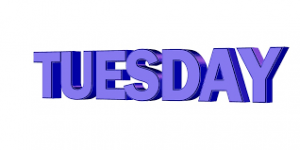 TUESDAY TEACHINGS
THIS WEEK: 12 LESSONS TO BE LEARNED FROM 'DIVIDING THE WATERS' (Continued)
as we move into the final 2 weeks of our study, looking at 'Winning the War'.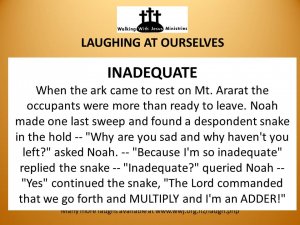 *** ANOTHER DAILY EZINE FROM WWJ!*** 'LAUGHING AT OURSELVES' Subscribe Today
As Christians, if we can't laugh at ourselves, others will! A fun way to start your day. To register today, go down to the bottom of the page link below, click on the subscribe link lao--on@wwj.org.nz (or paste the address in an email yourself and send) Then it's done!
LAUGHING AT OURSELVES
***Blessed are those who can laugh at themselves for they shall never cease to be amused***
*** Those who can't laugh at themselves leave the job to others. ***
QWIK QWIP: "Many a man is not suspected of being ignorant till he starts to talk."
275. Kleptomaniac
A man with a nagging secret couldn't keep it any longer. In the confessional he admitted that for years he had been stealing building supplies from the lumberyard where he worked.
"What did you take?" his priest asked.
"Enough to build my own house and enough for my son's house. And houses for our two daughters and our cottage at the lake."
"This is very serious," the priest said. "I shall have to think of a far-reaching penance. Have you ever done a retreat?"
"No, Father, I haven't," the man replied. "But if you can get the plans, I can get the lumber."
276. The Hereafter
A minister told an elderly neighbour that at his age he should be giving some thought to what he called "the hereafter." the neighbour told the pastor that he thinks about it many times a day.
"That's very wise," the minister said.
The neighbour explained that it's not a matter of wisdom. And then he added, "It's when I open a drawer or a closet and ask myself, 'What am I here after?'"
277. When is the Resurrection?
A very zealous soul-winning young preacher recently came upon a farmer working in his field. Being concerned about the farmer's soul the preacher asked the man, "Are you labouring in the vineyard of the Lord my good man?"
Not even looking at the preacher and continuing his work the farmer replied, "Naw, these are soybeans."
"You don't understand," said the preacher. "Are you a Christian?"
With the same amount of interest as his previous answer the farmer said, "Nope my name is Jones. You must be lookin for Jim Christian. He lives a mile south of here."
The young determined preacher tried again asking the farmer, "Are you lost?"
"Naw! I've lived here all my life," answered the farmer.
"Are you prepared for the resurrection?" the frustrated preacher asked.
This caught the farmer's attention and he asked, "When's it gonna be?"
Thinking he had accomplished something the young preacher replied, "It could be today, tomorrow, or the next day."
Taking a handkerchief from his back pocket and wiping his brow, the farmer remarked, "Well, don't mention it to my wife. She don't get out much and she'll wanna go all three days."
QWIK QWIP: "Nobody talks so consistently about God as those who insist that there is no God."
Download the book 'Laughing At Ourselves' in PDF format at LAUGHING AT OURSELVES One of the most comprehensive sources of Christian Humour on the Net with 800 sermon fillers for your entertainment and use at ..... https://www.wwj.org.nz/content/wwj18p47.pdf
Or read them all online at.....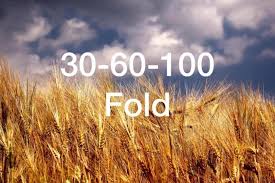 A DAVID MUSING
Here in Webuye, Kenya, suitable crops grow at an amazing rate.
What is the Secret? Quality growing stock, good weather, fertile ground, fertilizer and water.
Of course bugs grow well too, so pest control is required. Plants that take years to mature in Temperate Zones take a matter of months here.
Just thinking that our spiritual lives are a lot like that too.
We must seek out fertile soils of truth to produce the 100 fold crop of the Parable of the Sower.
Next we plant the good quality seed of salvation through Jesus.
To be followed by regularly using the fertilizer of the Word.
Then move to the good weather of minimizing temptation, and when we do fall, apply the weed killer of forgiveness.
Finally to seek the cleansing and guidance of the water of The Holy Spirit in order to become obedient disciples of God the Father.
May we personally, seek to grow spiritually, in order to become a hundred fold crop in the Lord today.
Until next week.....
MAY GOD BLESS YOU AND YOU BLESS GOD
His servant and yours
David Tait

Visit us here.....
REPRODUCTION OF NEWSLETTER CONTENT
Most weeks we get enquiries about reproducing, in electronic or print form, articles contained in 'PGIM!' We welcome and encourage you to utilize this material. Freely received, freely given. We would ask though, that the source be acknowledged as an encouragement to others to subscribe to this newsletter also.
CHANGING YOUR EMAIL ADDRESS? NEWSLETTER STOPS COMING?
Each week we can lose up to 2% of our readers when they change email addresses without letting us know. Or sometimes, by your server acting strangely and just cutting us off! If you are about to change your address, please advise us of both your old and new addresses here at
enquiries@wwj.org.nz
and we will happily change our records to ensure ongoing delivery. Thanks.
Please also keep our address in your address book, as sometimes servers will automatically delete your address if there is even a one off problem in delivery. If your newsletter doesn't arrive, please let us know and we will reinstate you.
LINKS
If you would like to link your web site to ours, and ours to yours, please advise us on
links@wwj.org.nz
ABOUT US
WALKING WITH JESUS MINISTRIES is a non-profit, non-denominational, Bible based ministry located in Hastings, New Zealand. A ministry dedicated to developing discipleship, fostering unity amongst God's people to achieve the Great Commission, and in doing so, preparing for Christ's return. It is securely based upon the foundational principles of the Apostles Creed while recognising the wide and rich diversity of beliefs amongst Christians in other areas. In accordance with the Lord's direction, materials produced by the ministry are available, free of charge, to genuine enquirers upon request. The ministry is solely funded by donations, as the Lord provides. A list of materials available (plus some fun!) is obtainable and freely downloadable from our website
wwj.org.nz
or by contacting us as follows.
Walking With Jesus Ministries
7 Bull Street
Ahuriri
Napier
New Zealand
Phone: (06) 835 0567 International (+64) 6 835 0567
Email:
enquiries@wwj.org.nz
Web:
wwj.org.nz
Our role is to bless and encourage those in ministry while promoting co-operation and unity of direction amongst the body of Christ, as emphasised 3 times by Jesus in His longest prayer, immediately prior to His arrest and crucifixion. "... so that they may be one as we are one." (John 17:12, 21, 23-4) Our website is currently being developed to encourage your participation one with another, to share resources, and to enable you to promote events and items of interest to the body as a whole - and have a smile while doing it!
For comments upon and contributions to this service, please contact
david@wwj.org.nz
SUBSCRIPTION MANAGEMENT
We would encourage you to share this free service with your friends in ministry. To subscribe yourself please email pgim-on@wwj.org.nz.
If your name has been referred to us by a friend or supporting Ministry or has been obtained from a public Christian Directory or Website, it isn't our wish to burden you with information in which you aren't interested. To remove yourself from this list, please email pgim-off@wwj.org.nz.