A Weekly World Wide Word of Encouragement to those in the Ministry
PRAISE GOD IT'S MONDAY!
A WEEKLY 'WWW (world-wide word) OF ENCOURAGEMENT'
TO THOSE IN MINISTRY
A FREE service, currently connecting with Christian leaders from 3,000 denominations and ministries, in 70 countries.

Issue No: 913 Published: 22 Apr 2019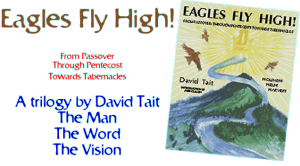 A REVELATION OF……. THE THIRD AND FINAL DWELLING PLACE OF GOD'S GLORY PLUS THE RIVER OF LIFE. Part 3
THE MOUNTAIN
God's spiritual meeting place with mankind on earth, other than in the Tabernacle of Moses and Solomon's Temple, has been on mountains.
The key Scripture, which Ezekiel and the angel would have been aware of is found in Isaiah…..
The Mountain of the Lord
2 This is what Isaiah son of Amoz saw concerning Judah and Jerusalem: 2 In the last days the mountain of the Lord's temple will be established as the highest of the mountains; it will be exalted above the hills, and all nations will stream to it. (Isaiah 2:1-2)
And the results of the migration…..
3 Many peoples will come and say, "Come, let us go up to the mountain of the Lord,
to the temple of the God of Jacob. He will teach us his ways, so that we may walk in his paths." The law will go out from Zion, the word of the Lord from Jerusalem. 4 He will judge between the nations and will settle disputes for many peoples. They will beat their swords into plowshares and their spears into pruning hooks. Nation will not take up sword against nation, nor will they train for war anymore. 5 Come, descendants of Jacob, let us walk in the light of the Lord. (Isaiah 2: 3-5)
Again in Micah…..
Many nations will come and say, "Come and let us go up to the mountain of the LORD And to the house of the God of Jacob, That He may teach us about His ways And that we may walk in His paths " For from Zion will go forth the law, Even the word of the LORD from Jerusalem. (Micah 4:2)
What wonderful promises, that we are still waiting to be fulfilled in these turbulent times!
God's meetings with His special servant leaders took place on mountains…..
With Moses…..
Now the LORD said to Moses, "Come up to Me on the mountain and remain there, and I will give you the stone tablets with the law and the commandment which I have written for their instruction." (Exodus 24:12)
And Elijah…..
11 The Lord said, "Go out and stand on the mountain in the presence of the Lord, for the Lord is about to pass by." Then a great and powerful wind tore the mountains apart and shattered the rocks before the Lord, but the Lord was not in the wind. After the wind there was an earthquake, but the Lord was not in the earthquake.12 After the earthquake came a fire, but the Lord was not in the fire. And after the fire came a gentle whisper. 13 When Elijah heard it, he pulled his cloak over his face and went out and stood at the mouth of the cave. Then a voice said to him, "What are you doing here, Elijah?" (1 Kings 19:9b-13)
Jesus often went up a mountain to pray to get away from the people and to meet in prayer with His Father. For example…..
After he had dismissed them, he went up on a mountainside by himself to pray. (Matthew 14:23)
And again…..
12 One of those days Jesus went out to a mountainside to pray, and spent the night praying to God. (Luke 6:12)
The disciples on the Mount of Transfiguration with Jesus…..
Six days later, Jesus took with Him Peter and James and John, and brought them up on a high mountain by themselves. And He was transfigured before them; and His garments became radiant and exceedingly white, as no launderer on earth can whiten them. Elijah appeared to them along with Moses; and they were talking with Jesus. (Mark 9:2-3)
There are many more Scriptures that could be quoted, but I am sure we have both got the picture, that the Spirit of God dwells on the mountain tops.
(Continued next week)
Find out more about us at.....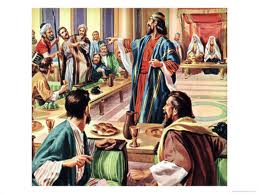 FROM THE WORD
THE WORDS OF JESUS
May we hear what the Lord is saying to us.....
Parable of the Two Sons (Matthew 21:28-32)
Spoken to the Pharisees.
"But what do you think about this illustration? Once there was a man who had two sons. He went to the first son, and said, 'Son, go and work in the vineyard today.' The son answered, 'I won't,' but afterwards he was sorry for what he said and he did go. The man went to the second son, and told him the same thing. He replied, 'I'll go,' but he didn't. Which of the two sons did what his father wanted?"
The first.
"I tell you the truth: tax-collectors and prostitutes are entering the kingdom of God before you," "John came to show you the way to live right with God, and you didn't believe him, but the tax-collectors and prostitutes did believe him. Later, when you saw what happened, you still didn't repent and believe him."
Parable of the Tenants (Matthew 21:33-46, Mark 12:1-12, Luke 20:9-18)
A parable spoken against the chief priests and Pharisees.
"Here's another illustration. There once was a man, a landowner, who planted a vineyard. He put a fence around it, made a winepress, and built a watchtower. He rented it to some tenant farmers, and then left to go to a different country. At harvest time, he sent his servants to the farmers to collect the fruit that belonged to him. But the farmers attacked his servants They beat one, killed another, and stoned another. So he sent more servants, but the farmers did the same things to them. So then he sent his son. 'They will respect my son,' he told himself. But the farmers, when they saw the son, said to each other, 'Here's the heir! Come on! Let's kill him so we can take his inheritance!' They grabbed him, threw him out of the vineyard, and killed him. When the vineyard owner returns, what will he do to those farmers?"
Kill them and give the farm to others, the Pharisees replied.
"So haven't you read the Scriptures?" "'The stone which the builders rejected has become the chief cornerstone. The Lord has done this, and it is wonderful in our eyes.' That's why I'm telling you that the kingdom of God will be taken away from you. It will be given to a people who produce the right kind of fruit. Anyone who falls on this stone will be broken, but it will completely crush anyone it falls upon."
Parable of the Wedding Feast (Matthew 22:1-14)
"The kingdom of heaven is like a king who organized a wedding celebration for his son," Jesus explained. "He sent out his servants to everyone who was invited to the wedding to tell them to come, but they refused. So he sent out more servants, with the instructions, 'Tell those who are invited, "I've prepared the wedding banquet. The bulls and fattened calves have been killed—everything's ready. So come to the wedding!"'"
"But they ignored the invitation and left. One went to his fields; another to take care of his business. The rest grabbed the king's servants, mistreated them, and killed them. The king became furious. He sent his soldiers to destroy those murderers and burn down their town.
"Then the king said to his servants, 'The wedding banquet is ready, but those who were invited didn't deserve to attend. Go into the streets and invite everyone you find to come to the wedding.' So the servants went out into the streets and brought back everyone they could find, both the good and the bad. The wedding hall was full.
"But when the king came in to see the guests, he noticed a man who didn't have a wedding robe on. He asked him, 'My friend, how did you get in here without a wedding robe?' The man had nothing to say. Then the king told his servants, 'Bind his hands and feet, and throw him out into the dark, where there'll be crying and grinding of teeth.' "For many are invited, but few are chosen."
(Continued next week)
Download the complete 'Words of Jesus' here.
OUR AFRICAN EXPERIENCE
FOR MORE DETAILED AND REGULAR UPDATES, VISIT OUR FACEBOOK PAGE
AN EYE 4 Africa - https://www.facebook.com/aneye4africa/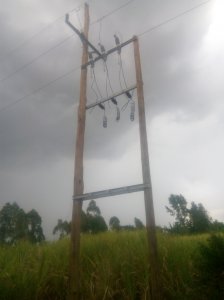 TOMORROW MAY FINALLY COME - ON THURSDAY!!! OOPS - MAKE THAT NEXT WEK NOW!!!!!!
This is Africa! Where patience is not a vitrue, but an essential element of life! LOL!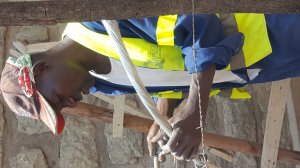 LIGHTENING!
A lot of lightening here so all buildings and particularly transformers, need protection.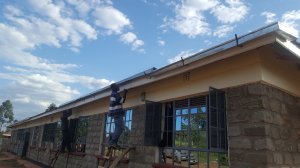 BECOMING AFRICAN!
Guttering on the Clinic/Ward roof - finally! Now for some rain! Worringly, the rainy season has not yet arrived.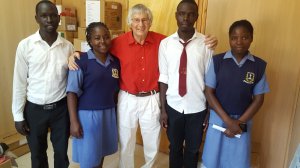 The next generatrion of nurses, lab techs and pharmacists visiting from a local, international medical training college.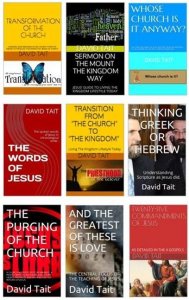 ***NOW***NINE BOOKS ARE AVAILABLE ON AMAZON!!!
9 BOOKS are now available on Amazon (Kindle)!

All are available worldwide for electronic download on Amazon (Kindle) for $US0.99c . Unfortunately there has to be a charge in order to list.

Your support would be appreciated and they could well change your life!

They are all found at this link.....
http://www.amazon.com/s/ref=nb_sb_noss?url=search-alias%3Daps&field-keywords=david+tait+books/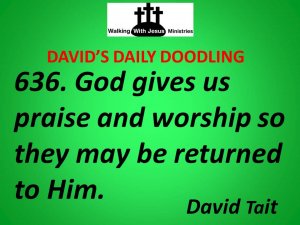 ***DAILY EZINE!*** 'DAVID'S DAILY DOODLINGS' Subscribe Today
Receive one of David's sayings in your mailbox each day to inspire, challenge or maybe, amuse. To register today, go down to the bottom of the page link below, click on the subscribe link dd-on@wwj.org.nz (or paste the address in an email yourself and send) Then it's done! If you have an Irish heritage, you will love the background coloring!
Subscription and back issue link is.....
'THE WORDS OF JESUS' REMAIN AVAILABLE FOR PDF DOWNLOAD
Join the many who have downloaded the 'The Words of Jesus'. I am sure you will be blessed by it, as I have been.

One key element here is the setting out in chronological order (as far as it is possible to do so) our Lord's words drawn from all the Gospels, and the elimination of repetition between Gospels.

You may be surprised by the different perspective this presentation gives you both in understanding of His life and ministry, and in achieving a closer relationship with Him.

Download the free PDF here.....
DAVID'S DOODLINGS
PERSEVERANCE
685. Perseverance perseveres!
686. Perseverance is keeping running the race with feet blistered by the problems of life
687. Perseverance is wading through the mire of life, confident of reaching our eternal heavenly home.
688. Perseverance is walking through the valleys before ascending to the mountaintops
689. Perseverance is retaining hope when all seems hopeless.

690. Perseverance is '
' forgiving one more time
' one more prayer.
' going on when others are giving up.
' picking yourself up once again.
' loving that little bit extra.
' just one more step.
' serving one more time.
Please feel free to quote these quotes. Acknowledgement of David Tait as the author would be appreciated. There are now over 1300 David sayings for you to view at ...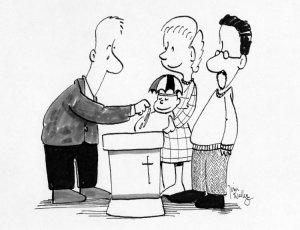 CARTOONS FROM TOON FEVER
Visit the Toon Fever website for more cartoon fun..... http://www.toonfever.com

Check it out at...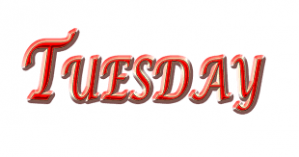 TUESDAY TEACHINGS
THIS WEEK: A REVELATION OF..... DIVIDING THE WATERS (Part 11) ELISHA'S MINISTRY AS A PATTERN FOR THE CHURCH TODAY
The first of a two-part look of the amazing way in which God showed the pattern of the church today so long before it ever existed!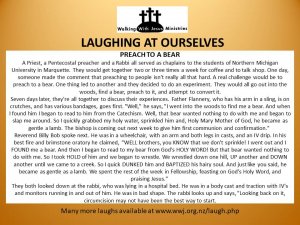 *** ANOTHER DAILY EZINE FROM WWJ!*** 'LAUGHING AT OURSELVES' Subscribe Today
As Christians, if we can't laugh at ourselves, others will! A fun way to start your day. To register today, go down to the bottom of the page link below, click on the subscribe link lao--on@wwj.org.nz (or paste the address in an email yourself and send) Then it's done!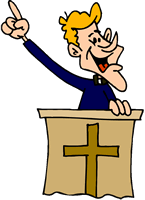 LAUGHING AT OURSELVES
***Blessed are those who can laugh at themselves for they shall never cease to be amused***
*** Those who can't laugh at themselves leave the job to others. ***
258. Not So Good Sermons
A young minister took a rural parish. His wife kept herself busy with ministry and hobbies. Three years later, the couple decided to move to another parish because the church was dying. As the minister cleaned out the bedroom closet, he found an egg carton filled with money. He counted out a dozen one-dollar bills and three beautifully decorated eggs.
"What's this, sugar?" he asked his wife. "Oh, honey," she said bashfully, "I was hoping you wouldn't find that." When her husband asked her to explain, she at last complied.
"You see, dear," she said in an embarrassed tone, "one of my hobbies is decorating eggs. When I get depressed, I decorate an egg and I feel better."
"Oh," the minister replied. "Tell me more. Why haven't you told me about this before?"
"Well," she continued meekly, "The only time I get depressed is when you preach a bad sermon. So I decorate an egg whenever you mess up really bad."
At that point, the minister grinned and hugged his wife. "Not a bad record, if I do say so myself! Three years, over fifty sermons a year, and only three bad ones!"
After the hug, the wife spoke up again.
"There's something else I should tell you," she said bashfully. "Every time I got a dozen eggs decorated I sold them to the women's missionary corps for a dollar."
QWIK QWIP: "When your ship comes in.... make sure you are willing to unload it."
259. Bubba and the Pope
Bubba was bragging to his boss one day, "You know, I know everyone there is to know. Just name someone, anyone, and I know them."
Tired of his boasting, his boss called his bluff, "OK, Bubba how about Tom Cruise?"
"Sure, yes, Tom and I are old friends, and I can prove it." So Bubba and his boss fly out to Hollywood and knock on Tom Cruise's door, and sure enough, Tom Cruise, shouts, "Bubba! Great to see you! You and your friend come right in and join me for lunch!"
Although impressed, Bubba's boss is still sceptical. After they leave Cruise's house, he tells Bubba that he thinks Bubba's knowing Cruise was just lucky.
"No, no, just name anyone else," Bubba says.
"President Clinton," his boss quickly retorts.
"Yes," Bubba says, "I know him, let's fly out to Washington." And off they go. At the White House, Clinton spots Bubba on the tour and motions him and his boss over, saying, "Bubba, what a surprise, I was just on my way to a meeting, but you and your friend come on in and let's have a cup of coffee first and catch up." Well, the boss is very shaken by now, but still not totally convinced.
After they leave the White house grounds, he expresses his doubts to Bubba, who again implores him to name anyone else.
"The Pope," his boss replies.
"Sure!" says Bubba. "My folks are from Poland, and I've know the Pope a long time." So off they fly to Rome. Bubba and his boss are assembled with the masses in Vatican Square when Bubba says, "This will never work. I can't catch the Pope's eye among all these people. Tell you what, I know all the guards so let me just go upstairs and I'll come out on the balcony with the Pope." and he disappears into the crowd headed toward the Vatican. Sure enough, half an hour later Bubba emerges with the Pope on the balcony. But by the time Bubba returns, he finds that his boss has had a heart attack and is surrounded by paramedics.
Working his way to his boss' side, Bubba asks him, "What happened?" His boss looks up and says, "I was doing fine until you and the Pope came out on the balcony and the man next to me said, "Who's that on the balcony with Bubba?"
FREE DOWNLOAD: You can now download the book 'Laughing At Ourselves' in PDF format at LAUGHING AT OURSELVES One of the most comprehensive sources of Christian Humour on the Net with 800 sermon fillers for your entertainment and use at ..... https://www.wwj.org.nz/content/wwj18p47.pdf
Or read them all online at.....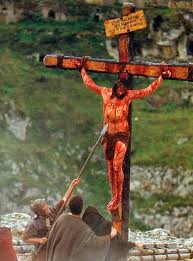 A DAVID MUSING
I am writing this on Good Friday, which this year corresponds to Passover.
At this time, we remember the suffering and sacrifice of our Jesus for us on the cross on Calvary's hill - or do we?
Of course, in the Western world, it is a time for Hot Cross Buns, or some other delicacy that tradition may prescribe. Here in Kenya, there are no special treats, for day to day life for many can struggle for daily food anyway. Especially when the rainy season has not turned up on time.
But remember Jesus?
I find Facebook a pretty good barometer of peoples thoughts. I have several thousand followers, mainly Christians, mostly leaders, with a few Muslims thrown in. Yet when it comes to Good Friday, you somewhat wonder whether this all-encompassing sacrifice of our Saviour and Lord is actually worth remembering. So few posts mention His sacrifice for us.
Without the crucifiction, our sins could not have been forgiven, for God requires a sacrifice of blood for blood, of life for life. Without Good Friday, or sacrifice day, from the perspective of Jesus, death would not have been overcome, to make the celebration of His resurrection possible.
In our cotton wool world, we are protected from death as much as possible. In some places people literally think meat is produced in a supermarket packet!
Here, in a Kenyan village of course, everyone knows the truth of where meat comes from, for with a lack of refrigeration, your next meal is 'on the hoof' until just before it is eaten!
For me, the death of my Saviour is of at least as much significance as His resurrection, for I somehow share, a little bit, in the grief and pain my Jesus went through for me. Of course I celebrate the resurrection, for the eternal life it provides.
What do you think?
Until next week.....
MAY GOD BLESS YOU AND YOU BLESS GOD
His servant and yours
David Tait

Visit us here.....
REPRODUCTION OF NEWSLETTER CONTENT
Most weeks we get enquiries about reproducing, in electronic or print form, articles contained in 'PGIM!' We welcome and encourage you to utilize this material. Freely received, freely given. We would ask though, that the source be acknowledged as an encouragement to others to subscribe to this newsletter also.
CHANGING YOUR EMAIL ADDRESS? NEWSLETTER STOPS COMING?
Each week we can lose up to 2% of our readers when they change email addresses without letting us know. Or sometimes, by your server acting strangely and just cutting us off! If you are about to change your address, please advise us of both your old and new addresses here at
enquiries@wwj.org.nz
and we will happily change our records to ensure ongoing delivery. Thanks.
Please also keep our address in your address book, as sometimes servers will automatically delete your address if there is even a one off problem in delivery. If your newsletter doesn't arrive, please let us know and we will reinstate you.
LINKS
If you would like to link your web site to ours, and ours to yours, please advise us on
links@wwj.org.nz
ABOUT US
WALKING WITH JESUS MINISTRIES is a non-profit, non-denominational, Bible based ministry located in Hastings, New Zealand. A ministry dedicated to developing discipleship, fostering unity amongst God's people to achieve the Great Commission, and in doing so, preparing for Christ's return. It is securely based upon the foundational principles of the Apostles Creed while recognising the wide and rich diversity of beliefs amongst Christians in other areas. In accordance with the Lord's direction, materials produced by the ministry are available, free of charge, to genuine enquirers upon request. The ministry is solely funded by donations, as the Lord provides. A list of materials available (plus some fun!) is obtainable and freely downloadable from our website
wwj.org.nz
or by contacting us as follows.
Walking With Jesus Ministries
7 Bull Street
Ahuriri
Napier
New Zealand
Phone: (06) 835 0567 International (+64) 6 835 0567
Email:
enquiries@wwj.org.nz
Web:
wwj.org.nz
Our role is to bless and encourage those in ministry while promoting co-operation and unity of direction amongst the body of Christ, as emphasised 3 times by Jesus in His longest prayer, immediately prior to His arrest and crucifixion. "... so that they may be one as we are one." (John 17:12, 21, 23-4) Our website is currently being developed to encourage your participation one with another, to share resources, and to enable you to promote events and items of interest to the body as a whole - and have a smile while doing it!
For comments upon and contributions to this service, please contact
david@wwj.org.nz
SUBSCRIPTION MANAGEMENT
We would encourage you to share this free service with your friends in ministry. To subscribe yourself please email pgim-on@wwj.org.nz.
If your name has been referred to us by a friend or supporting Ministry or has been obtained from a public Christian Directory or Website, it isn't our wish to burden you with information in which you aren't interested. To remove yourself from this list, please email pgim-off@wwj.org.nz.