A Weekly World Wide Word of Encouragement to those in the Ministry
PRAISE GOD IT'S MONDAY!
A WEEKLY 'WWW (world-wide word) OF ENCOURAGEMENT'
TO THOSE IN MINISTRY
A FREE service, currently connecting with Christian leaders from 3,000 denominations and ministries, in 70 countries.

Issue No: 919 Published: 03 Jun 2019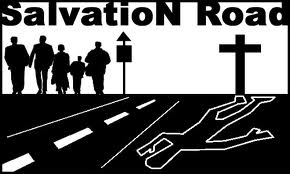 A REVELATION OF……. THE THIRD AND FINAL DWELLING PLACE OF GOD'S GLORY PLUS THE RIVER OF LIFE. Part 4
A PATTERN OF THE RIVER OF GOD IN THE NEW TESTAMENT
Ezekiel's River was not the River of Life of the New Testament, but rather a shadow or pattern of it.
It was a picture that the people of the day could understand, for the Jordan then, as now, can suffer much from reduced flows during drought periods. So to have the huge flows described, would have been seen as a real blessing from God, both in the natural and the spiritual.
THE FUNCTION OF WATER IN THE BIBLE
Water, so critical to natural life, unsurprisingly has deep spiritual meanings too.
1. REPRESENTING SALVATION/ETERNAL LIFE
In the Old Testament…..
With joy you will draw water from the wells of salvation" (Isaiah 12:3)
And in the New where Jesus talks to the Samaritan woman…..
10 Jesus answered her, "If you knew the gift of God and who it is that asks you for a drink, you would have asked him and he would have given you living water." (John 4:10)
Of course baptism too, is the outward confirmation of salvation…..
Whoever believes and is baptized will be saved, but whoever does not believe will be condemned. (Mark 16:16)
2. SYMBLOIC OF GOD'S HOLY SPIRIT TO COME
And which we now are blessed to experience…..
On the last day of the feast, the great day, Jesus stood up and cried out, "If anyone thirsts, let him come to me and drink. Whoever believes in me, as the Scripture has said, 'Out of his heart will flow rivers of living water.'" Now this he said about the Spirit, whom those who believed in him were to receive, for as yet the Spirit had not been given, because Jesus was not yet glorified (John 7:37-392. SPRINGS OF LIVING WATER
In the Old Testament in particular, springs are symbolic as spiritual life. In the natural, springs in the desert country, often understood by us as oases, are salvation for travellers suffering from thirst. Digging cisterns, or shallow wells, was common and the water they provided highly prized and sometimes fought over. But here we are talking of 'living water'…..
I will make rivers flow on barren heights, and springs within the valleys. I will turn the desert into pools of water, and the parched ground into springs. (Isaiah 41:18)
My people have committed two sins: They have forsaken me, the spring of living water, and have dug their own cisterns, broken cisterns that cannot hold water. (Jeremiah 2:13)
This is confirmed in the New…..
For the Lamb at the center of the throne will be their shepherd; 'he will lead them to springs of living water.' 'And God will wipe away every tear from their eyes.'" (Revelation 7:17)
3. BEAUTIFULLY STATED BY JESUS
14 but whoever drinks the water I give them will never thirst. Indeed, the water I give them will become in them a spring of water welling up to eternal life." (John 4:14)
(Continued next week)
Find out more about us at.....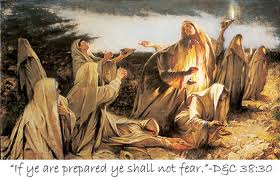 FROM THE WORD
THE WORDS OF JESUS
May we hear what the Lord is saying to us.....
A Warning to be Alert (Matthew 24:36-51, Mark 13:32-37, Luke 21:32-36)
For the return of Jesus.
"But no one knows the day or hour when this will take place, not the angels in heaven, nor the Son. Only the Father knows. When the Son of man comes it will be like it was during the time of Noah. 38It will be as in the days before the flood, when they were eating and drinking, marrying and giving in marriage, right up until the day that Noah went into the Ark. They didn't realize what was going to happen until the flood came and swept them all away. That's how the coming of the Son of man will be.
"Two men will be working in the fields. One will be taken, the other left. Two women will be grinding grain with a mill. One will be taken, the other left. So stay alert, because you don't know what day your Lord is coming. But consider this: if the house-owner knew what time a thief was coming, he would keep watch. He would not allow his house to be broken into and robbed. You also need to be ready, because the Son of man is coming at a time when you're not expecting him.
"For who is the trustworthy and thoughtful servant? It's the one his master puts in charge of his household to provide them with food at the proper time. How good it will be for that servant to be found doing that when his master returns! I tell you the truth: the master will put that servant in charge over everything he has. But if he was evil, the servant would say to himself, 'My master is taking a long time,' and would start beating the other servants, feasting and drinking with the drunks. Then that servant's master will return when the man doesn't expect him, at a time he doesn't know. He'll cut him to pieces, and treat him in the same way as the hypocrites, sending him to a place where there's weeping and gnashing of teeth.
Parable of the Ten Virgins (Matthew 25:1-13)
"The kingdom of heaven is like ten girls, who took their lamps with them to go and meet the bridegroom.
Five were foolish, and five were wise. The foolish girls took their lamps but didn't take any oil with them, while the wise took jars of oil with them as well as their lamps. The bridegroom took a long time and all the girls became drowsy and fell asleep. At midnight the shout came, 'Look, the bridegroom's here! Come out and meet him!' All the girls got up and trimmed the wicks of their lamps. The foolish girls said to the wise ones, 'Give us some of your oil, because our lamps are going out.' But the wise girls replied, 'No, because otherwise there won't be enough for both you and for us. Go to the shopkeepers and buy some oil for yourselves.' While they went to buy oil, the bridegroom arrived, and those who were ready went in with him to the wedding, and the door was locked shut. The other girls came later. 'Lord, Lord,' they called, 'Open the door for us!' But he answered, 'I tell you the truth: I don't know you.' So stay alert, for you don't know the day, or the hour.
(Continued next week)
Download the complete 'Words of Jesus' here.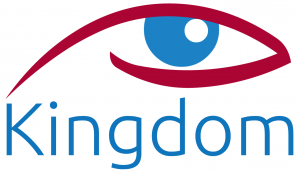 OUR AFRICAN EXPERIENCE
FOR MORE DETAILED AND REGULAR UPDATES, VISIT OUR FACEBOOK PAGE
AN EYE 4 Africa - https://www.facebook.com/aneye4africa/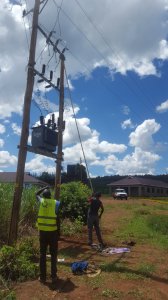 THE POWER OF POWER IS..... SILENCE!
Yesterday afternoon our power was finally connected! PTL!
What difference did it make? Silence reigned supreme!
I feel sure that the generator will appreciate the break also! After nearly 14 months of continuous use, it needs a holiday!
Joking aside, this is the second of our initial 'BIG 3' necessities for efficient operation. We have our Resident Permits, now power, leaving NHIF insurance provider status outstanding. And that is due to be approved by the NHIF Board on Thursday.
In addition, we have had some donated equipment stuck on the wharf at Mombasa for around 6 months! This is Africa! However, yesterday President Uhuru agreed to release the hundreds of containers involved, including our small but valuable shipment, within 3 weeks.
What an amazing week! But here there is 'many a slip twixt cup and lip', so we will wait to see the other 2 both happening before celebrating too much. In the meantime, we are enjoying the silence!
But this is certainly our most promising and satisfying week since we have been in Kenya.
Switching the transformer on. 3 switches needed to be pulled down to activate it.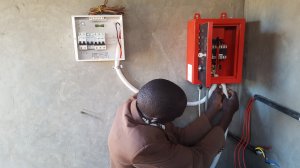 THE ELECTRICAL SYSTEM
The Electrician getting ready the wiring inside the Power House. The white box is a single phase one. The 3 phase is not iv view. The red box switches between the power, generator and other items. Actually, our electrical systems are quite complex.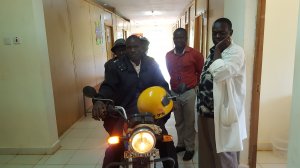 NEW INNOVATION! A 'DRIVE THRU' HOSPITAL!!!!!
Sitting in my office I heard the loud noise of a motorbike! I looked up, and low and behold a motorbike with an inpatient on drove past my door towards the ward!
It had driven up our entrance ramp and down the hallway!
Then from the bike to the bed!
Africa never ceases to surprise! Maybe we should patent the idea!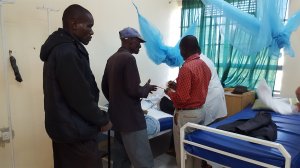 AND.....
The patient comfortably in bed.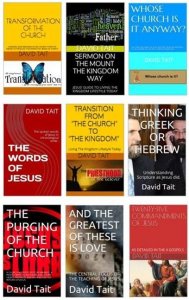 ***NOW***NINE BOOKS ARE AVAILABLE ON AMAZON!!!
9 BOOKS are now available on Amazon (Kindle)!

All are available worldwide for electronic download on Amazon (Kindle) for $US0.99c . Unfortunately there has to be a charge in order to list.

Your support would be appreciated and they could well change your life!

They are all found at this link.....
http://www.amazon.com/s/ref=nb_sb_noss?url=search-alias%3Daps&field-keywords=david+tait+books/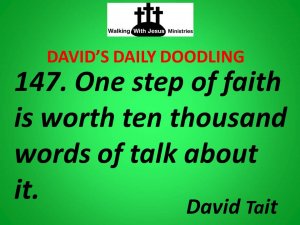 ***DAILY EZINE!*** 'DAVID'S DAILY DOODLINGS' Subscribe Today
Receive one of David's sayings in your mailbox each day to inspire, challenge or maybe, amuse. To register today, go down to the bottom of the page link below, click on the subscribe link dd-on@wwj.org.nz (or paste the address in an email yourself and send) Then it's done! If you have an Irish heritage, you will love the background coloring!
Subscription and back issue link is.....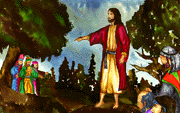 'THE WORDS OF JESUS' REMAIN AVAILABLE FOR PDF DOWNLOAD
Join the many who have downloaded the 'The Words of Jesus'. I am sure you will be blessed by it, as I have been.

One key element here is the setting out in chronological order (as far as it is possible to do so) our Lord's words drawn from all the Gospels, and the elimination of repetition between Gospels.

You may be surprised by the different perspective this presentation gives you both in understanding of His life and ministry, and in achieving a closer relationship with Him.

Download the free PDF here.....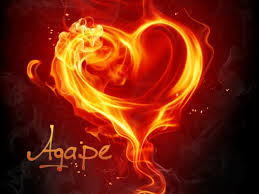 DAVID'S DOODLINGS
HEAVENLY TRUTHS GOD HAS SHOWN ME
739. - 809. God has shown me that...
... the fear and love of Him are intertwined.
... as pride comes before a fall, so repentance precedes restoration.
... there is nothing good in me until I am touched by His healing hand.
... I can't be found until I admit I'm lost.
... to be a servant is indeed the highest calling.
... He is to be obeyed, even when I don't understand why.
... He lives outside of time, but I don't.
... love works wonders.
... He desires me to change: not me to try and change Him.
... to give in to Him is to grow up in Him.
Please feel free to quote these quotes. Acknowledgement of David Tait as the author would be appreciated. There are now over 1300 David sayings for you to view at ...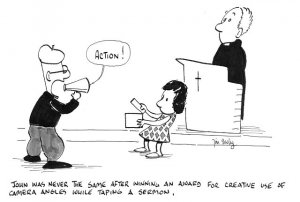 CARTOONS FROM TOON FEVER
Visit the Toon Fever website for more cartoon fun..... http://www.toonfever.com

Check it out at...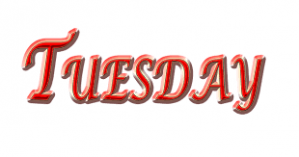 TUESDAY TEACHINGS
THIS WEEK: 12 LESSONS TO BE LEARNED FROM 'DIVIDING THE WATERS' (Continued)
....as we move into the final 3 lessons that God is showing us.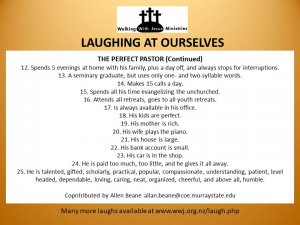 *** ANOTHER DAILY EZINE FROM WWJ!*** 'LAUGHING AT OURSELVES' Subscribe Today
As Christians, if we can't laugh at ourselves, others will! A fun way to start your day. To register today, go down to the bottom of the page link below, click on the subscribe link lao--on@wwj.org.nz (or paste the address in an email yourself and send) Then it's done!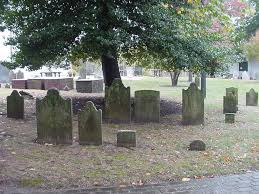 LAUGHING AT OURSELVES
***Blessed are those who can laugh at themselves for they shall never cease to be amused***
*** Those who can't laugh at themselves leave the job to others. ***
269. Unusual Memorial
A newly appointed young preacher was contacted by the local funeral director to hold a graveside service at a small country cemetery.
There was to be no funeral, just the committal, because the deceased had no family or friends left. The young pastor started early to the cemetery, but soon lost his way.
After making several wrong turns, he finally arrived a half-hour late. The hearse was no where in sight, and the workman were relaxing under a nearby tree, eating their lunch. The pastor went to the open grave and found that the vault lid was already in place. He took out his book and read the service.
As he returned to his car, he overheard one of the workman say, "Maybe we'd better tell him that's a septic tank."
270. Who Are You?
A certain little girl, when asked her name, would reply, "I'm Mr. Sugarbrown's daughter."
Her mother told her this was wrong, she must say, "I'm Jane Sugarbrown."
The Pastor spoke to her in Sunday School, and said, "Aren't you Mr. Sugarbrown's daughter?"
She replied, "I thought I was, but mother says I'm not."
QWIK QWIP: "We can never see ourselves as others see us. Even the mirror shows us in reverse."
271. Do You Live Here?
Father Delany was walking home after his sermon late one night when he came upon this intoxicated tramp on the sidewalk. Wanting to help, he asked the man, "Do you live here?"
"Yesh," the man slowly replied.
"Would you like me to help you upstairs?" the father asked.
"Yesh," the man slowly sputtered.
When they got up on the second floor he asked, "Is this your floor?"
"Yesh," again the man replied.
Then Father Delany got to thinking that maybe he didn't want to face the man's irate wife because she may think he was the one who got the man drunk. So, he opened the first door he came to and shoved him through it, then went back downstairs.
But lo and behold when he went back outside, there was another Tramp lying on the sidewalk. So he asked that man "Do you live here?"
"Yesh."
"Would you like me to help you upstairs?"
"Yesh."
So he did and put him in the same door with the first Tramp. Then went back downstairs, where, to his surprise, there was another tramp.
So he started over to him. But before he got to him, the tramp staggered over to a policeman and cried, "For God's sake, offisher, protect me from thish man. He'sh been doing nothing all night long but takin' me upstairsh and throwing me down the elevator shaft!"
Download the book 'Laughing At Ourselves' in PDF format at LAUGHING AT OURSELVES One of the most comprehensive sources of Christian Humour on the Net with 800 sermon fillers for your entertainment and use at ..... https://www.wwj.org.nz/content/wwj18p47.pdf
Or read them all online at.....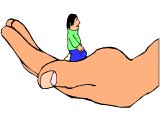 A DAVID MUSING
Coping with the good and bad in life is essential if we are to survive!
Here is Africa, it is doubly so.
This week, we have finally had our transformer installed and working after a huge battle. The good.
On Monday, a long awaited meeting that will transform the hospital into a national health insurance provider was confirmed to be held on Thursday. Turning up to the meeting, along with several other medical facilities, we found that Between Monday and Thursday the entire Board of Directors had been fired! A new Board starts on Monday, but how long it takes them to get around to approving 300 facilities remains to be seen. Only in Africa! Here you live day by day.
Life in Christ is no different. The ups and downs of life remain, but we have God to carry us in the palm of His hand, to help us cope with the good and the bad.
Actually we come closer to God in the bad times, for we need Him more.
Here in Kenya, we experience many opportunities to get closer to God!
When you are in the bad times, call out to Him and He will come and comfort you through your pain. He is there for you today.
Until next week.....
MAY GOD BLESS YOU AND YOU BLESS GOD
His servant and yours
David Tait

Visit us here.....
REPRODUCTION OF NEWSLETTER CONTENT
Most weeks we get enquiries about reproducing, in electronic or print form, articles contained in 'PGIM!' We welcome and encourage you to utilize this material. Freely received, freely given. We would ask though, that the source be acknowledged as an encouragement to others to subscribe to this newsletter also.
CHANGING YOUR EMAIL ADDRESS? NEWSLETTER STOPS COMING?
Each week we can lose up to 2% of our readers when they change email addresses without letting us know. Or sometimes, by your server acting strangely and just cutting us off! If you are about to change your address, please advise us of both your old and new addresses here at
enquiries@wwj.org.nz
and we will happily change our records to ensure ongoing delivery. Thanks.
Please also keep our address in your address book, as sometimes servers will automatically delete your address if there is even a one off problem in delivery. If your newsletter doesn't arrive, please let us know and we will reinstate you.
LINKS
If you would like to link your web site to ours, and ours to yours, please advise us on
links@wwj.org.nz
ABOUT US
WALKING WITH JESUS MINISTRIES is a non-profit, non-denominational, Bible based ministry located in Hastings, New Zealand. A ministry dedicated to developing discipleship, fostering unity amongst God's people to achieve the Great Commission, and in doing so, preparing for Christ's return. It is securely based upon the foundational principles of the Apostles Creed while recognising the wide and rich diversity of beliefs amongst Christians in other areas. In accordance with the Lord's direction, materials produced by the ministry are available, free of charge, to genuine enquirers upon request. The ministry is solely funded by donations, as the Lord provides. A list of materials available (plus some fun!) is obtainable and freely downloadable from our website
wwj.org.nz
or by contacting us as follows.
Walking With Jesus Ministries
7 Bull Street
Ahuriri
Napier
New Zealand
Phone: (06) 835 0567 International (+64) 6 835 0567
Email:
enquiries@wwj.org.nz
Web:
wwj.org.nz
Our role is to bless and encourage those in ministry while promoting co-operation and unity of direction amongst the body of Christ, as emphasised 3 times by Jesus in His longest prayer, immediately prior to His arrest and crucifixion. "... so that they may be one as we are one." (John 17:12, 21, 23-4) Our website is currently being developed to encourage your participation one with another, to share resources, and to enable you to promote events and items of interest to the body as a whole - and have a smile while doing it!
For comments upon and contributions to this service, please contact
david@wwj.org.nz
SUBSCRIPTION MANAGEMENT
We would encourage you to share this free service with your friends in ministry. To subscribe yourself please email pgim-on@wwj.org.nz.
If your name has been referred to us by a friend or supporting Ministry or has been obtained from a public Christian Directory or Website, it isn't our wish to burden you with information in which you aren't interested. To remove yourself from this list, please email pgim-off@wwj.org.nz.