A Weekly World Wide Word of Encouragement to those in the Ministry
PRAISE GOD IT'S MONDAY!
A WEEKLY 'WWW (world-wide word) OF ENCOURAGEMENT'
TO THOSE IN MINISTRY
A FREE service, currently connecting with Christian leaders from 3,000 denominations and ministries, in 70 countries.

Issue No: 1122 Published: 17 Apr 2023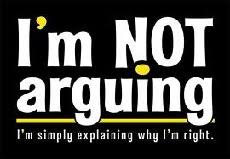 THINKING GREEK OR HEBREW
DOCTRINE v EXPERIENTIAL TRUTH
Greek (Western) In Western thought spiritual advancement is understood to be found in theological qualifications.
Becoming the leader (pastor, minister etc.) of a church today generally requires a theological qualification from an institution approved by the church grouping one is involved with. Correct doctrine, learned through theological study, is seen as the way to get closer to God. Unfortunately though, while knowledge about God can be learned, relationship with God has to be experienced and, in reality, is often hindered through the pride that so often accompanies intellectual achievement.
This Greek inspired development is a major challenge to the church today.
Eastern (Hebrew) In Hebrew thought, God has to be experienced through relationship, which then must be reflected in one's life.
Spiritual maturity and growth comes from intimacy with God which results in doing His will in your life, even in seemingly impossible situations. For example, take Elisha and his servant. Elisha had boldness when facing the armies of the king of Aram, while his servant, without Elisha's relationship, was scared stiff! Elisha prayed....
16 "Don't be afraid," the prophet answered. "Those who are with us are more than those who are with them." 17 And Elisha prayed, "Open his eyes, LORD, so that he may see." Then the LORD opened the servant's eyes, and he looked and saw the hills full of horses and chariots of fire all around Elisha. (2 Kings 6:16-17)
In the New Testament the same principle applies.....
13 But when he, the Spirit of truth, comes, he will guide you into all the truth. He will not speak on his own; he will speak only what he hears, and he will tell you what is yet to come. 14He will glorify me because it is from me that he will receive what he will make known to you. 15All that belongs to the Father is mine. That is why I said the Spirit will receive from me what he will make known to you." (John 16:13-15)
We must experience and reflect God's love.....
16 I pray that out of his glorious riches he may strengthen you with power through his Spirit in your inner being, 17 so that Christ may dwell in your hearts through faith. And I pray that you, being rooted and established in love, 18may have power, together with all the Lord's holy people, to grasp how wide and long and high and deep is the love of Christ, 19and to know this love that surpasses knowledge—that you may be filled to the measure of all the fullness of God. (Ephesians 3:16-19)
We must experience and reflect God's faith....
22 But now he has reconciled you by Christ's physical body through death to present you holy in his sight, without blemish and free from accusation— 23if you continue in your faith, established and firm, and do not move from the hope held out in the gospel. This is the gospel that you heard and that has been proclaimed to every creature under heaven, and of which I, Paul, have become a servant. (Colossians 1:22-3)
We must experience and reflect God's truth as found in the Scriptures.....
14 But as for you, continue in what you have learned and have become convinced of, because you know those from whom you learned it, 15 and how from infancy you have known the Holy Scriptures, which are able to make you wise for salvation through faith in Christ Jesus. (2 Timothy 3:14-15)
Through being obedient to the will of the Father as related to us by the Holy Spirit we will become sons (genderless) of God.....
13 For if you live according to the sinful nature, you will die; but if by the Spirit you put to death the misdeeds of the body, you will live, 14 because those who are led by the Spirit of God are sons of God. 15 For you did not receive a spirit that makes you a slave again to fear, but you received the Spirit of sonship. And by him we cry, ""Abba," Father." (Romans 8:13-15)
Amen.

SOME SPIRITUAL IMPLICATIONS FOR TODAY
1. We must change emphasis from theological qualifications to personal relationship with Jesus as the way to spiritual maturity.
2. Discipleship must take precedent over sermons.
3. Leadership must be determined by proven spiritual maturity rather than theological, doctrinal knowledge.
4. We must 'walk the walk', not just 'talk the talk'.
(Continued next week)
Find out more about us at.....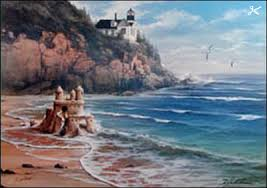 FROM THE WORD
THE WORDS OF JESUS
Sermon on the Mount (Matthew 5:1-7:29, Luke 6:17-49)
The primary 'life teachings' of Jesus.
Narrow and Wide Gates (Matthew 7:13-14)
Enter by the narrow entrance. For the entrance is wide, and the way is broad that leads to destruction, and many travel that way. But the entrance is narrow, and the way is difficult that leads to life, and only a few find it.
The Tree and Its Fruit( Matthew 7:15-23, Luke 6:43-5)
"Watch out for false prophets who come wearing sheep's clothing, but who on the inside are vicious wolves. You can recognize them by their fruits. Do people harvest grapes from thorn bushes, or figs from thistles? So every good tree produces good fruit, while a bad tree produces bad fruit. A good tree can't produce bad fruit, and a bad tree can't produce good fruit. Every tree that doesn't produce good fruit is chopped down and thrown into the fire. So you'll recognize them by their fruits.
"Not everyone who calls me 'Lord, Lord' will enter the kingdom of heaven—only those who do the will of my Father in heaven. Many will say to me at the day of judgment, 'Lord, Lord, didn't we prophesy in your name and drive out demons in your name, and perform many miracles in your name?' Then I will tell them, 'I never knew you. Leave me, you people who practice wickedness!'
Wise and Foolish Builders(Matthew 7:24-9, Luke 6:46-9)
Everyone that hears the words I say, and follows them, is like a wise man who built his house on solid rock. The rain poured down, and the floods rose, and the winds blew hard against the house, but it didn't fall down, because its foundations were on solid rock. Everyone that hears the words I say, and doesn't follow them, is like a foolish man who built his house on the sand. The rain poured down, and the floods rose, and the winds blew hard against the house, and it fell down—it totally collapsed."
(Continued next week)
Find out more about us at.....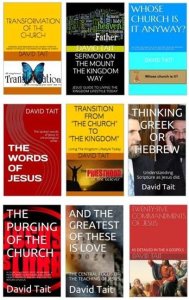 ***NOW***NINE BOOKS ARE AVAILABLE ON AMAZON!!!
9 BOOKS are now available on Amazon (Kindle)!

All are available worldwide for electronic download on Amazon (Kindle) for $US0.99c . Unfortunately there has to be a charge in order to list.

Your support would be appreciated and they could well change your life!
Many more online at https://www.wwj.org.nz/more-free-downloads

They are all found at this link.....
http://www.amazon.com/s/ref=nb_sb_noss?url=search-alias%3Daps&field-keywords=david+tait+books/
*DAVID"S DOODLINGS
Enjoy some of David's sayings here, plus 1300 more on the website at.....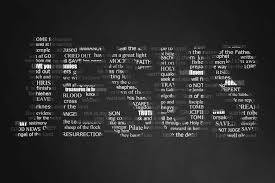 'THE WORDS OF JESUS' REMAIN AVAILABLE FOR PDF DOWNLOAD
Join the many who have downloaded the 'The Words of Jesus'. I am sure you will be blessed by it, as I have been.
One key element here is the setting out in chronological order (as far as it is possible to do so) our Lord's words drawn from all the Gospels, and the elimination of repetition between Gospels.
You may be surprised by the different perspective this presentation gives you both in understanding of His life and ministry, and in achieving a closer relationship with Him.

Download the free PDF here.....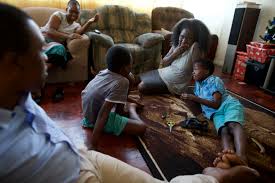 DAVID'S DOODLINGS
MARRIAGE AND FAMILIES
141. Adversity makes or breaks marriages.

142. Absence makes the heart grow fonder, but too long an absence leads the heart to wander.

368. The most satisfying thing in parenthood is when children become friends.

369. When the family founders, society sinks.

370. A successful society is built upon the foundation of fully functional families.

371. Society is simply a gathering together of families. Therefore it is simply impossible for society to be better than the family foundation it is built upon.

548. A nation's true wealth is best measured by its families' health.

1274. It would be miserable being married to the perfect spouse. They would always show you up and you would have nothing to grizzle about - except their perfection!
Many more at.....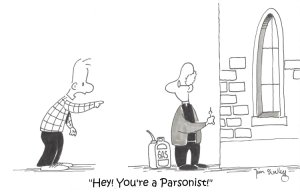 CARTOONS FROM TOON FEVER
Visit the Toon Fever website for more cartoon fun..... http://www.toonfever.com
Check it out at...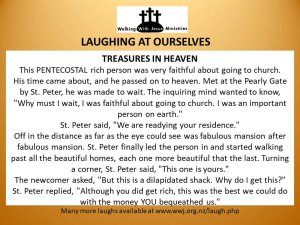 'LAUGHING AT OURSELVES
Another laugh or three for you today
Many more on our website below. Also many, may, many more under these categories on our website, wwj,org,nz Look under the heading MAINLY LAUGHS. Choose from.....

THIS WEEKS TUESDAY TEACHING.....
Wait and see!
LAUGHING AT OURSELVES
***Blessed are those who can laugh at themselves for they shall never cease to be amused***
338. Come Out
Our children's Sunday School classes were presenting their end of the year program for the congregation - telling about the life of Jesus.
When it came to the part about Jesus' miracles, one little boy said, "Yes, Jesus raised Lazarus from the dead!" The teacher urged him to tell us more.
He said, "Well, Jesus told them to open the tomb, and then He said, 'Lazarus, come out!' And it's a good thing he didn't just say 'Come out!' because there would have been a stampede of dead guys."
339. No Longer Home
After the fall in Garden of Eden, Adam was walking with his sons Cain and Abel.
They passed by the ruins of the Garden of Eden. One of the boys asked, "What's that?"
Adam replied, "Boys, that's where your mother ate us out of house and home."
QWIK QWIP: "I am God's Melody of life and He Sings His Song through me."
340. What Chapter
A man has been in business for many, many years and the business is going down the drain. He is seriously contemplating suicide and he doesn't know what to do. He goes to the Pastor to seek his advice. He tells the Pastor about all of his problems in the business and asks the Pastor what he should do.
The Pastor says "Take a beach chair and a Bible and put them in your car and drive down to the edge of the ocean. Go to the water's edge. Take the beach chair out of the car, sit on it and take the Bible out and open it up. The wind will rifle the pages for a while and eventually the Bible will stay open at a particular page. Read the Bible and it will tell you what to do."
The man does as he is told. He places a beach chair and a Bible in his car and drives down to the beach. He sits on the chair at the water's edge and opens the Bible. The wind rifles the pages of the Bible and then stops at a particular page. He looks down at the Bible and sees what he has to do.
Three months later the man and his family come back to see the Pastor. The man is wearing a $1,000 Italian suit, The wife is all decked out with a full-length mink coat and the child is dressed in beautiful silk. The man hands the Pastor a thick envelope full of money and tells him that he wants to donate this money to the church in order to thank the Pastor for his wonderful advice. The Pastor is delighted. He recognizes the man and asks him what advice in the bible brought this good fortune to him.
The man replies: "Chapter 11."
Download the book 'Laughing At Ourselves' in PDF format at LAUGHING AT OURSELVES One of the most comprehensive sources of Christian Humour on the Net with 800 sermon fillers for your entertainment and use at ..... https://www.wwj.org.nz/content/wwj18p47.pdf
Or read even more online at.....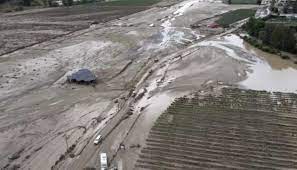 A DAVID MUSING
This week we left Napier to travel to Tauranga.
On our way, we soon passed through the Esk Valley, one area that felt the full force of Cyclone Gabrielle, in the middle of February. Terrible sights were still there for us to see. Houses now uninhabitable, beautiful apple orchards and grape crops completely destroyed at, or close to, harvest time! A huge disaster!
It was a demonstration of the power of nature, and a small picture of the force of God that He can unleash in the end times, as is shown in the Book of Revelation.in end times.
This was not that, but a small demonstration of what will happen then.
Are we ready for what is to come? May we give our lives fully to Him.
Until next time
His servant and yours
David Tait

Visit us here.....
CHANGING YOUR EMAIL ADDRESS? NEWSLETTER STOPS COMING?
Each week we can lose up to 2% of our readers when they change email addresses without letting us know. Or sometimes, by your server acting strangely and just cutting us off! If you are about to change your address, please advise us of both your old and new addresses here at
enquiries@wwj.org.nz and we will happily change our records to ensure ongoing delivery. Thanks.

Please also keep our address in your address book, as sometimes servers will automatically delete your address if there is even a one off problem in delivery. If your newsletter doesn't arrive, please let us know and we will reinstate you.
REPRODUCTION OF NEWSLETTER CONTENT
Most weeks we get enquiries about reproducing, in electronic or print form, articles contained in 'PGIM!' We welcome and encourage you to utilize this material. Freely received, freely given. We would ask though, that the source be acknowledged as an encouragement to others to subscribe to this newsletter also.
LINKS
If you would like to link your web site to ours, and ours to yours, please advise us on
links@wwj.org.nz
ABOUT US
WALKING WITH JESUS MINISTRIES is a non-profit, non-denominational, Bible based ministry located in Hastings, New Zealand. A ministry dedicated to developing discipleship, fostering unity amongst God's people to achieve the Great Commission, and in doing so, preparing for Christ's return. It is securely based upon the foundational principles of the Apostles Creed while recognising the wide and rich diversity of beliefs amongst Christians in other areas. In accordance with the Lord's direction, materials produced by the ministry are available, free of charge, to genuine enquirers upon request. The ministry is solely funded by donations, as the Lord provides. A list of materials available (plus some fun!) is obtainable and freely downloadable from our website
wwj.org.nz or by contacting us as follows.

Walking With Jesus Ministries
P O Box 2
Webuye 50205
Kenya

Email: enquiries@wwj.org.nz
Web: wwj.org.nz

Our role is to bless and encourage those in ministry while promoting co-operation and unity of direction amongst the body of Christ, as emphasised 3 times by Jesus in His longest prayer, immediately prior to His arrest and crucifixion. "... so that they may be one as we are one." (John 17:12, 21, 23-4) Our website is currently being developed to encourage your participation one with another, to share resources, and to enable you to promote events and items of interest to the body as a whole - and have a smile while doing it!

For comments upon and contributions to this service, please contact
david@wwj.org.nz
SUBSCRIPTION MANAGEMENT
We would encourage you to share this free service with your friends in ministry. To subscribe yourself please email pgim-on@wwj.org.nz.
If your name has been referred to us by a friend or supporting Ministry or has been obtained from a public Christian Directory or Website, it isn't our wish to burden you with information in which you aren't interested. To remove yourself from this list, please email pgim-off@wwj.org.nz.