A Weekly World Wide Word of Encouragement to those in the Ministry
PRAISE GOD IT'S MONDAY!
A WEEKLY 'WWW (world-wide word) OF ENCOURAGEMENT'
TO THOSE IN MINISTRY
A FREE service, currently connecting with Christian leaders from 3,000 denominations and ministries, in 70 countries.

Issue No: 1060 Published: 07 Feb 2022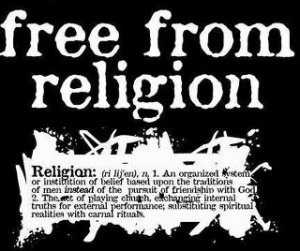 TRANSITION FROM 'THE CHURCH' TO 'THE KINGOM'
FROM "RELIGION" TO "REVELATION"
There is a pattern that applies to revelation and revivals. God gives a revelation and/or a Spirit awakening, to one or a group of people who seek Him intensely. This is amazing! Fantastic! Things happen! A new facet of God and His power is revealed and experienced! Hallelujah! Praise the Lord!
However, over time, things change. Man formalizes the revelation, turning it into theology. Or man works out how the Spirit is operating in the revival and imitates Him. The Spirit saddened, leaves, and the revival is reduced to form, so losing its substance.
Put simply, religion is man taking the god factor out of God. Of man putting God into a human designed box that can be manipulated in accordance with mans limited understanding. A box of form over substance! A box of intellectual study over faith and willingness to step out into the unknown in obedience to God's will. A box of following rules and regulations, put above seeking the guidance of the Holy Spirit. A box of legalistic limitation rather than the freedom found through spiritual growth.
The whole New Testament is a battleground between religion and revelation. Jesus battled with the Pharisees who could not accept either His miracles or revelatory teaching.....
The Yeast of the Pharisees and Sadducees
5 When they went across the lake, the disciples forgot to take bread. 6 "Be careful," Jesus said to them. "Be on your guard against the yeast of the Pharisees and Sadducees." 7 They discussed this among themselves and said, "It is because we didn't bring any bread." 8 Aware of their discussion, Jesus asked, "You of little faith, why are you talking among yourselves about having no bread? 9 Do you still not understand? Don't you remember the five loaves for the five thousand, and how many basketfuls you gathered? 10 Or the seven loaves for the four thousand, and how many basketfuls you gathered? 11 How is it you don't understand that I was not talking to you about bread? But be on your guard against the yeast of the Pharisees and Sadducees." 12 Then they understood that he was not telling them to guard against the yeast used in bread, but against the teaching of the Pharisees and Sadducees. (Matthew 16:5-12)
Peter was bound by the religious discrimination system of the Jews in regard to dietary requirements, so God gave him a vision. What a huge shock that was for him - and others!
2 So when Peter went up to Jerusalem, the circumcised believers criticized him 3 and said, "You went into the house of uncircumcised men and ate with them." 4 Peter began and explained everything to them precisely as it had happened: 5 "I was in the city of Joppa praying, and in a trance I saw a vision. I saw something like a large sheet being let down from heaven by its four corners, and it came down to where I was. 6 I looked into it and saw four-footed animals of the earth, wild beasts, reptiles, and birds of the air. 7 Then I heard a voice telling me, 'Get up, Peter. Kill and eat.' 8 "I replied, 'Surely not, Lord! Nothing impure or unclean has ever entered my mouth.'..... 17 So if God gave them the same gift as he gave us, who believed in the Lord Jesus Christ, who was I to think that I could oppose God?" (Acts 11:1-8,)
Yes, when we 'get religious' we surely oppose God, as Peter realized he had done! 17 So if God gave them the same gift as he gave us, who believed in the Lord Jesus Christ, who was I to think that I could oppose God?" (Acts 11:17)
Paul too, had to instruct the people about the deception of religiosity.....
16 Therefore do not let anyone judge you by what you eat or drink, or with regard to a religious festival, a New Moon celebration or a Sabbath day. 17 These are a shadow of the things that were to come; the reality, however, is found in Christ. 18 Do not let anyone who delights in false humility and the worship of angels disqualify you for the prize. Such a person goes into great detail about what he has seen, and his unspiritual mind puffs him up with idle notions. 19 He has lost connection with the Head, from whom the whole body, supported and held together by its ligaments and sinews, grows as God causes it to grow. (Colossians 2:16-19)
Revelation comes through time spent with Jesus along with obedience to what He shares with you. There is no other way. The more we seek God, the more He finds us!
We need to get the revelation that, at the cross, the curtain to the Holy of Holies was torn for us to enter into the very presence of God.....
51 At that moment the curtain of the temple was torn in two from top to bottom. The earth shook and the rocks split. (Matthew 27:51)
We are now priests, the New Testament fulfilment of the Old Testament priesthood, with the Old Testament's High Priest's access to the very throne of God.....
5 and from Jesus Christ, who is the faithful witness, the firstborn from the dead, and the ruler of the kings of the earth. To him who loves us and has freed us from our sins by his blood, 6 and has made us to be a kingdom and priests to serve his God and Father—to him be glory and power for ever and ever! Amen. (Revelation 1:5-6)
My friend, I want to speak to the both of us. God is calling you, is calling me, to set aside our religious ways, our conventional ways of doing things, in order to seek Jesus and His will with all our hearts, mind and strength. To accept that His kingdom is within us, so we no longer need to access God through an intermediary.
TO LEADERS: You need to train God's (not your!) people to seek out God's will for their lives from the Lord Himself, and not to rely upon you as a crutch, nor to act as an intermediary on their behalf.
TO PEOPLE: 'Walking with Jesus' cannot be delegated to another on our behalf. We are responsible for the outworking of our own salvation. Others can help show us the way, but only we can walk our walk.
May we walk with Jesus today. For that is the way of the kingdom.
Find out more about us at.....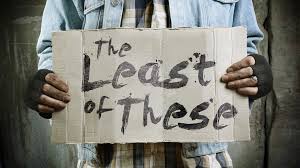 FROM THE WORD
THE WORDS OF JESUS
May we hear what the Lord is saying to us.....
Who is Greatest in the Kingdom? (Matthew 18:1-6, Mark 9:33-7, Luke 9:46-8)
An argument between the Disciples.
"What were you talking about on the way?"
"I tell you the truth, unless you change the way you think and become like little children, you won't ever enter the kingdom of heaven. 4But whoever humbles themselves and becomes like this little child is the greatest in the kingdom of heaven. 5Whoever accepts a little child like this in my name accepts me. But anyone who makes one of these little ones who trust in me sin, it would be better for them to have a large millstonea tied around their neck and be drowned in the depths of the sea.
"What disaster is coming on the world for all its temptations to sin! Temptations will surely come, but it will be a disaster for the person through whom the temptation comes! 8If your hand or your foot causes you to sin, cut it off and throw it away. It's better for you to enter eternal life crippled or lame rather than to have two hands or two feet and to be thrown into eternal fire. 9If your eye causes you to sin, pull it out and throw it away. It's better for you to enter eternal life with one eye than to have two eyes and to be thrown into the fire of judgment.
Zeal Without Understanding (, Mark 9:38-41, Luke 9:49-50)
John asking about an unknown man healing in the name of Jesus.
"Don't stop him," "For no one who is doing miracles in my name can curse me at the same moment. Anyone who is not against us is for us. Anyone who gives a cup of water to you in my name, because you belong to Christ, won't lose their reward, believe me.
Causing Others to Sin (Matthew 18:7-11, Mark 9:42-7)
The cost of sin.
"But if anyone leads one of these little ones who trust in me into sin, it would be better for them if they were thrown into the sea with a large millstone tied around their neck. If your hand leads you to sin, cut it off! It's better to enter eternal life as a cripple than to go with both hands into Gehenna, into the fire that can't be put out. If your foot causes you to sin, cut it off! It's better to enter eternal life lame than to be thrown into Gehenna still having two feet. If your eye causes you to sin, gouge it out! It's better to enter the kingdom of God with one eye than to be thrown into Gehenna still having both eyes, where the worm doesn't die and the fire never goes out. Everybody will be 'salted' by fire. Salt is good, but if it loses its taste, how could you make it salty again? You need to be like salt, and live in peace with one another."
Download the complete 'Words of Jesus' here.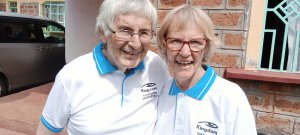 OUR AFRICAN EXPERIENCE
FOR MORE DETAILED AND REGULAR UPDATES, VISIT OUR FACEBOOK PAGE
AN EYE 4 Africa - https://www.facebook.com/aneye4africa/
May 2022 bring better things for us all!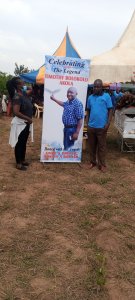 I LOST MY VERY GOOD FRIEND TIMOTHY....
..... a couple of weeks ago.
It was very sad for me.
The funeral however, was delayed until last Friday as, amongst his 6 children, he had a son in Korea and a daughter in America.
This is the way so often here, for there is good education but limited job opportunities.
I met Timothy early on in our stay here, as he both drilled our bore, fitted the pump and supplied our generator. He was strong in the Spirit also, having a church, or 3! He was personable and successful in life, which was shown by the large number of people at his funeral.
The writing on this poster was so appropriate. Her it is, as you are unlikely to be able to read it.
CELEBRATING
THE LEGEND
TIMOTHY BOLOKOLO
AKORA
(A dove is on his hand)
Dance with the Angels
ONCE A DRILLER,
ALWAYS A DRILLER.
Sums Timothy up so well.
Rest in peace my friend.
PS: Those to the sides are Emily, our Clinical Officer (one of) and Geoffrey, our Head of Security.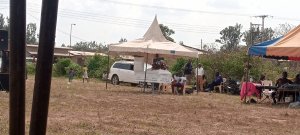 THE CASKET
At Kenyan funerals the casket is shown in a tent, and you are able to go and pay your respects, with the top of the casket lid opened up.
People start gathering from a few days before the funeral, at the residence of the deceased, until normally, the day after, where they celebrate their life virtually 24 hours a day. You can hear music all night until about 5am each morning, from those nearby.
Usually the day or two before the funeral itself the body is brought home from the mortuary. Many go to pick the body up and bring iy home.
Funerals are very expensive! Money wont be spent on health, but when you die, you get a great sendoff! A conundrum!
But every culture has its own ways of farewelling those who die.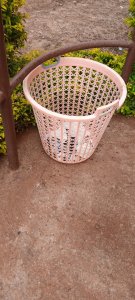 FROM THE SUBLIME TO THE RIDICULOUS
That is right - a rubbish bin!
The disposal of rubbish is a huge challenge here! For there are few rubbish bins.
Why? Because traditionally, rubbish has been thrown on the ground. Perhaps this wasn't so bad when there were fewer people and no plastic bags. With the advent of these, plastic was seen everywhere, for there was no rubbish collections either.
However, the Government realized the problem and Kenya was one of the first countries in the world to ban plastic bags. And what a difference it made!
Webuye was a really 'rubbishy' town! But now, while not perfect, it is 95% better.
Plastic is a real curse on the environment, as our example here shows.
People always see me picng up rubbish as I move round the hospital. Some well placed rubbish bins are now helping too.
Doing our best to make Kingdom a Rubbish Free Zone!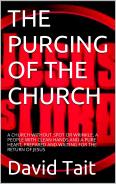 BOOK OF THE WEEK
THE PURGING OF THE CHURCH
A CHURCH WITHOUT SPOT OR WRINKLE, A PEOPLE WITH CLEAN HANDS AND A PURE HEART, PREPARED AND WAITING FOR THE RETURN OF JESUS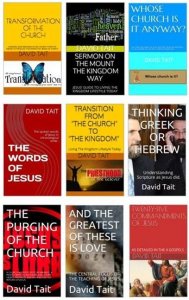 ***NOW***NINE BOOKS ARE AVAILABLE ON AMAZON!!!
9 BOOKS are now available on Amazon (Kindle)!

All are available worldwide for electronic download on Amazon (Kindle) for $US0.99c . Unfortunately there has to be a charge in order to list.

Your support would be appreciated and they could well change your life!

They are all found at this link.....
http://www.amazon.com/s/ref=nb_sb_noss?url=search-alias%3Daps&field-keywords=david+tait+books/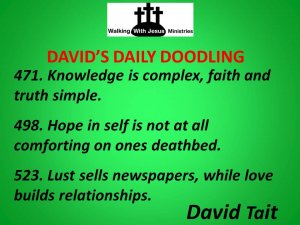 ***DAILY EZINE!*** 'DAVID'S DAILY DOODLINGS' Subscribe Today
Receive one or more of David's sayings in your mailbox each day to inspire, challenge or maybe, amuse. To register today, go down to the bottom of the page link below, click on the subscribe link dd-on@wwj.org.nz (or paste the address in an email yourself and send) Then it's done! If you have an Irish heritage, you will love the background coloring!
Subscription and back issue link is.....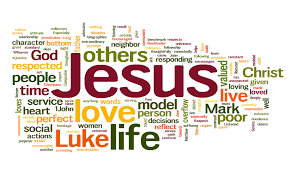 'THE WORDS OF JESUS' REMAIN AVAILABLE FOR PDF DOWNLOAD
Join the many who have downloaded the 'The Words of Jesus'. I am sure you will be blessed by it, as I have been.

One key element here is the setting out in chronological order (as far as it is possible to do so) our Lord's words drawn from all the Gospels, and the elimination of repetition between Gospels.

You may be surprised by the different perspective this presentation gives you both in understanding of His life and ministry, and in achieving a closer relationship with Him.

Download the free PDF here.....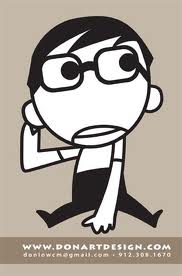 DAVID'S DOODLINGS
739. - 809. God has shown me that...
... ultimately, I am the one responsible for me.
... salvation is a process, not an event.

... life's limitations are man driven, not God given.

... when my wants line up with His desires, things happen.

... I need to place godliness even above wisdom.

... to be effective for Him, the light within, must shine without.

... happiness comes and happiness goes, but joy stands firm.

... we have second chances in life but not in death.

... we only get to live life once.

... my time invariably runs ahead of His time for me.

... to wait is still to grow.

... my job is simply to be available to Him.

... yesterdays faith is to become today's normality.

... exercising my 'will' frequently involves my 'wont'.

... the wall of faith is built one brick at a time.

... to 'overcome' I need to 'undergo' change in my life.

... God is God, is God.
Please feel free to quote these quotes. Acknowledgment of David Tait as the author would be appreciated. There are now over 1300 David sayings for you to view at ...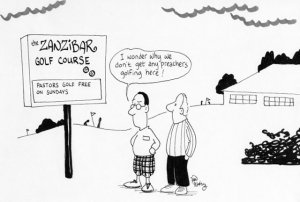 CARTOONS FROM TOON FEVER
Visit the Toon Fever website for more cartoon fun..... http://www.toonfever.com
Check it out at...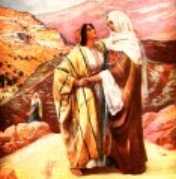 TUESDAY TEACHINGS
NEXT WEEK: A REVELATION OF…….THE BOOK OF RUTH
I have always been interested in the Book of Ruth and have had some understanding of it. However, on the day I started into full time ministry, the Lord sat me down and proceeded to reveal the meaning of this amazing story as an allegory of the relationship of Jews and Gentiles in the End Time Church. This is not so surprising, although it was to me at the time, when you consider that the ministry role He has given me, along with others, is to join with Jesus in 'building His end time church.'
If you are really busy, (aren't we all!) you may wish to split the study into sections, returning as time allows.

But please make sure you read all 4 parts to get the full understanding of today's application of this amazing story.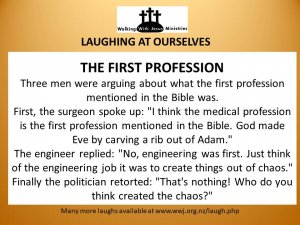 *** ANOTHER DAILY EZINE FROM WWJ!*** 'LAUGHING AT OURSELVES' Subscribe Today
As Christians, if we can't laugh at ourselves, others will! A fun way to start your day. To register today, go down to the bottom of the page link below, click on the subscribe link lao--on@wwj.org.nz (or paste the address in an email yourself and send) Then it's done!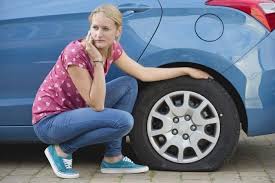 LAUGHING AT OURSELVES
***Blessed are those who can laugh at themselves for they shall never cease to be amused***
*** Those who can't laugh at themselves leave the job to others. ***
154. Thanks A Lot:
Much of the following material has been has been shorn from http://www.sheeplaughs.com
A minister was called to come to the bedside of a man who was dying. In spite of the lateness of the hour, the minister came and did what he could for the dying man. In a barely audible voice, and between hoarse hacking coughs, the man confessed his sins and asked the Lord's forgiveness as the minister bent close to catch his words.
As he was leaving, the minister said to the man's wife, "I was happy to come and comfort your husband the best I could. But, you're not members of my church. Don't you have a minister of your own faith?"
"Oh yes," the woman said, "but we couldn't call him out in the middle of the night and have him exposed to scarlet fever."
QWIK QWIP: "Sometimes the majority only means that all the fools are on the same side."
155. Now You Tell Me
A deacon, driving home from church one hot and muggy Sunday afternoon, passed an older model car sitting on the side of the road with a flat tire. A young lady was struggling to get a spare out of the trunk, obviously having a difficult time. Wanting to be a "Good Samaritan," he turned around and went back to help.
Getting out of his car and rolling up his shirt sleeves, he smiled and said, "This is no job for a woman. Let me do it for you."
Fifteen minutes later, covered with sweat and grime, he finally got the spare on and began to take the car off the jack.
"Please take it down easy," whispered the lady. "My husband's taking a nap in the back seat."
156. It Could Be Worse
The woman was pouring out her troubles to her pastor. "Oh, it's awful," she cried. "My husband won't work, and all of our bills are six months overdue."
"Well, look on the bright side," said the minister wryly. "You could be one of your creditors."
QWIK QWIP: "A best friend is like a four leaf clover... hard to find, and lucky to have."
Download the book 'Laughing At Ourselves' in PDF format at LAUGHING AT OURSELVES One of the most comprehensive sources of Christian Humour on the Net with 800 sermon fillers for your entertainment and use at ..... https://www.wwj.org.nz/content/wwj18p47.pdf
Or read even more online at.....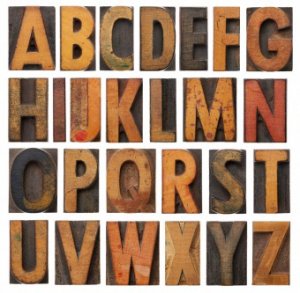 A DAVID MUSING
ABCDEFGHJKLMNOPQRSTUVWXYZ
The Roman alphabet we use is amazing. So adaptable and efficient for most languages.
However, the really smart, or perhaps pedantic amongst us, will realize that one letter is missing!
In God this letter, while necessary for our language, is a no no for us to be successful in our walk with Jesus. It is the letter '_'. I don't need to prnt it, for all mature belevers wll understand that, untl it is elimnated from our alphabet of lfe, we cannot grow in the Lord.
Are you missing this letter in your life? It is the secret to success in our spiritual walk.
Until next time.
His servant and yours
David Tait

Visit us here.....
CHANGING YOUR EMAIL ADDRESS? NEWSLETTER STOPS COMING?
Each week we can lose up to 2% of our readers when they change email addresses without letting us know. Or sometimes, by your server acting strangely and just cutting us off! If you are about to change your address, please advise us of both your old and new addresses here at
enquiries@wwj.org.nz
and we will happily change our records to ensure ongoing delivery. Thanks.
Please also keep our address in your address book, as sometimes servers will automatically delete your address if there is even a one off problem in delivery. If your newsletter doesn't arrive, please let us know and we will reinstate you.
REPRODUCTION OF NEWSLETTER CONTENT
Most weeks we get enquiries about reproducing, in electronic or print form, articles contained in 'PGIM!' We welcome and encourage you to utilize this material. Freely received, freely given. We would ask though, that the source be acknowledged as an encouragement to others to subscribe to this newsletter also.
LINKS
If you would like to link your web site to ours, and ours to yours, please advise us on
links@wwj.org.nz
ABOUT US
WALKING WITH JESUS MINISTRIES is a non-profit, non-denominational, Bible based ministry located in Hastings, New Zealand. A ministry dedicated to developing discipleship, fostering unity amongst God's people to achieve the Great Commission, and in doing so, preparing for Christ's return. It is securely based upon the foundational principles of the Apostles Creed while recognising the wide and rich diversity of beliefs amongst Christians in other areas. In accordance with the Lord's direction, materials produced by the ministry are available, free of charge, to genuine enquirers upon request. The ministry is solely funded by donations, as the Lord provides. A list of materials available (plus some fun!) is obtainable and freely downloadable from our website
wwj.org.nz or by contacting us as follows.

Walking With Jesus Ministries
P O Box 2
Webuye 50205
Kenya

Email: enquiries@wwj.org.nz
Web: wwj.org.nz

Our role is to bless and encourage those in ministry while promoting co-operation and unity of direction amongst the body of Christ, as emphasised 3 times by Jesus in His longest prayer, immediately prior to His arrest and crucifixion. "... so that they may be one as we are one." (John 17:12, 21, 23-4) Our website is currently being developed to encourage your participation one with another, to share resources, and to enable you to promote events and items of interest to the body as a whole - and have a smile while doing it!

For comments upon and contributions to this service, please contact
david@wwj.org.nz
SUBSCRIPTION MANAGEMENT
We would encourage you to share this free service with your friends in ministry. To subscribe yourself please email pgim-on@wwj.org.nz.
If your name has been referred to us by a friend or supporting Ministry or has been obtained from a public Christian Directory or Website, it isn't our wish to burden you with information in which you aren't interested. To remove yourself from this list, please email pgim-off@wwj.org.nz.